Keto Egg Fast Diet Plan – Day 3
Wow, what a day this was! Day 3 started with me sleeping in by 1 hour and 15 minutes! And this was the first day that my boss was back from vacation. No way was he going to beat me into the office!
I am so thankful that in my fridge had a bowl full of boiled eggs and and a tupperware container of egg fast muffins (see Day 2 egg fast menu).
I didn't get to make my own coffee this morning, I stopped at Timmies near my office and got a black coffee.
So about the coffee, I actually drink it black now most of the time. The only reason I make the lattes while I'm on the Egg Fast diet plan is because it makes it easy to use up those fats!
Between the Egg Fast and doing a 30 day Zero Carb experiment, I managed to kick both the HWC and splenda habit. I have used a little bit of sweetener during this egg fast, but the 1-2 servings a day is a tiny fraction of what I used to have.
Egg Fast Menu Day 3 Summary:
Boiled eggs with butter
Egg Fast Muffins or Loaf

Keto Cloud Bread

with eggs
Fat Bombs
---
So here is the detailed breakdown of Egg Fast Diet Plan Day 3
6:45am – Tim Hortons large black coffee! Nothing more I can say there, and I did beat my boss to work. :-)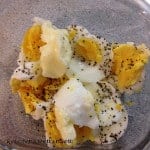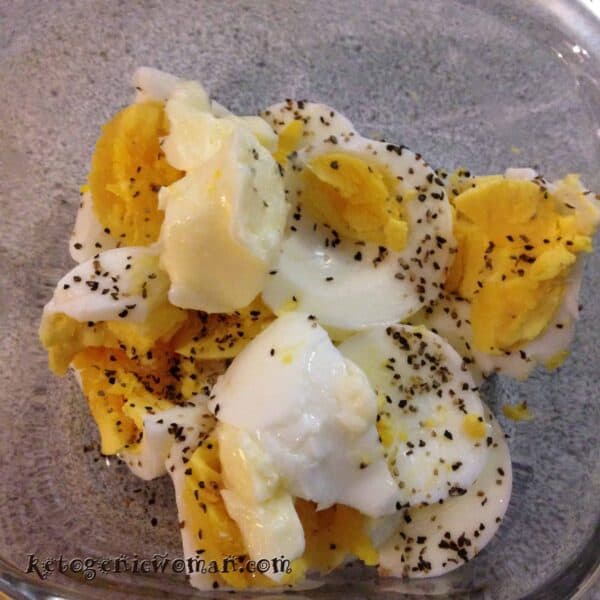 8:30am – 3 boiled eggs chopped topped with 2 tbsp butter. I microwaved for 30 seconds to warm it a bit. It was actually quite divine.
12:30pm – 3 cream cheese muffins. These were the muffins that I made yesterday on Day 2. With my muffin pan, 3 muffins = 2 eggs, 2 cheese and 2 fat. So happy to have those in the fridge for these emergency situations.
5:30pm – Oopsie cloud bread with scrambled egg topping. See how fancy I made them!? They made me feel swishy just having them on my plate!
You can see my detailed instructions with recipe card for Keto Cloud Bread (also called Oopsie rolls!)
Here is how I made the Egg Fast Oopsies. You will need: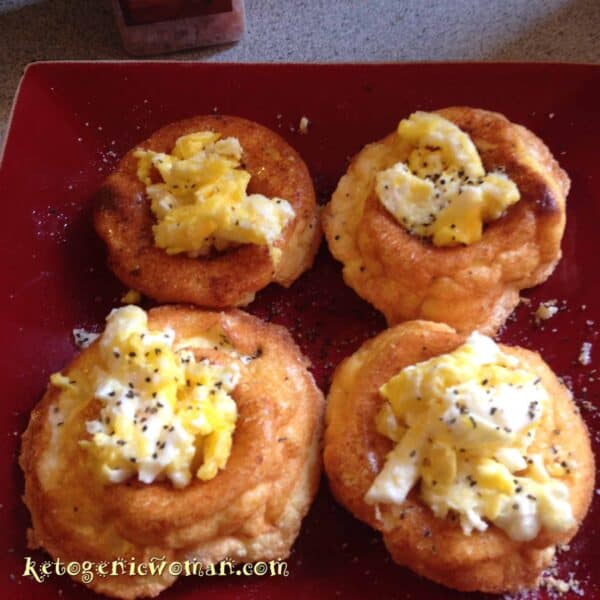 3 eggs
3 ounce cream cheese
2 bowls
donut pan. (I actually was inspired by fellow Egg Fast group admin Elizabeth, who makes hers in a whoopie pan. It made them look so beautiful!)
Instructions for Oopsies (Also known as Egg Fast Cloud Bread):
Preheat oven to 300
Separate egg whites into one bowl and put yolks into the other bowl.
Beat egg whites on high speed until stiff peaks form, set aside
Rinse off beaters and beat cream cheese and egg yolks on low speed until smooth.
With a rubber spatula, fold the egg yolk mixture in the egg whites gently until incorporated.
Spread the mixture into a donut pan (or a whoopie pan will work)
Bake for 30 minutes, and then let cool.
What I did with mine is scramble an egg in butter, and then I put the egg in the little indentations from the donut pan. I ate 4 of them which equaled 1.5 eggs (half the recipe), 1.5 cheese and 1 egg scrambled in 1 tbsp butter.
After eating dinner I had the realization that because I slept in and drank black coffee, I was short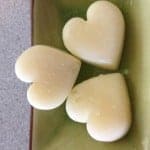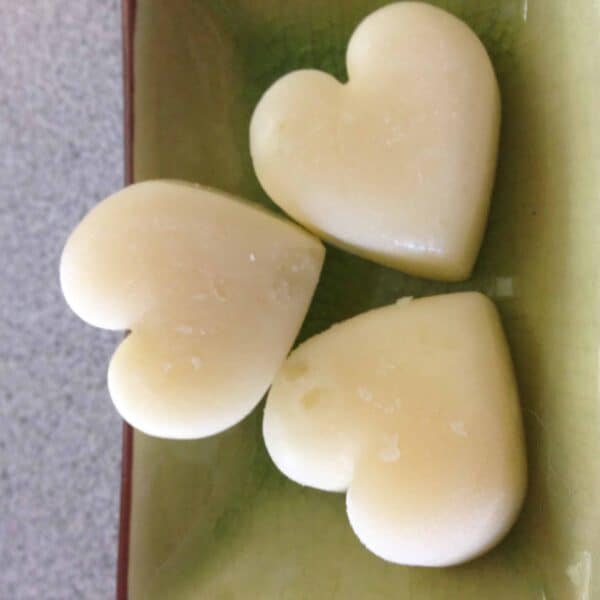 on fats. So I made some quick fat bombs in the freezer from yet another great idea that I read in the EF group.
I melted 2 tbsp coconut oil, 2 tbsp butter and 1 teaspoon sugar free salted caramel Torani. They are in the freezer right now. I will update this post tomorrow with a picture and a verdict of what I thought of them!
UPDATE: Ok the fat bombs look pretty but were too salty for my taste. I do like the sweet/salt flavor combination but I think using salted butter and salted caramel together was too much.
Pro Tip: Use Skinny Syrups instead, they have a million flavors. Well ok, thousands?
On the good side, they were nice and creamy and something to savor and let melt in my mouth. I will be experimenting with this one for sure.
Update Dec 2018 – I made some much better ones – Try my Egg Fast Lemon Cheesecake Fat Bombs here
So the last thing that happened is that my brother in law called and is arriving in town tomorrow afternoon. I may not be able to get a post together and I may also have a transition meal, depending on when he arrives. More to unfold!
Read How to Transition from the Egg Fast back to Keto here
Read my Egg Fast Results (plus my 3 year update) here
More Egg Fast Recipes to Try
Want more Egg Fast recipes? You've come to the right place, we have the best ones here! Check them out!

Read my Egg Fast FAQ here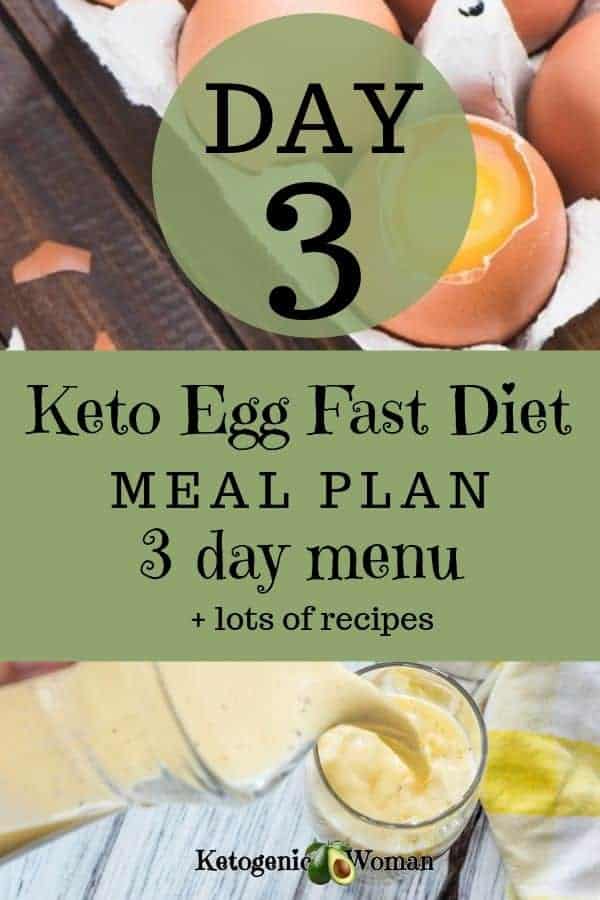 Keto Egg Fast Diet Plan – Day 3