My Keto Egg Fast RESULTS!
These are the results I got from following the Keto Egg Fast Diet!
Keep in mind that I am an ultra slow loser and that I only followed this boiled egg fast diet for 3-4 days a week and then regular LCHF Keto for the rest of the week.
The bottom line is that following the egg fast diet did break my stall! (Be sure to read this whole article because I updated my 'Three Years Later' results at the bottom!
Not sure what the Egg Fast is?
Read my egg fast diet review article: What is the Egg Fast?
---

Before and After Egg Fast Results Week 1:
Tuesday morning after Easter weekend I weighed: 264.1 Blecchh!
I followed the 3 day egg diet plan Tues-Thursday. Friday May 2 I weighed 254.4 for a total loss of 9.7 pounds!
Egg Fast Week 2:
After going back to regular Keto from Friday to Sunday, I was back up 3 pounds to 257.4 pounds, which I was told was to be expected.
Followed Egg Fast Diet Monday to Thursday. Friday May 9 weight 255.4. Total net loss 8.7 pounds.
2 week egg diet results so far is 8.7lbs
Egg Fast Week 3:
Followed Keto from Friday May 9 to Sunday May 11. Went back to Egg Fast Diet on Monday May 12.
I decided to try it for a full 5 days, which for me turned out to be a tactical error. Friday morning weight was 251.5 for a total loss of 12.6 pounds.
But I was so 'egged out' after 5 days and it was a long weekend here in Canada, and I ended up eating and drinking outside of Keto and by Tuesday May 20 I was up 5 pounds to 256.5.
I went back on the egg fast diet for 3 days only and lost 6 pounds in that 3 days. Friday May 23 morning weight was 250.5 for a total net loss of 13.6 pounds.
After 3 weeks Egg Fast Diet Results : 13.6 lbs
Egg Fast Week 4:
I went back to Keto over this past weekend and today is Monday May 26.
I am up one pound and am regular Keto still today. Tomorrow I will be going back on the egg fast diet for at least 3 days, maybe 4.
So after being stalled for almost 4 months, this egg fast diet has helped me lose again.
Can you do the Egg Fast During the Week and Keto on the Weekends?
Absolutely!
Look everyone! I wrote a page called How to Transition from Egg Fast to Keto because so many people wanted clear guidelines and were freaking out at the fluctuations. But it's only a guide! You have to make this work for YOU!
I really like being on the Egg Fast during the week and doing Keto on the weekends.
It just makes it easier to do and I don't mind the bit of weight gain because my weight fluctuates up and down on a daily basis anyways and I was only weighing myself this often so that I could see what was happening in order to track the pattern.
Now that I know, I am going back to just weighing once a week on Monday mornings.
Final Egg Diet Results: 15.7lbs!
I have to feel pretty good about these egg fast results for the following reasons:
I am a slow loser
There were a few very rough days where I cheated over the long weekend
I did full keto on my days off, there was no transition plan
Here is a basic 3 day egg diet menu to help you with meal planning:
Egg Fast Three Day Sample Menu
Three days of Keto Egg Fast menu and recipe ideas.
What does my typical daily menu plan look like on the Egg Fast Diet?
Please keep in mind that these are the foods that I like and you can make up your own menu plan as long as you follow the Keto Egg Fast Rules.
Meal 1: Bullet Proof Coffee : 16 oz of coffee in the blender with 1 tbsp butter and 1 tbsp coconut oil and 1 packet Sweet Leaf stevia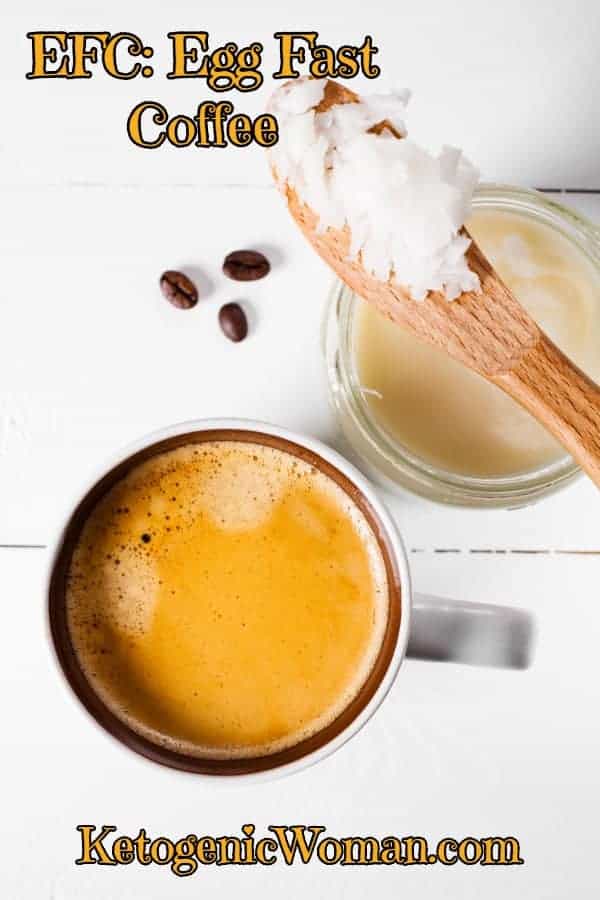 Meal 2: 2 eggs scrambled or fried in 1 tbsp butter. Check this method to make perfect sunny side up eggs.
Meal 3: 3 hard boiled eggs mashed with 2 tbsp mayonnaise
Snack at work: 2 oz hard cheese (I like the natural Kerrygold Dubliner cheese)
Meal 4: omelette made with 2 eggs and 1 or 2 oz cheese. Cooked in 1 tbsp butter and then I add another tbsp. butter on top when it's done.
OR I eat Alternate Meal 4: Low Carb Waffles with 2 tbsp butter on top
Snack only if hungry ( 1 or 2 oz cheese)
Total for the day: 7 eggs, 7 tbsp fat (2 mayo, 1 coconut oil, 4 butter), 6 oz cheese but usually only 4 or 5.
As you can see I kept it pretty simple but as the days go on you need some variety! So I have made up some tasty egg fast diet recipes. You can get a list of my favorite egg fast recipes here. Just scroll down about halfway to see them.
---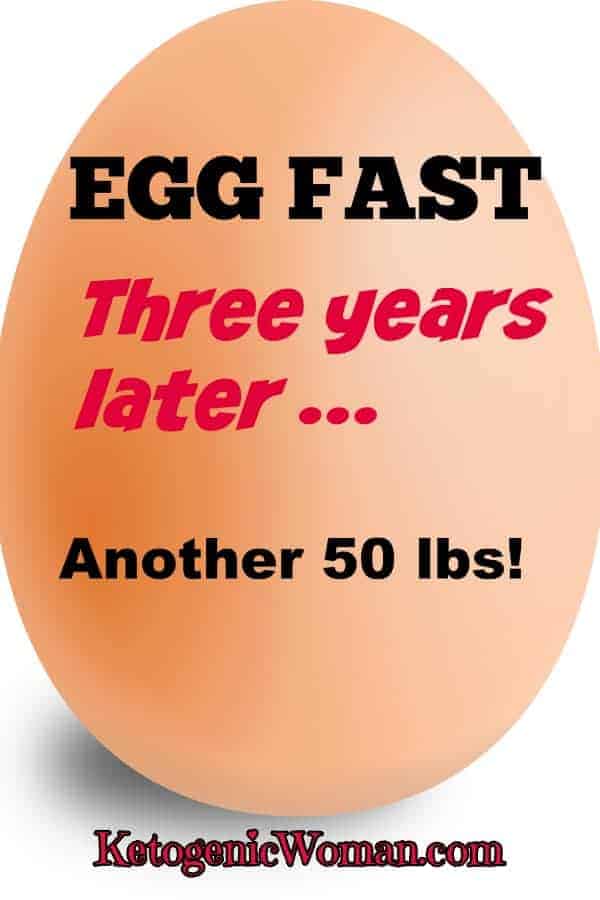 Egg Diet Results after Three Years
Update June 2017! The above article was written after my 1st attempt at the Egg Fast in 2014.
Since then I have gone on to lose another 50 pounds and I give all the thanks for that to the Egg Fast for teaching me what my own stalling foods are. I've explained more below.
My Keto Egg Fast Diet Results 3 Years Later and What I Learned!
So 3 years later (June 2017) here is what I have learned that stalls me on Keto:
I ate too many fat bombs
HWC (heavy cream) is not my friend
Cheese is not my friend but I can't eliminate it completely and keep my sanity. But it is now a once in awhile thing.
Sweeteners. I used to rack up many a day, like more than a dozen packets. Now they are for special occasions only.
Real whole foods really are the best things to eat, not shakes, bars and processed low carb foods
And the result of making these changes is that I am just a few pounds away from my teenager weight and I am in my late 50's! Total weight loss now is 110 pounds!
Egg Fast Tracker App: This is a free app for Android that helps you keep track of your Egg to Fats ratios, plus your water and cheese consumption. Install the Egg Fast Tracker app here.
Update: When I wrote this post I did not know how to properly transition from Egg Fast back to regular Keto.
Want to read other boiled egg diet success stories?
Join the Facebook group here. (Be sure to answer all the questions or they won't let you in!)