Ultimate Keto Egg Fast Recipe Collection!
If you have wished that all the best keto Egg Fast recipes on the internet were in one easy to find list, then you've come to the right place!
We've scoured the internet and Pinterest and found the most extensive list of egg fast recipes.
In this list you will find both sweet and savory egg fast recipes. Are you dairy free? We've got it! Hot recipes, cold recipes, however you like to do your keto egg fast, we've got the recipe!
Whether you want to do a 3 day fast, a 5 day egg fast or go for a full blown 30 day egg fast, these recipes will have you covered!
What can you eat on an Egg Fast?
Basically the egg fast consists of eggs and healthy fats such as butter, olive oil, avocado oil, coconut oil and MCT oil. You can add a little cheese and some low carb condiments like a bit of mustard or herbs and spices where needed.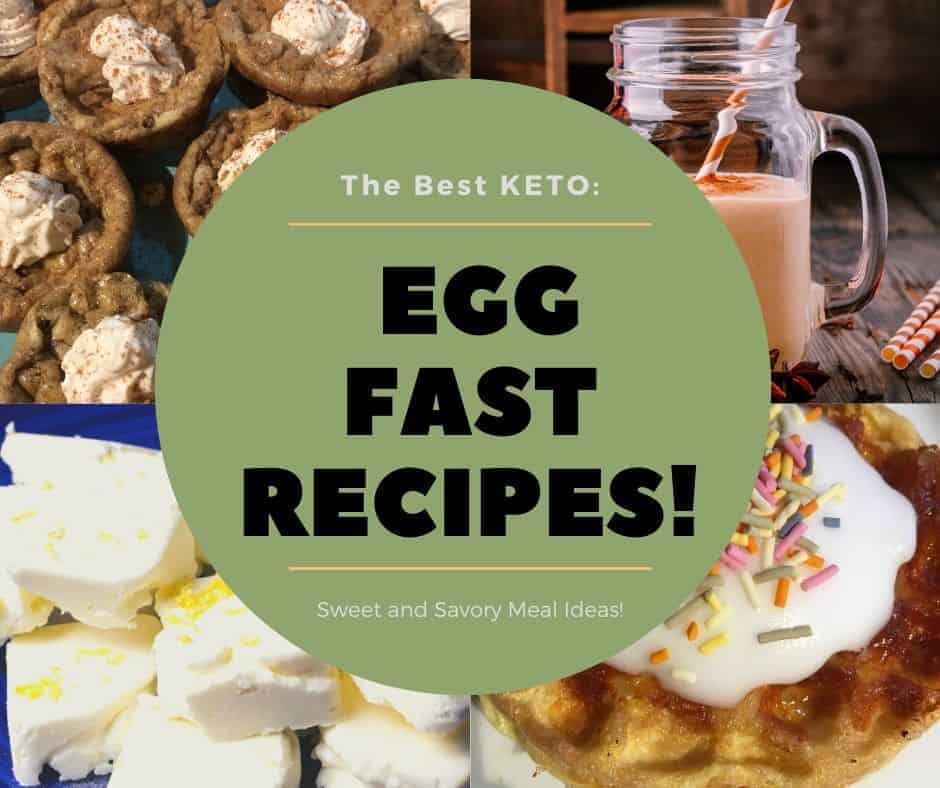 Here are the exact Egg Fast Rules:
Eat a minimum of 6 Eggs (more is better, you need protein!)
Eat 1 tbsp fat for each egg
You may have a maximum of 4 ounces cheese daily
Consume a maximum of 3 sweeteners daily
Have black coffee and tea (or add your fats/eggs to it)
Sparing use of herbs, spices, sugar free condiments
So in a nutshell (or should I say eggshell!), the Egg Fast Diet consists of ONLY Eggs, fats, a bit of cheese and a bit of seasonings. (for complete details see What is the Egg Fast Diet)
Sounds impossible? Wait until you see these Egg Fast Recipes!
Who would ever have imagined the creative ideas that people came up with to turn those few ingredients into such amazing recipes to make the egg fast so much easier to follow!
So buckle up and see what we have for Egg Fast breakfast, lunch, dinner and snacks!
Please note, that even though I have divided these recipes into traditional meal categories of breakfast, lunch and dinner, that is not a requirement at all!
On the Egg Fast all the recipes are interchangeable! Eat breakfast for dinner! Eat breakfast all day long!
Pick a few staple recipes that you love and mix it up with basic boiled or scrambled eggs to keep things interesting.
After the Egg Fast Recipes, we have also included some Egg Fast results from other Keto bloggers, as well as Egg fast menus and meal plans.
So grab yourself an egg fast shake or muffin and soak in all the information!
The Best Keto Egg Fast Recipes for Breakfast!
Egg Fast Breakfast Recipes
Start your busy day off with these great egg fast recipe choices!
Egg Fast Recipes for Main Meals
These egg fast recipes can be eaten for your main meal of the day or anytime!
Keto Egg Fast Recipes for Sweets, Treats and Desserts
I bet you thought you weren't going to see dessert on the egg fast! We have fat bombs, sweet muffins and custards and even ice cream!
Bloggers write about their Egg Fast Results!
These are some egg fast results from out there in the keto world for you to learn from!

I share what I lost and learned from doing the Keto Egg Fast!

Photo Credit: trinakrug.com

Trina shares her experience and what she ate on the Keto Egg Fast!

Mama's Geeky gives us her experience with the Keto Egg fast!
Menu Plan Ideas for Doing the Keto Egg Fast
Here you will find even more ideas for an egg fast menu plan and how to end your egg fast without gaining back the weight you just lost!
Is there a printable Egg Fast menu plan I can follow?
Yes, I have many free recipes and sample food plans on this blog and in this post. I have also developed an Egg Fast Mix and Match Menu pack that includes a 5 Day Plan, a 5 Day Dairy free plan and a 5 Day Transition plan. You can check that out right here: