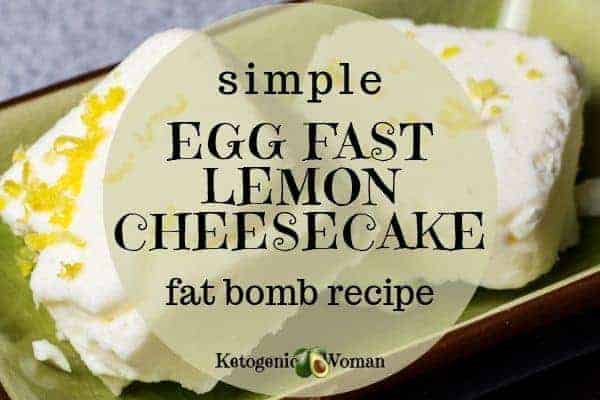 Keto Lemon Cheesecake Fat Bomb Recipe – Egg Fast Approved!
These Keto Egg Fast Lemon Cheesecake fat bombs are delicious bites of lemony goodness even if you are not following the Keto Egg Fast diet. Anyone doing low carb or keto will love these. Anyone who breathes and eats food will love these!
It is really not easy to make a keto fat bomb that works with the Egg Fast and also tastes good. That is not an issue with these!
If you are doing the egg fast, this is going to make those 5 days a whole lot easier!
On the egg fast, two of these Keto Lemon Cheesecake Fat Bombs equals 1 tbsp fat, 1/2 ounce cheese, and 1/4 serving of sweetener.
Read all about how to do the Keto Egg Fast here.
---
So if you are one of those people who likes to have 2 hard boiled eggs for lunch but hate the idea of trying to use up 2 tbsp of butter or mayo along with that, well your problem is solved! This is a deliciously satisfying way to use up your fats on the Keto Egg Fast!
Ingredients Needed for these Keto Lemon Fat Bombs
To make this low carb Lemon Cheesecake Fat Bomb recipe you will need the following items (the printable recipe card is down below):
NOTE: Sometimes the unsweetened True Lemon can be hard to find in the stores and people get mixed up and buy the one that has all the carbs. They look almost the same, so read the label to make sure it has 0 sugars and 0 calories. Either order it online or substitute it with lemon extract and lemon zest.
You won't be able to use real lemon juice because the cheesecake mix will just be too thin and liquidy and not able to keep it's shape. The powder is really the best thing to use if you can get it. Plus it can be used to make other delicious low carb and keto desserts such as this vintage Low Carb Cheesecake Recipe.
You can keep these in the freezer or in the fridge in an airtight container. I keep mine hidden in the back or they go missing.
You could bring a big plate of these keto fat bombs to your next potluck. Sprinkle some lemon zest and/or some powdered sugar free sweetener on top to make them fancy. Your friends will think you slaved all day to make cheesecake bites.
Printable Recipe Card for Keto Lemon Cheesecake Fat Bombs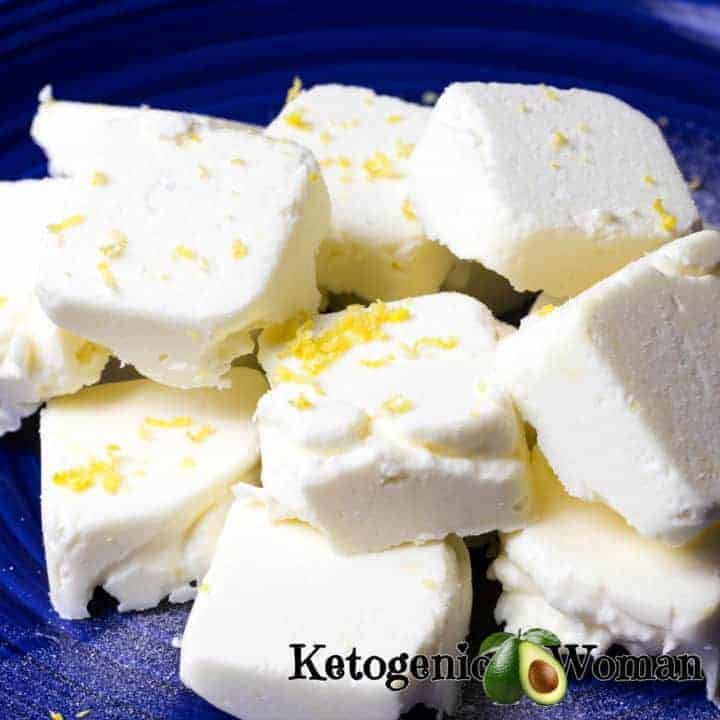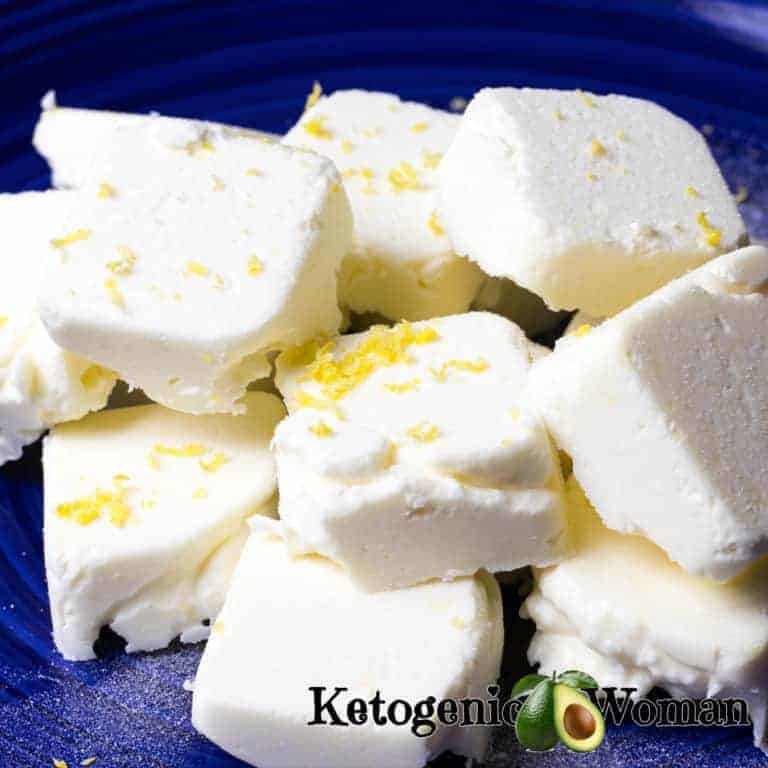 Egg Fast Lemon Cheesecake Fat Bombs
Yield:
8 servings (16 bombs)
Additional Time:
20 minutes
These lemon cheesecake fat bombs are not only keto, they are egg fast approved!
Ingredients
1/4 cup butter
1/4 cup coconut oil
4 ounces cream cheese (softened)
1-2 tbsp powdered erythritol (to your taste)
2 packets True Lemon crystals
Lemon zest (optional)
Instructions
Melt butter and coconut oil in glass mixing bowl
Add cream cheese,True Lemon packets and sweetener
Mix at low speed until all ingredients are mixed well
Use a Tablespoon to equally divide mixture into 16 molds
Freeze for 30 minutes before popping them out of the silicone mold.
Keep in airtight container in freezer or fridge
Before serving, sprinkle with lemon zest and powdered erythritol
Notes
On the Egg Fast, 2 lemon cheesecake bites are equal to 1 tbsp fat, 1/2 ounce cheese and 1/4 serving sweetener.
More Egg Fast Recipes to Try
Want more Egg Fast recipes? You've come to the right place, we have the best ones here! Check them out!
Pin these Egg Fast Lemon Cheesecake Fat Bombs to keep them handy