These Low Carb Pumpkin Spice Waffles will become a Keto staple when you see how easy and versatile they are! There are only 4 ingredients and they are dairy free and Egg Fast approved! A sturdy waffle (or chaffle!) that makes a great breakfast and are also delicious cold out of the fridge. Have them with or without the maple butter, your choice!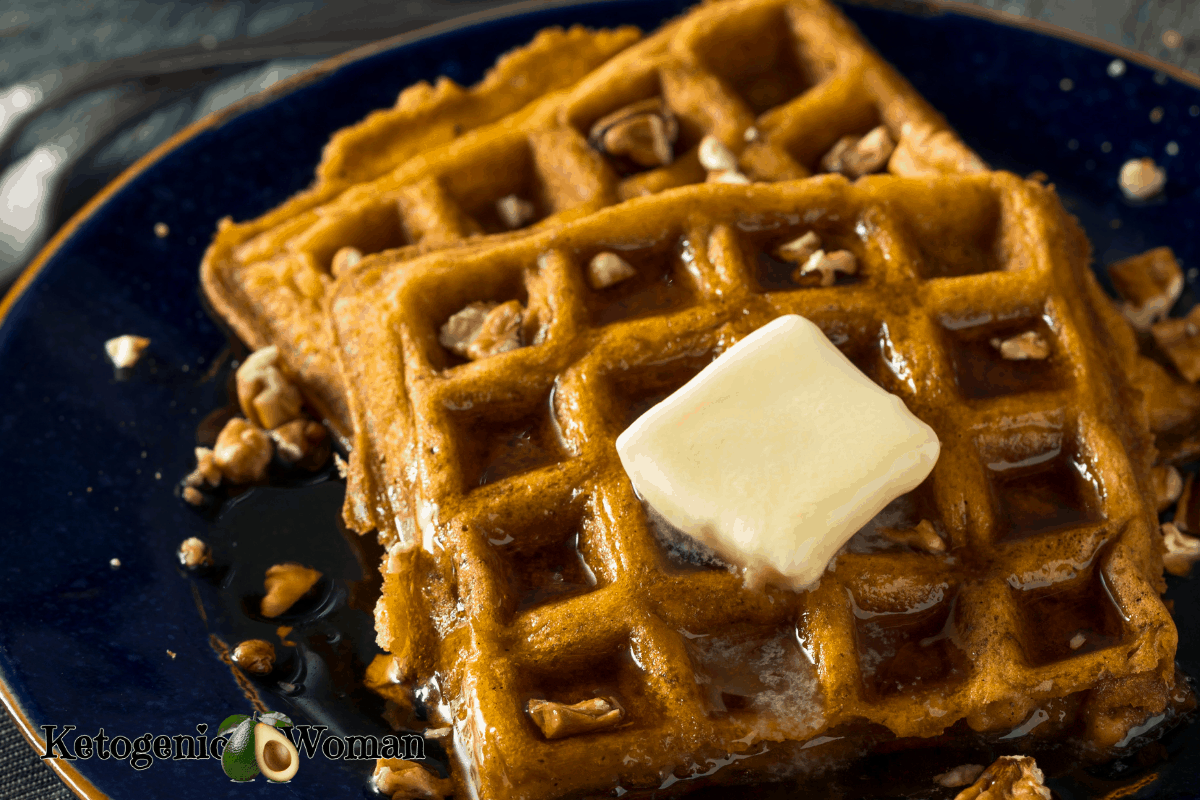 Keto Dairy Free Pumpkin Spice Waffles, what's not to Love!?
This simple 4 ingredient low carb waffle is one of my favorite go to simple keto meals!
Every now and then, when the kids come home to visit, I pull out my waffle maker and make a big batch of waffles. It is so awesome that I can make these for myself at the same time.
These are dairy free, gluten free, nut free and not even 1 carb for 4 waffles! Two waffles is usually enough for me but sometimes I will eat all 4!
And this is way cheaper and easier and healthier than a low carb waffle mix.
You can also use these in your mini dash to make dairy free chaffles!
They can be made in advance and then popped in the toaster or airfryer to make them crispy. I love them cold out of the fridge as a snack.
Forget the keto waffle and pancake mixes, this won't disappoint and is way easier on your keto budget!
---
Tools and Ingredients Needed for Pumpkin Spice Waffles
Tips and Tricks for this Low carb waffle recipe
These waffles can be made in advance. They crisp up very nicely in my toaster but I actually prefer them cold as a snack! You can make lots of these in advance and toast them or eat them as you need them.
Using 1 tbsp coconut oil gives a nice firm waffle texture.
If you are following the Egg Fast, 4 waffles (the entire recipe) counts as 2 eggs and 2 fats.
Bring eggs to room temperature so that the cold eggs do not cause the coconut oil to harden in chunks. If the blender doesn't mix this properly, you get a mess in your waffle maker!
If you are using the mini dash waffle maker use 1/4 cup batter to make each chaffle.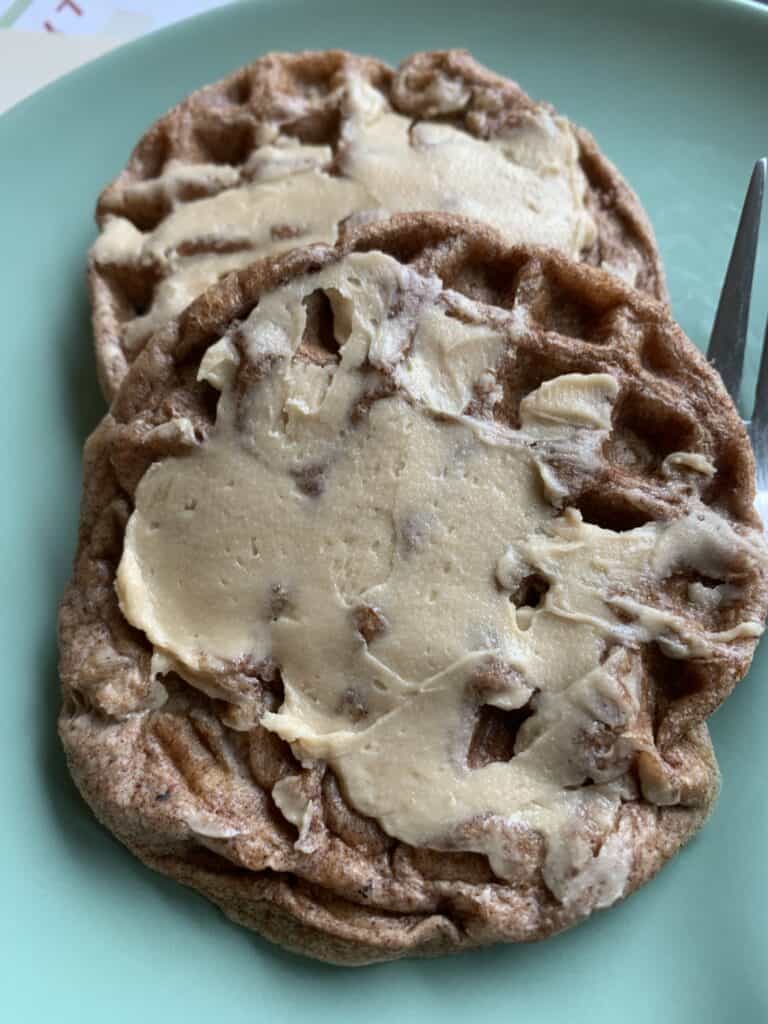 Why do I love this Low Carb Waffle Recipe?
The recipe has only 4 ingredients!
Fast and simple to make.
This is a perfect egg fast waffle recipe as well as a simple keto meal or snack
The only carbs are the very low carbs in eggs and (and whatever you top them with).
No weird ingredients! You can keep it a simple 4 ingredient waffle recipe or you can make it fancier if you want.
When you are done with the egg fast, these pumpkin spice waffles can be topped with chopped pecans or walnuts, whipped cream, sugar free maple syrup or simply some powdered sweetener. Because 4 waffles is only 1 carb, you can let loose a bit with the toppings!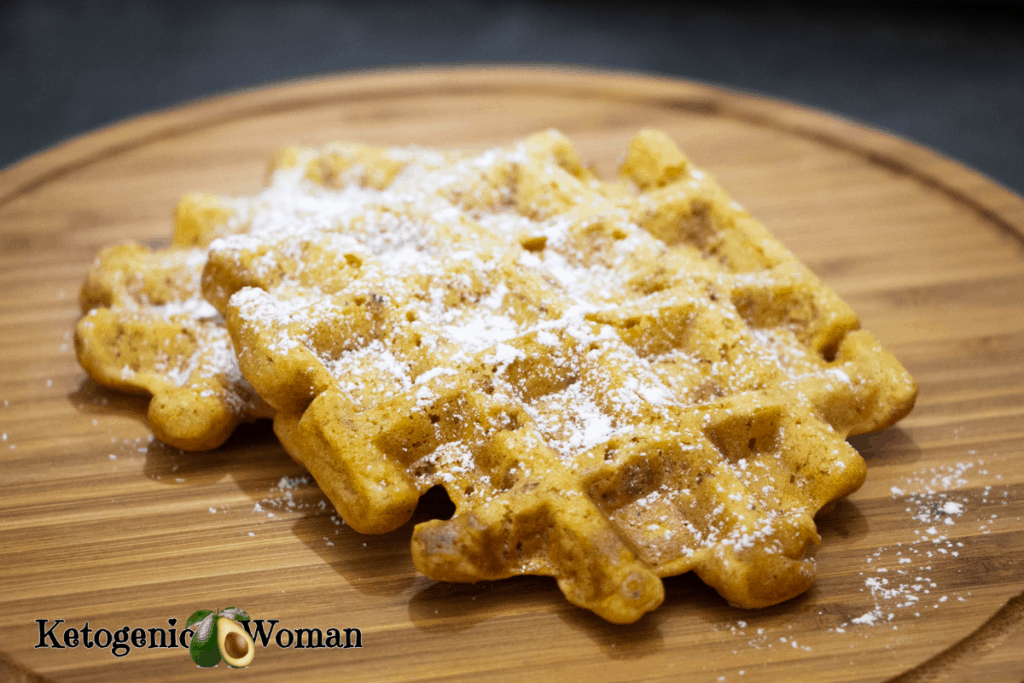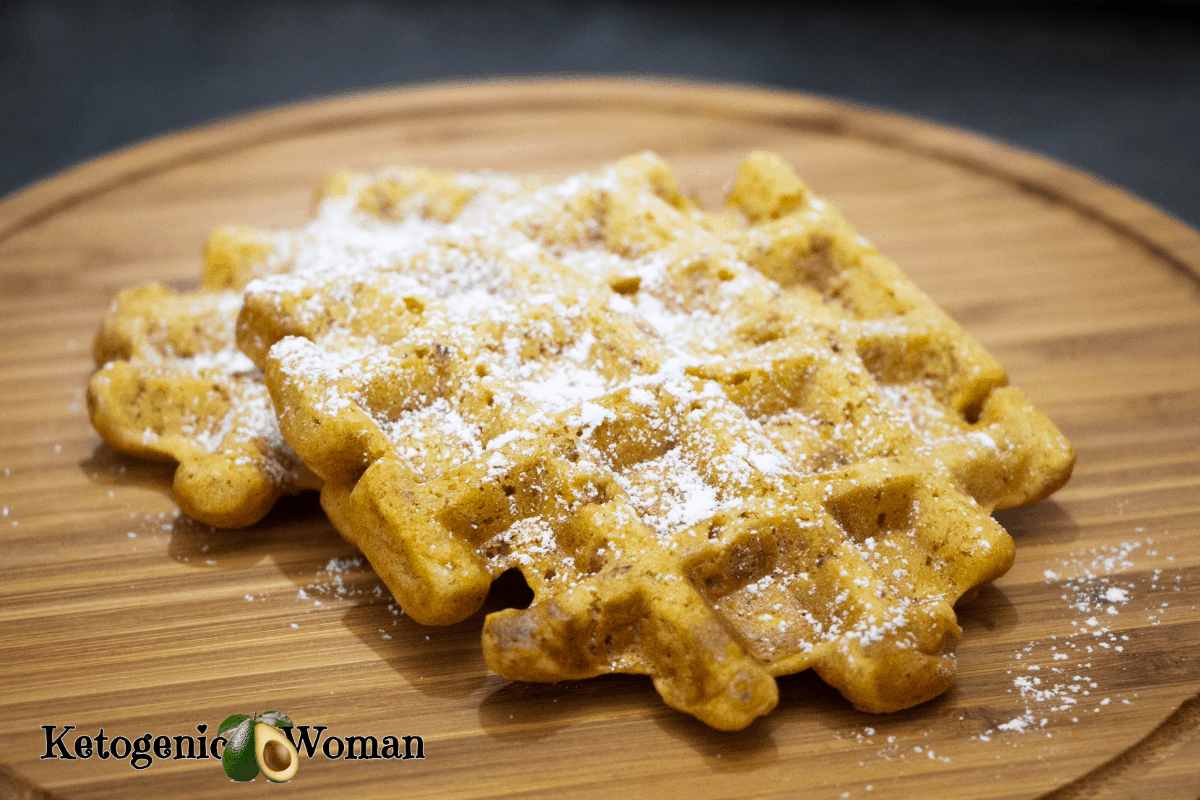 I hope you enjoy them as much as I do!
Try my Keto Chocolate Chip Waffles here!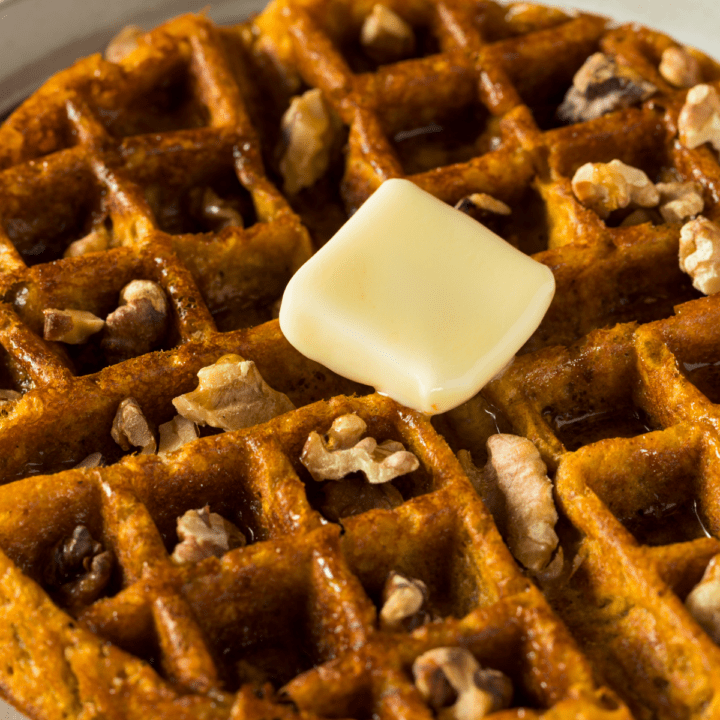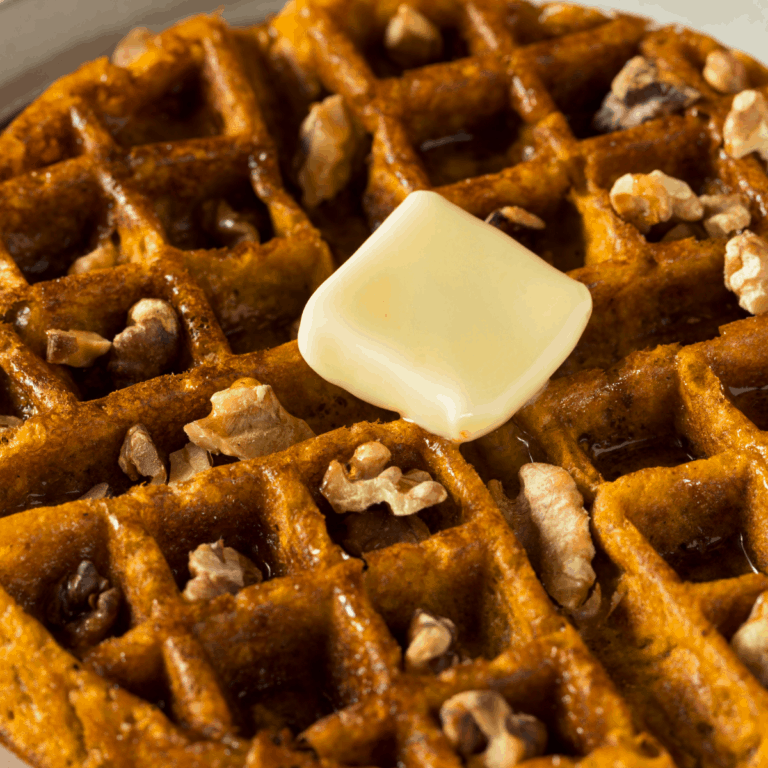 Low Carb Pumpkin Spice Waffles with Maple Butter
Fast and simple low carb pumpkin spice waffles or chaffles that make a great keto snack or even a meal! Top with the optional maple butter and you are all set for delicious!
Ingredients
Waffles
2 eggs (room temperature)
1 tbsp coconut oil
1 tbsp mayo
1/2 tbsp pumpkin spice (no sugar added)
2 Tbsp Cinnamon Dolce Keto Skinny Syrup (or see notes)
Optional Sweet Maple Butter
1/4 cup butter, softened
1/4 cup powdered erythritol
1/2 tsp maple extract
Instructions
If you are making the Sweet Maple Butter Frosting, make it ahead of time so you can use it on your waffles when they are ready!
Allow 1/4 cup of butter to soften in a bowl on the counter until very soft
With an electric beater, whip the butter for a moment to make it fluffy
Add in the powdered erythritol and the maple extract
Whip until light and fluffy

Waffle Instructions:
In a small blender add 2 room temperature eggs and the rest of the ingredients
Blend at high speed until light and foamy
Allow it to settle while you heat up the waffle maker
Pour entire recipe into a fullsize waffle maker, close lid and set timer for 7 minutes
If using a mini waffle maker, cook 1/4 cup batter at a time for 3-4 minutes, then repeat until all batter is used up.
Allow waffles or chaffles to cool on a wire rack, they will firm up a bit more
Notes
You can use any flavor you like of the Skinny Syrups. You can also use your favorite granulated sweetener such as Swerve. I like the flavor added by the Keto Skinny Syrups, so that's my own preference.
Maple Butter Topping. The topping is good for several batches of waffles. 1.5 tbsp of the topping is equivalent to 1 tbsp butter if calculating nutritional values and carbs.
Nutritional value shown is for waffles only.
Nutrition Information:
Yield:

1
Serving Size:

4 Waffles
Amount Per Serving:
Calories:

354
Total Fat:

33g
Carbohydrates:

1g
Net Carbohydrates:

1g
Protein:

13g
Save these Keto Pumpkin Spice Waffles to Pinterest!