You want to do Keto but can't live without your favorites? Try these amazing keto food swaps to lose the pounds but stay happy!
What the heck can I eat on Keto?
I have what I call a cubby mate at work. She works in a nearby cubicle and we often talk diets and food plans. We have a lot in common except that she has spent her life battling 15 lbs while I spent mine battling 150lbs.
Yet, her pain and struggle is just as big and real as mine, I can tell!
One day she said to me "I could never do Keto because I love bread too much and I can't live without desserts"
Are you thinking this too?
Well I'm here to tell you that some of the keto breads and desserts are aaahhhhmazing!
So right here and now we are going to go through all the common comfort foods I can think of and I will list out the Keto and low carb swaps that you can make!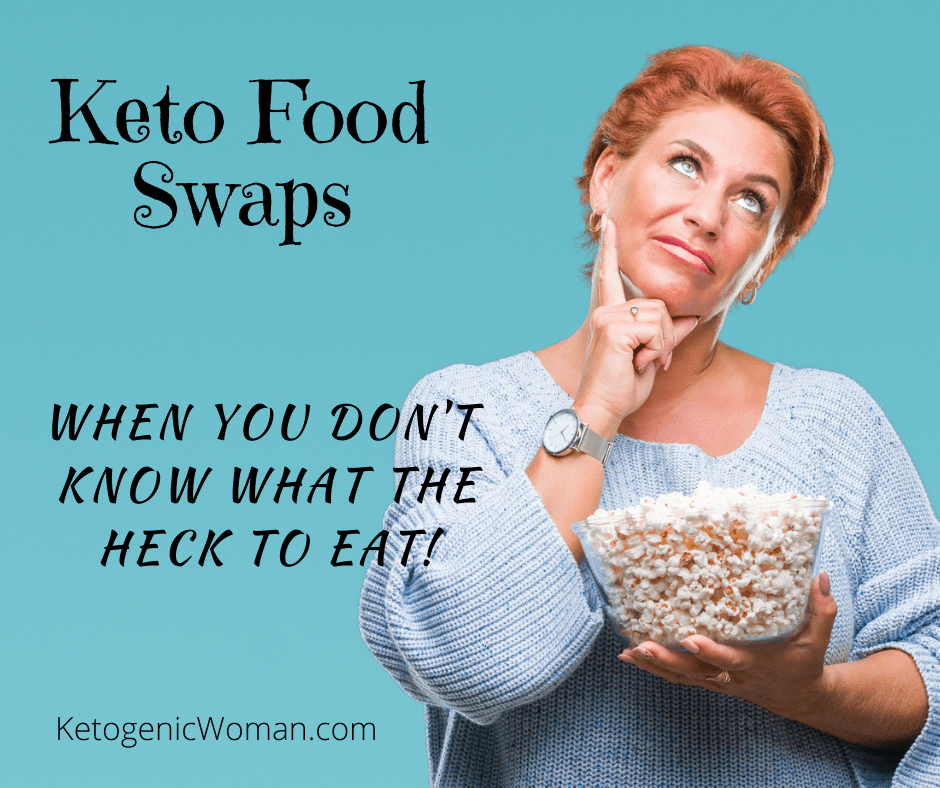 Keto Friendly Food Swaps
What can I use for Bread and Buns on Keto?
What about a Keto food swap for Wraps?
Large leaves of Lettuce, Kale, Collard and Cabbage
Cheese wraps (sometimes called folios)
Look for Egg white wraps in the supermarket
Can I eat pasta on Keto?
Make noodles out of zucchini and spaghetti squash with a veggie peeler!
Kholrabi noodles (produce section of grocery)
Make Keto Pasta Noodles like these!
What's a keto swap for mashed potatoes?
Mashed rutabaga, turnip, celery root
What if I want gravy on the mashed potatoes?
I have a craving for French Fries! What can I swap?
Make rutabaga or jicama fries
Is there a keto swap for flour to bake with?
Almond flour is a staple in any keto kitchen!
other nut flours
What can I swap for dipping instead of chips and crackers that is keto approved?
cut up veggies like celery sticks, carrots, peppers
It's Family Movie Night and they are all eating popcorn! What can I swap?
I want to make some breaded chicken or fish strips, what can I swap?
nut crust (crushed pecans, walnuts, almonds)
parmesan cheese
almond flour
a mix of all the above!
What are keto friendly sugar substitutes?
There's soooo many now! Monkfruit, erythritol, stevia, allulose
I wrote an entire guide JUST on sweeteners and when to use which one (Read the sweetener guide here)
Skinny syrups for making coffees and desserts. Use KETOGENICWOMAN to get a discount on your first order.
What can I swap for rice on keto?
You can now buy bags of cauliflower rice at the store, fresh and frozen
My family eats Pizza every Friday night! What can I do so I don't feel left out? (This was me and I did all of these things!)
Order pizza and just eating the toppings (it's the best part anyways!)
Order pizza and wings, they eat the pizza, YOU eat the wings!
Try fathead pizza
My favorite is Chicken Crust Pizza
Many pizza places now offer a keto pizza! Ask!
Use one of the low carb wrap ideas as the pizza base!
I really miss sushi, is there a keto version? (This was also me!)
Keto Food Swap for Milk:
Any nut milk like unsweetened almond or cashew milk
Coconut milk
Heavy cream instead of coffee creamers like coffee mate
I hope these keto friendly food swaps help you out in your journey! Leave me a comment if you are looking for ideas for keto friendly swaps for YOUR favorite 'can't live without' food!
Save These Keto Food Swap Ideas to Pinterest!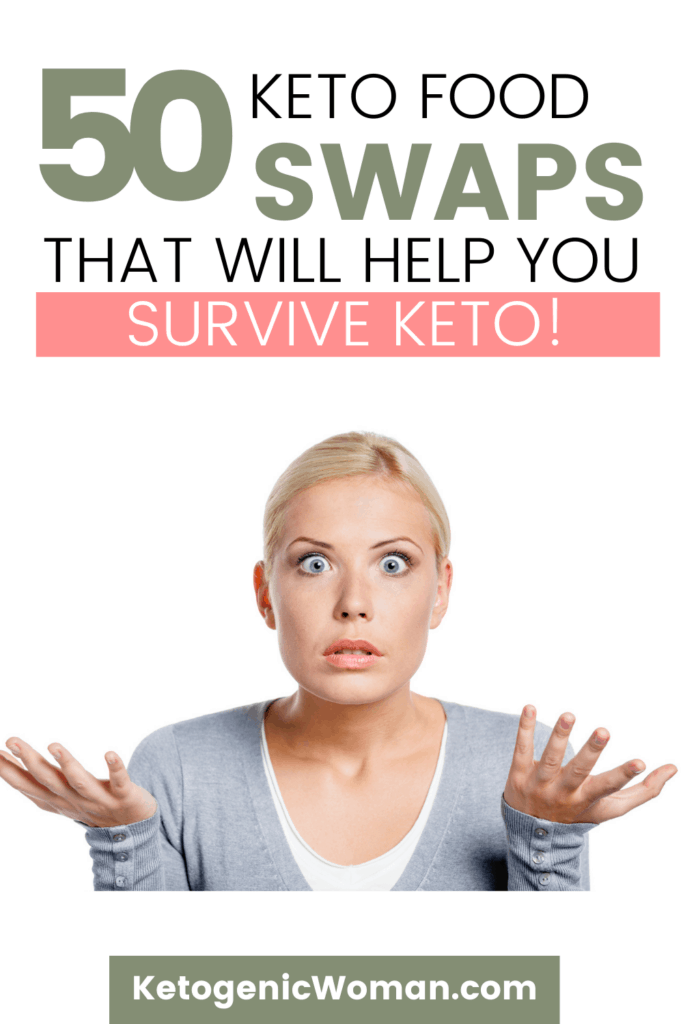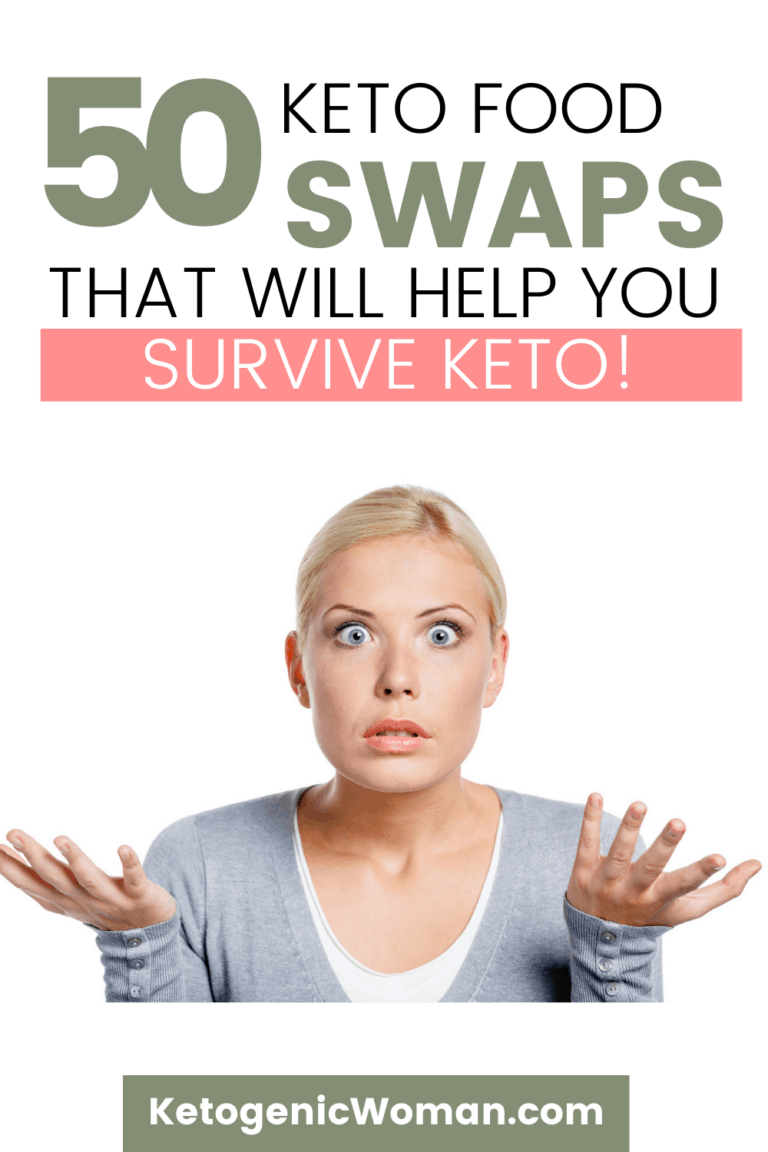 More Keto Diet In formation for Beginners
Read More About the Keto Diet
All the Keto Guides and How To's you need to help you navigate low carb eating and the Keto way of life!