Low Carb California Rolls are a perfect way to use either raw or cooked tuna, salmon and shrimp. Never miss sushi night again doing keto! Keep reading for more keto sushi ideas below!
Low Carb Keto California Rolls for Sushi Night!

Every now and then I just have to have sushi! But other than sashimi, the low carb sushi options are pretty slim!
So when I was recently challenged by a serious California roll craving I decided I need to address this whole lack of keto sushi rolls in my life and make some Low Carb California Rolls!
When I first went keto I did create some pretty decent Keto Spicy Tuna Rolls which I actually still love. But they are not what I was craving.
I needed the full blown rolls with rice! And now cauliflower rice is in every grocery store and so that saves a huge step. But if it's not available where you live you can make your own cauliflower rice by following my tutorial right here.
You are going to need some Low Carb Keto Sticky Rice!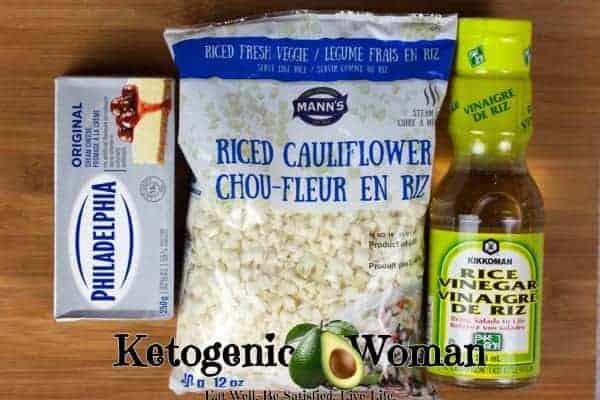 Not only are these low carb California rolls super tasty, they are crazy easy! And unlike rolls made with rice, these keto California rolls taste just as good the next day as they do the day you make them! That's a nice bonus!
Besides making California rolls, you can fill your keto sushi rolls with anything you like.
Find some sushi grade tuna or salmon. Or use smoked tuna or salmon to make some delicious keto sushi!
Fill the middle with thinly sliced cucumber, sprouts, daikon radish, avocado, cilantro, use your imagination to create!
You can even make your own Sugar Free Pickled Ginger right here!
Check out the Low Carb Sushi Rolls that I am taking to a potluck this Friday!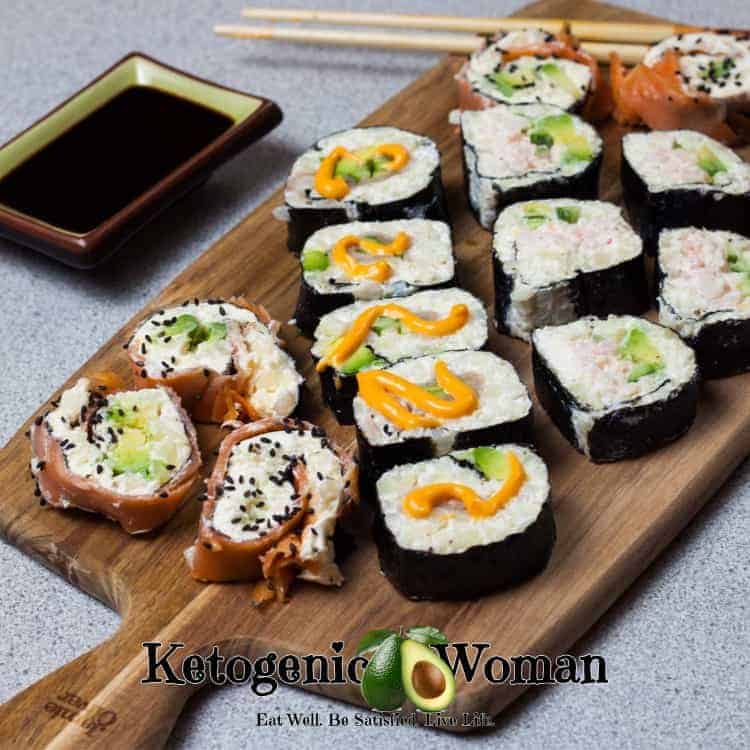 Basic things you need to make your own low carb sushi rolls:
Things to know when making low carb keto sushi rolls
Make the rice ahead of time because it needs to chill in the fridge for at least 2 hours.
When laying out the nori sheet, have the rough side face up so your 'rice' sticks to it better
The complete low carb California roll recipe details are in the printable recipe card below!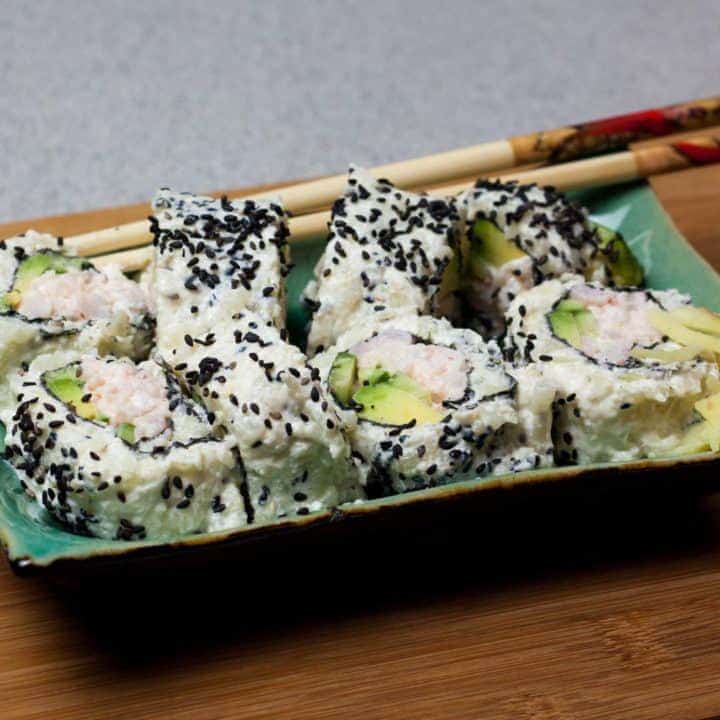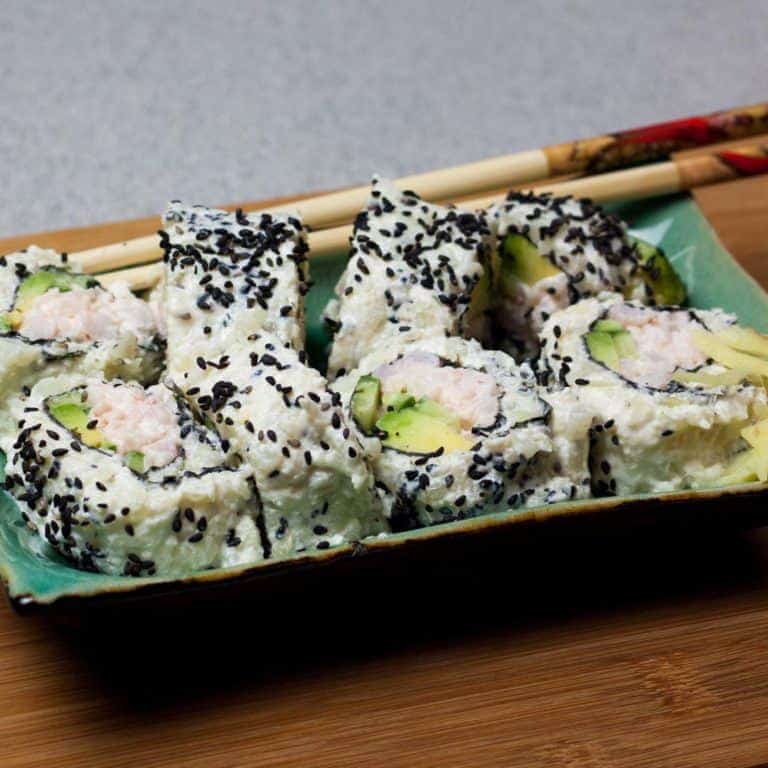 Low Carb California Rolls
Yield:
3 California rolls
Low Carb California Rolls can be made inside out (as shown above) or with the Nori side out. One of the best things about these low carb sushi rolls is that they taste great as leftovers, unlike rolls made with actual rice.
Ingredients
Sticky Rice Ingredients:
1 bag riced cauliflower
4 oz firm cream cheese (softened)
2 tbsp natural rice vinegar
California Roll Ingredients:
1 can crab meat (or fresh or use shrimp)
2 tbsp mayo
1 avocado sliced
1 mini cucumber, sliced in long strips
Instructions
Sticky Rice:
Cook bag of rice on high in microwave for 2 1/2 minutes
Dump the hot rice over top the softened cream cheese.
Add 2 tbsp rice vinegar
Gently stir and mix until the cream cheese is melted and combined well with the rice.
Refrigerate for at least 3-4 hours or even overnight.
Mix shrimp or crab with mayonnaise and set aside until assembly time.
Assemble the rolls:
Lay out sushi mat and place a nori sheet over the mat with the rough side facing upwards
With wooden spoon or rice paddle, spread 1/3 of the 'rice' over the nori sheet evenly
On the side closest to you, place a line of crab meat, avocado and cucumber slices.
Using the rolling mat, fold the sheet over and hold in place firmly for about 15 seconds. Then continue to roll but don't let the mat fold under the nori sheet. It is there to give you a firm grip and help you roll smoothly.
Set roll aside and make 2 more. I usually wrap them in plastic until I am ready to serve them, then I slice them with a super sharp knife. Each roll can be sliced into 6-8 pieces.
Garnish with fresh grated ginger, sesame seeds, wasabi powder, etc
Notes
Note: To make the inside out rolls (as pictured), be sure the rice sits overnight so it is super firm. I did the ones pictured much too soon!
Lay a sheet of plastic wrap over the sushi mat.
Spread an even layer of rice over the plastic
Place the nori sheet rough side down onto the rice
Place your filling on the edge
Roll as usual, not allowing the plastic wrap to roll under.
Slice with very sharp knife
Pin these Low Carb Sushi rolls someplace handy!