These Keto Pasta Noodles are just like the home made egg noodles my Mom used to make! Only these are low carb! They are firm and hold up well to various sauces and even in soup! Only 4 ingredients and no special tools required. Pasta is back on the menu!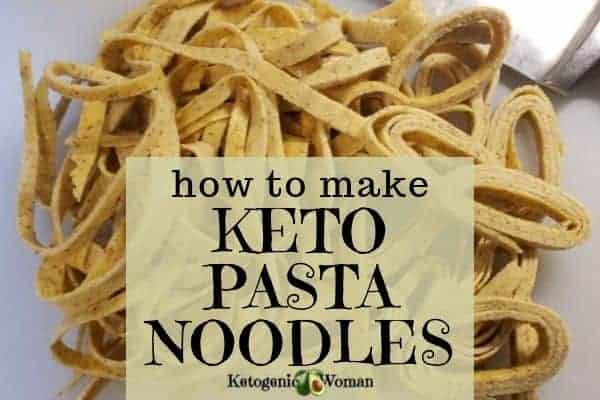 Keto Pasta Noodles You MUST Try Today!
My Mom could perform miracles with eggs and flour. She went through hard times where they learned to make do with very little. These noodles remind me of hers except these are only 2 net carbs!
My keto friend Shari Weiner calls these keto pasta noodles 'Eggsta'. It was her brilliant idea to tweak these egg fast noodles and add the psyllium to make a sturdy low carb and keto pasta noodle that is honestly a game changer!
With this basic keto pasta noodle recipe you can make almost anything that requires a sturdy linguine, fettuccine or lasagna type noodle.
Just think of the possibilities! Or should I say 'eggstabilities'!?
Ingredients You will Need to Make These Low Carb Noodles
Eggs
Cream Cheese
Mayonnaise
Salt
You will also need:
What Can You Do With These Keto Noodles?
The first thing I did when I made them was to toss them in a non stick skillet with a couple tablespoons of Pesto. It was delicious!
Spaghetti and meatballs (cut the noodles skinnier)
Fettuccine Alfredo
Chicken Noodle Soup (cut the noodles thinner and shorter)
Lasagna (make 2 sheets at once and cut the noodles in wide strips)
Linguine Carbonara
Just think of all the amazing sauces and creations that you don't have to use on top of zoodles or those weird smelly noodles anymore! Not that I don't love zucchini noodles, I do and will still use them sometimes.
But when you need that keto comfort food hit, these noodles will fill the void! Enjoy!
Tips and Tricks When Making the Keto Pasta Noodles
Be sure to let the egg and cheese mixture rest for 10 minutes after you blend. This will give the psyllium husks time to absorb and thicken up the mixture.
Use the whole psyllium husk , not the powder for best results. If powder is all you have, then use way less, try 1 teaspoon for each tablespoon.
Feel free to add some Italian seasoning to the egg mixture
Double the recipe. You'll kick yourself if you don't!
Spread out the batter as thin as you possibly can. The noodles will rise slightly when baking so take that into account. I found the best tool for this is an angled frosting spreader .
Save leftovers in single portion sizes in the fridge for a quick dinner or to toss in some soup.
Here is a visual aide to help you make your pasta noodles!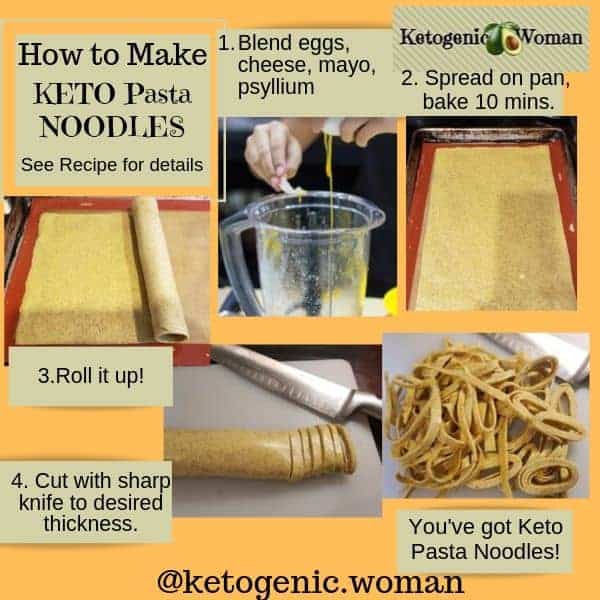 Recipe Card for How to Make Keto Pasta Noodles
Yield: 2 servings
How to Make Keto Pasta Noodles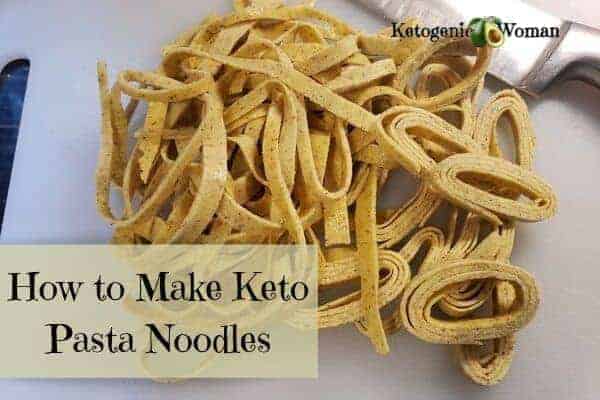 Ingredients
3 eggs
2 tbsp cream cheese
1 tbsp mayo
2 tbsp psyllium husks
1/4 tsp salt
Instructions
Preheat oven to 350
Combine all ingredients in blender and blend
Let mixture rest for 10 minutes. DO NOT SKIP this step!
Place silicone mat on large baking sheet
Pour egg mixture in center and spread out with flat spatula
Bake for 8-10 minutes
Allow to cool for 15 minutes
Peel edge of pasta sheet from baking mat and roll like a jelly roll. (see pictures in main article)
Cut roll with a sharp knife to desired thickness.
Serve with your favorite sauce!
Notes
Pasta is cooked and so if you make extra, it just needs to be either tossed in a hot sauce or soup or you can warm it up in microwave with a sauce.
Nutrition Information:
Yield:
2
Serving Size:
1 c
Amount Per Serving:
Calories:

223
Total Fat:

18g
Saturated Fat:

6g
Unsaturated Fat:

5g
Cholesterol:

18mg
Sodium:

390mg
Carbohydrates:

7g
Net Carbohydrates:

2g
Fiber:

5g
Sugar:

1g
Protein:

10g
Nutritional information for the recipe is provided as a courtesy and is approximate only. We cannot guarantee the accuracy of the nutritional information given for any recipe on this site. Erythritol carbs are not included in carb counts as it has been shown not to impact blood sugar.
Save this Home made Keto Pasta Noodle recipe to Pinterest!