You are about to try what I think is the best keto poutine recipe out there! It has the cheese curds. It has the savory gravy. And it has the crisp 'fries'. It really has it all and you won't be disappointed!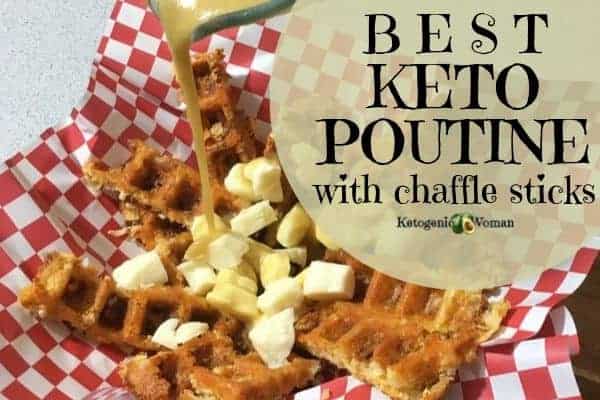 The Best Ever Keto Low Carb Poutine!
Ok, let's be honest here. I have tried keto poutine recipes before. But I'm sorry, they may look like fries with gravy and cheese, but honestly, some of those fries are just plain old limp and lifeless.
But enter the chaffle! What is a chaffle and what does that have to do with the best keto poutine recipe?!
A chaffle is a crunchy waffle. You can check out my post about how to make basic keto chaffles here. But one day, as I munched on a chaffle, I realized that they could stand up to a sauce or gravy. I started to imagine how they might be made into fries.
The best keto poutine is made with crunchy chaffle sticks!
I tried just using extra cheese to make them crispier and then topped with a low carb gravy and cheese curds. They were ok but lacked something in the texture.
After bouncing some ideas back and forth with my friend (and fellow chafflevangelist) Shari Weiner, she mentioned using cauliflower rice to make something like a crispy tater tot. That was it! I knew it would work!
I basically made 4 tator tot like crunchy waffles, cut them into strips and we had an excellent substitute for fries!
Ingredients and tools you will need to make the best keto poutine recipe!
For the fries:
Cauliflower rice (cooked)
Egg
grated mozzarella cheese
seasoning salt (your favorite sugar free seasoning)
For the gravy: (Recipe adapted from Trim Healthy Mama site)
Chicken broth
butter
salt, pepper, onion powder
Cheese curds for on top of the fries
Tools needed:
Best Keto Poutine Gravy Hack and other tips!
If you are a poutine lover, then you know the gravy is important. This gravy from Trim Healthy Mama has a nice flavor but I always have trouble using xantham gum so I put it together a little different from what they have on their website.
This gravy adds practically zero carbs and very few calories to the poutine recipe.
take 1/2 cup of broth and 1/2 teaspoon of xantham gum and put into a magic bullet or other small blender.
blend until you get a smooth clear gross looking thick liquid
You can put that aside while you do everything else. You will be stirring that into your gravy later.
Cheese curds: I like to cut them into smaller pieces so that they melt more when the hot gravy goes on top
Yield: 2 servings
The Best Ever Keto Poutine!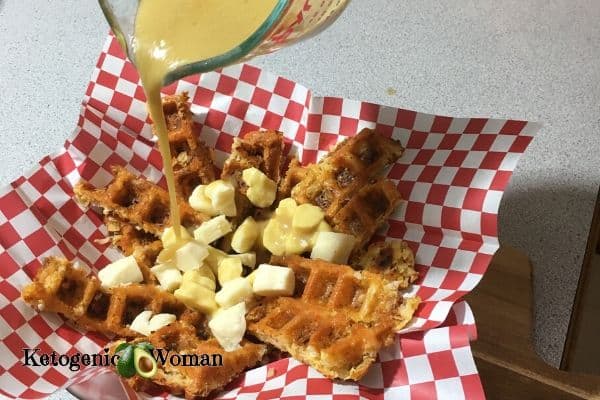 This is the best keto poutine recipe ever because it has everything! Crispy chaffle sticks topped with cheese curds and smothered in a savory gravy!
Ingredients
Chaffle Stick Fries
1 cup grated mozzarella cheese (or any cheese!)
2 eggs
1 cup cooked cauliflower rice
salt and pepper to taste
1/2 cup grated mozzarella cheese, reserved
seasoning salt to taste
Gravy:
1 cup chicken broth
1 tbsp nutritional yeast
1 tbsp butter
1 tbsp Braggs Liquid Seasoning
onion powder, salt and pepper to taste
GRAVY THICKENER:
1/2 c chicken broth
1/2 tsp xanthan gum
Poutine Topping
About 1/2 cup cheese curds
Instructions
Heat up waffle maker
Combine all the chaffle ingredients into a bowl and mix well
Sprinkle reserved grated cheese on hot waffle maker (1 tbsp for mini, 1/4 cup for full size)
Spread cauliflower cheese mixture onto waffle iron and spread evenly with spatula. If using mini waffle maker, use 1/4 of the mixture for each waffle.
Sprinkle top of waffle with remaining cheese
Sprinkle seasoning salt
Close lid and cook until very crispy!
Gravy:
1. Blend 1/2 cup broth and 1/2 tsp xantham gum in small blender and blend until you have a thick goopy liquid
2. In a pot, combine the rest of the gravy ingredients and heat until it simmers
3. Whisk in the contents of blender until you have a nice smooth gravy
Serving:
1. Cut Chaffle into sticks and pile onto a plate
2. Layer cheese curds on top
3. Pour hot gravy on top
4. Eat them!
Notes
To cook cauliflower rice: You can cut place the bag of cauliflower rice on a plate and microwave on high for 2 minutes (but check YOUR brand for bag instructions).
If using homemade riced cauliflower then either saute it in a pan with a little olive oil for about 5 minutes or microwave it in a bowl covered with saran wrap for about 2 minutes.
Recommended Products
As an Amazon Associate and member of other affiliate programs, we earn from qualifying purchases.
Nutrition Information:
Yield:
2
Amount Per Serving:
Calories:

398
Total Fat:

20g
Carbohydrates:

12g
Net Carbohydrates:

8g
Fiber:

4g
Protein:

44g
Want more Chaffle?
More Keto and Low Carb Chaffle and Waffle Recipes!
Get out your waffle maker! Chaffle is the new Waffle, and both are perennial family favorites! And they are not just for breakfast anymore!
Save the Best Keto Poutine on the internet to Pinterest!