These keto chaffle nutter butter cookies are a gluten free nutter butter treat! The original peanut butter recipe was developed by chafflevangelist Shari Weiner and then tweaked to make almond butter cookie chaffles! Whether you use almond butter or peanut butter, they are amazing!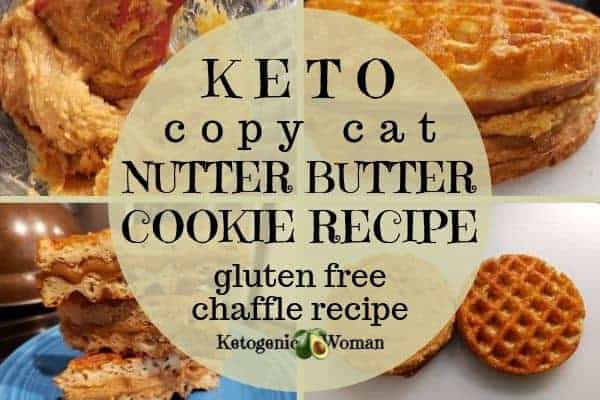 Keto Nutter Butter Cookies Gluten Free Chaffle Version!
Can this chaffle thing get any crazier!? I sure hope so! Let's go with it and make these keto chaffle nutter butter cookies!
I have to warn you that the addiction factor with these is very real! I made a batch this morning and will have trouble keeping my hands off them!
The almond butter version is perfect for kids who have peanut allergies or have friends with peanut allergies.
If you want to make the peanut butter version, there is no change in the amounts, the ingredients are 100% interchangeable.
Gather these items to make the keto nutter butter chaffle cookies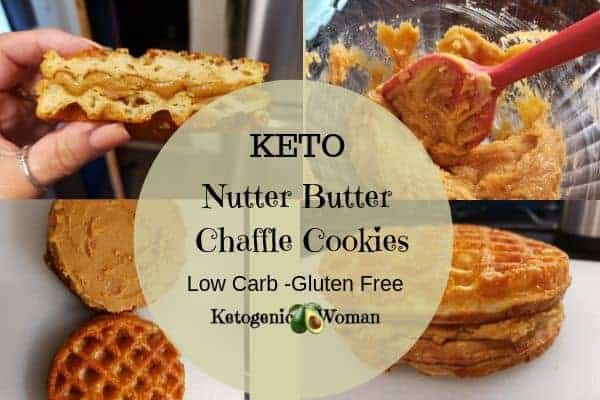 Tips and tricks for making these gluten free nutter butter cookies chaffle style!
If you don't have the Dash mini waffle maker, you can definitely use a full size machine! In fact it saves time!
To make the peanut butter version, you can substitute the same amount of PB2 and Peanut Butter for the PB2 almond powder and almond butter.
Measure your sweetener in 1 tbsp at a time. The recipe calls for 2-4 tbsp powdered sweetener and the various sweeteners can have different levels of sweetener. I used 3 tbsp of the So Nourished sweetener and found it to be plenty sweet!
Let your chaffles cool completely before adding the nutter butter filling.
Printable Recipe card for Keto Nutter Butter Chaffle Cookies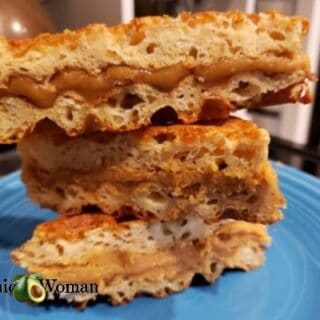 Keto Nutter Butter Cookies Gluten Free Chaffle Version!
A keto and gluten free version of the famous Nutter Butter cookies! We use Chaffles to keep them crispy!
Ingredients
Chaffles:
2 Eggs
1/2 cup grated part skim mozzarella cheese (2 ounces)
1 tbsp sweetener
1/2 tsp vanilla extract
1/4 cup PB&Me almond powder
Nutter Butter Filling:
1/4 cup almond butter
2 tbsp unsalted butter(softened)
1/4 cup powdered sweetener
1/2 tsp vanilla
pinch of salt (omit if you used salted butter)
Instructions
Beat eggs in a bowl and combine with Almond powder or flour, sweetener and vanilla extract.
Heat up a waffle maker
Sprinkle cheese on bottom (1 tbsp per chaffle)
Pour egg mixture on top of cheese (about 2 tbsp per chaffle)
Sprinkle cheese on top (1 tbsp per chaffle)
Close lid and cook until crispy
Repeat until you have used up all the egg mixture and cheese.
If using a full size waffle maker, you will not have to repeat, just use 1/2 the cheese and pour all the egg mixture on the bottom and then rest of cheese on the top.
Cool the chaffles on a wire rack
Filling:
1. Combine all the filling ingredients in a small bowl
2. Blend with wooden spoon until smooth
3. Spread evenly over the chaffles
4. Close up the chaffles like a sandwich cookie
5. Cut into strips or squares or whatever shapes you want!
Nutrition Information:
Yield:

4
Serving Size:

1
Amount Per Serving:
Calories:

264
Total Fat:

21g
Carbohydrates:

6g
Net Carbohydrates:

4g
Fiber:

2g
Protein:

14g
Check out my other Keto Chaffle and Waffle recipes here!
More Keto and Low Carb Chaffle and Waffle Recipes!
Get out your waffle maker! Chaffle is the new Waffle, and both are perennial family favorites! And they are not just for breakfast anymore!
Save this gluten free keto nutter butter chaffle cookie recipe to Pinterest!