These Keto Pizza Chaffles are from the cookbook "Bake it Keto" by Jennifer Marie Garza. One of the reasons that I love Jennifer's blog is she not only loves Chaffles as much as I do, she also makes easy straight forward recipes that I can relate to! Pizza Chaffles are a perfect fast and easy low carb lunch or dinner that can be customized to any taste!
Excerpted from KETO FRIENDLY RECIPES: BAKE IT KETO © 2020 by Jennifer Marie Garza. Photography © 2020 by Ghazalle Badiozamani. Reproduced by permission of Houghton Mifflin Harcourt. All rights reserved.
Keto Pizza Chaffles
Is there really no end to what you can make with these Chaffles!?
Even though I have many Chaffle recipes on my site, it's always a pleasure to feature Chaffle recipes from other keto peeps! I was given permission to show off this everyday chaffle recipe from LowCarbInpirations.com, which has been one of my favorite go-to Chaffles. This (and other chaffle and keto-friendly recipes) are featured in Jennifer Marie Garza's new book Bake it Keto.
Why is this keto recipe book so darned good?
Like most of us, for YEARS, the author of this book, Jennifer Marie Garza, struggled with her weight.
She tried EVERYTHING. Like every. damn. thing!
She decided to try one more thing…the Keto diet.
She knew there was only ONE way she would be successful on this new diet…
…if she learned to make easy AND delicious recipes – so she wouldn't get bored and give up.
They had to be like velcro shoes instead of laces – level easy. And they had to be so good, the whole family would happily gobble them up without questioning whether or not they were Keto.
She lost 55 heavy and uncomfortable pounds and kept it all off, turning her Keto "diet" into a lifestyle she adored.
Since then, she's guided 450,000 loyal followers!
Lucky for us, she put all this testing into a new recipe book!
This Pizza Chaffle Recipe is straight from her book. And I'm adding it to my list of favorites. Anytime I can make Pizza and stay Keto is a good day, in my opinion!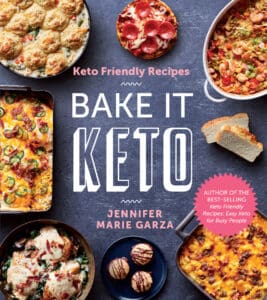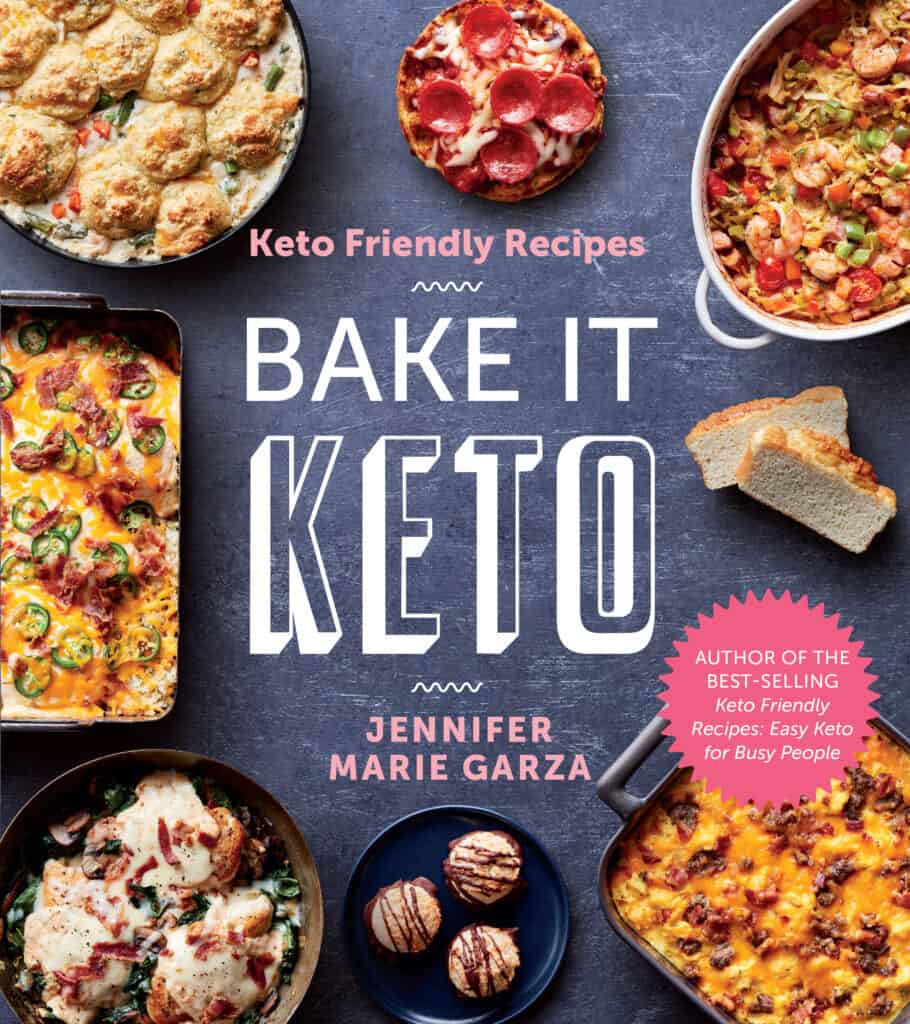 With breads, muffins, cookies, casseroles, and so much more, you're sure to find something that will become a household staple. Here are some recipes you will find in the book:
Bacon and Cheese Egg Bites
Crustless Chorizo Breakfast Bake
Dutch Baby Pancakes
Pizza Bagels
Mexican Queso
Keto Chips
CauliMac and Cheese Bake
Cheesy-Biscuit Chicken Pot Pie
Broccoli Bacon Casserole
Be sure to order your copy today!
This Keto Pizza Chaffle is one of those recipes that can really become a staple and it can be changed up every time you make if you want!
If you have read this far and are not sure what a Chaffle is, then find out the basics of How to Make a Chaffle here.
I used this recipe to duplicate my very favorite keto pizza chaffle, which is Tomato, Basil and Feta Pizza. Check it out!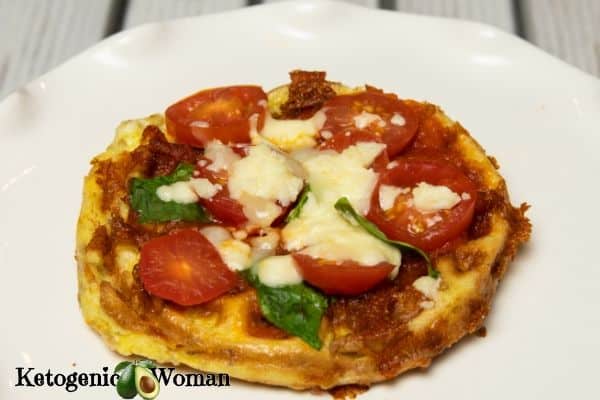 You Only Need a Few Simple Things to Make These Keto Pizza Chaffles!
Eggs
Italian seasoning
Mozzarella cheese
Low Carb Pizza sauce (Rao's homemade is the best and lowest in carbs!)
Sliced pepperoni or any of your favorite toppings!
And of course your mini waffle maker!
Keto Pizza Chaffles Printable Recipe Card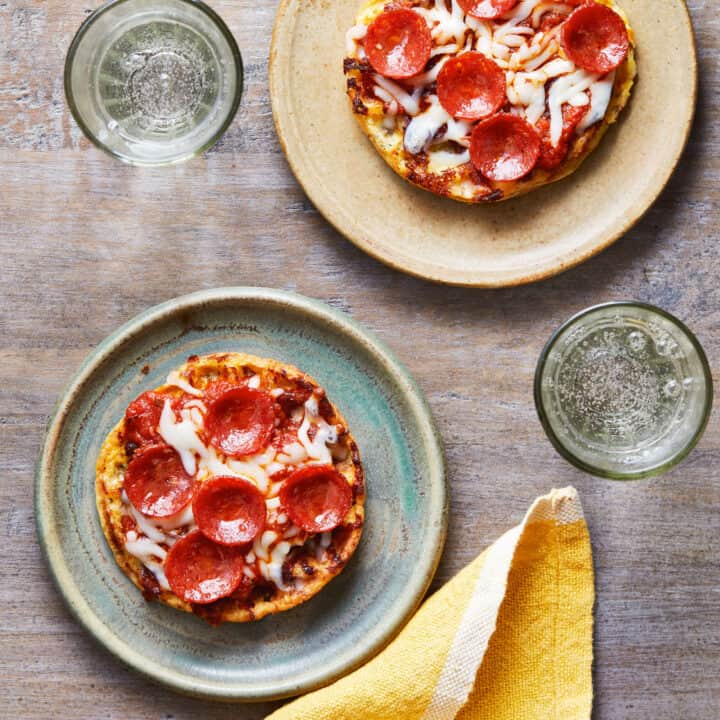 Keto Pizza Chaffles
Fast and delicious Keto Pizza Chaffles are a perfect low carb lunch or snack that will become a family favorite.
Ingredients
1 large egg
½ teaspoon Italian seasoning
½ cup plus 2 teaspoons shredded part-skim low-moisture mozzarella cheese, plus more for the topping
2 tablespoons Rao's homemade pizza sauce
Sliced pepperoni or any of your favorite toppings, optional
Instructions
PREHEAT a mini waffle maker according to the manufacturer's
instructions.
In a small bowl, whisk together the egg and Italian seasoning. Add the ½ cup mozzarella cheese and mix until combined.
SPRINKLE 1 teaspoon mozzarella into the waffle maker and let it cook for 30 seconds. Add half the batter and cook until golden brown and crispy, about 4 minutes. Transfer the chaffle to a microwave-safe plate.
Repeat with the remaining 1 teaspoon mozzarella and batter.
TOP each chaffle with 1 tablespoon pizza sauce, additional shredded
mozzarella, and pepperoni, if using. Heat in the microwave for about 20 seconds and serve immediately.
Notes
I prefer my Chaffles a little thinner and so I was able to make 3 Pizza Chaffles with this amount of batter.
Pizza Chaffles are best heated up in an oven or air fryer but I also love them cold!
Excerpted from KETO FRIENDLY RECIPES: BAKE IT KETO © 2020 by Jennifer Marie Garza. Photography © 2020 by Ghazalle Badiozamani. Reproduced by permission of Houghton Mifflin Harcourt. All rights reserved.


Nutrition Information:
Yield:

2
Serving Size:

1 Pizza
Amount Per Serving:
Calories:

106
Total Fat:

6.7g
Carbohydrates:

2.7g
Net Carbohydrates:

2.4g
Fiber:

.3g
Protein:

8.5g
Looking for More Keto Chaffle Recipes?
More Keto and Low Carb Chaffle and Waffle Recipes!
Get out your waffle maker! Chaffle is the new Waffle, and both are perennial family favorites! And they are not just for breakfast anymore!