These instructions and variations for Basic Keto Chaffles can be used as a cornerstone recipe for all your Keto and Low Carb bread and bun substitute needs. They are not just for the egg fast, that is just a happy bonus for egg fast dieters! You can also use these on Carnivore! Any place you need a bun, wrap or bread, these low carb chaffles will fill the gap!

How to Make a Basic Keto Egg Fast Chaffle
If you haven't tried a Chaffle yet then you are in for not only a yummy surprise, you'll be joining the cool kids on the internet in this latest craze! We are going to learn how to make a basic Keto Chaffle that is perfect for Egg Fast, Carnivore and regular keto!
Once you know how, there are hundreds of keto and low carb Chaffle variations you can do both during and after the egg fast is over!
---
Save these Instructions for Making a Basic Keto Chaffle on Pinterest!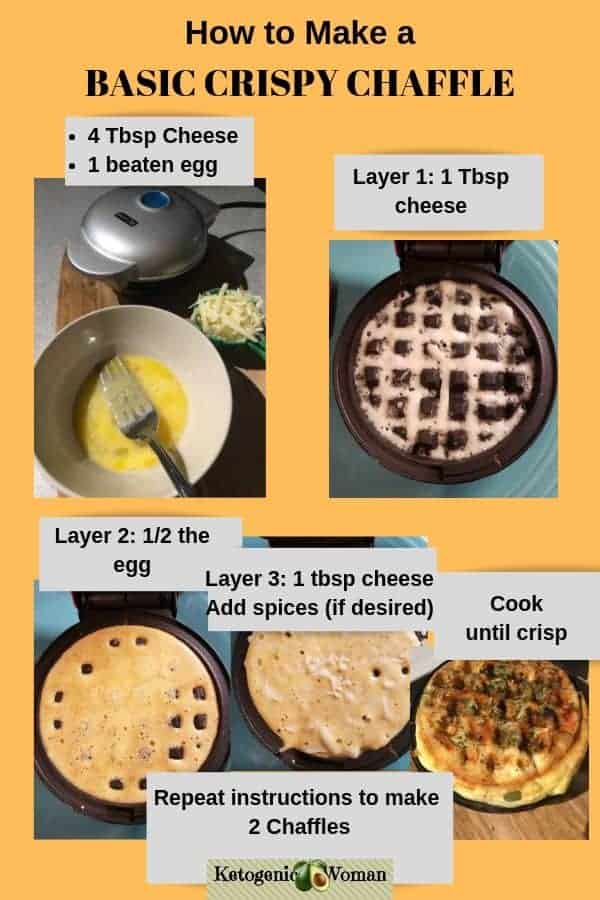 What is a Keto Chaffle and why are they so popular?
Basically, it is a waffle that is crunchy because it has a cheese crust.
It holds up better than a normal egg fast waffle or keto waffle because the cheese crust makes it very sturdy. Therefore it can be used as bread for egg sandwiches, it can be toasted, and it's really very much like a cheese bread or bun!
For any recipe you can think of where you are missing a bun or bread or wrap, these keto chaffles make a perfect bread substitute.
Ingredients Needed for Making an Egg Fast Chaffle (or Carnivore Chaffle!)
This will make 4 chaffles
2 Eggs
2 ounce grated Cheese (about 1/2 cup grated cheese). Your choice of cheese can vary depending on what variation of egg fast chaffle you are making.
2 tbsp approved egg fast fats (optional, you can save your fats for on top if you want)
whatever spices you want to add for a savory egg fast chaffle
for a sweet chaffle you can add some of your allotted sweeteners for the day (see variations below)
NOTE: I have done this egg fast version with using half the cheese in a regular chaffle in order to keep your dairy to a minimum.
Tools needed for Making the Keto Chaffle
For perfect Eggo sized chaffles I use the Dash mini waffle maker. You can use any waffle maker however.
Now that I have really appreciated the versatility of the chaffle, not just for the Egg Fast but in all my Keto recipes, I went ahead and ordered the Dash 4 waffle maker and it's been such a timesaver!
Something to whisk up your egg either with a manual whisk or a mini blender. If you are saving your fat to have on top or eat later then a whisk will do. If you are trying to use up fats for the egg fast, then use a small blender.
See how easy this is going to be!?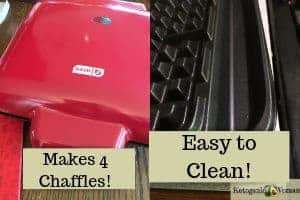 Basic Keto or Egg Fast Chaffle (also Carnivore)
Makes 4 Egg Fast Chaffles
Plug in your Dash mini waffle maker
Whisk together your eggs or use the blender to blend 2 eggs plus 2 fats
When waffle maker is hot (the light goes off) sprinkle 1 tbsp grated cheese on the waffle maker
Pour 1/4 of the egg mixture on top of the cheese and close the lid
When light goes off, open the waffle maker and sprinkle another tbsp cheese on top
Sprinkle your additions on top and close the lid
When light goes off again, check out the chaffle. I sometimes cook them longer to make them extra crispy so leave them in for as long as you need!
Repeat these steps to make 4 Egg Fast Chaffles! (or make 4 at once with the bigger Dash which I LOVE!)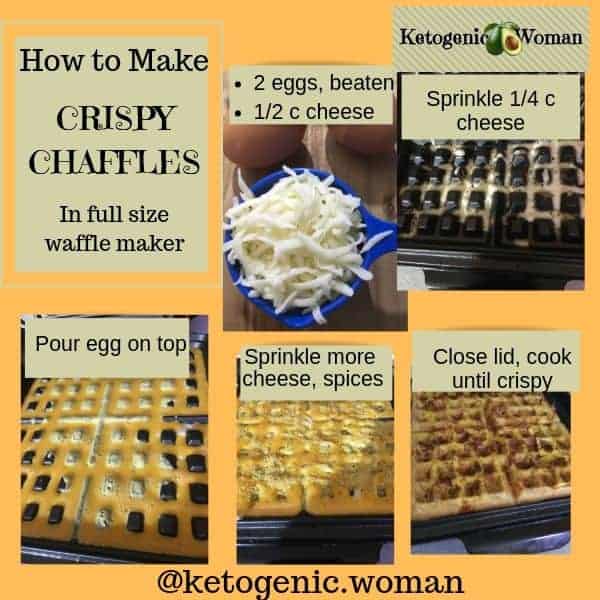 Savory Carnivore or Egg Fast Chaffle Variations
Add these variations during Step 6 while making the basic egg fast chaffle. You can change up the cheese depending on the variation. Use about 1/4 teaspoon spice per chaffle.
Italian Chaffle. Use any type of cheese or cheese blend and sprinkle Italian spice seasoning
Mexican Chaffle. Use monterey jack cheese with jalapeno and sprinkle taco seasoning on top.
Everything Bagel Chaffle. Any type of cheese and 1/4 tsp Everything but the bagel seasoning.
Greek Chaffle. Use a blend of feta and mozzarella and sprinkle oregano or a greek blend on top
Garlic Bread Chaffle. Use parmesan cheese and leave out the fat from the eggs. Sprinkle garlic flakes or garlic salt on top and then spread with butter when chaffle is cooked.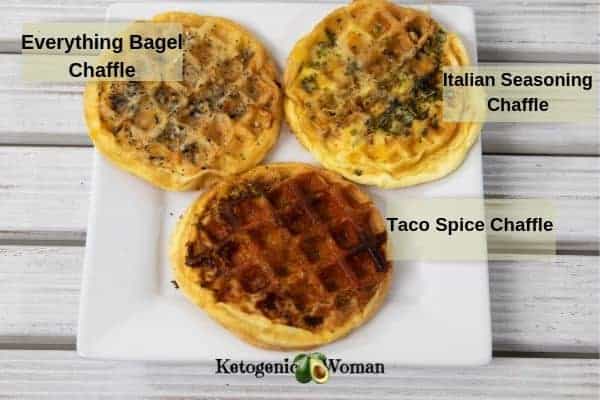 Can You Freeze Your Keto Chaffles?
Yes, you can freeze your chaffles. However, they will be quite moist when defrosting.
Do not microwave them, as the cheese will make the chaffle weird and chewy and not crispy. Use a toaster or an air fryer to get them dry and crispy.
Sweet Egg Fast Chaffle Variations
Note: For Carnivore, these are not a good choice, stick to the basic savory keto chaffles.
For sweet egg fast chaffles use a mild neutral cheese such as mozzarella. Blend in your sweetener of choice when you whisk or blend your eggs. If you are using Skinny Syrups, then 2 tbsp is plenty for 2 eggs and that is one serving of sweetener.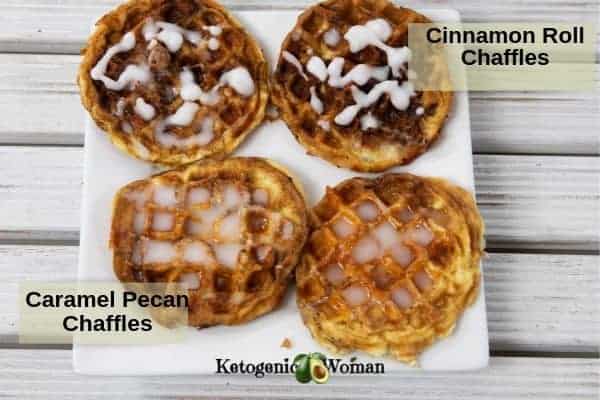 I'm sure by now that you get the idea! Use your imagination and just stay within the sweetener and cheese limits of the egg fast for best results!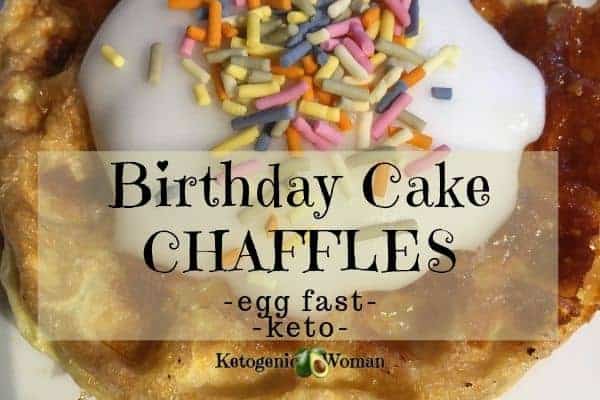 Check out more Keto Egg Fast recipes to keep you going!
More Egg Fast Recipes to Try
Want more Egg Fast recipes? You've come to the right place, we have the best ones here! Check them out!
Save these Egg Fast Chaffle ideas to Pinterest!