Better than TJ's Everything Bagel Spice Mix For Your Keto Recipes
So, this all started when I wanted to make Oopsie rolls with Everything Bagel Spice mix.
Now I'm in Canada and I'm used to paying twice as much for everything. But when I logged onto my favorite source for all things (aka Amazon) and saw that a tiny bottle of Everything Bagel Spice mix was going to be around $15 from Amazon.ca, I said no way!
You guys in the US will pay 8.99 for a good size jar of it, lucky you! But still, I can save you money right here!
Off I went to the grocery store. Then another store. Then another. You get the idea, nobody in Canada sells the darn Everything Bagel Seasoning Mix!
Yet everywhere I look we have bagels covered in the stuff. Am I supposed to buy bagels and scrape off the topping?! Hey, I was feeling a little desperate.
And then I remembered! I am a food recipe blogger, surely I can find recipes online and then make my own.
And that is exactly what I've done. This same recipe is all over the internet and I'm sharing it here for you so you too can make your keto recipes sprinkled with Everything but the Bagel Seasoning mix!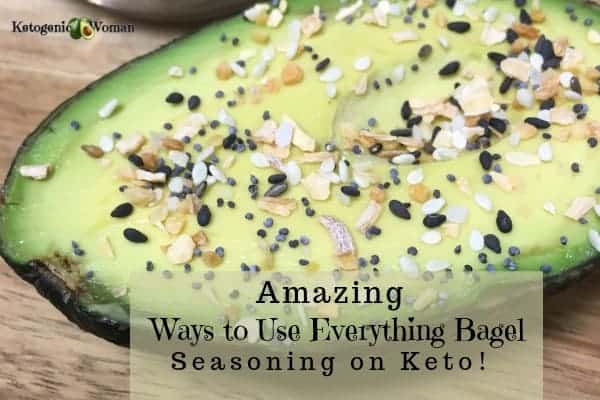 Amazing Ways to Use Everything Bagel Spice Mix on Keto
I'm thinking we can use it on:
Scrambled eggs and fried eggs
Avocado slices
Oopsie rolls
salads
chicken breast
Make cheese chips in the oven and sprinkle these on before baking so they melt into the cheese!
Any type of seafood
I'm sure you can come up with more ideas too!
If you are doing keto on a budget then you need this recipe for Everything But the Bagel Spice Mix!
Forget Trader Joe's!
Making your own seasonings is a very budget friendly thing to do! I bought all the required seasonings (there are 5 of them in total) for much less than the small $15 dollar bottle I saw online and I have enough for several bottles of the stuff. And I may need them all because this stuff is delicious!
Check out my article for other ways to Do Keto on a Budget.
Just make your Everything Bagel Spice mix and keep it in a jar in the pantry. There are no special tools required, plus you might already have some of these seasonings in your pantry.
The only thing I had trouble finding was the black sesame seeds but if you have to order just one spice online, this is still a good money saving recipe.
Ok, let's make our Everything Bagel Spice and Topping mix. Print out the recipe below and take 5 minutes to make this. You are going to love this!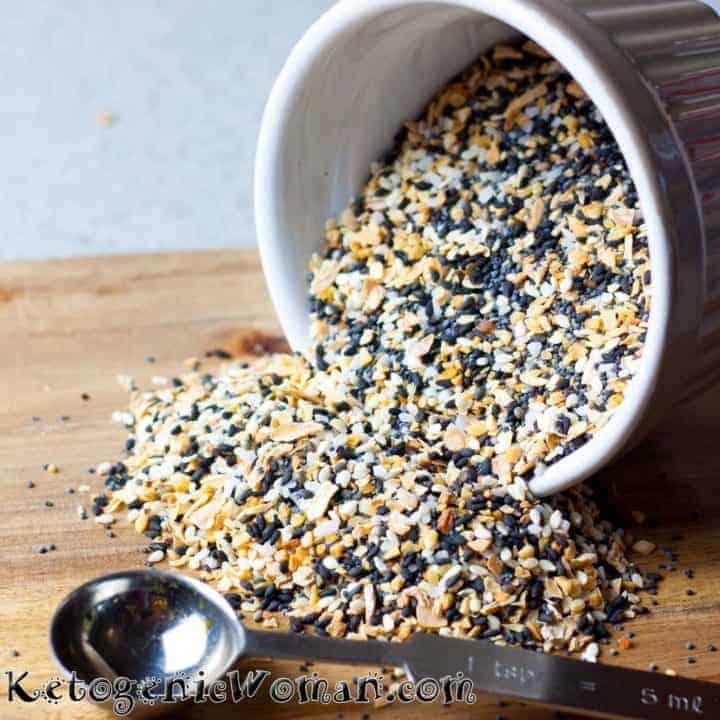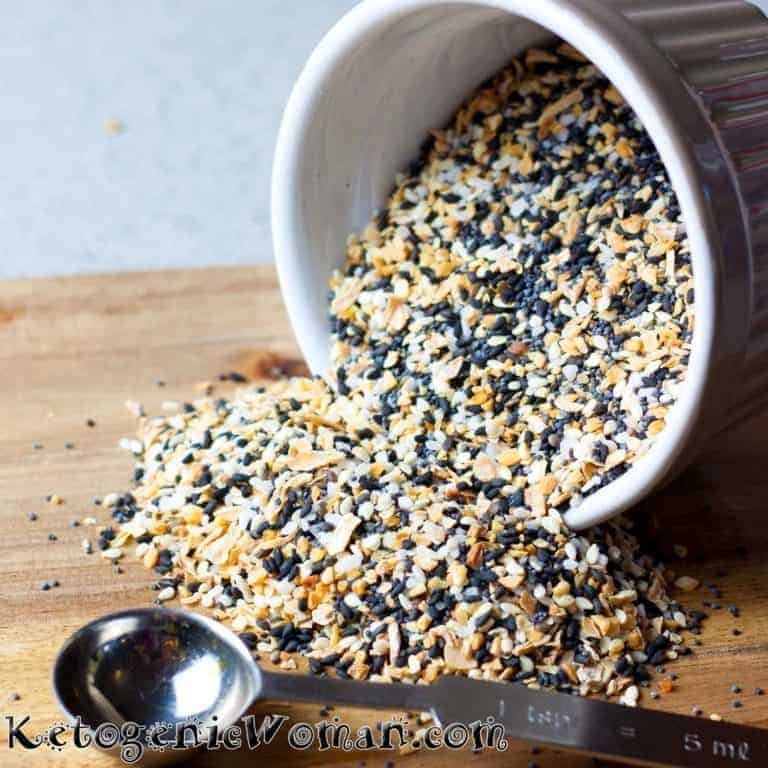 Everything Bagel Spice Mix For Your Keto Recipes
Make your own Everything Bagel Seasoning mix and put it on, well everything!
Ingredients
1 tbsp Black sesame seeds
1 tbsp White or Natural sesame seeds
2 Tbsp poppy seeds
1 1/2 Tbsp minced dried garlic
1 1/2 Tbsp minced dried onion
1 Tbsp sea salt flakes or kosher salt
Instructions
Combine all the seasonings in a bowl and stir
Put in a sealed jar
Sprinkle it on everything!
Save this recipe for Everything Bagel Spice Mix on Pinterest here: