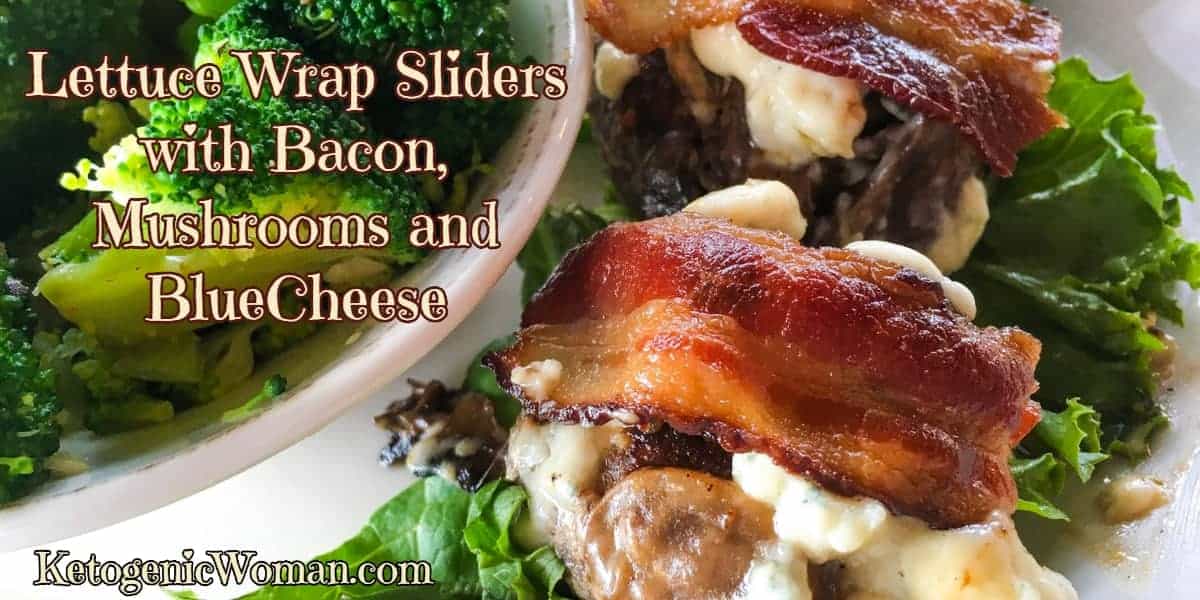 Keto Lettuce Wrapped Bacon, Blue Cheese, and Mushroom Sliders
These Keto Lettuce Wrap Sliders are super easy to make and so full of flavor! I happen to love the intense flavor combination of blue cheese and mushrooms, but you can certainly turn this into a swiss mushroom slider or use any other type of cheese that you prefer.
I have noticed that more and more burger places are offering lettuce wrap burgers on their menus which is great to see!
We have a place that my family likes to visit that has the best lettuce wrap burger. It is HUGE. And honestly, I need to come home and take a shower after. With a full size burger I do find it difficult to eat a lettuce wrap without making a huge mess all over myself.
Here's a picture of their giant lettuce wrap burger, which I love BUT, it's a mess by the time I get through it!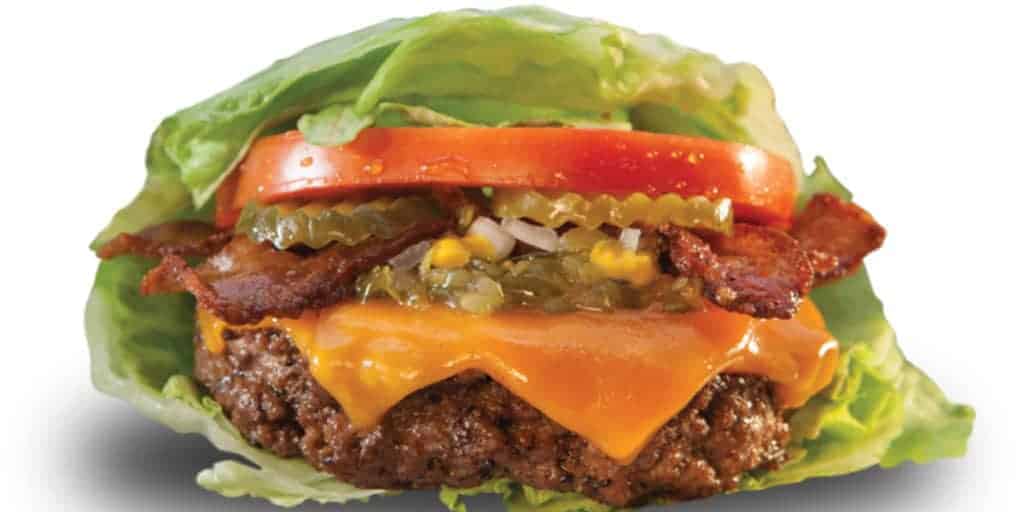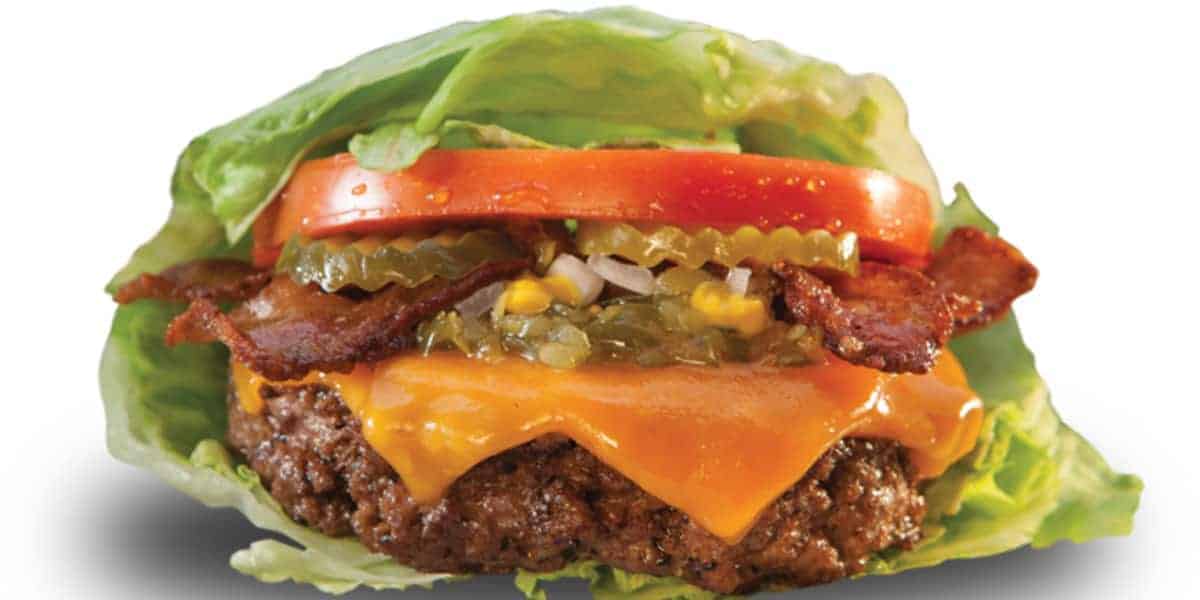 That's why you will LOVE these Keto Sliders!
Because these keto lettuce wrap sliders are the perfect solution! It's easier to find pieces of lettuce big enough to hold the smaller burger size.
Plus you can shove that baby in long before it starts to drip the juiciness all over the place! Can you tell I'm getting hungry!?
Pair your sliders with some steamed broccoli or how about making some low carb fries out of jicama or turnip?
A couple cooking tips for making these keto lettuce wrap sliders:
You can use any oven proof skillet for this recipe, but I really love burgers done in my cast iron pan! Maybe it's because that is how my Mom always made burgers and somehow they were just the best! So if you have a cast iron pan, make use of it for this recipe!
Many keto peeps stay away from Worcestershire sauce because it does have sugar. BUT, just 1 teaspoon of this sauce with it's 1 carb (approximately) will make a huge difference in flavor to 1 pound of ground beef so to me it is worth the extra 1/4 g of carb per serving.
Print out the Recipe card below and give these keto lettuce wrap sliders a try!
Yield: 8 sliders
Keto Sliders with Bacon, Blue Cheese and Mushrooms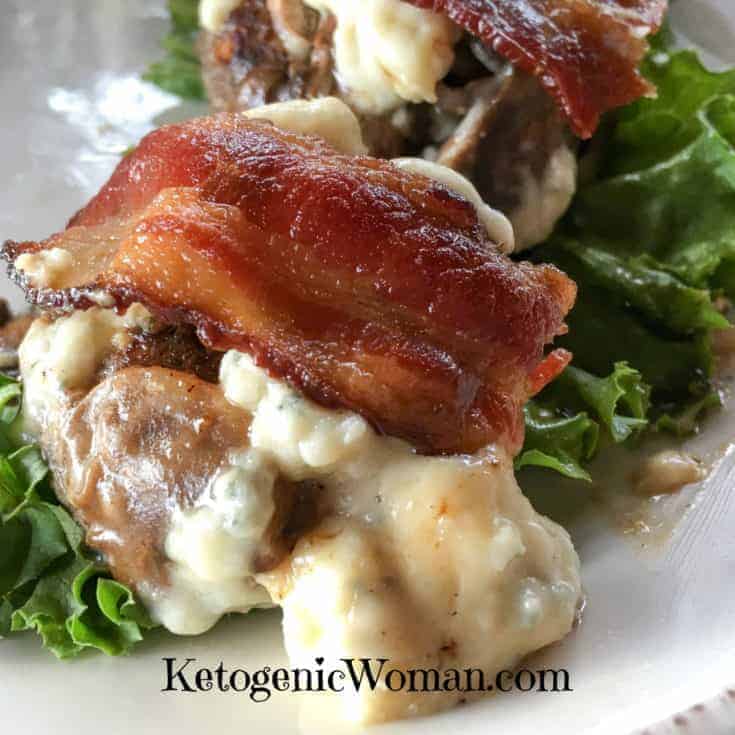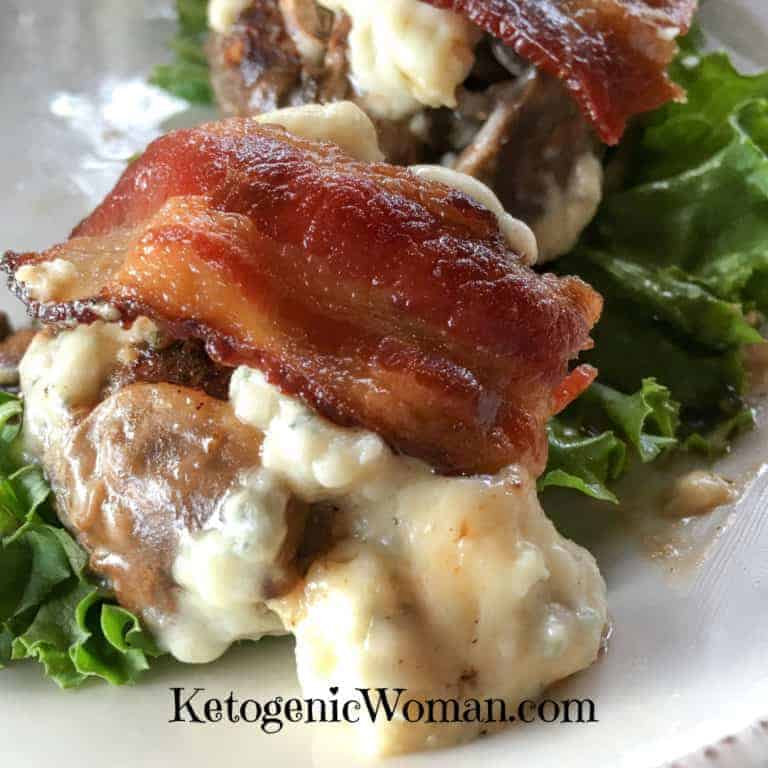 Every mouthful of these tasty little beef sliders is so delicious you won't even miss the bun. Finely minced garlic and onion imparts juiciness and flavor to otherwise basic ground beef, while bacon, mushrooms, and sautéed mushrooms make every bite something to savor.
Ingredients
1 lb. ground beef
1 tsp Worcestershire sauce
2 t. Dijon mustard
3 cloves garlic, finely minced
2 T. white onion, finely minced
Sea salt and black pepper, to taste
2 T. extra virgin olive oil, divided
4 oz. white mushrooms, sliced
3 oz. crumbled blue cheese
3 strips bacon, cut into thirds and cooked
Instructions
Preheat oven broiler to high and set top oven rack to the second highest position.
Add ground beef, mustard, garlic, Worcestershire, and onion to a medium bowl. Season with salt and black pepper, to taste, and mix with a fork or your fingers until all ingredients are thoroughly combined.
Divide beef mixture into 8 portions and shape each into small patties. Set patties on a plate and gently press each with your thumb in the center to keep them from puffing up while cooking. Set aside.
Heat olive oil over medium-high heat in a large, oven-safe skillet. Add mushrooms and cook, stirring occasionally, until mushrooms are nicely browned, approximately 5-6 minutes. Remove from heat and transfer mushrooms to a small bowl and set aside.
Add remaining tablespoon of olive oil to pan and swirl to coat the bottom. Add slider patties to the skillet and cook until brown on each side, approximately 2-3 minutes per side.
Remove from heat and top each slider with sautéed mushrooms and crumbled blue cheese. Place skillet in oven under broiler for 2-3 minutes, or until blue cheese starts to melt.
Remove skillet from oven and top each slider with a piece of bacon and serve immediately on a bed of lettuce.
Recommended Products
As an Amazon Associate and member of other affiliate programs, we earn from qualifying purchases.
If you love Bacon and Blue Cheese, then try my Bacon & Blue Cheese Egg Puffs Recipe!
Save this keto lettuce wrap slider recipe to Pinterest by clicking below: