One Pan Keto Pizza Chicken Thighs Recipe So Flavorful Your Family Will Want More

My favorite thing about this one pan Keto Pizza Chicken Thighs recipe is just that : only One Pan!
Don't you just love dinners that can be cooked using only one pot or skillet? I sure do!
I'm totally in love with chicken thighs. Don't get me wrong, the breasts are great as well, but they can be a little dry in some recipes.
Because chicken thighs have a slightly higher fat content, they tend to be juicier in a recipe like this. And we are ok with a little more fat because we are KETO!
Read more about the health benefits of the Keto Lifestyle here.
Is Skin on Chicken Keto Friendly?
This is a brilliant question! The answer is generally yes because the Keto diet is a high fat diet.
HOWEVER! If you are doing Keto for weight loss then you might want to consider taking the skin off. Keto will burn our body fat when we are in ketosis and that is what we want.
Chicken thighs, even without the skin are a fatty cut of meat so they are very ketogenic friendly. The carbs in a chicken thigh are zero with or without the skin.
This is where it's important to evaluate your goals and your macros when doing Keto to be sure you are heading in the right direction.
If you are losing weight with the skin on, then keep eating the skin!
Tips for Making this Skillet Pizza Chicken Dinner Recipe
You can use any type of small or cherry tomatoes for this recipe. I do like the multi-colored heirloom cherry tomatoes that my supermarket conveniently sells in a blister pack, they make this recipe look super pretty.
For me presentation is important, I like my food to look as good as it tastes!
As far as the cooking goes, my favorite oven proof skillet to use is this high sided cast iron pan.
It is perfect for this recipe as well as any recipe that calls for sauteing or frying then finishing the meal in the oven. It's a cast iron Dutch Oven with an extra skillet that can be used as a lid, it's perfect!
Check out my Apple Cider Braised Chicken recipe, it's another One Pan Wonder!
The one pan keto pizza chicken thighs are less than 2 net carbs per serving.
They would be absolutely perfect paired with keto mashed potatoes, which of course is really cauliflower puree. But honestly, my kids are so used to eating that instead of potatoes I think they would think anything else tastes weird!
Here are my instructions for Keto Mashed Potatoes.
The printable recipe card is just below for One Pan Keto Pizza Chicken Thighs. Let's get cooking!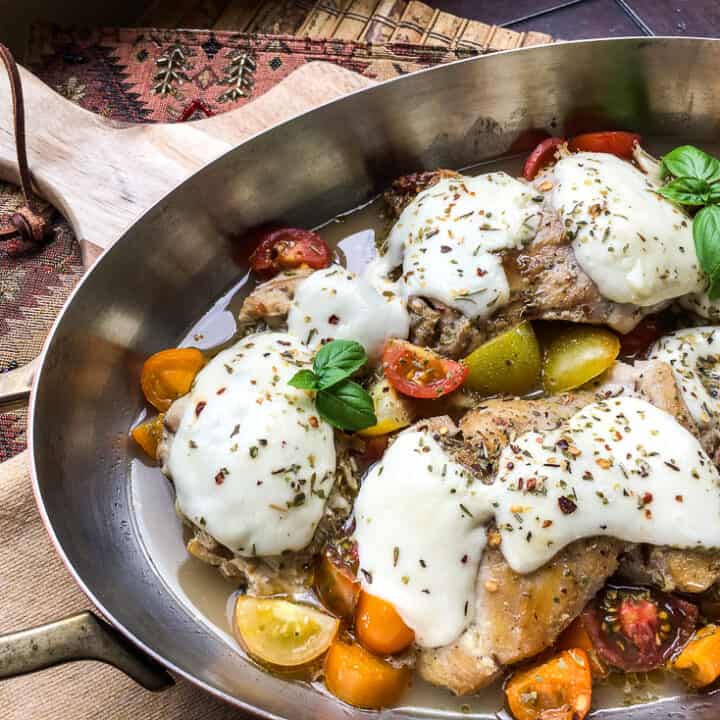 One Pan Keto Pizza Chicken Thighs
Low Carb Skillet Pizza Chicken Thighs that uses only one pan! Family and budget friendly keto recipe that is fast and easy to prepare.
Ingredients
3 Tbsp extra virgin olive oil, divided
2 lbs skinless boneless chicken thighs
1½ Tbsp organic Italian seasoning, divided
Sea salt and black pepper, to taste
3 Tbsp butter
1/4 cup organic chicken broth
½ cup colored cherry tomatoes cut into quarters
8 oz Mozzarella cheese, thinly sliced
½ tsp red pepper flakes
Instructions
Preheat oven to 425°F.
Heat 1 tablespoon olive oil in a large, oven-safe skillet over medium heat.
Rub the chicken thighs with the remaining olive oil and sprinkle both sides with one tablespoon Italian seasoning. Season with salt and black pepper, to taste, and transfer to the hot skillet.
Cook for 4-5 minutes per side, or until the chicken develops a golden crust. Remove from heat and add butter, chicken broth, and cherry tomatoes. Top each chicken thigh with a slice of fresh Mozzarella cheese and sprinkle with crushed red pepper flakes and remaining Italian seasoning. Season with additional salt and black pepper, if desired.
Transfer skillet into pre-heated oven and roast for 15-20 minutes, or until chicken is cooked through and the Mozzarella is melted. Remove from oven and allow chicken to rest for 5 minutes.
Garnish with fresh basil if desired.
Serve with mashed cauliflower
Recommended Products
As an Amazon Associate and member of other affiliate programs, we earn from qualifying purchases.
Nutrition Information:
Yield:

8
Amount Per Serving:
Calories:

422
Total Fat:

29g
Saturated Fat:

11g
Unsaturated Fat:

15g
Cholesterol:

138mg
Carbohydrates:

2g
Net Carbohydrates:

1g
Fiber:

1g
Protein:

38g
Other One Pan Skillet Meals and Casseroles Your Family Will Love!
One Pan Skillet and Casserole meals are perfect for busy weeknights to help you stay Keto and Low Carb.
Save this One Pan Keto Pizza Thighs Recipe to Pinterest below!