This low carb pork and cabbage skillet dinner is perfect for a keto budget friendly weeknight meal. One pan cooking means easy cleanup! My German roots are showing as this is an old family tradition!
Keto One Pan Pork Tenderloin Cabbage Skillet
I have to tell you I grew up on pork and cabbage! It was usually in the form of some sort of pork meat and sauerkraut. (I have Eastern European parents).
My Keto Pork Tenderloin Cabbage skillet recipe takes it to a more sophisticated level but is still easy and healthy and good for the budget!
This is a satisfying family dinner!
This Keto Pork Tenderloin Cabbage Skillet is perfect for a busy weeknight, yet it could also be a Sunday dinner. The best part besides the flavor is that it is One Pan! Which means very little after dinner cleanup.
It is a perfect keto and low carb meal with healthy fats from the olive oil and low carb veggies from the cabbage. And did I mention that it is a one pan meal?
Pork Tenderloin in some form has become a weekly staple for my family. This is due not only to it's versatility, but it is one cheap low carb meal!
Anyone who is doing keto on a budget will love this meal!
For more tips on how you can do Keto on a budget check out my 12 Tips here!
What Do You Need to Make Keto Pork Tenderloin Cabbage Skillet?
Large heavy high sided skillet

.

Cast iron is perfect, but you can use any heavy skillet.
One pork tenderloin (about 1 lb)
One head of green cabbage
1 onion
olive oil
soy sauce
Tips for Making the Pork and Cabbage Skillet
You can use a couple of shallots instead of the onion. They are lower in carbs and more intense in flavor so you can use less and save on carbs.
Don't overcook the pork medallions, they are most succulent and moist when cooked a bit pink inside. Don't worry, the USDA has given this the official ok, it is safe to eat pork with pink in the middle. A temp of 145-160 is perfectly fine if you are one that measures.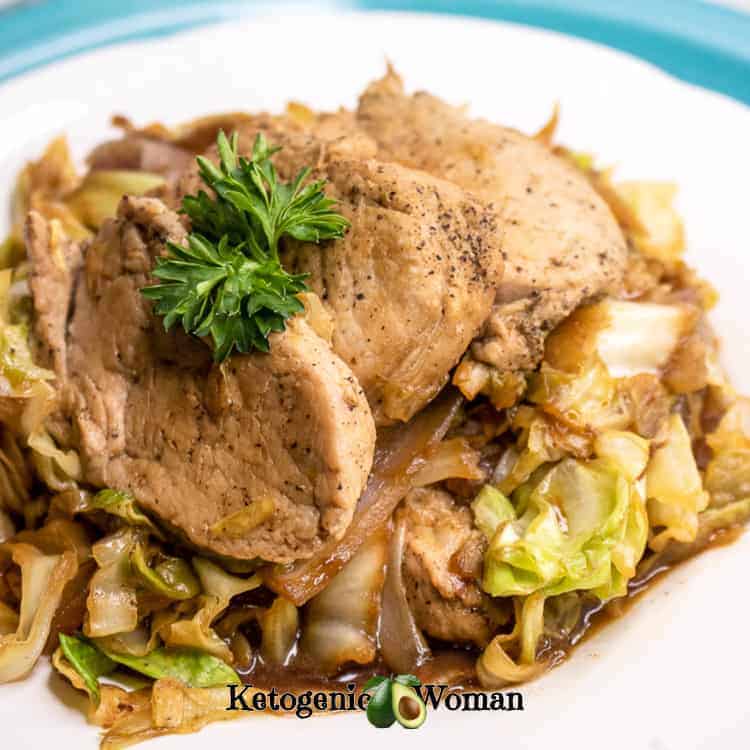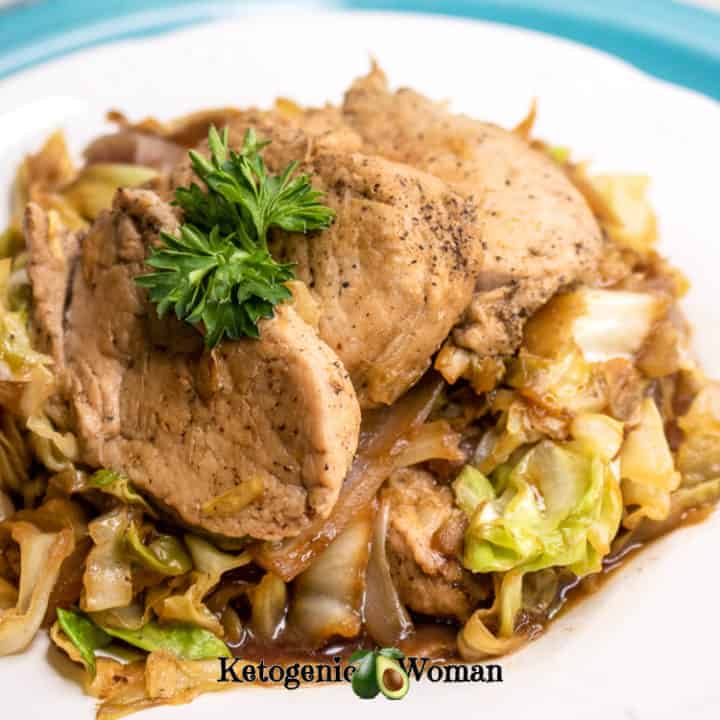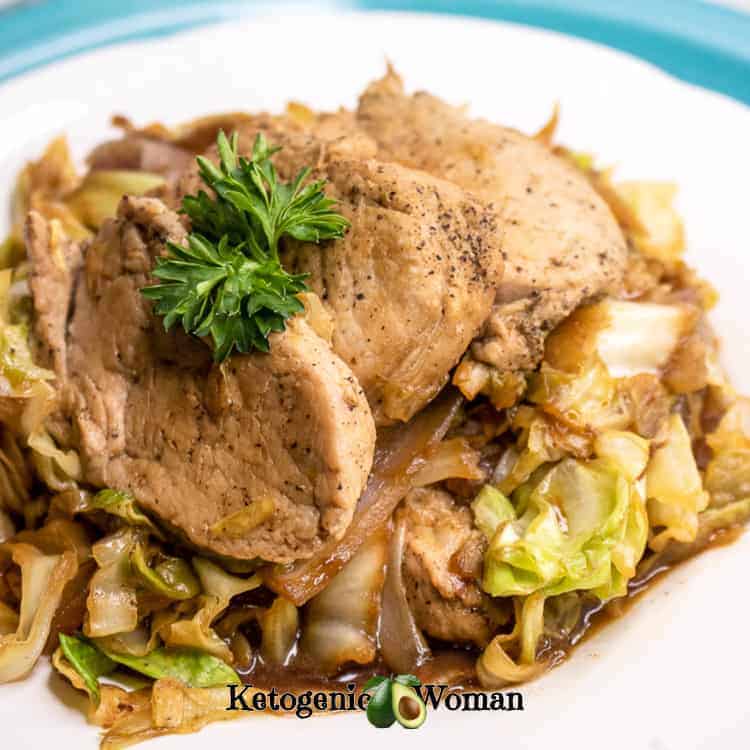 Keto One Pan Pork Tenderloin Cabbage Skillet
A family and budget friendly low carb dinner featuring juicy pork tenderloin. Easy cleanup because it is one pan!
Ingredients
1 lb. pork loin, sliced into medallions (1/4 inch thick)
1 Tbsp olive oil
1 medium red onion, thinly sliced
1 head green cabbage, thinly sliced
3 Tbsp Soy Sauce (or tamari)
Sea salt and black pepper, to taste
Instructions
Heat a large, high-sided skillet over medium heat. Add pork medallions and sprinkle with salt and pepper. Cook until pork is almost cooked through, approximately 6-8 minutes. Be sure to turn pork so both sides are golden.Remove from pan and set aside.
Add the olive oil to the same skillet, along with onion and cabbage slices. Season with salt and pepper, and cook until the veggies become soft and wilted, around 15-20 minutes.
Return the pork to the skillet and sprinkle with the soy sauce. Cook for a couple more minutes, but don't overcook the pork! Remove from heat and serve immediately. Enjoy!
More Fast and Easy Keto One Pan Meals that You might Like!
These family and budget friendly meals are fast and perfect for busy weeknights. One pan meals make for easy cleanup. Faster and cheaper than drive through!
If you like One Pan Keto Dinners, here are some more to try:
Save this Low Carb Pork and Cabbage Skillet Supper for later!