Easy Keto Cabbage Rolls Better Than My Russian Grandmother's!
This year for New Year's Eve dinner I decided to make Russian cabbage rolls just like my mom made them and just like her mom made them. And oh my, a super simple hack even fooled my Mom and she loved them!
My Mom has Alzheimers and is living in a suite in my house. She can no longer cook and has no short term memory, but she knows her food. This meal made her so happy and I'm sure she thought it was her own cooking!
Both my Mom and my Grandmother showed love by making food. I grew up on these easy healthy cabbage rolls and even as an adult I especially loved going to Mom's for dinner when she made her special stuffed cabbage recipe. There was something about the sauce that made them super delicious!
The really great thing is that they never used rice in their cabbage rolls! So I did not have to do much to turn this recipe into Keto cabbage rolls!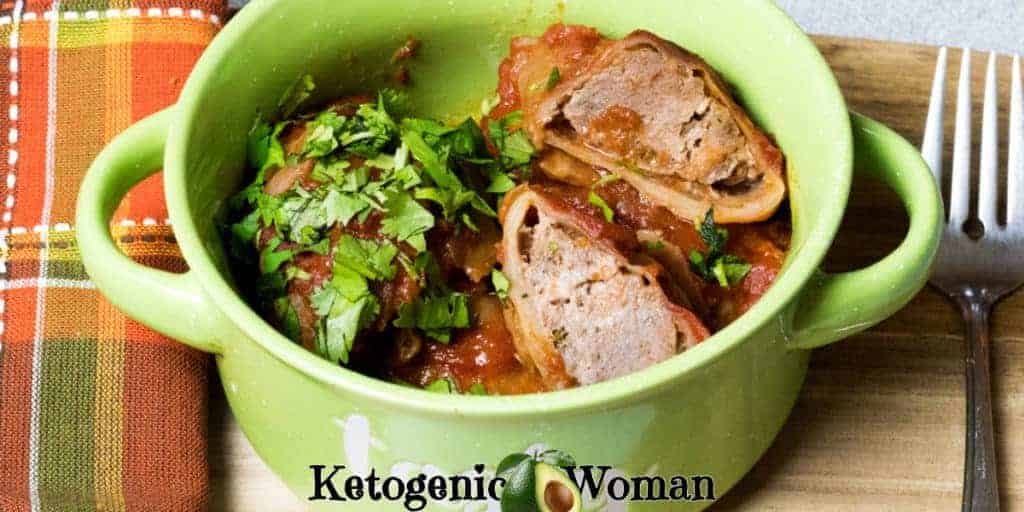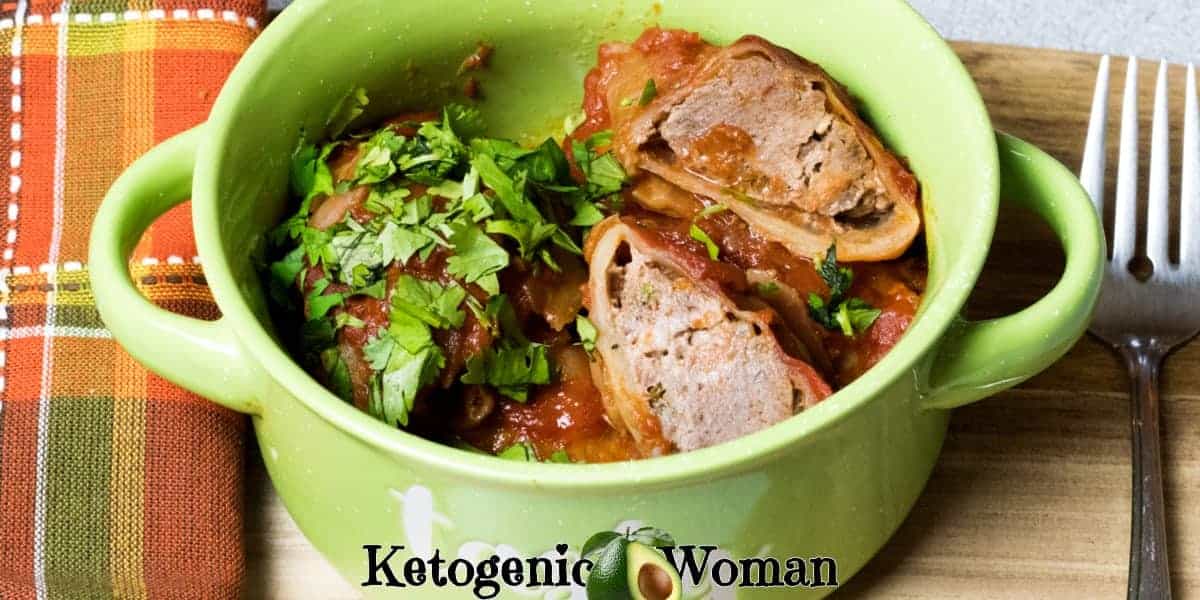 ---
What Ingredients Do I Need for Low Carb Cabbage Rolls?
There is a recipe card below but here is what you will need: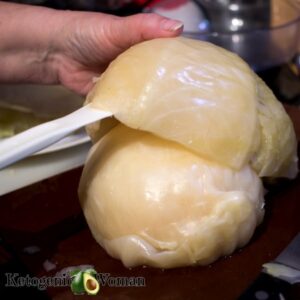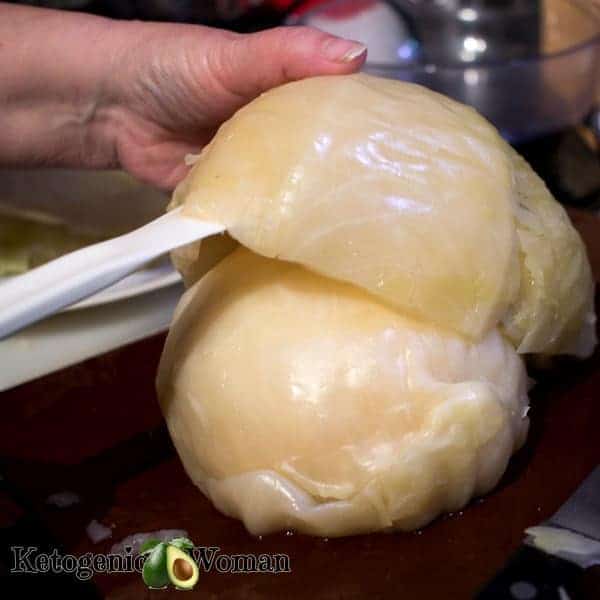 1 large head cabbage or 2 smaller heads
1 lb ground beef
1 lb ground pork
1 tbsp minced garlic (3-4 cloves)
salt and pepper
2 large cans tomato puree(28 oz) or a couple jars low carb tomato sauce. You can also put canned tomatoes in the blender. You want to end up with about 4-5 cups liquid sauce.
erythritol sweetener
handful of parsley, chopped
large roasting pan
My Simple Hack on Mom's Special Russian Cabbage Roll Ingredient
Ok, so this was crazy when I found out their special ingredient to make these cabbage rolls super tasty was that they added a can of Campbells Tomato Soup! Well, not very keto friendly. But after a little experimenting, I came to realize it was the sweetness in that soup that did the trick.
So our hack is simply adding 2-3 tbsp erythritol/stevia blend sweetener to the tomato puree! Once the cabbage rolls have cooked the sauce tastes just like I remember it! And we have kept it low carb and keto!
You can use any sweetener you have but the reason I now use the erythritol/stevia blend is that I think it tastes the best and it has no impact on blood sugar (my Mom is diabetic). My favorite brand is So Nourished sweetener.
The other thing I love about this recipe is that it makes enough leftovers for days and these low carb cabbage rolls only taste better after a couple days! Plus you can freeze them.
These are super keto budget friendly! For other money saving tips and hacks, check out my very popular Keto on a budget article.
How Long Do I Cook Cabbage Rolls in the Oven?
Ok, so making dishes like this when I was growing up was more of an art than a science. Technically, you can place this in the oven at 350 for about an hour and they should be done.
You can also use your Instant Pot to make cabbage rolls. Place alternating layers of sauce, rolls, sauce into the Instant Pot until no more than 2/3 full. Cook using the meat/stew setting and allow it Natural Release for 15 minutes.
Slow Cooker instructions. Alternating layers of sauce, cabbage rolls, sauce until almost full. Put the lid on and let it cook on low all day!
But my mom preferred the all morning slow oven bake. On a Sunday morning, those cabbage rolls simmered on a low oven from morning until we got back from church at noon. (And no I don't recommend leaving an oven unattended like that, but hey it was a different era).
But if you are going to be home, try this. Cover the pan with foil. Bake the cabbage rolls at 375 for 15 minutes, then turn the oven down to 300 and let them bake for a couple hours. Pure Keto Comfort Food!
What do I serve with Cabbage Rolls?
As I mentioned, the Russian Cabbage rolls I grew up with had no rice in them. My Mom served them over mashed potatoes. Talk about comfort food! Since we are keto and low carb, we have them over cauliflower mash which is just as delicious!
Make my mashed cauliflower recipe here
I hope you love my take on these low carb cabbage rolls!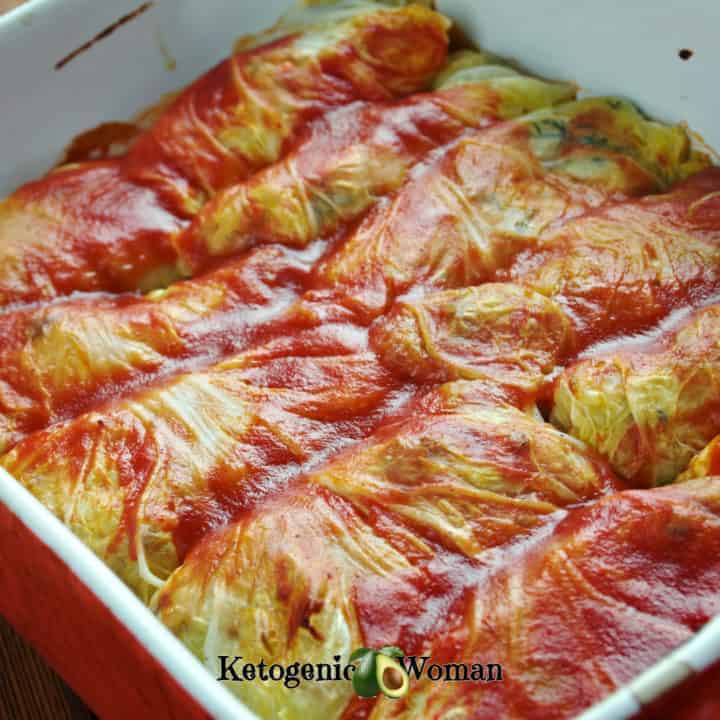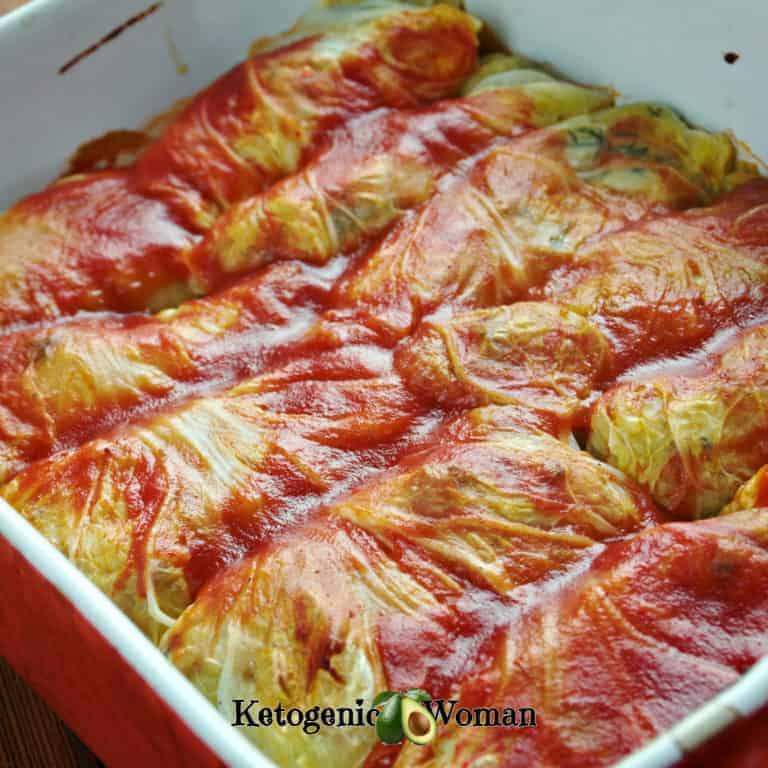 Easy Keto Cabbage Rolls Better Than My Russian Grandmother's!
My Grandmothers cabbage rolls are the best comfort food! They are grain free, keto, low carb and warm your soul! Serve over cauli mash. Be sure to read my post for all the extra tips and tricks!
Ingredients
Cabbage Roll Filling
1 large head cabbage or 2 smaller heads
Filling:
1 lb ground beef
1 lb ground pork
1 tbsp minced garlic (3-4 cloves)
1 egg
handful of parsley, chopped
salt and pepper
Sauce
2 large cans tomato puree (28 oz cans) or a couple jars low carb tomato sauce.  You can also put canned tomatoes in the blender
2-3 tbsp erythritol sweetener (or to taste)
large roasting pan
Instructions
Slice off the bottom inch or so from the cabbage head. Cook the cabbages until all the leaves are wilted. I usually take them out, peel off the top layer of cooked leaves and place the inner cabbage head back in and keep simmering. (see photo in post).
Prepare the sauce by blending the tomatoes and erythritol sweetener together. Feel free to add other spices such as a tbsp oregano for more flavor.
Spread 1/2 cup of the sauce over the bottom of the baking pan(s)
In a large mixing bowl add the beef, pork, egg and spices.
Fill each cabbage leaf with 2-3 tbsp filling. Roll it up, then tuck the leaves in at the sides, then place in the pan seam side down.
Repeat until pan is full. Depending on size of pan, this could make 2 pans. I generally use 2 (9 x 13) pans.
Once you have filled the pan, you can place any remaining cabbage leaves over top of the rolls.
Pour the rest of the sauce over the cabbage rolls. Cover with foil.
Bake at 375 for 15 minutes. Turn the oven down to 300 and bake 2 hours. See my notes in the post about baking time and temperature.
Notes
Tip: I like to cook the cabbages the day before. Once they have simmered for about an hour, take the cabbage head (s) out and let them cool down. Apply pressure to the bottom gently and you can pop off the top layer of cooked leaves. Put the inner head back in the pot for more cooking. (see image in post)
Nutrition Information:
Yield:

24
Serving Size:

1
Amount Per Serving:
Calories:

125
Total Fat:

8g
Saturated Fat:

3g
Trans Fat:

0g
Unsaturated Fat:

4g
Cholesterol:

42mg
Sodium:

89mg
Carbohydrates:

3g
Fiber:

1g
Sugar:

2g
Protein:

11g
Nutritional information for the recipe is provided as a courtesy and is approximate only. We cannot guarantee the accuracy of the nutritional information given for any recipe on this site. Erythritol carbs are not included in carb counts as it has been shown not to impact blood sugar.