Is the Keto Diet Expensive?
Can you do the Keto Diet on a budget? One complaint that I hear often is that the Keto diet is expensive. I have certainly gone through good times financially as well as lean times and I truly feel that the Keto diet can be adapted to all budgets.
Here are some tips for reducing your budget while still sticking to a keto diet.
By the way, these tips will help you save money on any diet, not just keto!
Tip#1: Preparation is Everything and will help you stay on budget with your Keto Diet
Anybody who has gone shopping in a supermarket will tell you the same thing: Go with a list or you will spend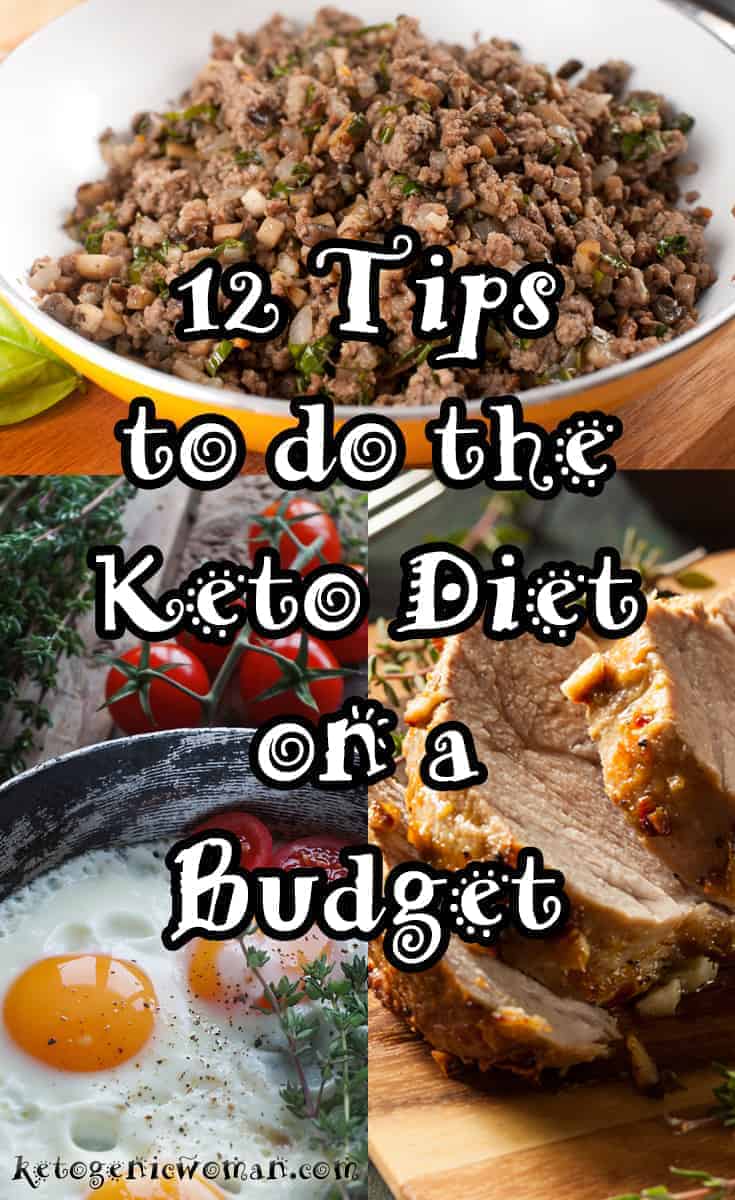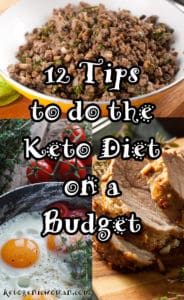 more than you planned! To avoid this common pitfall, take the time to make a shopping list.
Start by making a plan for the week, especially the meals where you are cooking for the whole family. There is always flexibility of course, but if you even roughly chart out your week, you will be miles ahead.
This will save you from making unnecessary purchases and then finding freezer burned items in your freezer months later. Yup, been there done that!. It also gives you the opportunity to use coupons and take advantage of sales for items you need.
Tip#2: Cook at Home to stay Keto Budget Friendly and for Best Diet Results
Sure, restaurants are doable when you follow the Keto diet. But we all know that restaurants are not only major budget busters, you can't really know for sure what ingredients they are using.
So take your own lunches to work and eat home cooked meals with the family. If you need help with the cooking, check out some of these cookbooks below:


Instant Pot LUX60V3 V3 6 Qt 6-in-1 Multi-Use Programmable Pressure Cooker, Slow Cooker, Rice Cooker, Sauté, Steamer, and Warmer
Tip#3: Use those appliances for Keto Budget Meals
Use em if you've got em! Drag those slow cookers and instant pots out of the back of the cupboard, they can help you make amazing budget friendly meals!
They are not only time savers, they are budget savers that will pay for themselves over and over again because you can perform miracles with low cost cuts of meats.
You are not sure how to use your Instant Pot you say!?
Well check out this amazing resource I found!


Tip#4: Forget the Processed Foods, Real Keto Foods will keep you on Budget
In so many of the online keto and low carb groups I see an awful lot of people relying on prepared shakes, bars and meals. I get it, I have been a working Mom for years.
But learning to prep and cook everything yourself is key to not only doing the keto diet on a budget, but also will give you the best results. Many of those processed keto foods are well known to cause weight loss stalls for people.
Plus they are super expensive! $5 for a processed keto bar? No thanks!
Tip# 5: Focus on the Cheap Low Carb Foods
Searching around for low carb and keto food blogs, you sometimes get the idea that you have to eat red meat and lots of it. While I love a good rib eye steak, it is a luxury item to me and there is no way I can include that sort of thing in my budget very often.
There are many much lower cost foods in the supermarket that will make doing Keto on a budget so much easier. Following below are the ones that I rely on the most.
Best Meat Proteins for Keto Diet On a Budget
Even meat can be purchased inexpensively when you plan and shop well. Use coupons, shop the sales and buy in bulk if you have freezer space.
Ground Beef – This is a staple for me. Oh my goodness, there are so many incredible things you can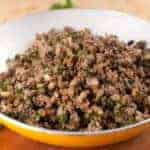 do with hamburger meat on a keto diet! Think casseroles, keto tacos and salads, crack slaw, chilis, hamburger soup, I could eat ground beef every day!
And forget the expensive lean ground beef. Buy regular ground beef, drain the fat and you have pretty much the same thing.
I grew up on these very budget friendly cabbage rolls and they are keto!
Poultry – Chicken is usually cheaper than red meat and just as versatile. It's always cheaper to buy the whole chicken rather than in pieces. When I do buy pieces I buy chicken thighs.
Chicken thighs are cheaper than breasts and are very ketogenic! The extra fat makes them juicier and tastier but also better for following keto. Try my braised chicken thigh recipe here.
Also don't forget about those Rotisserie Chickens in the supermarket! Not only are they a great timesaver but there are so many things you can do with the leftovers. Read my article on What to do with Rotisserie chickens on Keto here.
And of course, whenever possible you'll want to make your own homemade Whole Roast Chicken.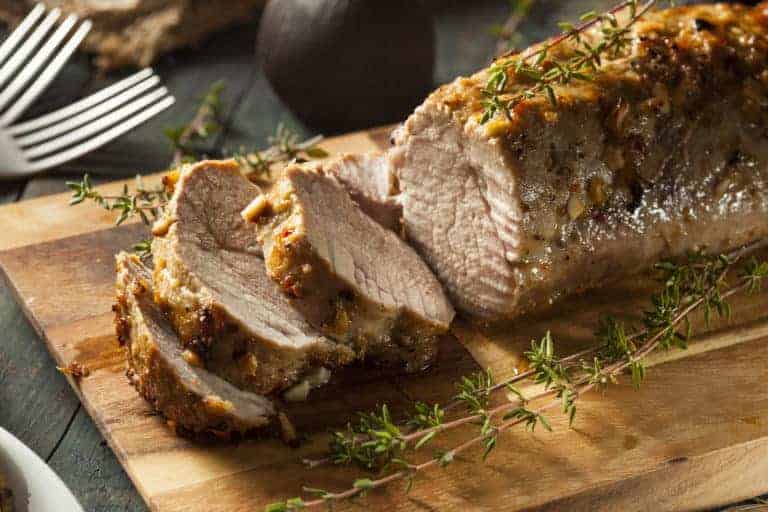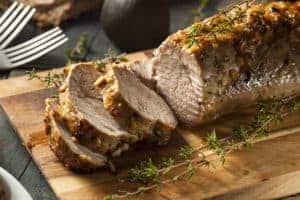 Pork Loin – I don't know why but around here, pork tenderloin is cheaper than dirt! And yet it is so delicious when grilled or broiled. The secret is to cook it until just pink and then let it sit to cook a bit in it's own juices.
Try my Pork Loin Cabbage Skillet – The ultimate cheap low carb meal that is so delicious!
Canned Tuna – I can get tuna for 99 cents a can. I eat a whole can to myself and that is a pretty cheap low carb food for the amount of protein you get! I love tuna melts, tuna salads and please do try my favorite Keto Spicy Tuna rolls.
Tip#6: Eggs are a great budget keto food and perfect for getting you back into ketosis if you have fallen off the wagon.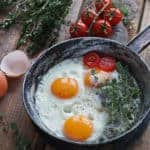 Eggs – Have you seen those TV commercials 'Eggs. The Perfect Food'? They really are! They are a good source of protein, very filling and super low in carbs.
And they are not just for breakfast, I often take them for lunch on salads or just on their own. Eggs are going to be one of your best budget stretchers when following Keto.
And what about that whole falling off the wagon thing? Read all about the super budget friendly 5 day egg fast stall breaker here.
Tip#7 Use these Best Fats for Keto Diet On a Budget
Butter – Honestly, there is no reason to be a butter snob. Sure grass fed butter tastes great and has a slightly better fat profile but quite simply not everyone can afford to eat it. I'll take my chances with no name butter on sale. As long as it has no other ingredients besides cream and salt, you are golden!
Mayonnaise – Yup, you can make your own and I do make it from scratch from time to time. But time also is in short supply for me so I use any mayo I can find that has no sugar added. If you are trying to avoid any of the lesser quality oils, Trader Joe's has a good one as well as Whole Foods. You can try my homemade Avocado Mayo right here.
Oils – Find out which oils are the best quality for your health and then shop around. Read my article on Oils here and check Amazon for some great cooking oils as well.
Tip#8: Shop in Season for the Best Produce for Keto Diet On a Budget
Produce – The best way to save money on produce is to grow your own. Not all of us can do that. So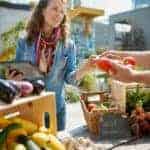 shop the sales and use coupons. If you can, focus on produce when it is in season in your area, it will always be lower priced in season.
If you have never gone to local farm markets, do it! You can get organic for way less money and there is something about the face to face contact with the people that are growing the food you eat that pleases me. And if you have kids, please take them along! It is so good for them to see where food actually comes from.
Tip#9: Check out the free Flipp App to find the best deals for your keto budget!
I can't tell you how much I love this Flipp app! I have it on my iPhone but you can even just use it on your computer. You just set up the app with all the stores that are in your driving area.
So let's say you have done that and you want to make a pot roast for dinner tonight. Go to Flipp and ask it to find you a pot roast and voila! It will let you know which store near you is selling it at the best price!
And this is not just for food. This is for EVERYTHING!
Tip#10: Use ebates when you order your keto foods and supplies online.
I get a cheque from ebates every quarter. Sometimes it's only a few dollars, sometimes it's over $100.
But every single time I shop online I hit that ebates button to see if there is a rebate. Most of my favorite online spots (including Amazon) are on there.
Get your own ebates account and button right here, it costs you nothing!
Canadian shoppers, your ebates button is right here!
Tip#11: Make Your Own Spice Mixes and other Staples
One thing I've noticed when shopping is that if you buy a spice in a bag, it is a fraction of the price you pay for a spice mix in a jar. It is a super budget saver to make all your own spice mixes such as Italian seasoning mix, Taco mix, and so on.
I recently made my own Everything but the Bagel spice mix because I refused to pay $15 for a jar here in Canada! Here is the recipe for that Everything Bagel mix. You can sprinkle that on everything!
I also am now making my own chicken broth because here we pay at least $5 for a carton of organic broth. Not very budget friendly at all! Learn how to make your own chicken broth here.
Tip#12: Check out some of these Savings Programs from Amazon
Amazon has a few programs for regular Amazon shoppers, but I find these two to be quite useful.
Subscribe & Save: This program is available on staple items that Amazon sells. I made this discovery when I was ordering K-cups for the office coffee maker. If you have things that you use and order over and over again, Amazon offers discounts for setting up an auto-delivery. You can save anywhere from 5% – 15%.
Amazon Coupons: Coupons are always a good way to pay a little less for things. But did you know that Amazon has all it's coupons on one handy page!? This is for everything, not just foods but you can sort it by any category you want. Just now I checked the grocery and gourmet category and there were over 3000 coupons available!
Here is the Amazon Coupon page. Happy Savings!
I hope I've given you some good tips for staying keto while not breaking the bank. I would love to hear your own tips for following the keto diet on a budget, please share them in the comments!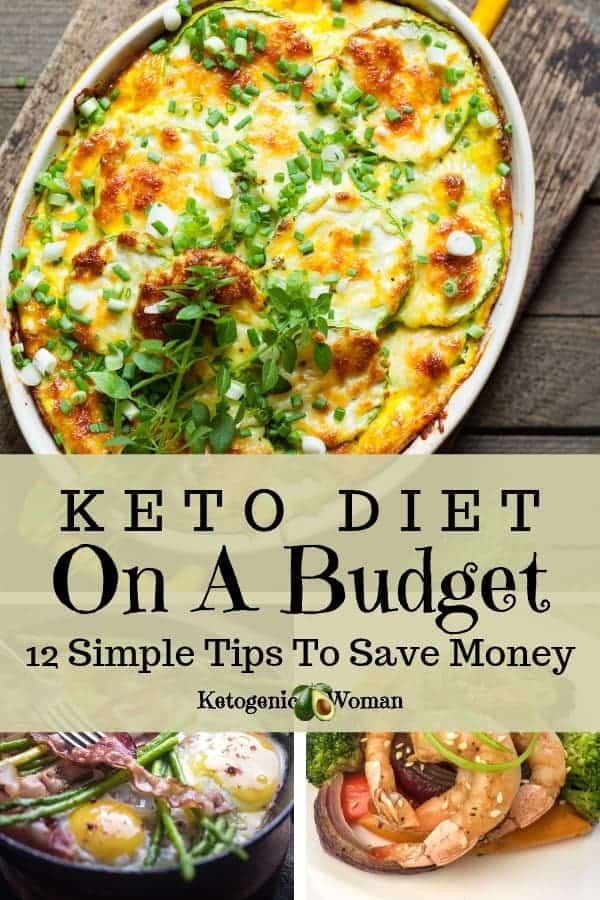 More Fast and Easy Keto One Pan Meals that You might Like!
These family and budget friendly meals are fast and perfect for busy weeknights. One pan meals make for easy cleanup. Faster and cheaper than drive through!