This Easy Keto Beef Stroganoff is a classic Russian dish that was very common in my childhood Russian/German home. We always ate it over mashed potatoes but there are so many equally tasty low carb ways to enjoy this comfort food!
When I was growing up this dish was known to us as a 'leftovers' dish. This was because my Russian mom never made it from scratch, she always used leftover beef to make it.
So if there was a Sunday dinner roast, we knew that on Monday we could count on this delicious beef stroganoff over leftover mashed potatoes. It was the ultimate comfort food!
You can of course make this with uncooked meat, I'll mention how to do that in the instructions below. But I continue to make it as a regular dish in the rotation that happens after I cook a huge roast or beef brisket.
The classic Russian beef stroganoff in my house was made with thinly sliced leftover beef, onions, mushrooms, red wine, beef stock and sour cream.
What You'll Need to Make My Mom's Version of Beef Stroganoff
Thinly sliced cooked steak, roast, brisket or even ground beef (1 lb for this recipe)
Fresh onion, garlic and mushrooms
beef stock
tomato paste
red wine (or vinegar)
Salt, pepper and thyme
Something delicious to serve it over!
I prefer to make my beef stroganoff in a 2 handled cast iron pan like this one to really crisp of the mushrooms and beef plus you can serve it right on the table (use a pot holder underneath). But you can also make this in a non stick pan.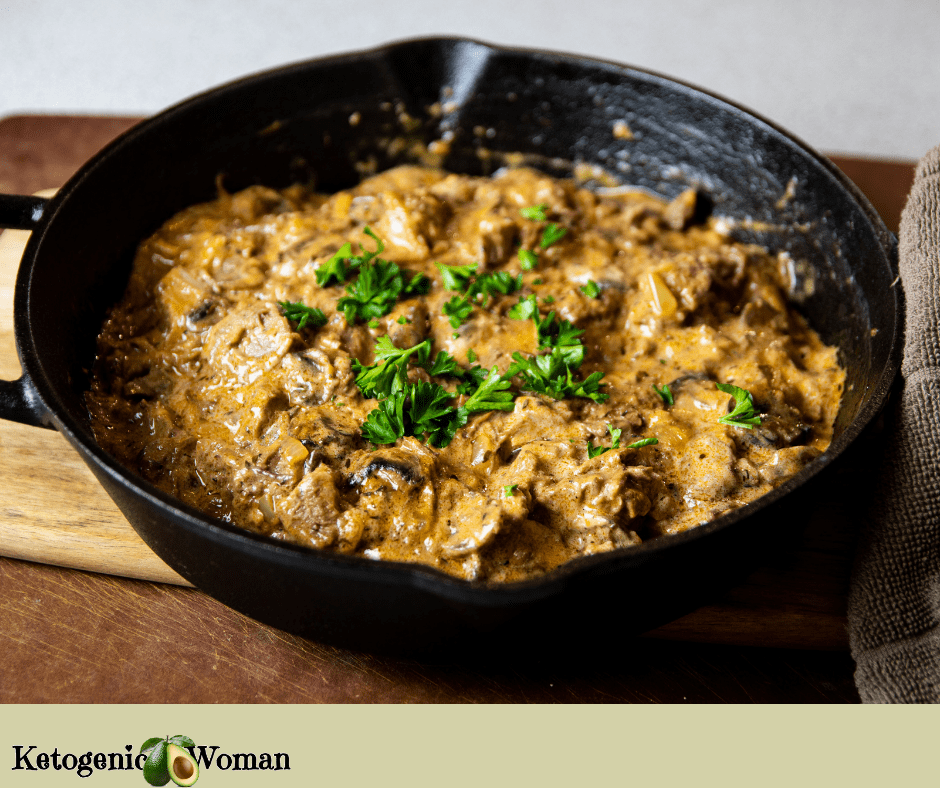 What's the Best Way to Serve Keto Beef Stroganoff?
Most of all you want a way to soak up the delicious beef stroganoff gravy!
In my opinion the two best choices are either Cauliflower Mash or these hearty Keto Pasta Noodles.
But here are the other options you can try:
Baked Spaghetti Squash
Zucchini Noodles
Cooked cabbage
Cauliflower rice
Keto buns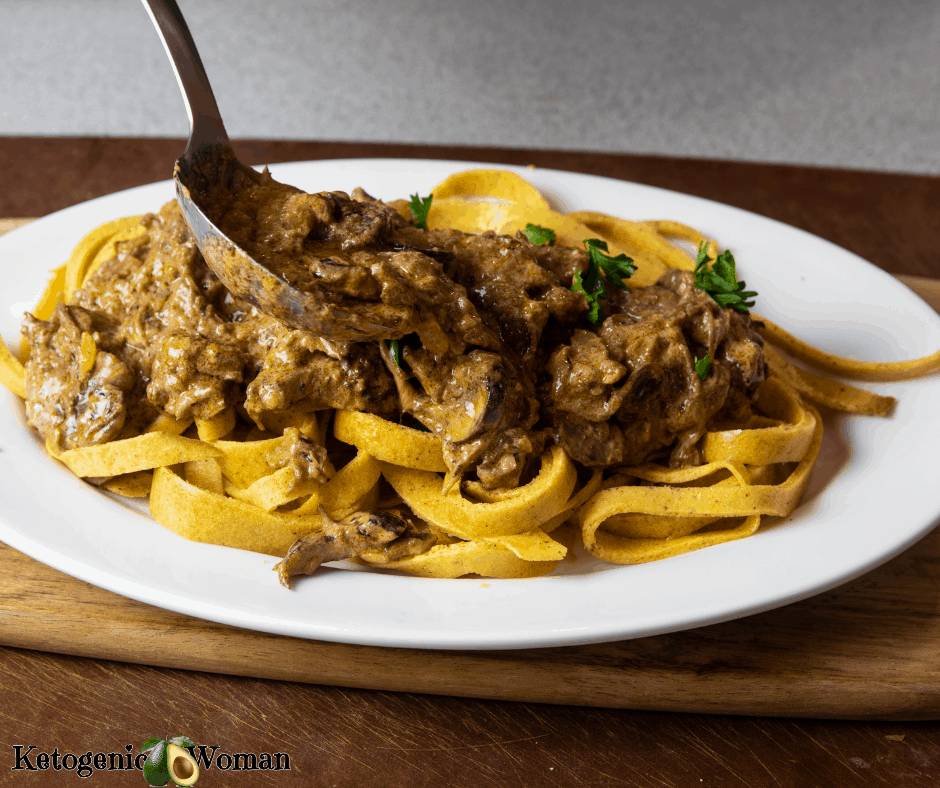 My Mom's Beef Stroganoff Recipe
(tweaked by me for Keto!)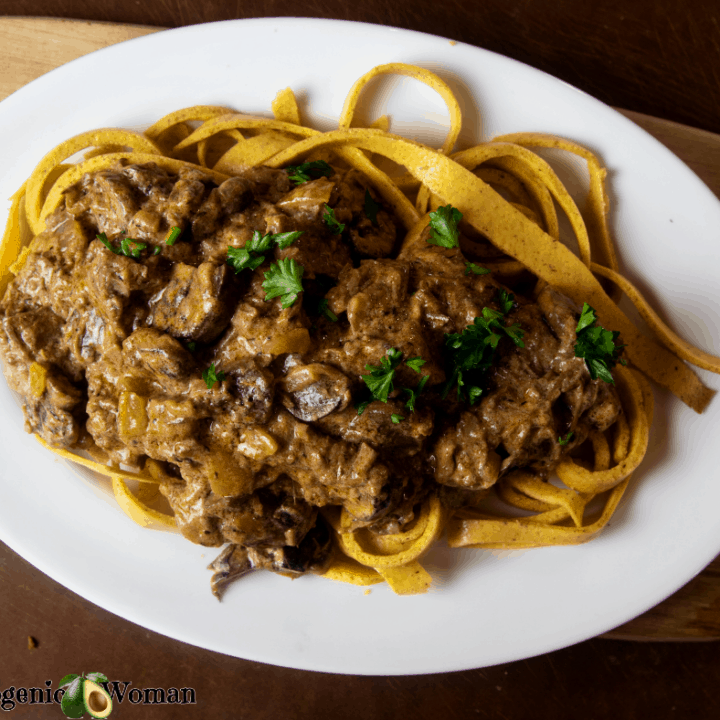 Easy Keto Beef Stroganoff
This is a tweaked for Keto version of my Russian mom's Beef Stroganoff dish which was always served using leftover beef of any kind. A great family dinner and classic comfort food! Shown here served over my Keto Pasta Noodles.
Ingredients
2 tbsp olive or avocado oil
1 small onion, sliced
1 tsp minced garlic
1 tsp dried thyme
salt and pepper to taste
2 tbsp tomato paste
2 tbsp red wine vinegar
1 cup beef stock
8 ounces sliced mushrooms (any kind)
1 lb cooked beef, thinly sliced
1/2 cup sour cream
Instructions
Heat oil in frying pan on high, then add onion, garlic, thyme, salt and pepper
When onions are wilted add tomato paste, red wine vinegar, beef stock and mushrooms.
Simmer for 15 minutes until mushrooms are cooked through.
Add sliced beef and simmer another few minutes until heated through. Adjust salt and pepper to taste.
Remove from heat and stir in sour cream.

NOTE: If using raw thinly sliced beef, add the beef in Step 2 and brown the meat before adding the mushrooms in Step 3. In Step 3, you will need to simmer until the meat is cooked through.
Notes
Keto Pasta Noodles are here: https://ketogenicwoman.com/keto-pasta-noodles/
Note: Nutritional amounts are only for the beef stroganoff. Be sure to calculate what you serve it on!
Nutrition Information:
Yield:

4
Amount Per Serving:
Calories:

352
Total Fat:

22g
Carbohydrates:

6g
Net Carbohydrates:

5g
Fiber:

1g
Protein:

33g
Other Favorite Keto Family Dinners
These are some of my family's favorite keto dinners!
Save This Russian Beef Stroganoff to Pinterest!