A long slow cooked oven brisket is one of the best 'set it and forget it' holiday meals I have ever made! Using a sugar free BBQ sauce and rub means that you can indulge in this iconic 'melt in your mouth' beef dish and stay Keto! Serve with make ahead low carb sides and you are all set to enjoy the special day.
There is truly something special about a properly cooked beef brisket. It makes my grown sons come running home, that's for sure!
I have made brisket in both a pressure cooker and crockpot, but I have to say that the slow cooked oven brisket is by far my favorite and I feel gives the best results.
My Mom never owned a crockpot or slow cooker, but she was the Queen of slow cooking in the oven! She was famous for getting up at 3am to get roasts and turkeys started. The results were always spectacular!
And it is her lead that I am following with my oven baked brisket! I'm going to outline my basic method and then you can grab the recipe card below and make the best holiday meal ever!
NOTE: I also made a youtube video last New Years Day to show how I cooked my brisket: Watch that here!
Why Cook Beef Brisket So Slow in the Oven?
We need to deal with this question because it is so tempting to cut down on the cooking time by turning up the heat! Don't do it!!
It helps to understand that brisket is a very muscular piece of meat that is full of connective tissues. Cooking it long and slow will melt these connective tissues into the meat resulting in that melt in your mouth, falling apart , no knife required experience!
Check out this closeup shot of a what a slice of slow roasted brisket looks like when it's done. All those spaces where the connective tissue has melted away shows how this will fall apart in your mouth!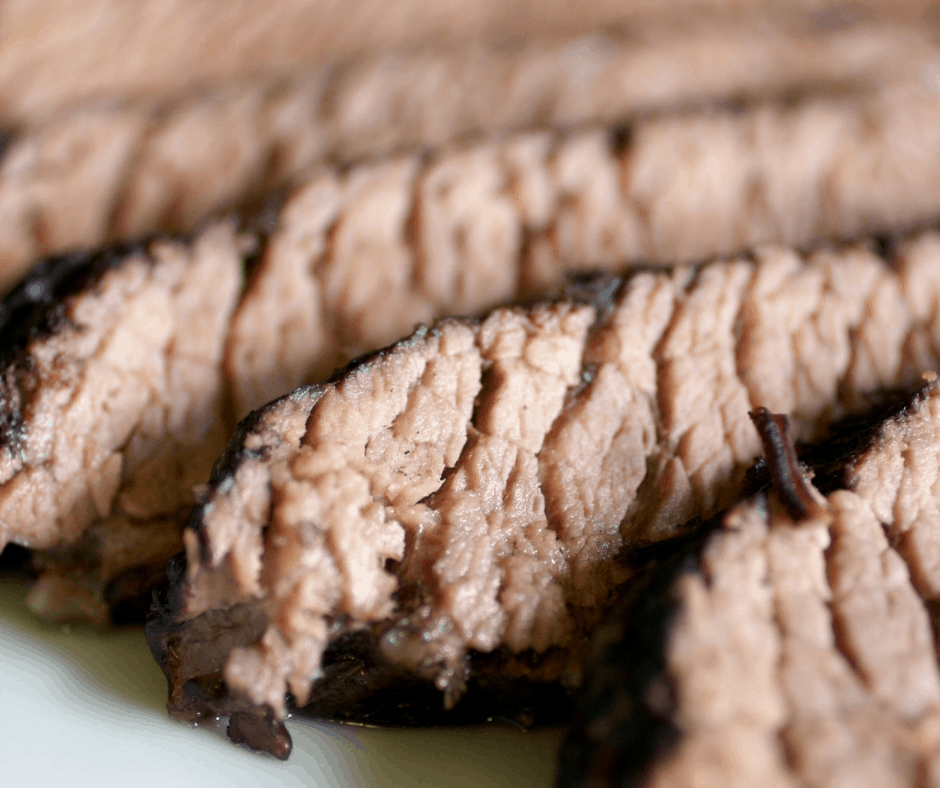 My Method for Slow Baked Oven Brisket
Make sure your brisket is completely defrosted on the day before the meal will be served. Depending on size, this could mean taking it out of the freezer 2 days before this day.
Use a dry spice rub of your choosing. You will need about 1/2 cup dry rub seasoning, again depending on the size of your brisket. I usually make my own because it's way more economical and it's so hard to find one without sugar. My last brisket was made using this dry rub recipe from Serious Keto, to which I added 2 tsp cumin powder, just because. You can also just sprinkle liberally all over with salt, pepper, garlic powder, celery salt, paprika, whatever your favorite spices are!
The day before the meal, rub the brisket all over with the seasoning mix, place in the roasting pan and leave in your fridge overnight.
Time your baking by working backwards from serving time . If your brisket is 7 lbs, you will need 8-9 hours. I like to take the brisket out of the fridge an hour before baking, then it needs to bake an hour per pound, then you need another hour to caramelize the sauce and carve.
If you want to plan ahead you can definitely stop here and freeze your fully cooked baked brisket! Allow it to cool down, cover the pan tightly with foil and freeze until the night before serving. Then carry on with the final cooking instructions.
Which brings me to needing a sugar free BBQ sauce for the final part of cooking the meat. I always use GH Hughes sauce but you can also make your own. If you can get a sugar free mesquite or hickory flavor, even better. You will be using this sauce in the last half hour of baking.
Note for Carnivore Recipe: If you are doing carnivore, you can rub the brisket with salt and pepper only. I used to pour broth over top but forgot to do it once and realize there was absolutely no need! Just cover and bake it for the required time! Skip the bbq sauce part. This is just as amazing!
When the brisket is fully done, slice the meat against the grain and enjoy!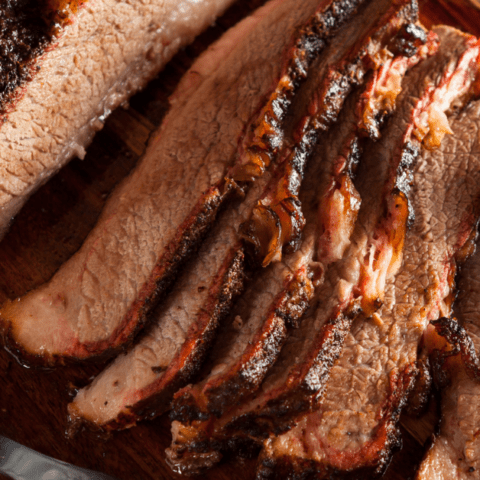 Keto Slow Cooked Oven Brisket
Additional Time:
2 hours
1 second
Total Time:
9 hours
10 minutes
1 second
Nothing gets the men in my family over to my house faster than hearing I am making a brisket! You will please any crowd with this slow cooked oven brisket that is truly melt in your mouth! And it's soooo easy to get perfect results every time!
Ingredients
7lb whole brisket
1/2 cup dry rub seasoning
1 bottle sugar free BBQ sauce
Instructions
The day before cooking and serving, pat entire brisket with dry rub seasoning.
Place fat side up in foil roasting pan, wrap pan with foil.
The next day, take your pan out of the fridge and place on counter for an hour. Preheat oven to 250 degrees.
Bake at 250 for 7 hours. I promise you don't even need to check it or look at it. If your brisket is not 7lbs, just adjust the cooking time to match. A 5 lb brisket needs 5 hours, a 10lb brisket needs 10 hours.
Remove from oven and drain off fat. It's ok to leave some of it in. Set oven to 350.
Pour the BBQ sauce over top and cook uncovered for about 30 minutes or until the sauce is bubbly and the top of the brisket is caramelizing.
Remove from oven and place on a large cutting board. Slice brisket thinly against the grain.
Notes
I recommend a foil pan for way less cleanup afterwards!
You can make this ahead of time and freeze. Once it's finished baking but before adding the bbq sauce, allow the pan to cool down and place in the fridge overnight. The next day, scoop off the top layer of white fat, but keep the other liquid in the pan. Cover tightly and place in the freezer. On the day before you want to serve it, remove it from the freezer and allow to defrost. Add the sauce and bake at 350 until heated all the way through and sauce is bubbly. (about an hour).
Nutrition Information:
Amount Per Serving:
Calories:

571
Total Fat:

44g
Carbohydrates:

2g
Net Carbohydrates:

2g
Fiber:

0g
Protein:

39g
Slow Roast Brisket Youtube Video: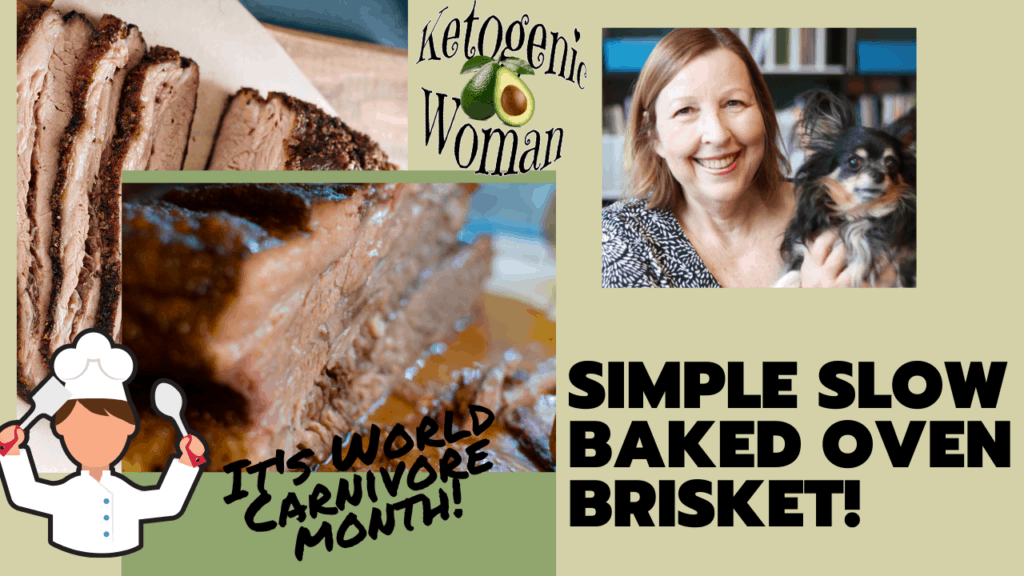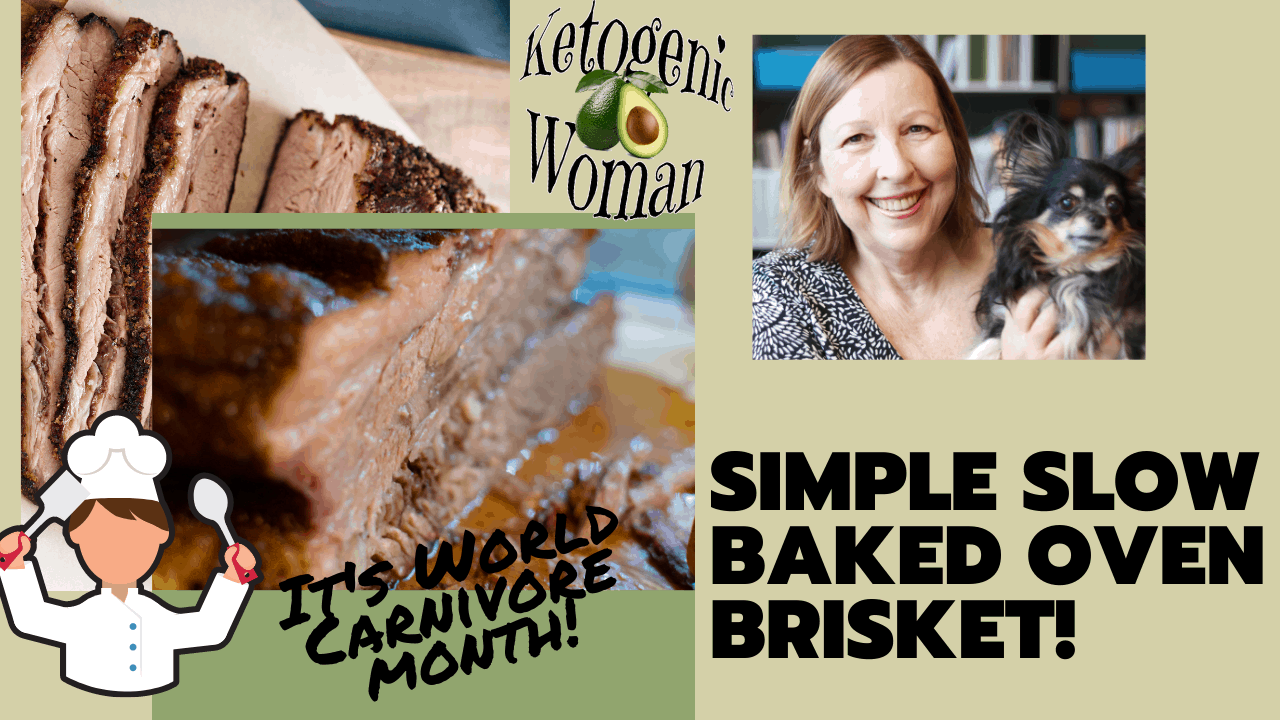 What do do with Leftover Roast Brisket?
Pretty much anything you would do with any leftover beef!
I do love using it to make Easy Beef Stroganoff over Keto Noodles or Cauli Mash.
Top salads or pizzas with brisket
Fried eggs and brisket is a family favorite!
Special Keto Meals
Whether it's a Sunday Family Dinner or a big Holiday meal, you can feed a crowd with these family friendly meals.
Save this Brisket method to Pinterest for your next special meal!