Juicy tender keto baby back ribs with a sugar free dry rub. Prep in either a crock pot or pressure cooker for fall off the bone goodness!
Keto Baby Back Ribs with Low Carb BBQ Sauce
Keto Baby Back Ribs on the grill scream summertime to me.
These super simple baby back ribs come out incredibly tender and finger licking good. You can either prep them in your crockpot or Instantpot.
The flavors of the dry rub spice mix beautifully with the rosemary complimenting the cinnamon nicely.
In the summer we finish them on the grill or BBQ to make them extra succulent! For indoor cooking, a quick few minutes under the broiler will caramelize all the juicy goodness.
Can You Eat Dry Rub Ribs on Keto?
That's a big delicious yes! The catch is that you need to make the dry rub yourself because store bought rubs are generally loaded with sugar.
The dry rub in this recipe is sugar free and fits the bill for ribs just perfectly! This same low carb rub is awesome on chicken!
You can also try my Trader Joe's copy cat Keto Coffee Spice Rub mix. It's perfect for beef and pork.
Tip for extra deliciousness: Place these baby back ribs on the grill (or broiler) after you've cooked them for a caramelized crust that will make your mouth water.
Ingredients needed for sugar free dry rub
The keto dry rub spice mix is made with items you probably already have in your pantry! You will need:
chili powder
cinnamon
garlic powder
ground cumin
dried rosemary
smoked paprika
cayenne pepper
Salt and black pepper
You will also be needing 2-3 lbs of baby back ribs.
Optional but makes the ribs extra delectable! A sugar free BBQ sauce. There are some available in grocery stores now. You can also choose from this variety of sauces on Amazon.
Can you make these keto baby back ribs if you don't have a crockpot or instantpot?
Yes, absolutely!
Here is a secret I learned from a guy who worked at a local high end steak house. I asked him once how they made their ribs so tender.
His answer? They boil them first in a pot of water until cooked!
So you could totally do the same thing. I would simmer them for about an hour, then let them cool a bit. Dredge them with the spice mix and broil or grill! That's easy!
If you do want to get an InstantPot, I have this one and so far it fits all my needs. My crockpot is as old as the hills but I checked on Amazon and their editors recommend this one.
Recipe Card for Keto Baby Back Ribs and Sugar-Free Dry Rub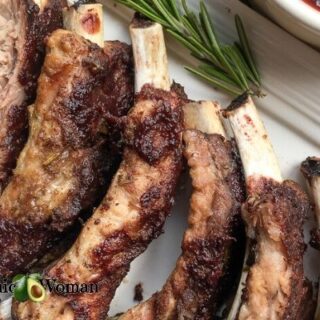 Juicy Keto Baby Back Ribs (Crockpot or Instant Pot Prep)
Juicy tender baby back ribs with a sugar free dry rub. Prep in either a crock pot or pressure cooker for fall off the bone goodness!
Ingredients
Dry Rub Spice Ingredients
----------------------------
1 tsp. chili powder
½ tsp. cinnamon
1 tsp. garlic powder
1 tsp. ground cumin
1 tsp. dried rosemary
½ tsp. smoked paprika
¼ tsp. cayenne pepper
Salt and black pepper, to taste
Other Ingredients
-----------------------
about 2.5-3lbs baby back ribs
sugar free BBQ sauce
Instructions
Mix the spices for the dry rub into a small bowl and set aside.
Cut ribs into pieces that contain 2-3 ribs each.
Work the dry spice mix into each rib section, coating all sides.
Instant Pot directions:
Add water to your Instant Pot and put in the metal rack. Place the seasoned ribs on top of the insert on their sides.
Lock your Instant Pot lid firmly into place be sure the valve is in Seal position. Set the pot's "Manual" setting to high at 30 minutes.
While you are waiting, line a large, baking sheet that has a rim with aluminum foil and set it aside for now.
When the Instant Pot is done cooking your ribs, do a quick release and give it a a couple minutes to vent.
Crockpot Directions
1. Place 1/2 cup water in crockpot.
2. Arrange ribs on their sides in the crockpot
3. Close lid and set crockpot on high for 4 hours or low for 8 hours
When Ribs are cooked:
With tongs, transfer the ribs to the prepared baking sheet.
Brush ribs with a good amount of the sugar free BBQ sauce on either side.
Broil or grill on BBQ for 3-5 minutes per side.
Serve right away while they are hot. Include extra barbeque sauce for dipping.
Notes
Cook times do not include time in crock pot or pressure cooker. The prep can be done the day before.
Recommended Products
As an Amazon Associate and member of other affiliate programs, we earn from qualifying purchases.
Other Summertime Keto Recipes
You may want to try out my other keto recipes perfect for summer!
Save these juicy keto baby back ribs to Pinterest!