Smoky Keto Coffee Dry Rub BBQ Spice Better Than Trader Joe's!
A strong smoky sweet Keto Coffee Dry Rub bbq spice mix with a hint of orange, inspired by Trader Joes.
Sometimes a recipe makes it to this blog simply because I was unable to find a keto version of something myself!
I wanted to make steak this weekend with a coffee dry rub and do you think I could find something suitable? No!
I checked my spice pantry and I did have a jar of Trader Joe's Coffee spice rub mix but you guessed it! Second ingredient: Brown sugar. Fourth ingredient: Sugar. Hmmm.
Time to make our own homemade copycat low carb sugar free version of this smoky sweet coffee dry rub!
Which Spices are Keto Friendly?
Every single spice has carbs in them! Many people don't count the carbs in spices but you need to at lease be aware of them because if you are strictly trying to stay below a certain carb count, you could be under estimating your carbs.
Here is a list of carb counts in spices.
This keto coffee dry bbq spice mix has about 2 net carbs per tablespoon.
Ingredients needed for Keto Coffee Dry Rub BBQ Spice
ground coffee (go as bold and deep as you like!)
A brown sugar substitute like this one. If you are Paleo and not worried about carbs, you could use coconut sugar or even just brown sugar.
smoked paprika
cumin powder
garlic flakes or powder garlic
onion flakes or powder onion
orange zest
Trader Joe's Coffee spice rub does not have cumin, so feel free to leave it out if you are going for that exact taste. I simply must have cumin. That is all.
How To Use Your DIY Trader Joe's Coffee BBQ Spice Rub?
Well, let me tell you!
toss 2 lbs chicken wings with 2-3 tbsp of the coffee spice and then airfry, bake or grill them
dry rub your next steak for the grill or broiler
flank steak! Spread the coffee rub all over a flank steak and refridgerate overnight or let stand until room temperature. Then grill or broil until medium rare (about 6 minutes per side)
Ribs! I like to dry rub my ribs then pressure cook them first (stand them up sideways on a rack). Then you can cover them with a sugar free bbq sauce (or not!) and grill or broil. They are perfect!
Be sure to try this keto coffee dry rub on my recipe for Instantpot Baby Back ribs!
ok, so basically your homemade coffee bbq spice can be used on any beef, chicken or pork!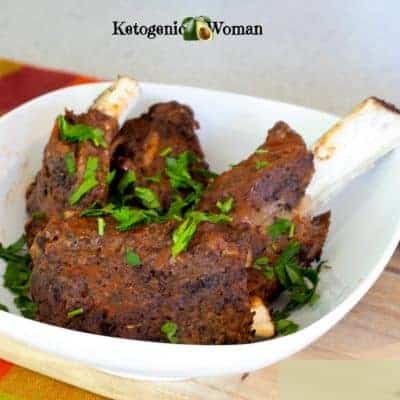 Printable Recipe Card for Keto Coffee Dry Rub BBQ Spice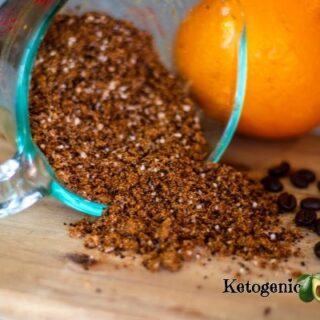 Smoky Keto Coffee Dry Rub BBQ Spice
A strong smoky sweet Keto Coffee Dry Rub bbq spice mix with a hint of orange, inspired by Trader Joes classic rub. Sugar free and low carb.
Ingredients
2 tbsp ground coffee
2-3 tbsp brown sugar substitute like Sukrin Gold
1 tbsp smoked paprika
2 tsp cumin powder
2 tsp onion powder
2 tsp garlic powder
2 tsp sea salt
zest of large orange (about 1 tbsp zest)
Instructions
Combine all ingredients in a small bowl
Pat the dry rub on meat for the grill or toss 2 lbs wings with 2 tbsp rub before airfrying or baking.
Notes
2 tbsp rub contains about 2 net carbs
Save this Keto Coffee Dry Rub to Pinterest to keep it handy for summer BBQs!