My Famous Keto Spicy Chorizo Crack Slaw!
Well, it's famous in these parts! :-)
Just in case you don't know, Crack Slaw is a term used in the low carb world for any recipe that makes use of ground pork or beef and shredded cabbage.
My take on keto crack slaw is super fast with only 5 ingredients! It's an excellent one pan meal for a weeknight dinner and family friendly to boot!
I work full time so I need short cuts!
What sausage to use in this Spicy Chorizo crack slaw recipe?
I found the chorizo in the grocery store where my son works. It was hand made locally with no gluten, fillers, wheat, nitrates, nothing but meat and spice. It was outrageously expensive and I practically dropped the package when I read the price. Thank goodness for employee family discounts!
But bless my soul, it was worth every cent. I might have to put a Donate Button on this blog so I can buy it again! :-) It really was the most delicious thing I have eaten in awhile and the spicing was absolutely perfect and divine. It made the recipe even easier, nothing else to add folks!
But I would use whatever chorizo sausage you already have in your own market. Just look for one that has no added sugar and wheat fillers.
And if you love chorizo for breakfast then why not give give these Keto Chorizo Eggs a try?
Gather these items for the Spicy Chorizo Crack Slaw Recipe
(Printable recipe card is just below this section)
This is the #1 best selling non stick pan on Amazon. I have 2 of them in different sizes and I LOVE them! I have also seen them at Costco and other places.
It's important to note that tomato paste has about 3 carbs per tablespoon, so if this does not fit into your daily allowances then use sugar free ketchup like this one
. It has only 1 carb per tablespoon and I really like the taste of it. My kids can't tell the difference when they accidently use 'mom's ketchup'.
Let me know if you like it and if you are a crack slaw addict as well!
Yield: 1 serving
My Famous Keto Spicy Chorizo Crack Slaw!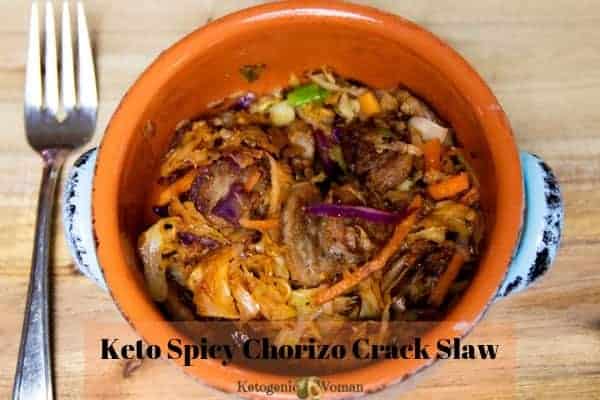 This is my family friendly famous spicy chorizo crack slaw! It comes together in just a few minutes. Faster than fast food! One pan meal.
Ingredients
NOTE- These amounts are for 1 serving, adjust for more people
1 tsp coconut oil
2 cups coleslaw mix
1 chorizo sausage link (about 4 ounces)
1 tbsp sugar free ketchup or tomato paste
seasonings to taste if needed
Instructions
Melt coconut oil in a non stick pan. I now exclusively use these pans after reading up on the carcinogenic effects of teflon.
Fry up the sausage pieces until they start to brown a bit
Once the sausage starts to brown add the coleslaw mix to the pan and keep stir frying until the cabbage is soft and the sausage is completely cooked
Add in the tablespoon tomato paste or ketchup and stir until all the stuff in the pan is nicely coated with it.
That's it, nothing more to do except eat it!
Notes
Note: Tomato paste has 3 carbs per tbsp and sugar free ketchup has 1 carb per tbsp.
More Easy Keto Crack Slaw Recipes
Save my Famous Low Carb Crack slaw recipe to Pinterest so you can try it out sometime!