Keto Lettuce Wrap Tacos that will Satisfy That Mexican Food Craving!
I am a big fan of Mexican foods and really love the spices and flavor. With these keto lettuce wrap tacos there is no need to miss Taco Tuesday ever again!
I can eat this low carb lettuce wrap taco while the rest of the family is enjoying their own tacos or enchiladas. They are super fast and easy to make!.
I make a double batch for leftovers so I also take all the ingredients with me to work and assemble them easily for lunch.
What is the best lettuce for wraps?
This is a simple taco recipe using a crisp lettuce leaf as the taco shell. I find that the best lettuce leaves to use are:
Iceberg – Iceberg lettuce is available almost everywhere year round. It has the best crunch both for the outside of a keto taco or burger, as well as for shredding up for taco salad or inside regular tacos.
Romaine – also widely available year round and makes for a longer 'boat' or shell. Almost as crunchy as Iceberg and just a little more flexible when folding.
Butter Lettuce – This lettuce also makes a great taco holder. It doesn't have the same crunch but it's way more flexible for folding and rolling.
What if you want an actual tortilla wrap for this instead of lettuce? No problem! You can use these amazing coconut flour tortillas
Spicy ground meat is the basis for your keto taco lettuce wraps!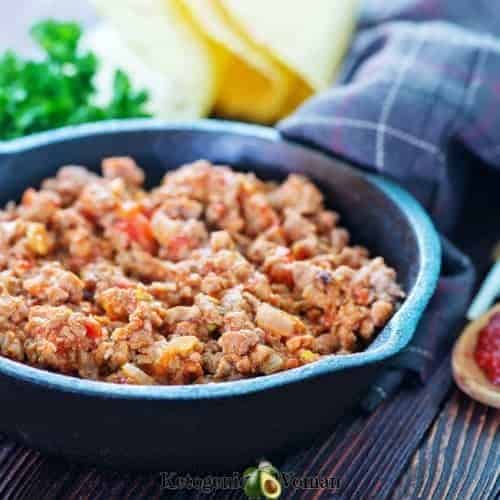 Since I work full time, I tend to make my ground beef in large batches and use it all week long in salads or to stuff zucchini boats or peppers. It is very versatile!
You will want to either make your own taco seasoning (here's a taco spice recipe that I use) or buy one that has no sugar added.
Directions are simple! Fry your ground beef (or ground chicken or turkey) and when it's done add 2 tbsp taco seasoning for every pound of meat. If you are using a lower fat ground meat, add in a little water or broth to make the meat mixture a little more saucy.
For Paleo, Whole30 and dairy free people, for each lb of meat also add 2 tbsp nutritional yeast . It will give the meat a cheesy flavor with no need to add shredded cheese on top. I love it and use it a lot when I'm doing Whole 30.
Assembling your Keto Lettuce Wrap Tacos
This is the fun part! You can play with this and the family can make their own however they like it!
Here are my favorite condiments to put out with the spicy beef and lettuce leaf wraps.
avocado slices
sour cream
chopped tomato
chopped onion
shredded cheese
jalapeno peppers
salsa (no sugar added or home made)
For each taco, line a lettuce leaf with the spicy meat and your favorite toppings. Could it be any easier than that!?
Paleo and Whole 30 people would simply omit the cheese and sour cream. They are still super delicious!
Pick it up and eat it and you won't believe how tasty these keto lettuce wrap tacos are!
Save this Low Carb Taco recipe to Pinterest for your next Taco Tuesday!