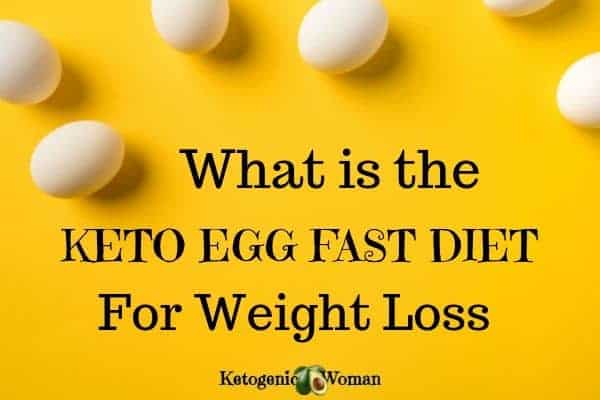 What is the Keto Egg Fast Diet?
Have you heard about the egg diet weight loss fast? This is the first one of a few articles where I will share my experience and recipes for the Keto egg fast diet.
One of the frustrating things that have happened to me is that my weight doing keto and low carb has just basically been stalled no matter what ratios I have tried.
Maybe it's my age (mid 50's), maybe it's my activity level which is now so much less than before my knee injury.
Whatever the reason, I have been frustrated by slow and even non-existent weight loss.
Enter the low carb keto egg fast! Depending on where you look, it is also called Egg Fest or Egg Diet Weight Loss Fast, also called the LCHF Egg Fast Stall Breaker!
Now it was that last name that really caught my attention.
---
What are the Keto Egg Fast Rules?
Save these Egg Fast Rules to Pinterest!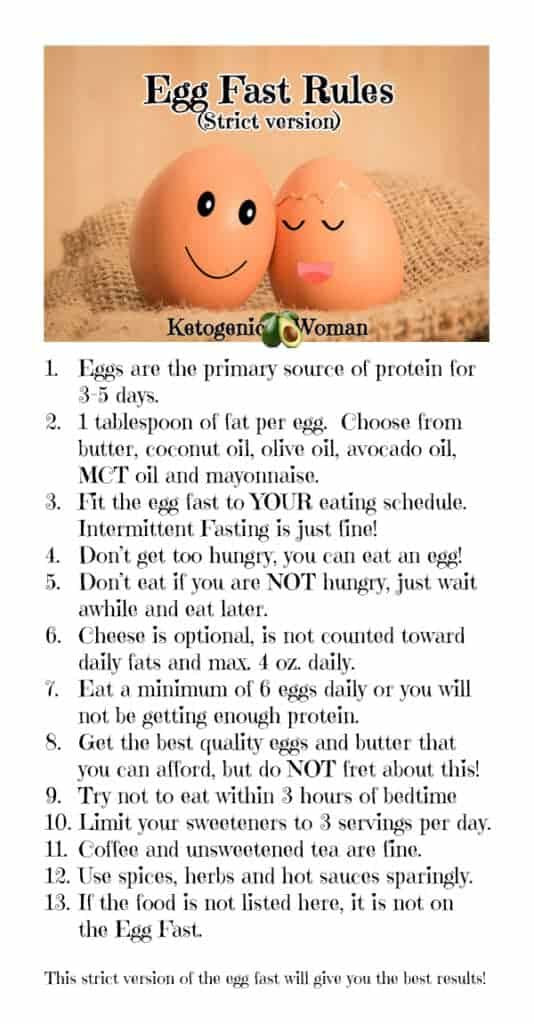 This is How I Fit the Egg Fast Into My Life
I ate 7-8 eggs a day.
1 ate tablespoon of the following fats PER EACH EGG consumed (in order of my own preference): Butter (grass-fed is nice but not necessary), Organic Extra Virgin Coconut Oil , mayonnaise (any type that is zero carb). I limit my mayo to 2 tbsp daily and try to do mostly butter and coconut oil. But avocado oil is nice sometimes.
In the morning I made my EFC (Keto Egg fast coffee). I used 16 oz coffee, 1 teaspoon

So Nourished sweetener

, 1 tbsp coconut oil and 1 tbsp butter. I prefer to blend this in my blender. It looks and tastes like a frothy latte. This means that I omit 2 tbsp fat later in the day with some of my eggs but feel free to throw 2 eggs into that blender!
I only eat if I am hungry.
Cheese (real cheese, not processed) is allowed but I find that I can only eat 4 ounces cheese max for the day or even this egg fast stalls me!
I ate a minimum of 6 eggs daily to get enough protein
I tried to get the best quality eggs that I could find and afford
I tried to not eat within three hours of bedtime (or the heartburn is REAL!)
I kept myself to 3 servings of sweeteners in a day MAX! This can be in the form of diet soda or those skinny syrups or drops of Stevia. I do like to use the Skinny Syrups because 2 tbsp is one serving and I can make 2 tbsp go a long way! Try out Jordon's Skinny Syrups and see all the crazy amazing flavors they have!
So there you have it, my very own custom tailored version of the keto egg diet fast! In my next post, I will share my own results of breaking my Keto stall.
You can read about the effect this type of diet has on your health (the good and, in rare cases, the bad) here.
Keep scrolling down to get some recipes!
What Do You Eat on the Keto Egg Fast Diet?
Here are some egg fast menu ideas and egg fast recipes to get you started: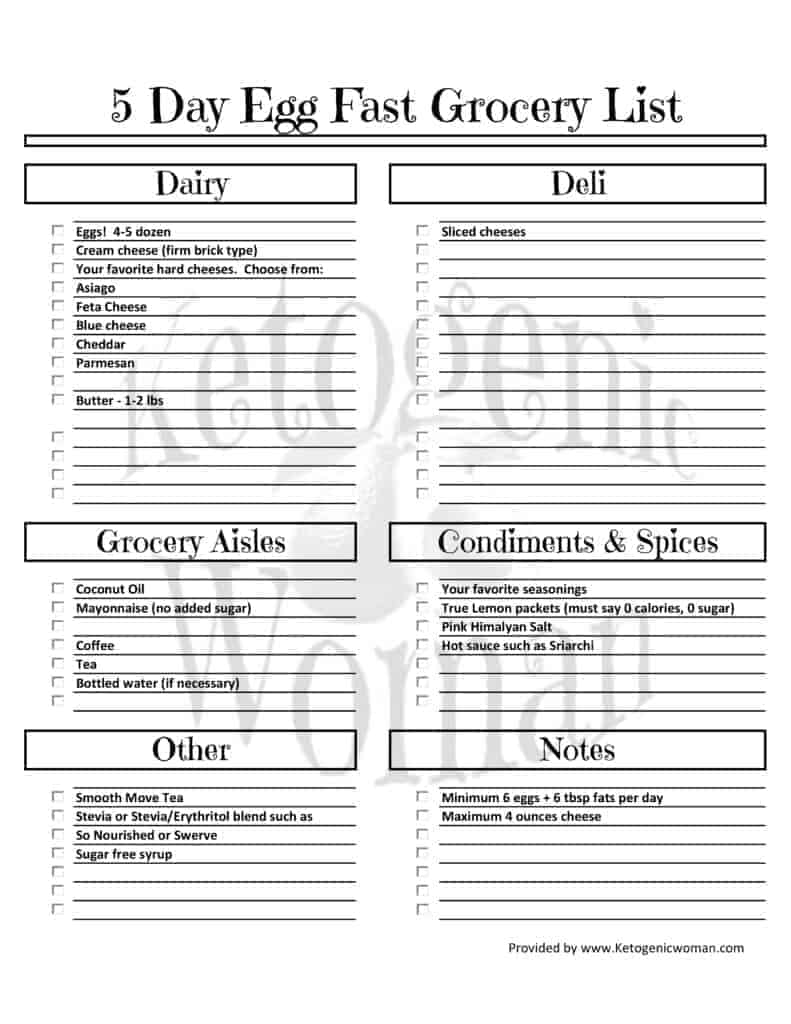 Egg Fast Three Day Sample Menu
Three days of Keto Egg Fast menu and recipe ideas.

When you have done the Egg Fast and want to return to regular Keto or Low Carb, here are the Egg Fast Transition instructions.
Do You Need Some Egg Fast Help or Support?
This is not my Facebook Group, but this is where I hang out to discuss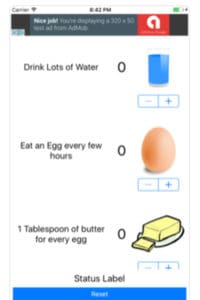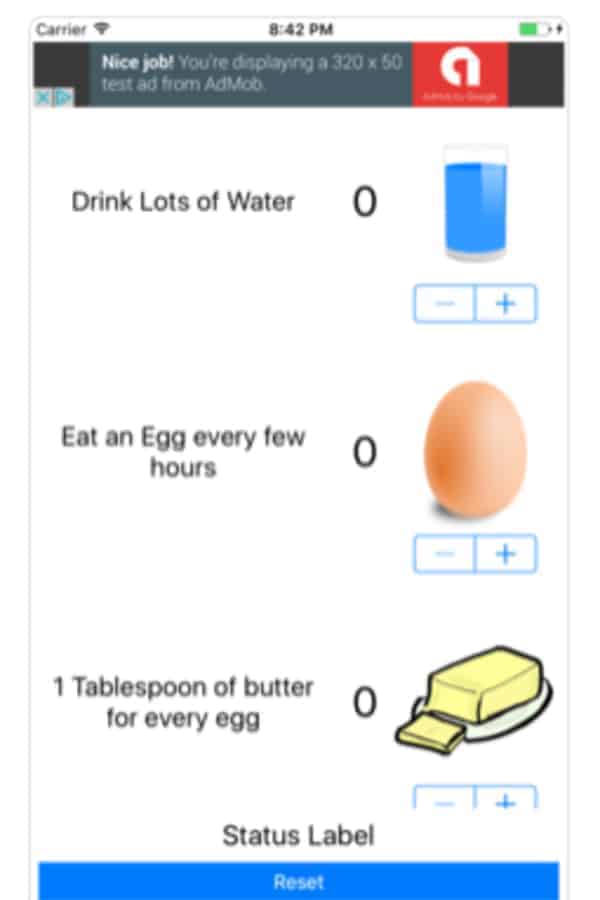 everything LCHF Egg Fast! If you are serious and can follow the directions, come and join us in the fun!
Egg Fast Tracker App: This is a free app for Android and iPhone that helps you keep track of your Egg to Fats ratios, plus your water and cheese consumption. Install the Android Egg Fast Tracker app here.
Install the iPhone/iPad version of the egg fast tracker here.
These are my favorite egg fast resources and cooking utensils!
Check out my Keto Egg Fast Diet Results (with my 3 years later update!)
More Egg Fast Recipes to Try
Want more Egg Fast recipes? You've come to the right place, we have the best ones here! Check them out!