Keto Egg Fast Menu – Day 1
For some reason over the weekend, I was struck by the desire to do the Egg Fast again.
The Keto Egg Fast Diet is very easy to follow and you get great results fast, but you really need to be in the proper frame of mind to do it. And for me that day is today!
Because so many people in the group ask for examples I decided to document my Egg Fast meal plan here on my blog.
I will try to be as detailed as possible and include pictures and the egg fast recipes. They won't be fancy pictures, just quick snapshots with my phone!
This Egg Fast meal plan will also be compliant with the egg fast rules we go by in the Facebook group so there is no confusion! I will list every spice/sweetener/sauce thing I use.
For those that need a refresher, here are the Keto Egg Fast rules and here is the Egg Fast FAQ.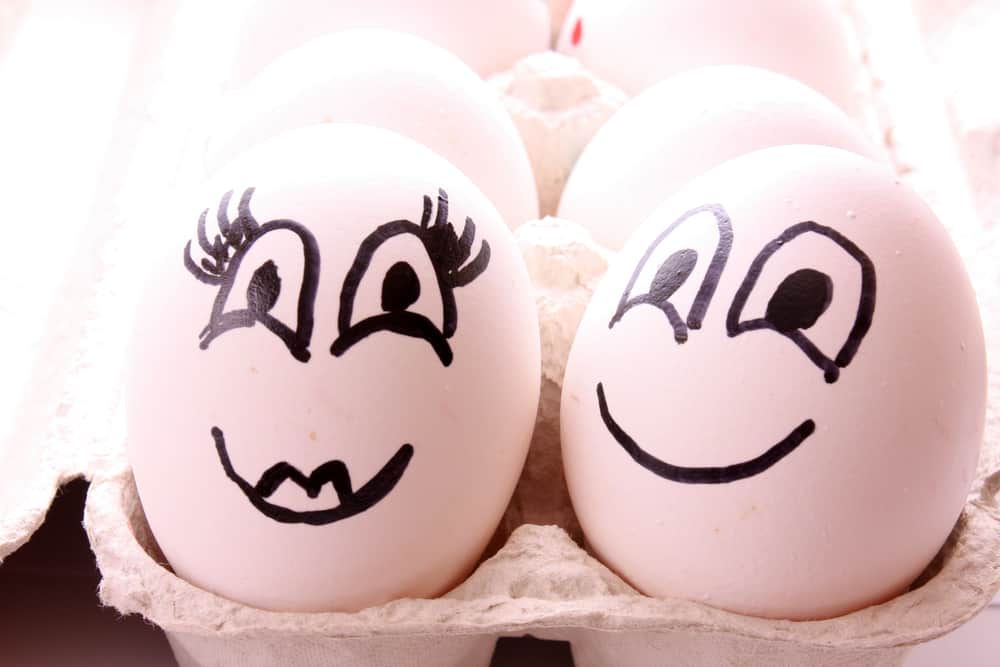 Remember, I am arranging this egg fast to fit my very busy working mom schedule! I am sharing a breakdown of times to give you ideas, not to tell you this is how it must be done.

For Day 1, I planned an egg fast meal plan of 8 eggs because I knew that I would be hungrier on the first day. And if 8 eggs are not enough, I will simply have an extra egg as a snack (with butter of course!).
Summary Menu for Egg Fast Day 1
Remember, this is just a sample of what I ate, adjust the menu for your own personal tastes! The details and number of eggs/fats are below.
Egg Fast Coffee (see below) or Egg Fast Shake
Omelette with Cream cheese
Cheese string with Mayo
Egg Salad
Egg Fast Meal Plan – Day 1 Details
5:30am: 16 ounces coffee with 1 tbsp coconut oil and 1 tbsp butter. Put in the blender with a dash of cinnamon and a dash of pink himalayan salt. Blend until frothy.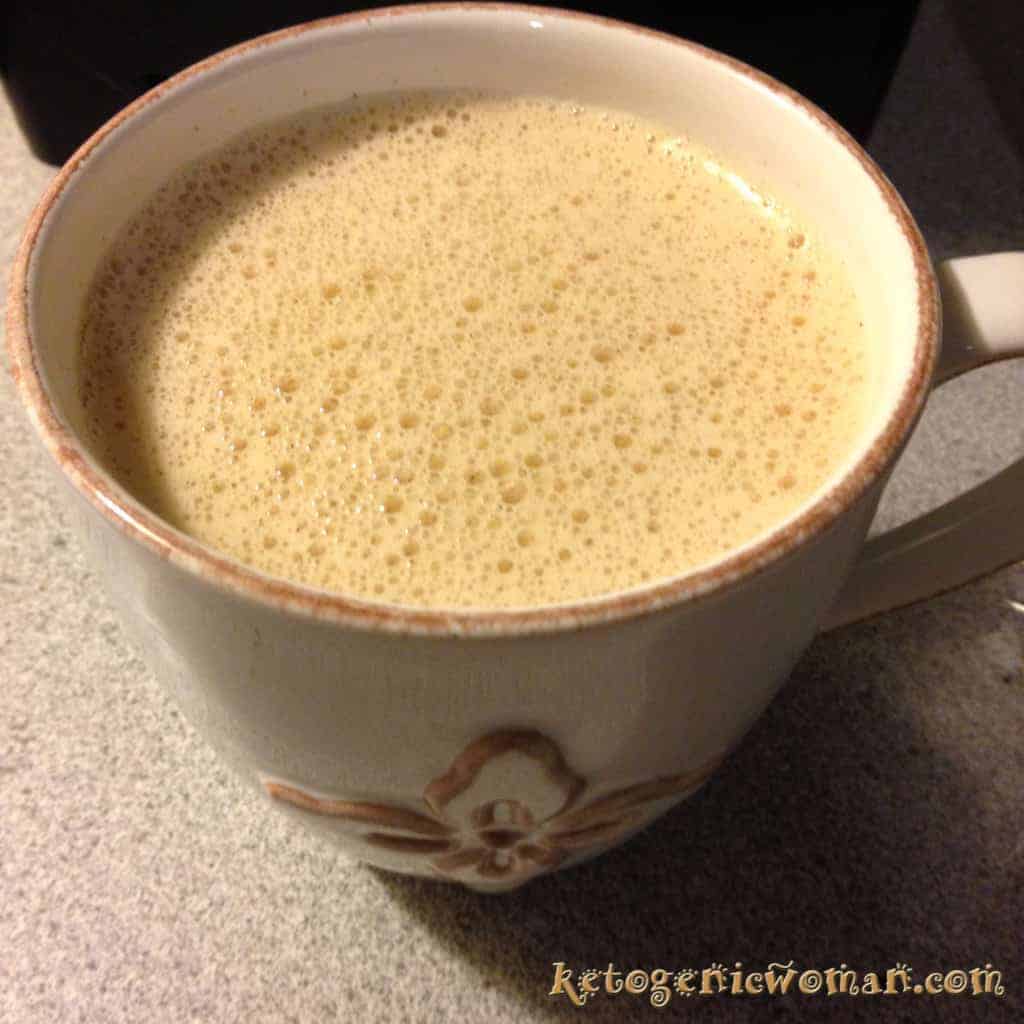 Cooked my breakfast and made my lunch, both of which I carry to work with me in my insulated lunch bag.
Note: Salt is extremely important on the egg fast! Use it liberally! I choose Pink Himalayan salt because it is abundant in minerals.
8:00am: 3 egg omelette with 2 ounces cream cheese and a squirt of sriracha sauce, salt and pepper. I used 1 tbsp butter for cooking in the pan. This is easily my favorite egg fast breakfast. I have this 2-3 times a week even when I am not egg fasting!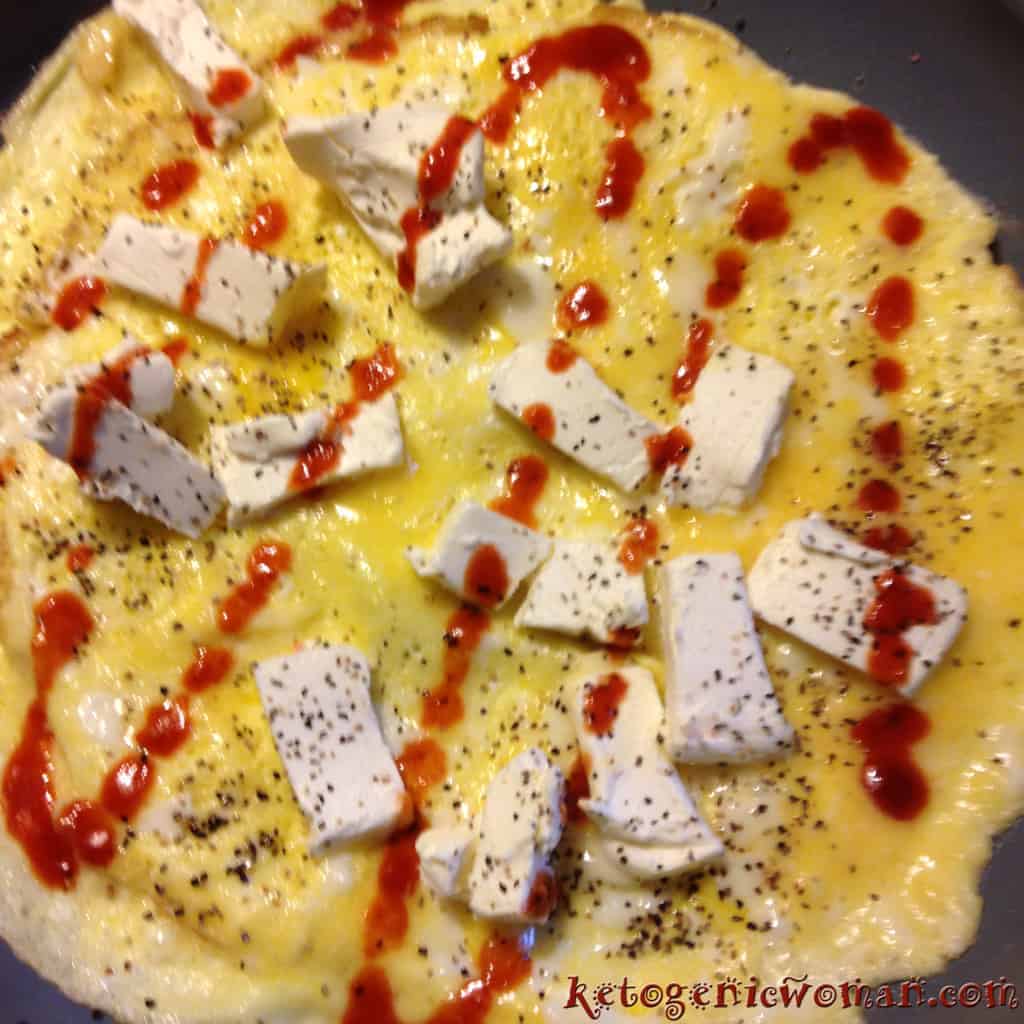 11:00am: 1 cheese string with 1 tbsp mayo for dipping.
1:00pm: 3 chopped eggs with 2 tbsp mayo, salt, pepper. I normally also like a sprinkle of smoked paprika on this but I couldn't find it this morning!
At this point in the day I have had 6 eggs, 6 tbsp fat and 3 ounces cheese. I like to stay under 4 ounces cheese in a day for best results and for sure a maximum of 6 ounces.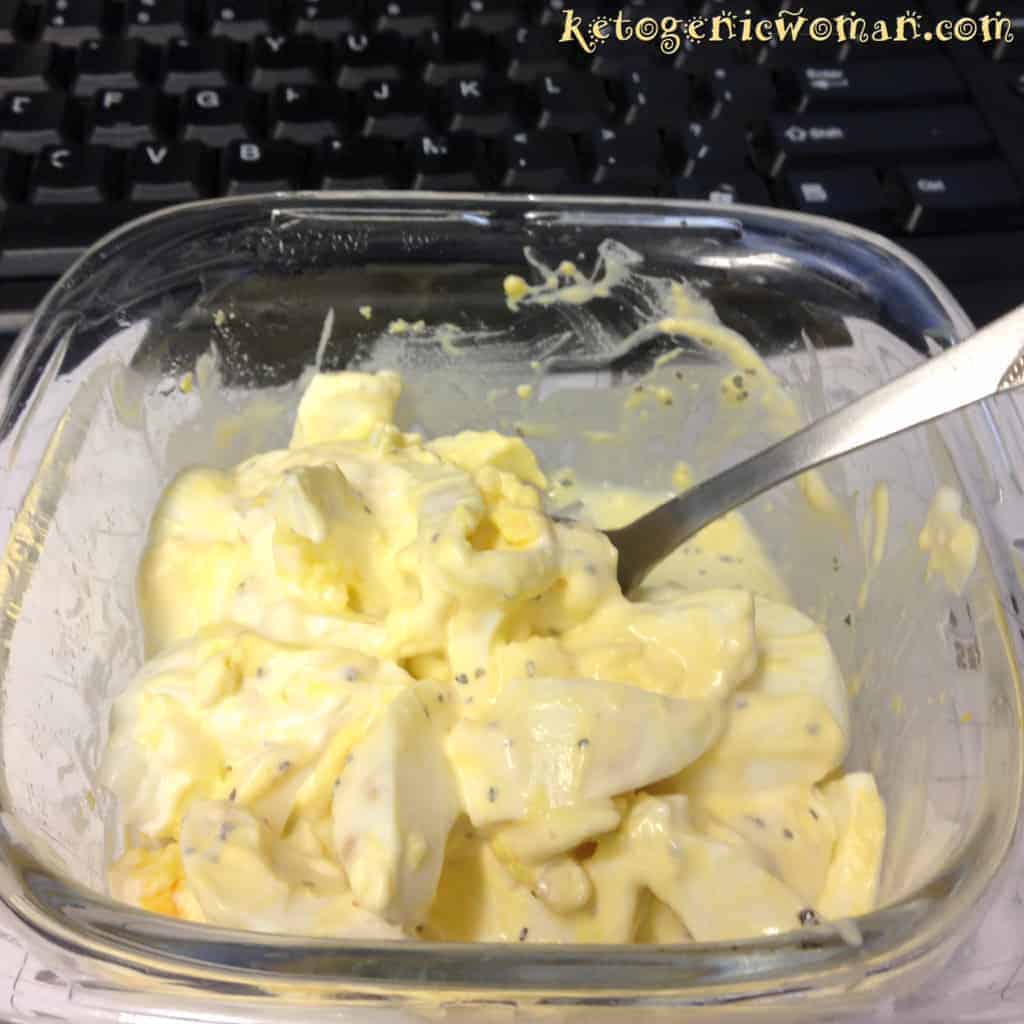 5:00pm: Waffles. Yes, waffles! :-) Click here for the waffle instructions. The waffles recipe normally equals 2 eggs and 2 ounces cheese.
But I whipped 1 tablespoon mayo into the batter so that I would not be short on my egg-fat ratio for the day and left out 1 ounce cream cheese. (Thanks fellow group admin Vee Henrick for that priceless tip!)
I made a butter sauce with 1 tbsp butter and 1 tbsp sugar free salted caramel syrup, my indulgence for the day's hard work. :-)
I also highly recommend Skinny Syrups, they have so many flavors! Sometimes I mix the skinny syrup right into the waffle batter, yummy!
I doubled the waffle recipe because I will be making a Wafflewich for dinner tomorrow. You'll see.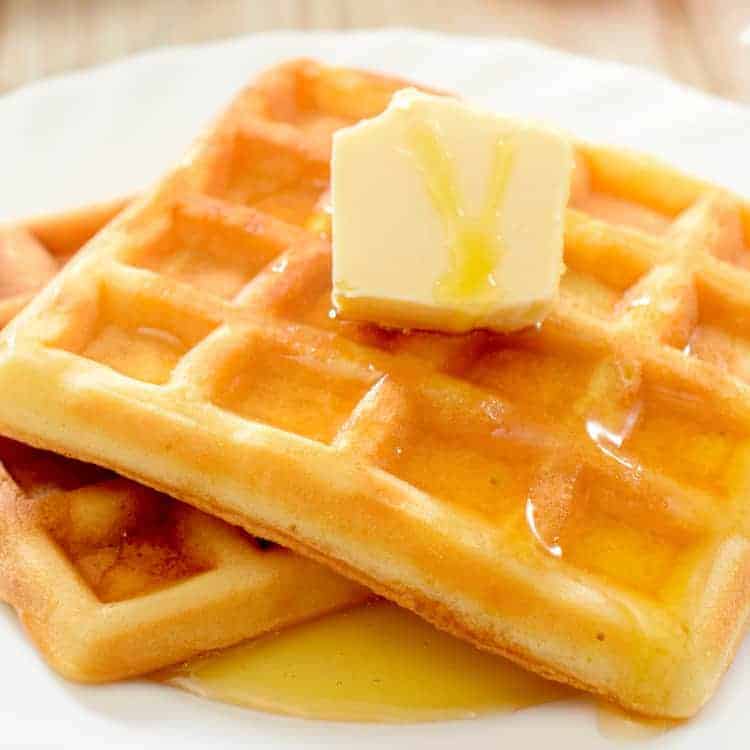 Total for the day: 8 Eggs, 8 tbsp fat and 4 ounces cheese. And of course, throughout the day I am drinking water, water and more water!
Check out more Egg Fast Recipes!
More Egg Fast Recipes to Try
Want more Egg Fast recipes? You've come to the right place, we have the best ones here! Check them out!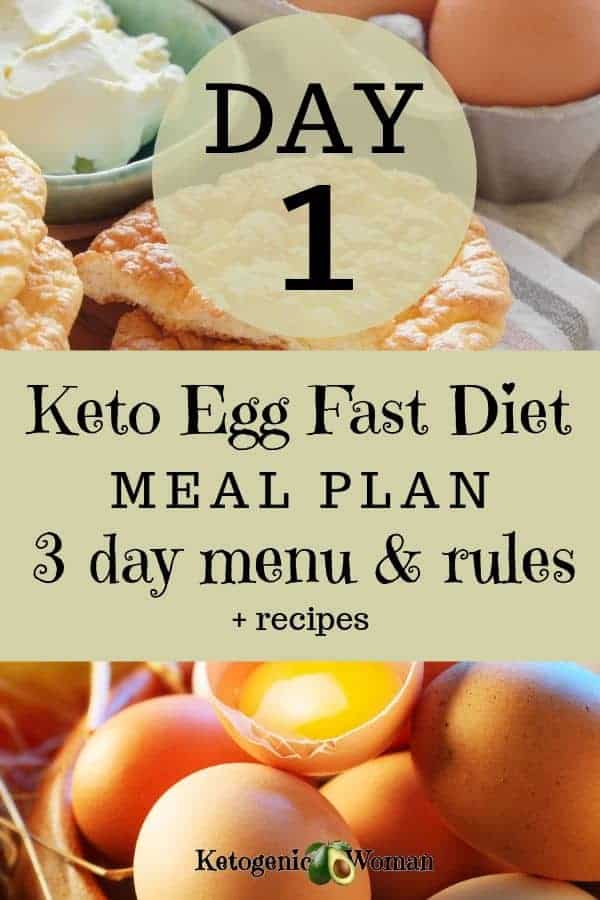 These Egg Fast printables might be helpful to download!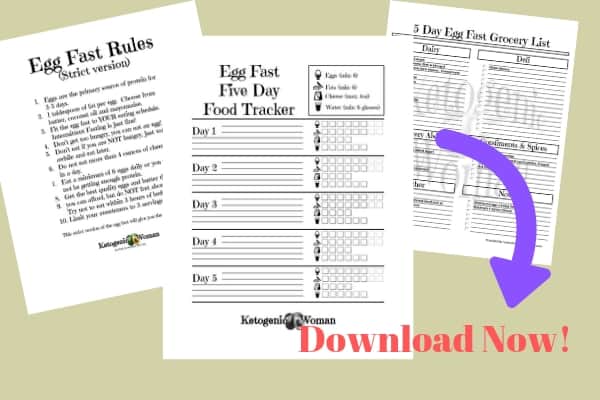 Keto Egg Fast Menu – Day 1