How to Transition from Egg Fast back to Keto and LCHF
While the egg fast plan is great for breaking a stall, it seems that people really struggle with how to then carry on with their LCHF plan.
And they are scared and frustrated about immediate weight gain once they end the egg fast.
I am one of the admins in the Egg Fast Stall Breaker facebook group and with over 3,000 members at the time of writing this (and now we have 42,000!), I have seen a lot of successes and failures in the transition from egg fast back to low carb and keto.
Some people will follow the egg fast for as long as they can, say anywhere from 5 days to about a month.
Others will cycle back and forth, following the egg fast during the week for example and going back to Keto on the weekends.
This is how I chose to do it and I recorded 4 weeks of egg fast cycling here.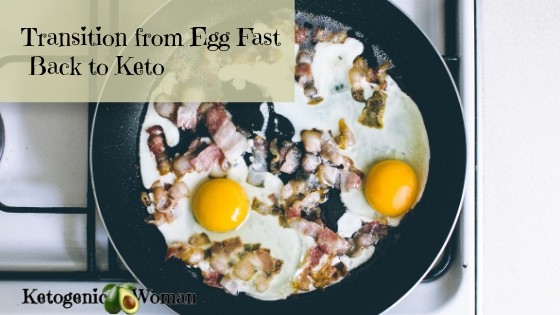 Either way, I think there is a right way and a wrong way to transition from egg fast to Keto or LCHF.
Now remember, everyone is different and I am simply sharing what I have seen in the group as well as my own experience. Your mileage may vary!
One of the things that really helps your mind set with the transition is to treat it like you would an allergy elimination.
---
What is a Keto Weight Loss Stall?
You are not losing weight or inches.
If you are looking at the egg fast, it is likely because you have been following a low carb or keto plan for awhile, lost weight in the beginning and now the scale has not budged in weeks or even months.
The egg fast takes low carb down to the bare bones basics and eliminates all those things that might have contributed to your stall in the first place. So once you have done the fast, broken through the stall, it makes sense to be careful and mindful of what you are allowing back into your daily eating.
Things like dairy (as in heavy cream), certain sweeteners, and certainly any highly processed low carb foods are well known to keep people from losing weight on keto. If you bring all those foods back in on Day one of your transition, then frankly you are going to undo all your hard work!
What to Eat During the Egg Fast Transition Back to Keto
As you know all egg fast meals and snacks involve eggs, fat and maybe some cheese. So here are my suggestions for transition based on what I have seen in the group:
First two days (minimum) after egg fast: Eat regular egg fast breakfast, lunch and snacks. For dinner add a different protein. Note: I used to recommend veggies on Day 1 of transition and that is up to you. If you have them, have maximum 1/2 cup.
Third day and maybe longer: Eat regular egg fast breakfast and snacks. For lunch and dinner have salad or veggies and protein and fat. Keep it light and simple. Again, keep the veggies at 1/2 cup max.
For best results, repeat Day 3 for however many days that you did the Egg Fast!
Join the Egg Fast transition group so that you can share what you are eating since you can't do that in the regular group. Other people who have transitioned successfully can help you spot pitfalls and problems.
Why am I now suggesting that you limit vegetables or even eliminate veggies on transition?
After experimenting on myself and from what others have written in the Egg Fast group, it's the daily weight fluctuations that seem to drive people to think they have failed.
I have suggested to people that they don't weigh every day or if they do they should ignore daily weight fluctuations.
Of course, that never happens! It is the vegetables that will add that bit of weight while you are transitioning.
It is not fat that you will gain, it is simply some water weight and will go away if you stay the course.
But this weight fluctuation certainly messes with people's minds.
So maybe try adding proteins first, then gradually add a bit of veggies to see where your carb threshold is. For myself, I cannot do more than 10 carbs a day.
That's almost no veggies and in fact I now aim for zero carbs every day. You might be able to tolerate more carbs but you will have to find that number by experimenting.
Will I Gain Weight Back After the Egg Fast?
If you have weighed yourself at this point, you may had stayed the same weight, lost weight, or even had a small gain.
If you continued to lose weight, then carry on with the transition by slowly introducing more meats and vegetables.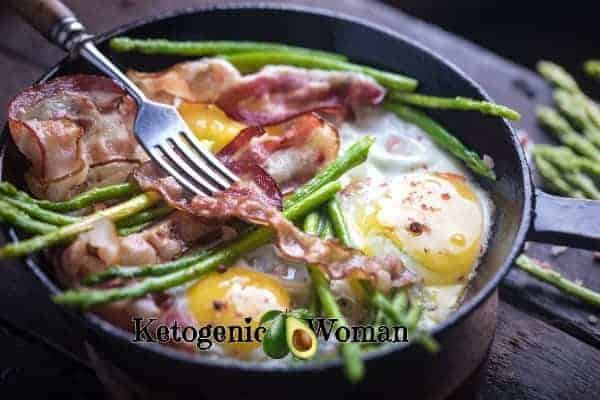 If you gained weight or stayed the same, stay on the transition a few days longer. Some people have come to realize that if they want to keep losing weight, the simplicity and lack of 'extras' offered by the egg fast transition are what they need to continue to lose and so there is no reason why you cannot cycle on and off indefinitely.
In fact, I recently followed the egg fast transition for a week and lost another 3 pounds!
The wrong way to do the egg fast is to stay on the egg fast for a few days or even weeks, and then either go back to eating SAD (Standard American Diet) or even full blown Keto right off the bat.
On Day one of transition, if you eat bacon and eggs for breakfast, AND coffee with heavy cream AND make your self a low carb cheesecake AND eat all the other low carb goodies we love to have, well I hate to tell you this but you're going to be in for a nasty surprise at the scale!
If you think of this as allergy elimination, and add your favorites back in one day at a time, you will be able to see exactly what stalled you in the first place.
And at least then you can make an informed decision as to what you allow back in and how much.
I hope this has been helpful and by all means if you need some extra support in this, leave a comment to ask me a question!