What is the Carnivore Diet? Zero Carb Diet Results
Sometime in the last week of February 2015, I was directed to a blog called My Zero Carb Life written by Kelly Williams Hogan (there will be links at the bottom of this article).
Just when I thought I had it all in hand, just when I was sure my latest macro tweak was going to be the magic tweak, that blog happened. And it blew my mind!
Ya, ya so dramatic, I know! That day I read that whole blog, and I mean every single article in it.
I immediately starting eating what they called Zero Carb (which I now feel like everyone else in the Keto world calls Carnivore). I lost 12 lbs the first week which was pretty amazing for someone who complained of a slow metabolism!
This happened without tracking anything in My Fitness Pal, not even once. I didn't count carbs or felt like I had to eat anything at the end of the day to get my fat up or tweak one single effin thing about what I put into my mouth!
It was both the easiest thing I had ever done in my life as well as the hardest!
So What Can I Eat on the Zero Carb Carnivore Diet Plan Anyways?
The first thing that I want to stress is that the Zero Carbers use the term zero carb, but the goal is not 'eating zero carbs'. They don't count carbs at all.
The goal of zero carb is to eat foods only from the animal kingdom. We are talking about meat, poultry, fish, eggs, and if you can tolerate it, some dairy.
And none of this lean meat stuff either. Untrimmed meat with fat. Eat the skin on the chicken! Leave the expensive lean ground beef on the shelf and get the fattier stuff.
No sweeteners, no chemicals, no processed food, no fruits, vegetables, grains, nothing but basically meat and water.
How can anyone get excited about meat and water?
I don't know, but I did! I can't explain it, I know I am still sane, at least I think so. I think sometimes these things are all about timing.
Maybe if I had read that blog a few months ago, a year ago or whatever, I would have just said wow, this Kelly Hogan, what a crackpot. But I didn't.
She talked about giving up sweeteners (something I have struggled on and off with for years) and so I knew I had to do that and I didn't have a single drop or granule of sweetener the entire 30 days.
And even though I am not strict carnivore any more, to this day I drink my coffee black.
Carnivores don't measure or weigh anything. They eat until they are full and then they stop. When they are thirsty they drink water.
That's it, that is the zero carb diet plan. It's as simple as that.
So how did I do on that 30 days?
30 Days of Zero Carb Carnivore Eating
So that first week after reading Kelly's blog, I gave up sweeteners but I still ate a salad with my meat. Then one day I ate a pickle because we all know that pickles have no carbs right. Then I ate another one, then another and then I was off to binge land.
When it was over I knew. I knew I was one of those people who are hyper sensitive to carbs of any kind, even so called good ones.
So for the rest of the 30 days, I stuck to just meat, no salads. I also ate eggs, but stayed clear of dairy. It was tough!
Although I was never able to give up coffee, I never thought I could drink it without sweetener. I typically ate meat, as much as I wanted, as well as eggs and some cheese.
Some people seriously eat just meat. No cheese and maybe even no eggs. Meat and water.
How did Carnivore help me moving forward?
I want to be transparent about this. I am mostly Carnivore but not 100%. Some days not even carnivore. But I learned so much from trying this way of eating and have received great benefit from it.
I am no longer dependant on sweeteners to get me through the day. This was something I fought for years!
I no longer use heavy cream in my coffee and I eat a minimum amount of dairy.
Meat is the mainstay of my diet and all other carbs and veggies are more like a condiment
I may come back to this at some point, I have no idea. I'm just not ready to be 100% Carnivore but I would not discourage anyone else from trying it. It might be just the thing you need!
Where can you learn more about the Zero Carb way of life?
Since you haven't run screaming from this page and since I am so new to this that I have nothing to offer but my first 30 days, here are some links for you to do further research:
Kelly's blog My zero Carb life
Eat Meat Drink Water blog with interviews from people who are ZC.
ZIOH (Zeroing in on Health) FaceBook group. For this group, please read the rules before you post in the group.
This book is a great resource for anyone who wants to learn more about the Carnivore diet.
Recipes You can use for Zero Carb or Carnivore Eating
Recipes and Ideas for Carnivore and Zero Carb
These recipes can all be used if you are considering trying zero carb or carnivore. Keep in mind that Carnivores focus on food from the animal kingdom. I follow a relaxed Carnivore plan mostly and so feel free to omit any non animal ingredients.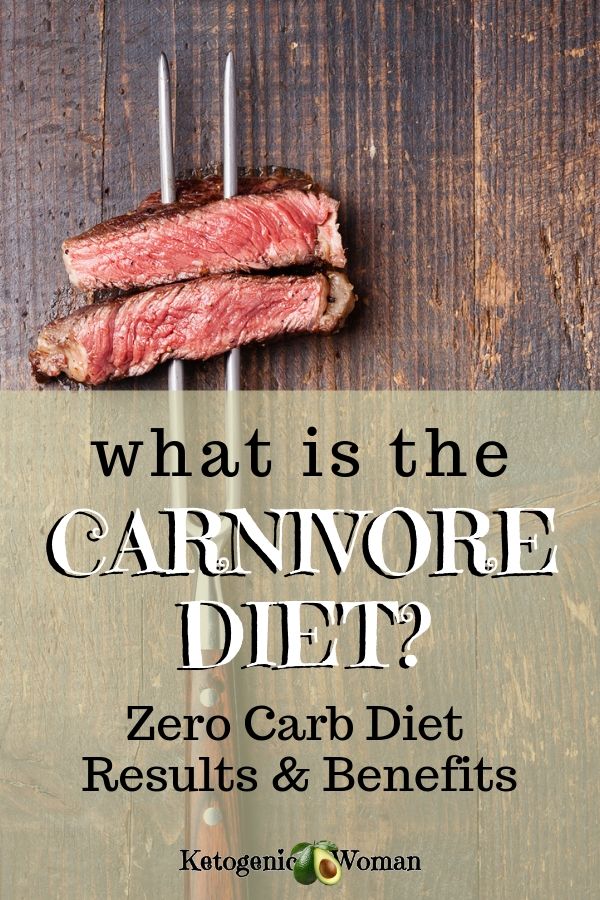 What is the Carnivore Diet? Zero Carb Diet Results