These Keto Carnivore Pasta Noodles are just like the my popular Keto Noodles only they have been tweaked to be Carnivore friendly! They are still firm and hold up well to sauces and soups! Just imagine the possibilities! Only 4 ingredients and no special tools required. Pasta is back on the menu!
How to Make Keto Carnivore Pasta Noodles
If you are doing Carnivore I know there are some things you are might be missing right now!
Especially if you are new to it, or maybe you are getting your feet wet and trying out a Carnivore Challenge! Or maybe you are just Carnivore curious and wondering how you will live without pasta!
Well you don't have to live without pasta.
With this basic keto pasta noodle recipe you can make almost anything that requires a sturdy linguine, fettuccine or lasagna type noodle.
Ingredients Needed for Carnivore Noodles
Eggs
Cream Cheese
Parmesan
Yup, that's 4 ingredients!
You will also need:
You can even make your own pork dust!
You can certainly buy ground pork dust online and for busy working Moms, I get that! I buy all kinds of stuff that I could make myself. Such is life sometimes.
But it's seriously easy to make your own! (Watch me make Pork crumbs 3 different ways in this video!)
Just grab a blender and blend 2 bags of pork rinds and keep in a mason jar like I do. Besides these pasta noodles you can also use them for breading or mix into a meat loaf.
Tip: Fill the blender only half full for each batch. The pork rinds are light and will fly around the top so the best approach is small batches and tap the blender jar while you are blending so they keep falling to the blades.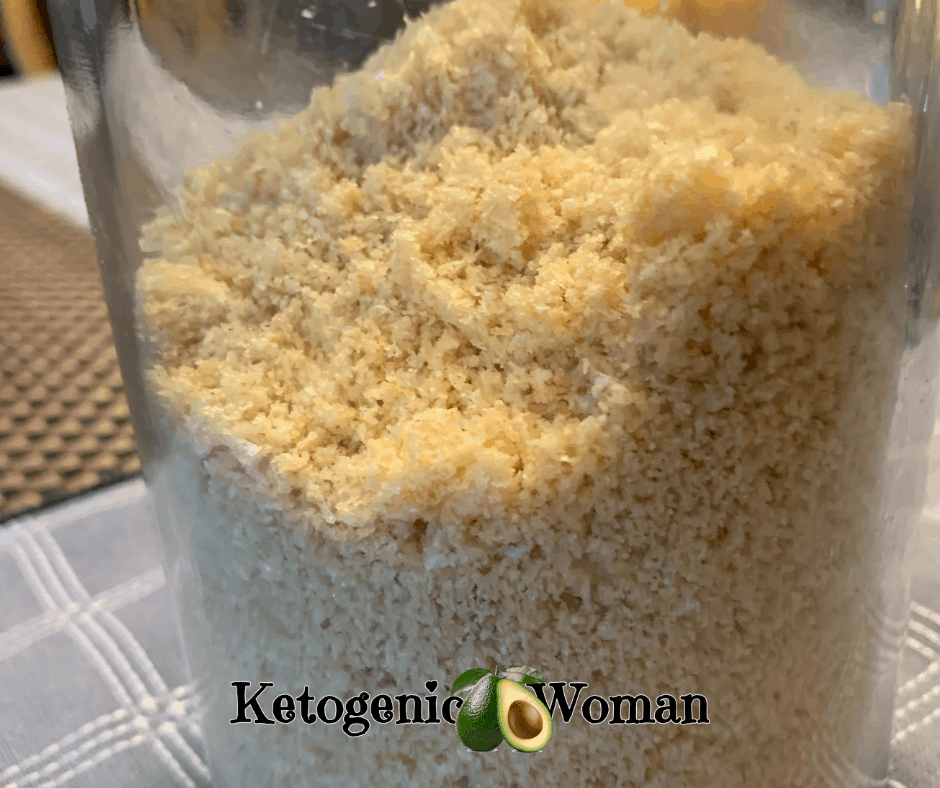 What Can You Do With These Keto Noodles?
Here are some Carnivore friendly ideas for your noodles!
Spaghetti and meatballs (cut the noodles skinnier)
Chicken Noodle Soup (cut the noodles thinner and shorter and use chicken bone broth!)
This

Carnivore Lasagna

(make 2 sheets at once and cut the noodles in wide strips)
Tips and Tricks When Making the Carnivore Noodles
Double the recipe. You'll kick yourself if you don't!
The batter is quite thin when you pour it, so pour into the middle of the silicon mat slowly so it can spread as much as possible naturally.
Then help it along by smoothing it out as thin as you possibly can. The noodles will rise slightly when baking so take that into account. I found the best tool for this is an angled frosting spreader .
Save leftovers in an air tight container in the fridge for a quick dinner or to toss in some soup.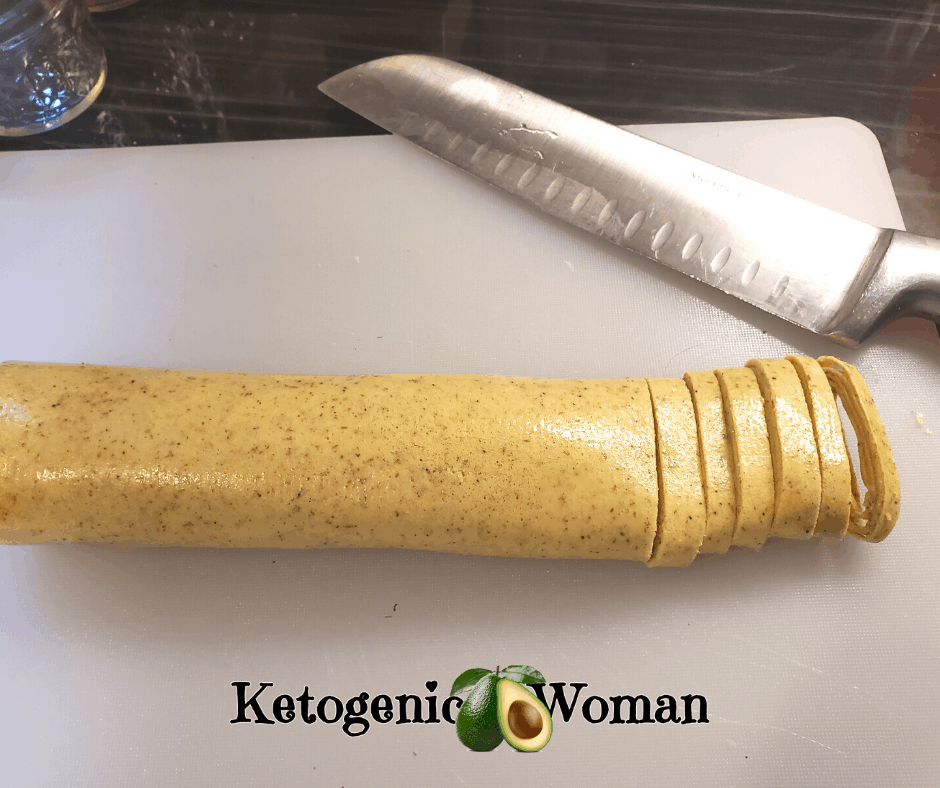 Recipe Card for Making Carnivore Past Noodles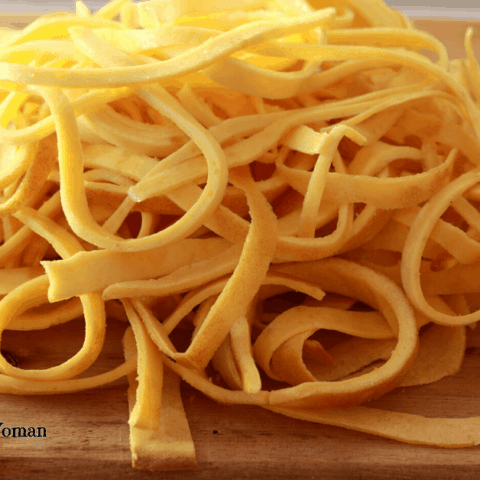 Keto Carnivore Pasta Noodles
If you are missing pasta on Carnivore then these will help! You can use them in soups and sauces and make some fun Carnivore meals to add variety to your menus!
Ingredients
3 eggs
4 tbsp cream cheese
OR 2-3 tbsp Carnivore Flour (see notes below)
1 tbsp dry parmesan
Instructions
Preheat oven to 350
Combine all ingredients in a blender and blend until well mixed
Place silicon mat on large baking sheet
Pour mixture onto middle of mat and spread out thin with angled spatula
Bake 8-10 minutes until edges begin to brown
Allow to cool for 15 minutes
Peel pasta sheet from edge of baking mat and roll up like a jelly roll. With a sharp knife slice the roll into desired thickness
Serve with your favorite sauce or in a soup.
Keep in container in fridge for up to a week.
Recommended Products
As an Amazon Associate and member of other affiliate programs, we earn from qualifying purchases.
Nutrition Information:
Amount Per Serving:
Calories:

135
Total Fat:

10.7g
Carbohydrates:

1.2g
Net Carbohydrates:

1.2g
Fiber:

0g
Sugar:

0g
Protein:

8.1g
Check out my Carnivore Pasta Noodle Youtube video!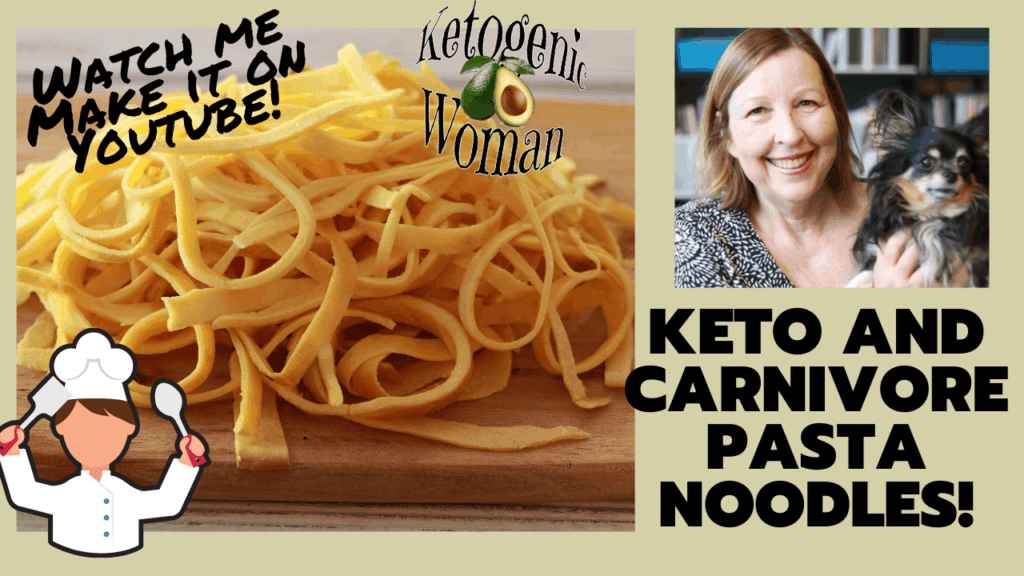 Recipes and Meal Ideas for Carnivore and Zero Carb
These recipes can all be used if you are considering trying zero carb or carnivore. Keep in mind that Carnivores focus on food from the animal kingdom. Some of these are relaxed Carnivore plan so feel free to omit any non animal ingredients.