A Carnivore recipe with noodles!? You betcha! This creamy cheesy comfort food soup combines ham, cheese, bacon, bone broth and homemade carnivore noodles! A perfect change of pace from the usual carnivore diet entree!
Carnivore Ham and Cheese Soup with Noodles
If you have been looking for a comfort food recipe that is Carnivore friendly, I've got you!
I love this soup because it's not only got that great ham and cheese taste, it's warm and filling on a cold winter night.
It's also a one pot keto dinner on the table in about 1/2 hour and that's a bonus in my books!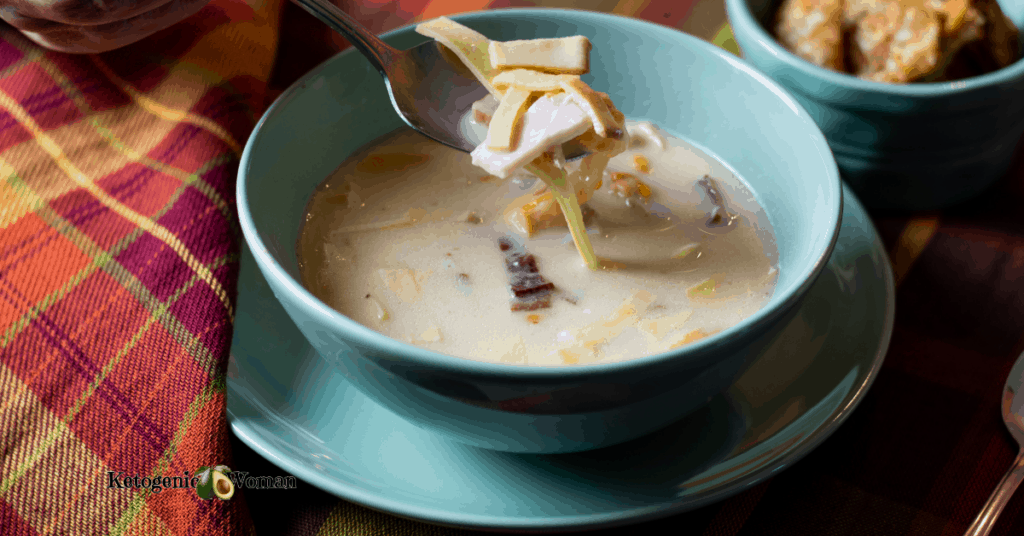 Ham and Cheese Soup Ingredients Needed:
You will also need a heavy soup pot.
Note: This Carnivore Diet Recipe recipe is appropriate for Relaxed Carnivore, which allows for eggs, dairy and spices. Read here to learn about the basics of the Carnivore diet.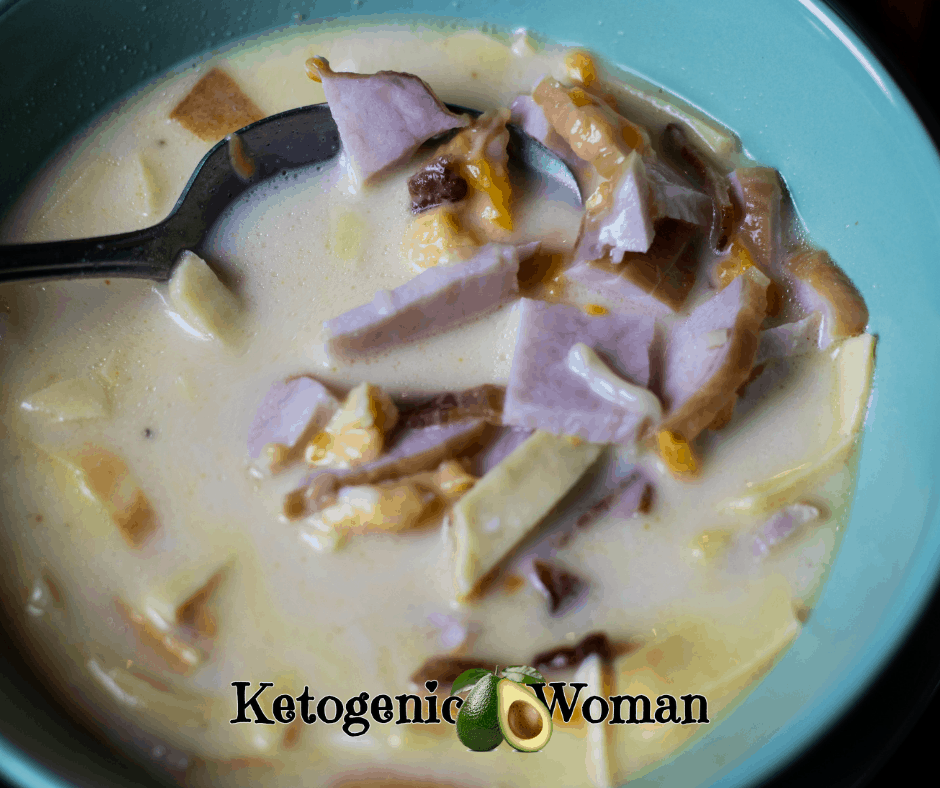 Tips, Tricks and Hacks for Making the Soup
You can use precooked crumbled bacon or leftover crisp cooked bacon (does that happen!?)
If you are not doing Carnivore, this soup is excellent with chopped leftover broccoli.
The Carnivore Noodles are optional but add a next level comfort to the soup! I make a double batch of carnivore noodles every week, keep in a sealed container in the fridge and use throughout the week. The recipe is here.
You can use regular beef broth in this recipe but I prefer bone broth and always have a jar in the fridge. The recipe for bone broth is here.
Meal Prep: This recipe is all about having the prepared ingredients on hand already in the fridge. Then it's just a matter of assembling it in a short time frame, so it's perfect for a week night dinner.
Printable Recipe Card for Carnivore Ham and Cheese Noodle Soup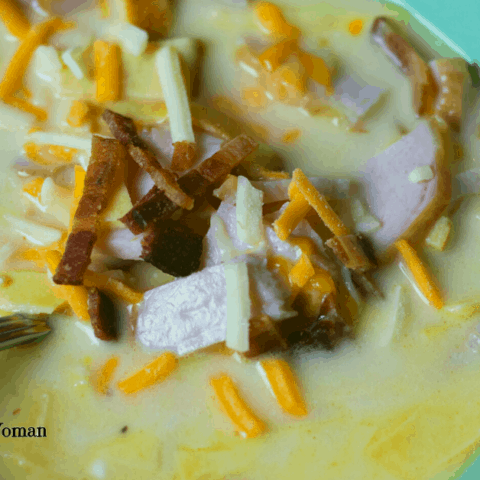 Carnivore Ham and Cheese Noodle Soup
A Carnivore recipe that is a true comfort food! Hearty Ham and Cheese soup topped with bacon and even optional noodles! Makes a warm Keto or Carnivore meal.
Ingredients
2 oz cream cheese, cut into small pieces
2 cups cheddar cheese, grated (save 1/2 cup for garnish)
10-12 oz cubed cooked ham
1/2 cup heavy cream
Salt and Pepper to taste depending on your broth
1/4 cup bacon crumbles (or 3-4 slices cooked crisp bacon, crumbled)
Instructions
In a heavy medium soup, warm up the broth until almost at a simmer. Keep the broth on a low setting.
Whisk in the cream cheese cubes and stir until incorporated into the broth and the lumps are gone
Stir in the grated cheese, about 1/2 cup at a time until it melts into the mixture
Add cubed ham and noodles and simmer on low until they are heated through
Slowly stir in heavy cream, and simmer on low for another minute
Divide into 4 large bowls and top each bowl with chopped bacon or crumbles and with reserved grated cheddar cheese.
Notes
Meal Prep:
This soup is a perfect way to use things you have on hand.
Chop up leftover ham or even pork roast ahead of time.
You can use carton beef broth that you have on hand or your own homemade bone broth using this recipe:https://ketogenicwoman.com/keto-and-carnivore-bone-broth/
The Noodles are optional. Make them ahead of time using this recipe: https://ketogenicwoman.com/keto-carnivore-pasta-noodles/
More Carnivore Diet Recipes, Information and Carnivore Meal Ideas
Recipes and Meal Ideas for Carnivore and Zero Carb
These recipes can all be used if you are considering trying zero carb or carnivore. Keep in mind that Carnivores focus on food from the animal kingdom. Some of these are relaxed Carnivore plan so feel free to omit any non animal ingredients.
Save this awesome Carnivore Soup recipe to Pinterest!