These keto true Carnivore waffles are a perfect change of pace when you want something a little different! The same batter can be used to make a loaf of carnivore bread as well!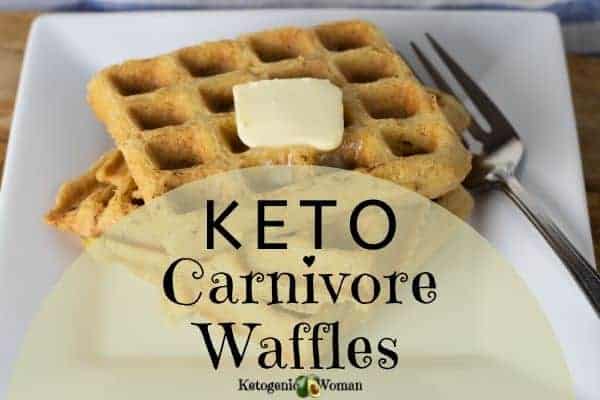 Keto Carnivore Waffles
I'm in the middle of a 30 day Carnivore challenge. If you have ever done one before, you probably get it when I say that I needed something that was meat but didn't look or taste like meat?
Read about my first 30 day Carnivore challenge here.
I cannot take credit for coming up with these carnivore waffles. There was a carnivore bread recipe posted in a facebook group that had apparently come from another facebook group and even after some googling I could find nothing like it in order to give credit.
My first thought when I saw the carnivore bread was that it could be made into waffles and so I changed it up and here we are!
What are Keto Carnivore Waffles made of?
It should be no surprise that they would be made of mostly meat! :-)
You are going to need:
ground chicken or turkey
ground beef
eggs
parmesan cheese or mozzarella cheese
blender
And yet they don't taste like these ingredients!
The original carnivore bread recipe did call for a starch free baking powder. I made a batch of waffles both with the baking powder and without the baking powder and if you look at the image, there is literally no difference.
I could not taste any difference either.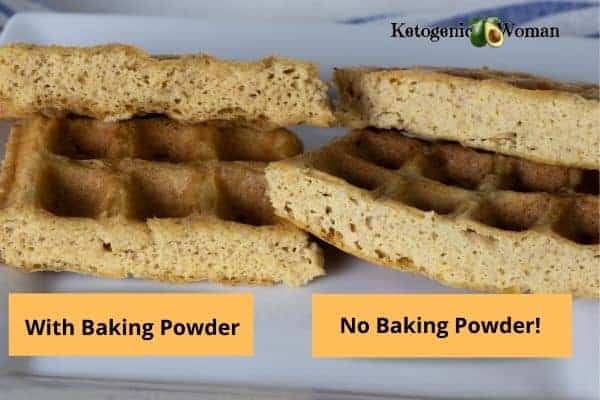 However, because you want the bread to rise and not be a dense eggy mass, the baking powder is a must if you make the loaf of bread!
Do Keto Carnivore Waffles taste like Waffles?
If you are asking will they be crisp on the outside and light and fluffy inside, then sorry, the answer is no.
BUT, they taste good! Just in a different way!
Note: I purposely did not add spices to these waffles resulting in a plain and neutral flavor. Feel free to make them zesty or not, depending on what carnivore protocol you are following.
My first try, I put butter and sugar free syrup on them and they made a pretty damn good substitute for waffles while doing carnivore. Although most people doing carnivore would frown on that sugar free syrup.
The next day, I decided to embrace the fact that they are meat and I made a savory dip for them instead. And that was pretty darn good as well! I've included that dip recipe for you below: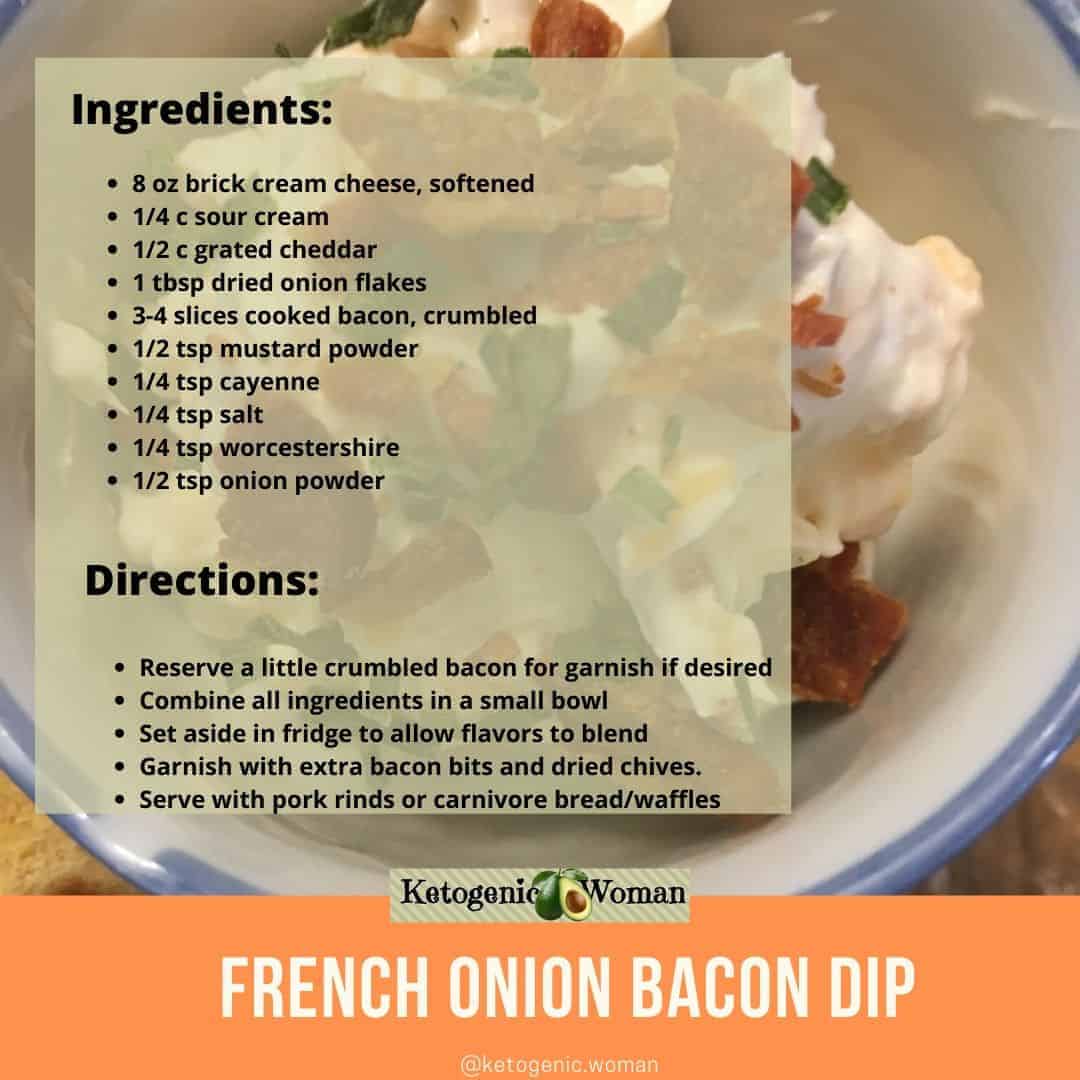 Another way that you could enjoy these waffles as a carnivore meal is with this classic beef liver pate.
I think that would be super delicious!
Other Tips and Comments about the Keto Carnivore Waffles
Blend as smooth as possible in blender for best texture results
You can use the same batter to make a loaf of bread or even muffins. Add some non starch containing baking powder for the bread.
Both the waffles and the sliced bread are excellent toasted.
You can also make carnivore chaffles with the mini waffle maker, this recipe will make at least 10 chaffles
The sliced carnivore bread makes an amazing grilled cheese sandwich.
The carnivore waffles make a good cold snack, especially if you spread with the french onion bacon dip.
Don't smell the batter before baking just because.
Do not skip the step about simmering the meat in water for a few minutes. Your waffle maker will thank you!
If you are making the bread loaf, allow the cooked meat to cool completely overnight or at least a few hours.
If you are looking for more Carnivore recipes, I recently bought this book and it's chock a block full of ideas and information about how to get started.
As well as plenty of recipes!
Printable Recipe Card for Carnivore Waffles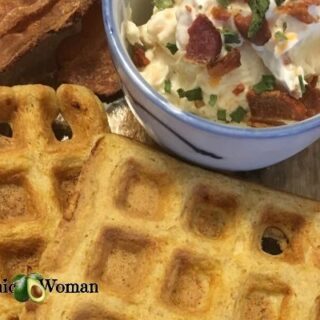 Keto Carnivore Waffles
These keto carnivore waffles are going to surprise you because they don't really taste like the list of ingredients! These are perfect for taking along to lunch for work or a quick snack. Use for low carb, gluten free, zero carb savory breakfast waffle.
NOTE: Recipe tweaks as of March 2021 after more trial and error!
Ingredients
8 eggs
8 oz ground chicken or turkey (or skinless chicken breast cut in small pieces)
8 oz ground beef
4 tbsp dry parmesan cheese or 1 cup grated mozzarella
2 1/2 tbsp baking powder (optional for waffles)
Instructions
Simmer meats in 2-3 cups water for 10 minutes, drain in collander and allow to completely cool.
Plug in waffle maker to preheat.
Blend egg and parmesan in blender.
Add cooked chicken and beef
Blend until very smooth
Pour half the batter in full size waffle maker, close lid and cook until steam subsides (5-7 minutes)
Allow waffles to cool on rack.
Repeat with rest of batter.
Notes
To make Carnivore Chaffles, pour about 1/4 cup batter into a mini dash waffle maker. You will get 10 or more Chaffles from this recipe.
To make a loaf of bread, preheat oven to 400 and pour batter into a greased loaf pan.
Bake for 40-50 minutes or until knife comes out clean.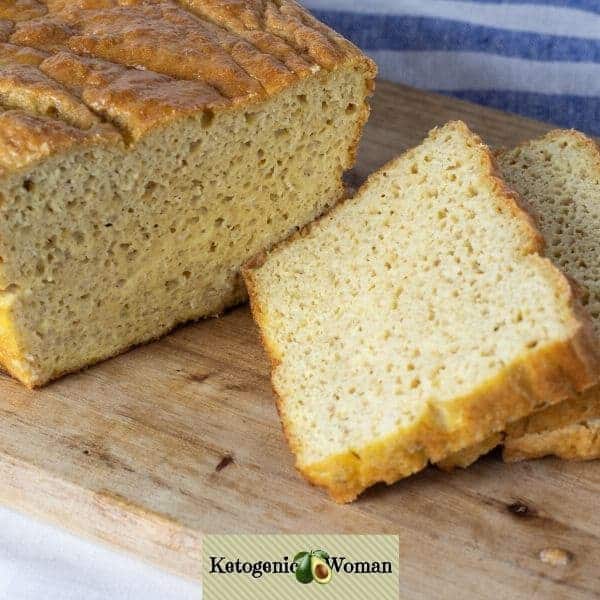 Nutrition Information:
Yield:

8
Serving Size:

1
Amount Per Serving:
Calories:

257
Total Fat:

16g
Saturated Fat:

5g
Trans Fat:

0g
Unsaturated Fat:

9g
Cholesterol:

306mg
Sodium:

195mg
Carbohydrates:

1g
Fiber:

0g
Sugar:

0g
Protein:

27g
Nutritional information for the recipe is provided as a courtesy and is approximate only. We cannot guarantee the accuracy of the nutritional information given for any recipe on this site. Erythritol carbs are not included in carb counts as it has been shown not to impact blood sugar.
Recipes and Meal Ideas for Carnivore and Zero Carb
These recipes can all be used if you are considering trying zero carb or carnivore. Keep in mind that Carnivores focus on food from the animal kingdom. Some of these are relaxed Carnivore plan so feel free to omit any non animal ingredients.
Save this amazing carnivore recipe to Pinterest!