This oven cooked bacon recipe method is a foolproof way to make perfect cooked bacon in the oven with no mess and no splatters! You'll never fry bacon again!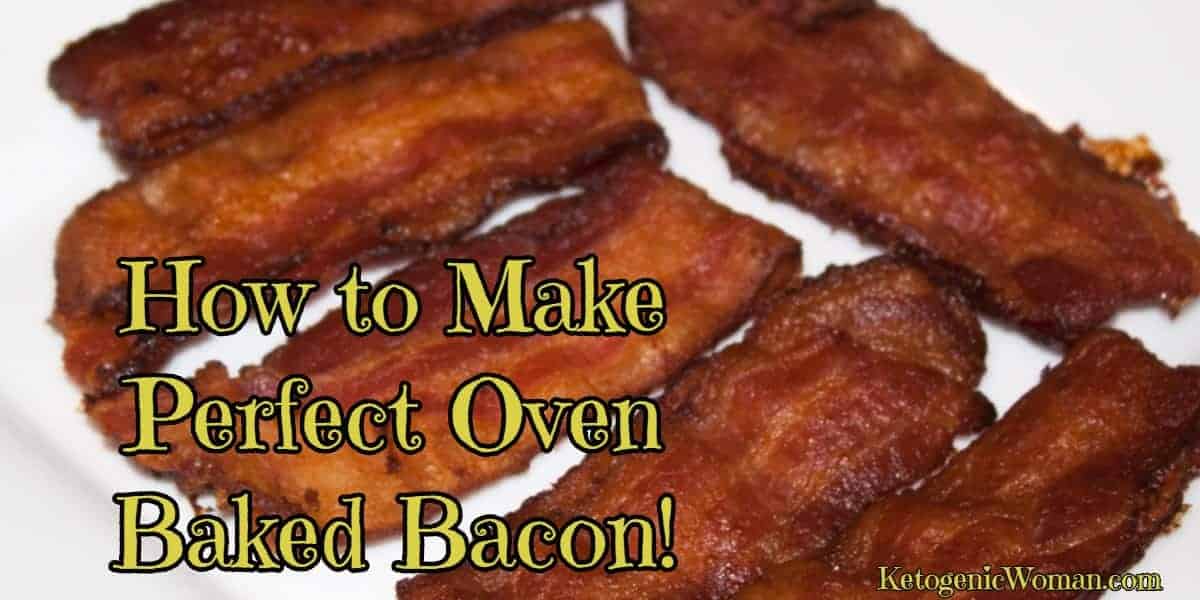 How to Make Perfect Crispy Bacon in the Oven!
Let's talk Bacon!
Ok, I'm kind of a old fashioned gal and it's really hard for me to change my ways. But this is life changing information that I'm about to share with you!
Forget bacon splatter screens, cooking in batches, wiping up greasy messes, this is the most amazing way to cook bacon!
It's actually 2 secrets in one! First I'm going to tell you how to make the perfect oven cooked bacon! And I'm going to tell you about the folded bacon trick I learned in the Facebook group called The Bacon Experiment.
So what's with the folded bacon? Just something simple that changed my life. First you can cook twice as much bacon in the same space. Second the bacon is both crispy and juicy all at the same time (if that is how you like it).
I actually cook mine long enough so that it is crispy crunchy all the way through. Then I can make bacon chips!
You have to try it at least once. If you are like me you will never go back to anything else. But if not, hey, at least you gave it a shot!
Bonus Bacon Tip: When you cook your folded bacon at 350-375 for about 45 minutes, draining off the fat as you go, you greatly reduce the calories and fat. 6 pieces of bacon cooked this way is only 240 calories! Read more about Bacon Fact vs Fiction right here
What you'll need for this Oven Cooked Bacon Recipe
You really do need the parchment paper. Without it the bacon will stick to the cookie sheet. I find there is a lot less waste using the precut parchment sheets.
Also please don't use one of those flat cookie sheets, you need to use a sheet with sides like this.
Farberware Nonstick Bakeware 11-Inch x 17-Inch Cookie Pan, Gray (note the sides on this are perfect for the oven cooked bacon recipe!)
Kitchen & Beyond Natural Parchment Paper Pan Liner, 12-inch By 16-inch, Unbleached, 50-pack
&
Instructions for Oven Cooked Bacon Recipe
Preheat oven to 350 degrees
Cover cookie sheet with parchment paper

Folded Bacon all lined up!

Lay your bacon out on the cookie sheet either folded or unfolded (see notes above). If folded, you can cook an entire package of bacon on the one tray.
Set timer for 20 minutes.
Check your bacon for desired crispiness. Drain bacon fat into a can or oven proof bowl. Turn bacon over. Add another 10 minutes to the timer.
Repeat above step (check, drain, turn) until done (see pictures below, I took photos every few minutes)
Move strips to a plate with paper towel
Eat the bacon!
Timing Photos for Your Best Oven Baked Bacon
Every oven is different so the important thing to get the best oven bacon for your personal preferences is to do the initial cook for 20 minutes at 350 and then to check it every few minutes.
Because I use convection mode, I am checking mine every 10 minutes. When I check it, I also drain the fat and flip the bacon over.
After First 20 Minutes Five minutes later (25 minutes) Five minutes later (30 minutes)
&
This is how I like my Oven Baked Bacon it to look when it's done! This takes about 45 minutes. When you cook it this way, crispy all the way through, 6 pieces of folded bacon is only 240 calories. Read more about that in my Bacon Fact vs Fiction here.
NOTE: Every oven is different so you may need to play with times and temps. I have since moved and now I like it best cooked at 375 in my new oven! Thick bacon takes about 45-50 min and regular bacon takes less time.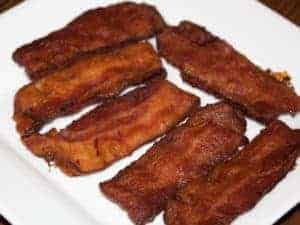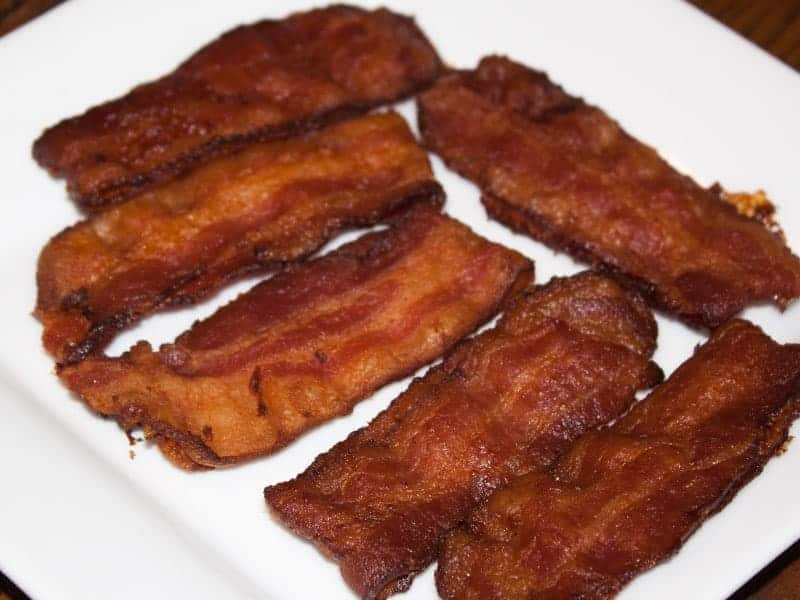 I hope that helps! I hope you enjoy oven cooking bacon as much as I do now.
Save this Oven Cooked Bacon Method to Pinterest!