This Keto Butter Chicken Chaffle is crispy, savory and full of flavor! Paired with the light and tangy Tzatziki sauce it's a fast and delicious low carb lunch or dinner. A perfect way to use up chicken leftovers too!
Keto Butter Chicken Chaffle with Tzatziki Sauce
I got the idea to make these chaffles when I had some leftover Butter Chicken. I never expected this dish to be so addicting!
I know not many people have leftover butter chicken laying around so I have a cheater version for you that is super delicious and adds only 1 extra carb per serving. And I've used the cheater version too and it's great!
These butter chicken chaffles are crispy on the outside and tender and juicy inside. Even people who don't like Indian food or spicy food will love these, they are mild in spiciness.
Not sure what a Chaffle is? Read the very basics of Chaffle making here!
What you will need for making Butter Chicken Chaffles
Eggs
mild cheese such as mozzarella
leftover butter chicken OR leftover rotisserie chicken or shredded chicken
if using plain chicken then you need store bought butter chicken sauce like Patak's.
sour cream or plain greek yogurt (for the tzatziki)
cucumber
lemon
garlic
Tips and Tricks for making Keto Butter Chicken Chaffles with Tzatziki
If using plain leftover chicken, then choose a butter chicken sauce that is lowest in carbs. Patak's butter chicken sauce works out to 1.25 carbs per tablespoon.
If you have leftover butter chicken (like from my butter chicken recipe here) then you will already have chicken with plenty enough flavor!
Choose a mild neutral flavor cheese like mozzarella and shredding it yourself is recommended but if you use pre-shredded I will never judge you!
If you have leftover chaffles the best way to heat them up is either a toaster or an airfyer. They will get super crispy!
Printable Recipe card for Butter Chicken Chaffles and Tzatziki Sauce
Yield: 6 Chaffles
Keto Butter Chicken Chaffle with Tzatziki Sauce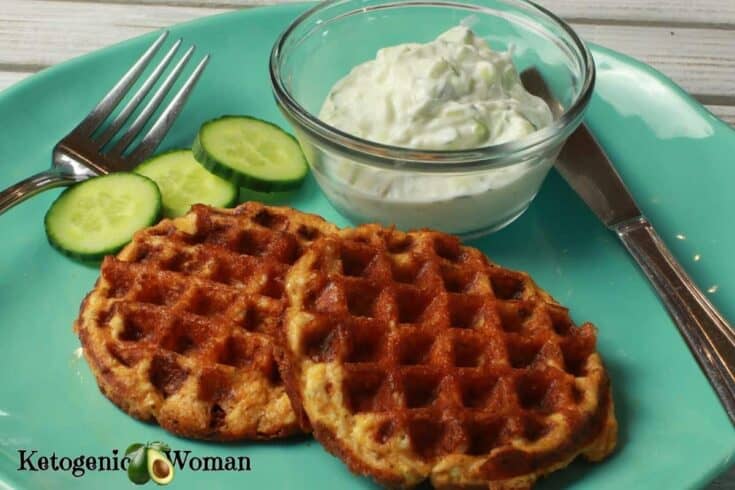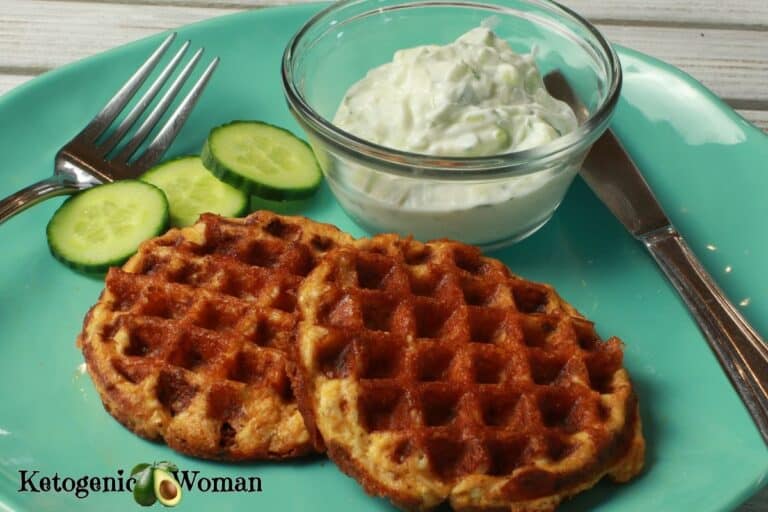 Crispy and savory butter chicken chaffles are a perfect way to use leftover chicken for a fast and delicious meal! Pair it with the Tzatziki sauce and this will be your new addiction.
Ingredients
Chaffles
2 eggs
1 cup chopped or shredded leftover butter chicken or rotisserie chicken
2 tbsp butter chicken sauce (if using plain chicken)
1/2 cup shredded mozzarella cheese
Tzatziki Sauce
1/2 cup plain yogurt or sour cream
1 piece of cucumber (about 2-3 inches) grated
1 tbsp lemon juice
1 finely minced garlic clove
Instructions
Prepare Tzatziki sauce first by mixing all sauce ingredients in a bowl and set aside to allow flavors to blend
Plug in the chaffle maker
Combine eggs, chicken and sauce (if using) in a bowl. Season with some salt and pepper.
Sprinkle some cheese on chaffle maker and about 1/4 cup of chicken egg mixture. Sprinkle a little more cheese and close the lid for about 4 minutes.
Repeat step 4 until all the mixture is gone.
Serve with Tzatziki sauce.
Notes
You can use a full size waffle maker by sprinkling 1/2 the cheese on the maker and then spread out the entire chicken egg mixture. Sprinkle with rest of cheese and close lid for at least 5-6 minutes. You will get 4 large waffles instead of 6 small round waffles.
Nutrition Information:
Yield:
3
Serving Size:
2 Chaffles
Amount Per Serving:
Calories:

235
Total Fat:

23g
Carbohydrates:

6g
Net Carbohydrates:

5g
Fiber:

1g
Protein:

15g
Need More Keto Chaffle Recipes?
More Keto and Low Carb Chaffle and Waffle Recipes!
Get out your waffle maker! Chaffle is the new Waffle, and both are perennial family favorites! And they are not just for breakfast anymore!