These crunchy keto Jalapeno Poppers are a hot and savory meal or snack. Dip them in the hot sweet copy cat Arby's Bronco Berry sauce for pure pleasure! Three ways to make them! Perfect low carb appetizer or side.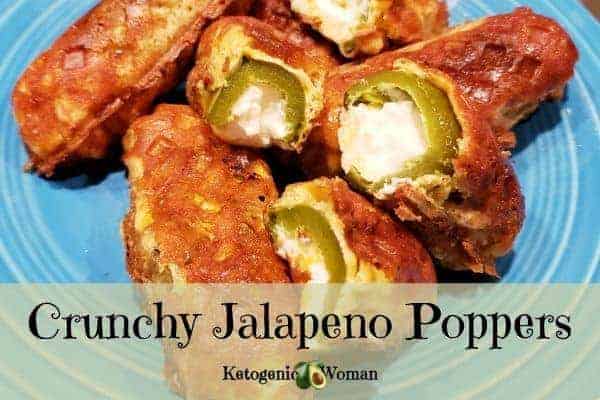 Crunchy Keto Jalapeno Poppers with Copy Cat Arby's Bronco Berry Sauce
I have to admit that I am addicted to jalapeno poppers and have been ever since I tried the frozen ones you can buy from Costco. You know, the ones with all the carbs!
I make jalapeno poppers all the time but this is the first time I ever realized how amazing they would be when crunchy!
Check out my Jalapeno Poppers Omelette Recipe and my Jalapeno Poppers Chicken Casserole!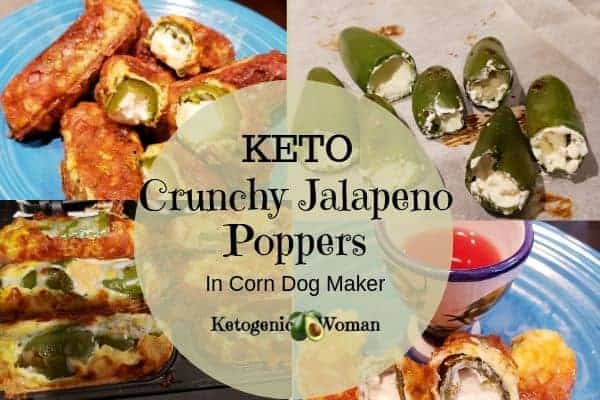 The jalapeno poppers pictured in the feature image were made with my corn dog maker, but I am also going to tell you how to make them in a waffle maker. Same burst of flavor, just a different look!
You don't have a corn dog maker OR a waffle maker!? Have no fear, you are still going to get crunchy jalapeno poppers because I've got your back!
Ingredients needed to make crunchy keto jalapeno poppers
For the Jalapeno poppers:
6 fresh jalapenos (about 4 inches long)
1/2 block cream cheese
eggs
grated cheddar cheese
For the Keto Bronco Berry sauce: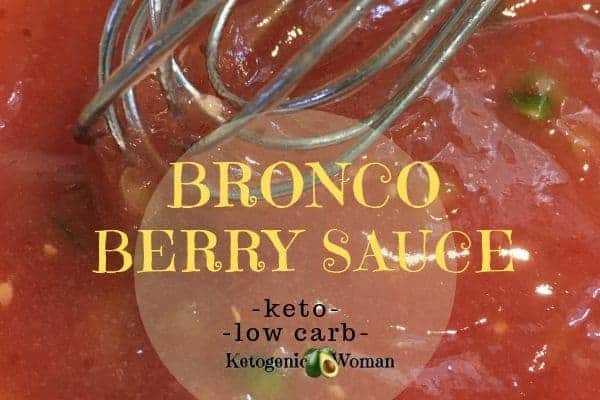 Tools needed for these low carb jalapeno poppers
You will finally get a chance to use that corn dog maker you have hiding in the back of the cupboard! If you don't have one and want to get one (because these are SUPER addictive!), this is the maker that I have.
You can also totally make these with your mini waffle maker! And I'll show you that as well, it will be a crunchy chaffle version and it tastes amazing! (see pictures below)
And if all else fails, I'm going to tell you how to make crunchy keto jalapeno poppers on your baking sheet in the oven by rolling in some crushed pork rinds. Because I really want you to experience this!
Corn dog maker or Waffle maker or baking sheet (for the poppers)
baking sheet (to soften the fresh jalapenos)
small bowl and whisk to make the sauce
In addition, these are nice to have for working with jalapenos in any recipes:
Tips and Hacks for Assembling the Crunchy Keto Jalapeno Poppers
Prepping the jalapeno peppers
If you are using the corn dog maker, you will want 6 whole jalapenos that are skinny and about 4 inches long. You can also assemble with shorter peppers by placing them together lengthwise in the corn dog slots.
For the waffle maker method, slice the jalapeno peppers in rounds, about 1/4 inch thick
For the baking sheet method, they can be any size!
Be careful to not touch your eyes or face after handling jalapenos! I highly recommend using food prep gloves.
Tip for filling the jalapeno peppers:
I found it was easiest to cut the firm brick cream cheese into long pieces and then simply insert them into the pepper!
Waffle Maker Method (Crunchy Chaffle Keto Jalapeno Poppers):
All the ingredients will be the same (see recipe card), except you will slice your jalapeno peppers into rounds
Sprinkle a layer of grated cheese on hot waffle maker
Pour beaten egg on top
Arrange jalapeno slices on top of egg
Sprinkle more cheese
Close waffle maker and cook until crispy (about 5 minutes)
Repeat until you have used up all the cheese, eggs, and jalapeno slices
Take waffles and spread top thickly with cream cheese and top that with a finished waffle.
Cut into strips with a sharp knife.
Dip into sauce and enjoy!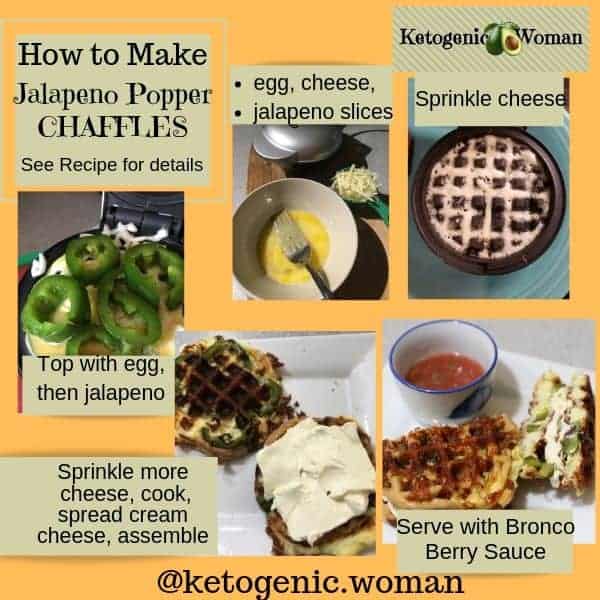 Baking Sheet Method (Baked Crunchy Keto Jalapeno Poppers):
You will need to add 1 more ingredient: about 1/2 to 1 cup crushed pork rinds, depending on how many poppers you are making.
All the rest of the ingredients will be the same (see recipe card) and the jalapenos can be any size so I would fill that pan!
Fill the prepared jalapenos with cream cheese
Dip them into beaten egg
Coat the jalapenos with pork rinds
Sprinkle with some cheese
Repeat until all eggs, cheese and jalapenos are used up
Bake at 350 until peppers are cooked soft inside, and crispy outside, about 30-40 minutes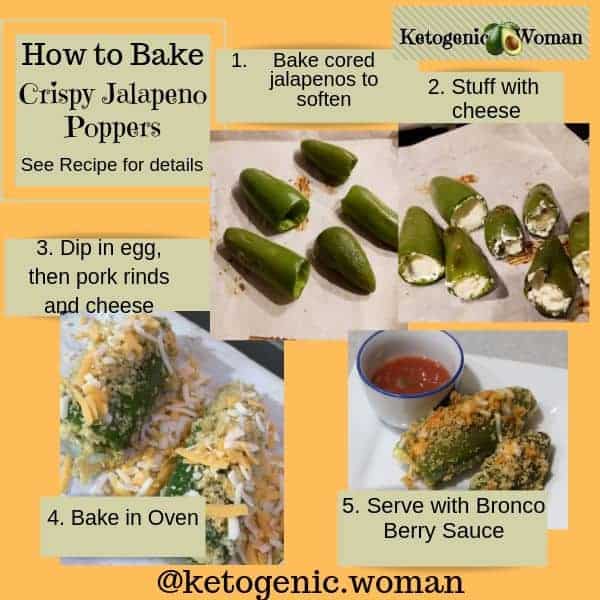 Corn Dog Maker Method is laid out in recipe card below.
Printable Recipe Card for Crunchy Keto Jalapeno Poppers
Yield: 6
Crunchy Keto Jalapeno Poppers with Sauce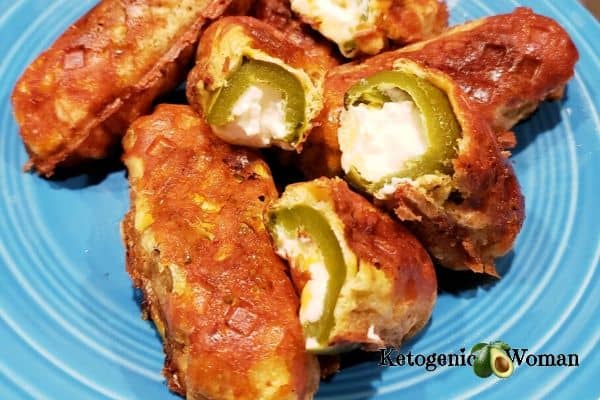 These crunchy keto Jalapeno Poppers are a hot and savory meal or snack. Dip them in the hot sweet copy cat Arby's Bronco Berry sauce for pure pleasure! Three ways to make them! Perfect low carb appetizer or side.
Additional Time
7 minutes
Ingredients
Bronco Berry Sauce:
3/4 cup sugar free strawberry jam
1 teaspoon (or more!) minced jalapeno
dash each onion powder and garlic powder
---
Jalapeno Poppers:
6 jalapenos
4 ounce (1/2 block) cream cheese
3/4 cup grated cheese
2 eggs beaten
Instructions
Prepare the Bronco Berry sauce by whisking all the ingredients together in a small bowl. Add enough water to sauce to thin to desired consistency. Set aside.
Preheat oven 400F
Cut the stem off the jalapeno. If you have the Jalapeno corer tool, insert into jalapeno while gently twisting. When the tool is fully inserted, give a gentle pull to remove core. You can also core the jalapeno with a sharp knife. Repeat with each jalapeno.
Place peppers on a baking sheet lined with parchment. Bake for 7 minutes, turn peppers and bake another 7 minutes. Allow to cool.
Cut cream cheese brick into pieces that can be inserted into the jalapeno.
Sprinkle 1 tbsp grated cheese into each corn dog receptacle, then add about 1.5 tbsp beaten egg on top of the cheese, then lay the stuffed jalapeno pepper on top of that and sprinkle each with another tbsp cheese
Close, but do not latch the corn dog maker lid. Cook for approximately 7-8 minutes or until there is no more steam.
Remove with plastic thin edge spatula.
Serve with Berry sauce
Notes
Be sure to read the main post for all the tips, tricks and hacks for each crunchy jalapeno popper method.
Recommended Products
As an Amazon Associate and member of other affiliate programs, we earn from qualifying purchases.
Need More Chaffle?
More Keto and Low Carb Chaffle and Waffle Recipes!
Get out your waffle maker! Chaffle is the new Waffle, and both are perennial family favorites! And they are not just for breakfast anymore!
Save these 3 amazing ways to make CRUNCHY Keto Jalapeno Poppers to Pinterest!