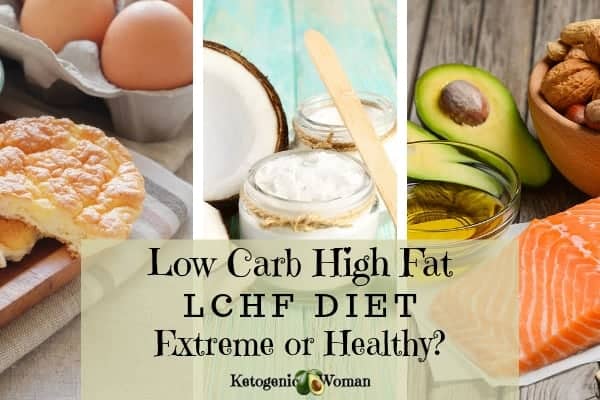 The Low Carb High Fat Diet (LCHF) Explained – Is It Extreme or Healthy?
When I first started exploring the Keto Diet, I ran into many terms and acronyms that I did not understand. LCHF was one of them. So what is it exactly?
LCHF is the acronym for Low Carb High Fat which is exactly what the Ketogenic Diet is. The Keto Diet is very low in carbs, high in fat and moderate amounts of protein. It's the 'high in fat' part that makes people squirm. And with good reason.
We have been trained since the 1980s to abhor fat, run away from fat and fear fat like no other macronutrient! This was a government initiative in the US that seemed to cross borders into Canada and other developed countries.
And yet, it is no secret that since the 1980s obesity has soared in direct correlation with our efforts to rid our diets of the dreaded fat. Why is that?
Can You Lose Weight on a Low Carb High Fat Diet?
That's a big fat yes! (See what I did there?) You can lose a lot of weight on the low carb high-fat diet. Most people adjust macros based on where they are in their journey.
We have only 3 macronutrients to choose from and they are Protein, Fat, and Carbohydrate. So if you are lowering one of those macronutrients, it makes sense that another has to go up.
So as people have been lowering their fat intake, they have been increasing their carbohydrate intake.
With the LCHF diet, the focus goes back to fat as the number one macronutrient, with many Keto diet people losing massive amounts of weight using a Ketogenic ratio as high as 85% fat, 10% protein, and 5% carbs.
In order to get started, you have to decide what ratio you want to start with. The higher the fat content, the quicker the weight loss. Read more about how to get started here.
There are lots of delicious low carb high-fat foods on this site that fit into the LCHF diet.
LCHF – The Big Fat Diet Experiment in Alert Bay, BC, Canada
People may be shocked by that ratio of 85% fat, 10% protein, and 5% carbs, given what we have been taught. But sometimes the government is just wrong. Take a look at the people of Alert Bay, BC. I first read about this experiment in Johnny Bowden's book called Living Low Carb.
Alert Bay is a remote fishing village in British Columbia (where I live!) with a high population of natives who are descendants of the Inuit. Most of them are obese.
An experiment was conducted there a few years ago to see what would happen if they went back to eating something similar to the Inuit diet of low carb high-fat foods of their ancestors. You can read about it in this article called The Slimming of Alert Bay.
Approximately 80 people volunteered. The parameters were to eat all the fat they wanted, seafood and meat, non-starchy vegetables. They even called it My Big Fat Diet. No bread, pasta, and other carbs.
The Results of the Low Carb High Fat Experiment
These are the same parameters as the LCHF diet. Those 80 people lost 1200 pounds, and even more important, most were also able to go off medications for diabetes, high blood pressure, cholesterol and so on. Low carb high fat for diabetes has been proven to show results and this study is no exception.
I am inspired by this story to keep on my Ketogenic journey. The more I read about it and learn, the more I believe it to be right for me. I think people will hear more about stories like these as the dogma of dietary fat is disproved.
Of course, I am not saying that everyone has to eat like this. But it seems that a high percentage of the population is overweight and obesity is rising (now 67%!). The current party line of what makes a balanced diet is clearly not working.
How Do You Start a Low Carb High Fat Diet?
Your first step is figuring out what your goal is and how fast you want to get there. The best part of starting the low carb high fat keto diet is that there are so many absolutely delicious recipes.
The quality of the food is so much better than what you are likely eating now.
I've put together a simple and comprehensive guide on how you can get started. The grocery list takes the guesswork out of trying to figure out what to buy.
In the beginning, you may experience something called the Keto flu. This is what usually throws people off when they first get started. The Keto flu is just your body adjusting to the fact that you don't have as many carbs going into your body anymore. Luckily, I've got you covered. Here is my Keto flu remedy.
My advice to you when you get started is to keep it simple and go easy on yourself. Progress, not perfection is the key here. You want this weight loss to last a long time, so you have to be able to stick to your diet.
The good news is the low carb high fat Keto diet is not that difficult to stick to. It helps keep you full, so you experience fewer cravings.
So, Is it Extreme or Not?
This depends on your perspective. There are some conditions that Keto is not good for. It's always good to talk to your doctor if you have any sort of prior health condition.
If you have diabetes, your doctor might recommend the Keto diet. If you have an autoimmune disease, your doctor might advise against it.
I've heard amazing stories of people who have had horribly embarrassing digestive issues and eating Keto has been lifechanging for their condition, as well as losing weight.
To me, this is not an extreme diet. What is extreme is eating fast foods and fake frankenfoods and then wondering what is going wrong. The LCHF diet protocol calls for only real foods. What a concept! Just eat real foods. Yes, please!
Read More About the Keto Diet
All the Keto Guides and How To's you need to help you navigate low carb eating and the Keto way of life!