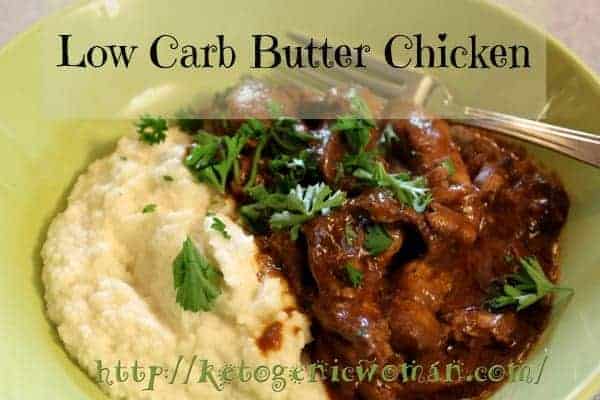 Low Carb Keto Butter Chicken over Cauliflower Puree
The first time I ever heard of anyone eating Butter Chicken it sounded like something nobody should eat!
I imagined something completely different than what was put on the table. Boy was I wrong!
And cauliflower. To think I gave you no respect before my Keto life. It was one of those big deal veggies. You boil it, it can get mushy and does it even have any flavor?
All that changed when I discovered Cauliflower Puree. Oh, how I love it now!
Put these two things together and you have one of my very favorite keto comfort food dinners!
How to make Cauliflower Puree for Keto Diet
Dead simple to make and it fits in so well with so many dishes and it is a Keto Comfort Food staple in this house. Here's how I make it:
1 head cauliflower
2 tbsp heavy cream
2 tbsp butter
Break up the cauliflower into chunks and boil or steam until fork tender but not mushy. Drain and toss into a food processor (or blender) with the butter and cream. Process. I have made this in both my KitchenAid Food Processor
as well as my Vitamix
and both worked out perfectly.
Looks and tastes like mashed potatoes!
Read here for a step by step tutorial on how to make Cauliflower Puree and Cauliflower Rice
Here is the breakdown for Cauliflower Puree(about 6 servings 1/3 cup each)
Cal 75, Carbs 5, Fat 6, Protein 2, Fibre 2
How to Make Keto Butter Chicken Recipe
Now, about that Butter Chicken to put on top. I always use leftover chicken thighs when I make this, so I am just giving you the sauce recipe.
Butter Chicken Sauce (serve over Cauliflower Puree)
Six Servings and for nutritional count I used 1 chicken thigh per serving (see at end of recipe)
1-2 tbsp coconut oil
1 onion, diced
2-3 garlic cloves, minced
1/2 tsp ground cardamom
1/2 tsp ground coriander
1 tsp ground cumin
1 tsp chili powder
1 6 oz can tomato paste
1/2 can coconut milk (full fat)
1 tsp sea salt
2 tbsp butter
Instructions for Butter Chicken
In a large skillet, heat coconut oil. Add onion and saute until transparent. Add garlic and all the spices and stir until thick.
Add the tomato paste and stir. Add the coconut milk and salt with a whisk until well blended. Add in the cooked chicken and simmer for a few minutes until chicken is hot.
Stir in the butter until it is melted. Serve over the Cauliflower Puree.
Nutrition Count for Butter Chicken Sauce with Chicken Thigh:
Calories 305, Fat 23, Protein 17, Carbs 7, Fibre 1 for a ratio of 68/23/9.
I hope you enjoy this!