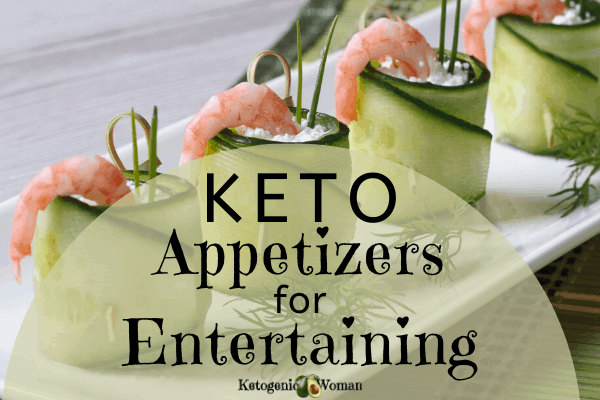 Keto Appetizers for Entertaining
This weekend in Canada we are celebrating Thanksgiving Weekend. This means the holiday season has begun and that means I needed to experiment and come up with Keto Appetizers for entertaining.
Whether you call them tapas, finger foods, hor's d'oeuvres or just plain Appies, these types of dishes are a staple of the holiday entertaining season.
While at first I thought it might be a challenge to be on the Keto diet , it is actually surprisingly easy to stay Keto compliant during holiday parties!
What are some of the best Keto Appetizers?
All those dishes that I used to avoid for being too high in fat? Well hello! On Keto, not only are these finger foods yummy and tasty, they are the perfect Keto appetizers for entertaining!
I'm talking Guacamole, full fat dips, cheese balls, walnuts smothered in blue cheese, jalapeno poppers, bacon wrapped scallops, do I need to go on!?
Not only are these delicious, they are the most easy to prepare! No trying to figure out low fat substitutions and fake versions of the real thing.
Just make real food. Simple.
Quick and simple low carb and keto appetizers for entertaining
Here are some simple and quick appies:
Make guacamole and have veggies and/or Bacon puffs for the keto and low carb people to dip
Make jalapeno poppers with or without a wrapping of bacon. (I say with!)
Take scallops and wrap with bacon and bake till done.
Make this Crab and artichoke dip from Bobbi's Kozy Kitchen
Take walnut halves and put a teaspoon of blue cheese on each one
Make this Cauliflower Puree from I Breathe, I'm Hungry and use as a hot dip for veggies and Bacon puffs
Here are some other Keto and Low Carb Appetizers to try!
Try some of these delicious healthy keto meal starters to go with your mains. Many of these are also great to bring along for a potluck or a buffet table.
Check out my Ketogenic Woman Pinterest Board for more ideas.
So, do I have your creative juices flowing? Is there really any reason to go off your Keto or low carb food plan with these sorts of foods to fall back on?
I'm probably not going to think too much about weight loss during the holiday season.
I will stay the course and keep out the sugar, flour, grains and all those 'white' carbs and try not to gain any holiday weight. That is good enough for me!
What about you? Do you have any favorite appies for holiday entertaining?