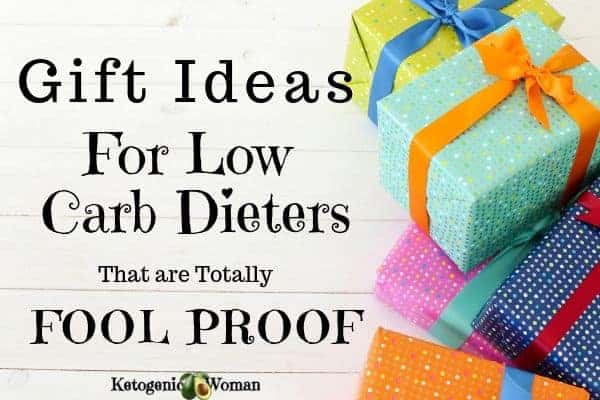 Low Carb Gift Ideas for Keto Dieters
I'm hoping you landed here because you have a loved one on your gift list who is doing low carb or keto and you are looking for low carb gift ideas. And boy do I have ideas!
Things that I use myself or really, really want! And I'm going to hit all the price points so that you can choose anything from a stocking stuffer to a major gift.
I've been doing a low carb diet for many years eventually finding my way to Keto. I love to cook and to me, it's so satisfying to have the right tools and the ones that make my life easy.
There are some items that I use almost every day, while others I pull out once in a while, and so happy that I have them available to me. That said, there are a few things that I would like to add to my arsenal and so I might be cheeky enough to post a different list of those so that my family members know what sort of gift I might be looking for under the tree!
Hottest Keto Gift Item for This Year?
Chaffles! And the waffle makers that make them. Hot, hot, hot!
Well, if you are in ANY of the Keto online groups out there you know people are buying up these mini waffle makers! People don't get just one, they are getting several.
Because you need one for the office, one for the cabin, one for the road and at least a couple for the kitchen counter!
I also own the Dash Belgium waffle maker because sometimes I need to make lots of them at once!
Low Carb Gift Ideas – Silicone Bakeware
I can't even begin to explain my obsession with silicone bakeware. If you have read any of my recipe posts, you probably already know this!
They are useful for so many things and your low carb friend or partner will love it as well. I have loaf pans, muffin pans, cake pans, candy molds in many shapes and silicone baking mats.
You can make egg muffins, low carb bread, any manner of low carb fat bombs and other treats.
I especiall love Wilton silicone bakeware products because they are so well made and they last and last.
If not Wilton, then choose a brand name you have heard of. I have used some of the cheap no name silicone molds from China and it's not too long before they harden and crack.
Wilton Easy Flex Silicone 6 Cup Muffin Pan

Wilton Easy Flex Silicone 10-Inch by 15-Inch Mat

Wilton Heart 24-Cavity Silicone Mold

---
Immersion Blender -Awesome Low Carb Keto Gift Idea!
Conair Cuisinart Smart Stick CSB-75BC 200 Watt 2 Speed Hand Blender (Brushed Chrome)

This handy little device is also called a stick blender. What's it for? Well, let me tell you that the thing I make most often with this is homemade Keto mayonnaise. Once you try that, you'll never be going back to store-bought mayo.
But I also pull it out of the drawer for any cooking job that requires a few lumps removed.
For example, sometimes I'll make a big pot of low carb veggie soup for the family and while I like my soup chunky, I will put the stick blender in a for a few seconds, just enough to cream some of the veggies. It eliminates the need for any type of broth thickening agent.
It's also a great emulsifier for salad dressing and sauces. Cleanup is simple, just run the end under hot water.
---
Veggie Noodles will make your Keto and Low Carb Friends Happy!
Veggie noodles are a staple on most low carb diets. We use them in place of pasta.
My favorite noodles are zucchini noodles covered with meat sauce and a sprinkle of cheese. There are a few options here.
For the serious cook, the Paderno tabletop spiralizer is tough and can take on a large variety of vegetables.
The mid range choice would be something like the Veggetti. It is handheld and quick and I own one of those. If you have small children, please keep it up and out of the way or get one of the other options. I cut my hand the first time I used it because I didn't read the instructions for how to clean. And most children wouldn't either!
If I am just cooking something quick for myself, I go with my tried and true Vegetable peeler! It makes great noodles in a hurry. I really like this multi function one that does peeling and julienne with the same gadget. Julienne veggie peels are perfect for salads and stir fry.
Paderno World Cuisine Spiralizer Pro, 4-Blade

Veggetti Spiral Vegetable Slicer, Makes Veggie Pasta

UberChef® Premium Stainless Steel Multi Peeler

---
Low Carb Gift Idea – The Right Pan for their Keto Recipes!
Green Earth Frying Pan 3-Piece Set by Ozeri (8

Let's talk pans. I use one of 2 pans depending on what I am cooking. For bacon and hamburgers and the like, nothing beats a good old cast iron pan.
But for omelets and crepes, I need my non-stick pan. We have all by now heard the bad news about Teflon pans and so I made the switch to green ceramic pans. They are non stick like the Teflons but are the better choice for your health since they don't leach toxic chemicals into your food.
The same kind of rules apply to using them like don't use steel utensils as they will scratch and try to keep the heat moderate and not high. I have 2 sizes of these and I am very happy with them.
I have also recently acquired a second set with white interior, I really love them!
---
Low Carb Peeps Love Their Bulletproof Keto Coffee!
Vitamix Professional Series 750 Blender

What makes a great Bullet Proof Coffee? Well, I have been in enough low carb and Keto groups to know that we all have our own recipe that we think is the best. Most of them involve a blender.
I know that many people use their Magic Bullet for this. I have also seen many posts in the groups start off like this: My Bullet exploded this morning … Don't be that person! I have a Magic Bullet and I love it but it is NOT meant for hot liquids! It even says so on the box.
Your blender size needs to be able to hold an equal amount of coffee to empty space. In other words, if you are making a 16 ounce Coffee (the size of a Starbucks Grande), then your blender needs to hold at least 32 ounces.
I have owned many blenders over the years. They all break eventually. Except for the Vitamix. My Vitamix is now about 15 years old and I use it almost daily and not just for low carb food prep. My teens make smoothies and protein shakes in it. I fully expect that I will never need to buy another blender again.
KETO Snacks Care Package (20ct)
Low Carb and Keto Gift Box Ideas
I have to say I really, really LOVE this Keto Care Package. I wish somebody would give it to me!
This same company also offers Paleo Gift Baskets as well as others.
It is such a fantastic idea to get this and ship it to your loved ones who are away in college or the military or maybe just living away from you.
There are some super snack ideas in this Keto Gift Basket. Everything from Keto cookies to chips to bars!
This is a delicious thoughtful low carb gift!
What about Low Carb Food Gift Items for a Homemade Keto Gift Basket?
I put together a list of suggestions for what to put in a Low Carb Gift Basket here and there are more Low Carb Gift Ideas here.
---
I know that any one of these gifts would be well loved and appreciated, and not only for people who are on low carb diets! These items are pretty awesome for anyone who cooks now that I look over this list! Maybe you'll end up with something here under the tree for yourself! You won't be disappointed in these selections.
Low Carb Gift Ideas for Keto Dieters