Many if not all of the deals below are still on all week! This is a perfect opportunity to get all your shopping done for Christmas and then you can just relax and enjoy the holiday season. At least that's my plan! 🙂
Black Friday and Cyber Week Deals!
SO MANY CYBERWEEK DEALS COMING AT YOU? I'VE GOT YOU COVERED WITH MY BIG LIST OF CYBER WEEK SALES and DEALS FOR KETO AND LOW CARB PEOPLE!
I went Black Friday shopping. Once. Forget that waste of time! Stay in your pajama pants and pour a hot cup of Bullet proof coffee and try it my way this year!
Black Friday and Cyber Monday (actually Cyber week now!) is almost upon us — this year that's Friday, Nov. 29 through Monday, Dec 2, 2019 and actually the whole week beyond!
HOWEVER! Take note that there are already Pre-Black Friday deals happening! Retailers really want your attention early, during and after the traditional Black Friday and Cyber Monday shopping days. I discovered that Daily Deals on Amazon are already happening today!
This once-a-year HUGE sale at shops and merchants around the world is a pretty huge deal for people who love to cook and for stocking up on your favorite Keto ingredients! Every year I make all my bigger purchases, both for myself and for my family gifts — during Cyber Week deals.
Before purchasing any deals, consider adding eBates (now called Rakuten) to your tool bar! I get a cheque from them every quarter just for doing my normal online shopping. It's free money you guys! PS, I get both Canadian and US cheques because I often shop over the border online as well.
US Ebates sign up here
Canadian ebates button here!
In my family I am known as the Queen of online deals, so I've gathered up the best Cyber Week deals to save you time. This list includes Amazon's Cyber Monday deals (and if you're a Prime member, you get free shipping). Amazon has some really great deals in the kitchen and cooking categories that I am adding to my Christmas shopping list for myself and my family — and I thought you might like to know about these deals, too. But be warned — it's addicting.
NOTE: I will keep adding to this list as I become aware of good deals!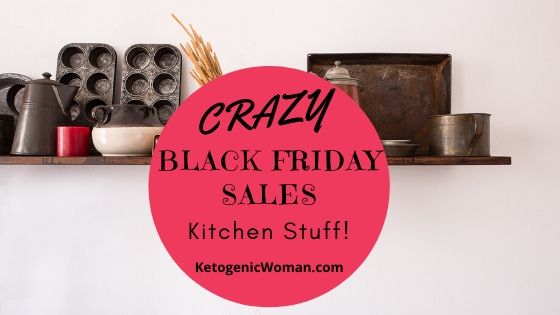 Hot Kitchen Items for 2019 – Quick List (see details below)
---
Cyber Week Deals on Keto Grocery Must Haves!
---
Jordan's Sugar Free Skinny mixes for 'Adult' drinks, Coffees and Desserts!
Jordan's Skinny Mix is my go to place for all things that involve sugar free syrups. Right now they have everything from Limited Edition Winter flavors to Mug Sets and giant gift boxes full of goodies!
Check out their beautiful Christmas Gift Bundles and Packs here
Perfect Keto MCT Oils & Powders, Collagen and Nut Butters
This is where I buy my Collagen that I use in my morning coffee. I also buy a ketone supplement for my Mom (she has Alzheimers) that has been mentioned as possibly helpful for seniors with her condition. Not as a cure, just to alleviate symptoms of fogginess and confusion.
SHOP THIS DEAL here! (Build a bundle of items to get the best savings!)
---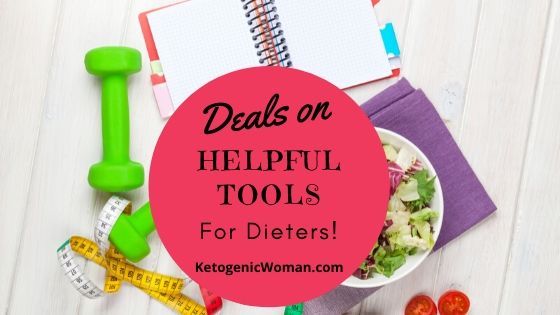 Deals on Other Helpful Tools for Dieting
I will add to this deal list as I find more Cyber Monday deals I think could help you. Have fun shopping! Let me know what you scored.
I hope this Black Friday / Cyber Week deal list helps someone! I know it's helping me get ready for Christmas!