50 Low-Carb and Keto Holiday Meal & Brunch Ideas
Over 50 Keto Holiday Food Ideas to get you through Christmas and New Years with your food plan intact! Meals, desserts,drinks, we've got you!
It's holiday planning time! You are busy, I am busy so let's get right to it!
Keto Appetizers and Snacks

The hottest trend this season is a Charcuterie board! (see above image). A charcuterie board is basically an artfully laid out meat and cheese tray, with olives, nuts and pickles in between. In other words it's perfect for Keto! Check out these charcuterie boards here.
Think protein and veggie rather than starch. When it's time to serve the appetizers, you may be in the habit of presenting carb-heavy options like potato puffs or sausage rolls. Substitute them for tasty lettuce wraps filled with lean meat instead.
Rethink the chips and dips. Replace them with pork rinds or julienned vegetables and healthier dip, like tahini or ranch dip.
Make some lobster! One cup of lobster meat has zero carbohydrates, so use it as a base for upscale, low-carb appetizers. Think: bacon-wrapped lobster bites, lobster-cheese dip and mini lobster rolls.
Make your own shrimp cocktail. Use a ketchup with no sugar added, then add the Worcestershire sauce, horseradish, lemon juice and a dash of hot pepper sauce.
Make a hot dip the day before. Then you can simply heat and serve like this amazing Hot buffalo Chicken Dip.
Add salsa as a condiment. Give your meal a festive zing, with chunky tomato or tomatillo salsa as an alternative option to traditional gravy on turkey.
Use the color and variety of olives. Why weigh down your guests with carb-filled appetizers? Serve a variety of olives dry or in olive oil as a low-carb treat.
Mix up a goat cheese dip. With .2 grams of carbohydrates per ounce, goat cheese is your go-to for holiday vegetable dips. Try out this beautiful Bacon Herb Goat Cheese Ball!
Use fresh and light alternatives. Shredded chicken with soy sauce and herbs wrapped in iceberg is a fresh and tasty alternative.
Make a Keto sushi platter. When I put a sushi board on the table, it's always the first thing to disappear! Check out my Keto California rolls here.
Think red and green for the holidays. Balance your cream and rich, high in healthy-fat choices with an array of keto-friendly dark green, leafy vegetables such as spinach, kale and broccoli; and red-colored, acidic fruits like strawberries, raspberries and tomatoes. I love how festive these Italian Antipasti Skewers are!
Break out the shrimp ring. Fish and shellfish get the keto thumbs-up as a holiday appetizer. Put out the customary cocktail sauce, but be aware that if you are a carb-watcher, the ketchup in that condiment can rack up your sugar points fast. (mix sugar free ketchup with horseradish, it's delish!)
Try a creamy horseradish dip in place of cocktail sauce. A better option for shrimp-dipping if you've got a low-carb crew dining at your place this year is to sub out the cocktail sauce with a simple creamy sauce with zingy horseradish. Try this Arby's sauce here!
Keep it simple. Make a cheese and vegetable pâté and serve on cucumber slices.
Put out the nut plate. If you're serving to a keto crew, a simple nut plate at the snack table will be a well-received appetizer that curbs hunger, packs a healthy crunch and delivers a boost of healthy fats.
Choose your nuts carefully. Avoid snacking on cashews, and opt for pecans or macadamia nuts instead, which are lower in carbohydrates.
Love salted, cured meats? Bon appetit! Don't be surprised to see your keto-dieting guests hovering around the antipasto tray. You can't go wrong with plenty of dried sausage, salami, aged cheeses, olives and some tomatoes and green veggies.
Cheese is keto approved! Muenster, brie, gouda and swiss are all on the low-carb side. Indulge in moderation.
Use upscale blue cheese. Bleu cheese makes a keto-friendly dipper, topper or stuffer. Try filling olives with it, whipping up a quick veggie dunker of bleu cheese mixed with sour cream or cream cheese.
No crackers needed! While you're enjoying the low carbs of cheese, pair them with raw vegetables instead of crackers. You can also buy keto crackers!
Keto Holiday Brunch and Side Dish Ideas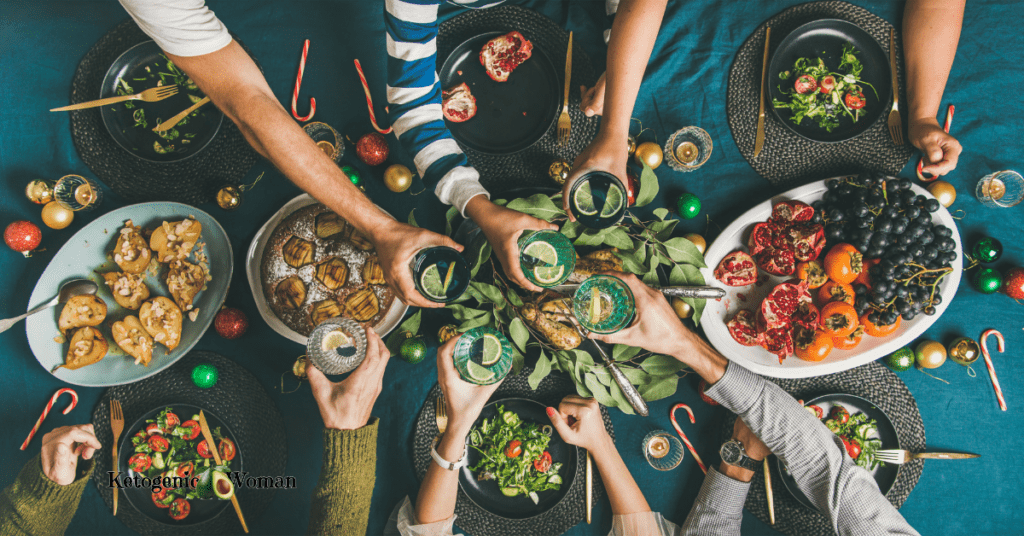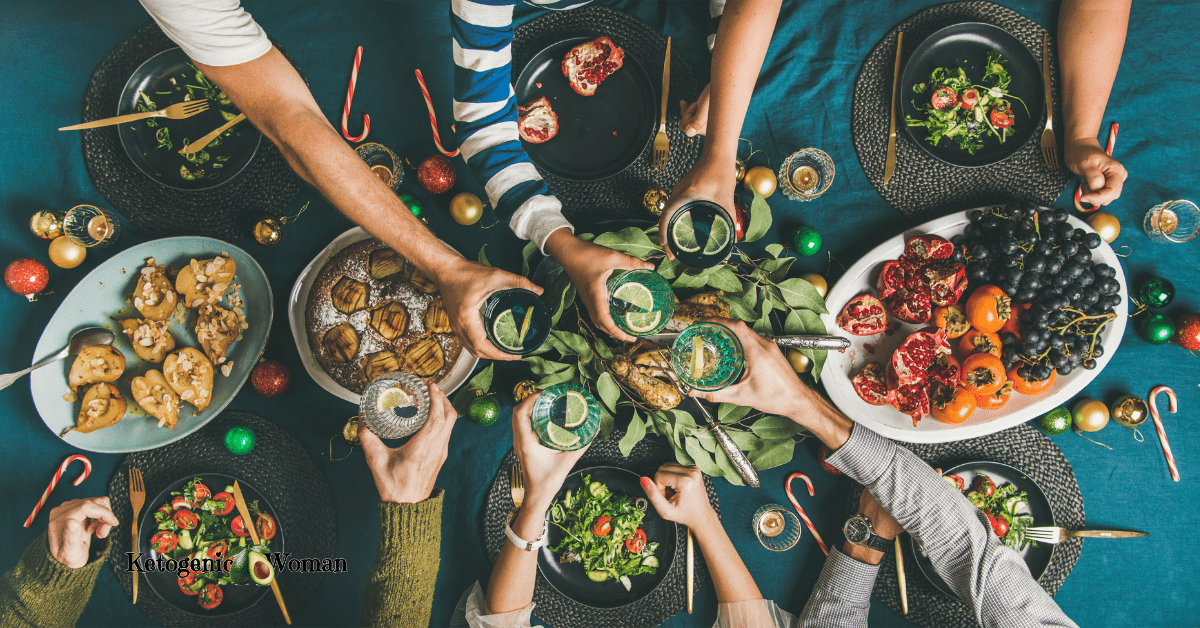 Think fresh and easy make ahead salads. Cabbage slaw with a lemony vinaigrette creates a memorable high-fiber, low carb side dish. This colorful Cucumber Slaw with Margarita Dressing would look beautiful on a buffet table.
Go for color! A strawberry-walnut salad brings a festive green, white and red treat to the dinner table. Layer goat cheese, strawberries and walnuts over fresh spinach, crank the pepper mill over it and finish with a light drizzle of raspberry vinaigrette.
Amp up the humble but very low carb mushroom. Enjoy portobello mushrooms in your meals and appetizers. They're super low in carbohydrates and leave the impression that you've kicked your holiday cooking skills up a notch. Stuff them with sausage and herbs and top with cheese, slice and grill them up, or stir fry them with onions in olive oil.
Try filling mushroom ideas. Stuff mushrooms with sausage and diced vegetables, like eggplant and red bell pepper, instead of breadcrumbs. Check out these fantastic Sausage stuffed mushrooms!
Rethink the turkey pasta dish. Ditch the carb-filled macaroni and make a second dish that's light and healthy. Or make my Keto Pasta Noodles and cut them into short noodles for your casserole!
What about holiday stuffing? Make your own bread for stuffing using almond flour. There are many keto skillet breads that are low in carbs and easy to make. Once you make the bread, dice it up, add sausage, celery and spices to make a savory stuffing. Try my gluten free sausage stuffing here.
Serve a low-carb or zero-carb fish. A whole salmon with lemon and sprigs of dill served on a cedar plank really dresses up your holiday table and is a nice surprise for carb-counting guests. Or how about making use of your airfryer to make this Keto Air fryer Salmon recipe?
Do you traditionally serve lasagna? Lasagna, filled with ricotta cheese, meat and topped with mozzarella sounds amazing and you can still do it! Either use long wide slices of zucchini or even better, make a double batch of my Keto Pasta Noodles and slice them into wide strips. It totally works!
Use flavorful soups. Serve cream-based soups as a starter, or even a main-course lunch… just sub out the carb-laden dinner roll with a plate of healthy, colorful fresh veggies. And DON'T be tempted to go for low-fat milk. It's full-fat all the way if your guests plan to stay in ketosis. Try this popular Panera copycat broccoli cheese soup.
Cornbread without the corn. Believe it or not, almond flour and coconut flour make suitable and tasty substitutes for cornmeal and wheat flour in cornbread. Try this recipe for Keto Cornbread!
Leftover turkey sandwiches? After the holiday meal, you might anticipate that leftover turkey and stuffing sandwich, which is even heavier on carbs because you've added a roll or two slices of bread! Make chaffle buns instead!
Cold winter night? Cook up a hearty no bean chili along with no-carb cornbread and you have a satisfying meal that can become a new holiday tradition. Throw in some leftover turkey!
Cauliflower mash. Don't knock it 'til you've tried it. Instead of mashed potatoes, you can get the same creamy and filling texture from mashed cauliflower and save about 30 carbs per serving. Learn how to make cauliflower mash here.
Overnight casseroles! You meal prep them the night before and eat the next day for brunch! Usually loaded with sugar and starch but not this Keto French Toast Overnight Casserole!
Biscuits a tradition? You're a beast at making buttery drop biscuits, and your family and guests love when they accompany your holiday meals. Well, you can mix almond flour and coconut flour together as your base, instead of all-purpose flour and create a lighter, healthier biscuit that your brood can look forward to every year! You can also try a low carb biscuit mix!
Fancy up the veggies. Crumble some blue cheese over asparagus before oven roasting. Pan fry the brussels sprouts with bacon. Try these bacon wrapped asparagus bundles.
Mash some low carb veggies. Serve mashed turnips instead of mashed potatoes. There are 8 grams of carbs in one turnip as opposed to 37 grams in one potato. Other good options are mashed rutabaga or celery root.
Rethink the gravy. Avoid adding flour or corn starch when making gravy. Depending on how much you add, you can be adding in 40 or 50 carbohydrates without even realizing it. Use just the pan juices with a little heavy cream mixed in. Check out the gravy recipe from my Keto Poutine recipe here.
Know your lower carb veggies. Then you can steer clear or provide alternate options. Sweet potatoes are hard to resist, but a turnip, broccoli or cauliflower side dish will be better appreciated by your low-carb eating dinner guests.
Think outside the dinner roll box. Serve keto pita triangles instead of dinner rolls. If you are pressed for time, pick up some low carb baking mix.
Green bean casserole. Top your famous green bean casserole with shredded cheese instead of deep fried onions. (Like this Creamy Keto Green Bean Casserole recipe!). You can add crumbled bacon, too, and keep it lower in carbs.
Leftover turkey. Forget the after-Thanksgiving sandwich and add your leftover turkey to salads, make a turkey soup or mix them up with vegetables. Leftover turkey is great in this coconut curry soup.
Keto Holiday Drinks and Dessert Ideas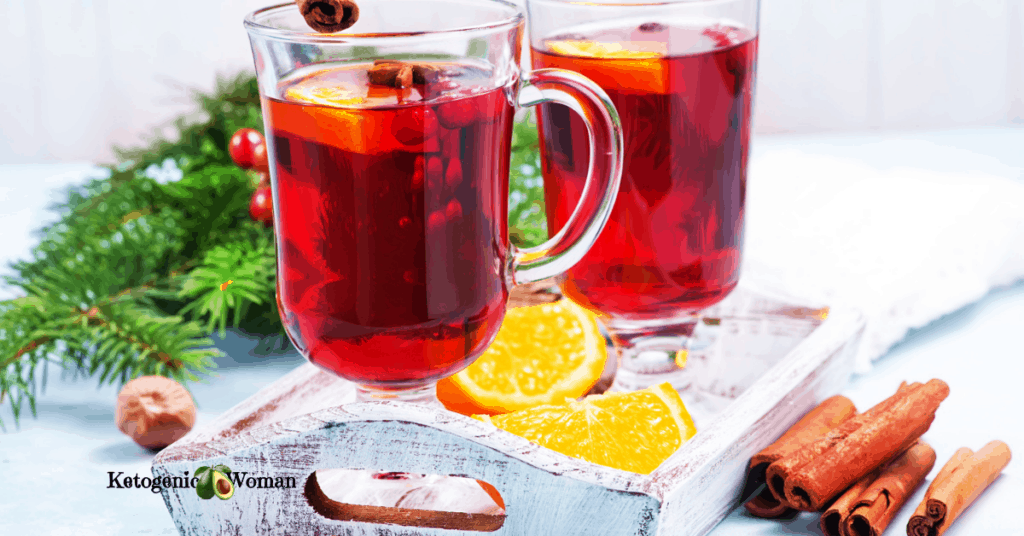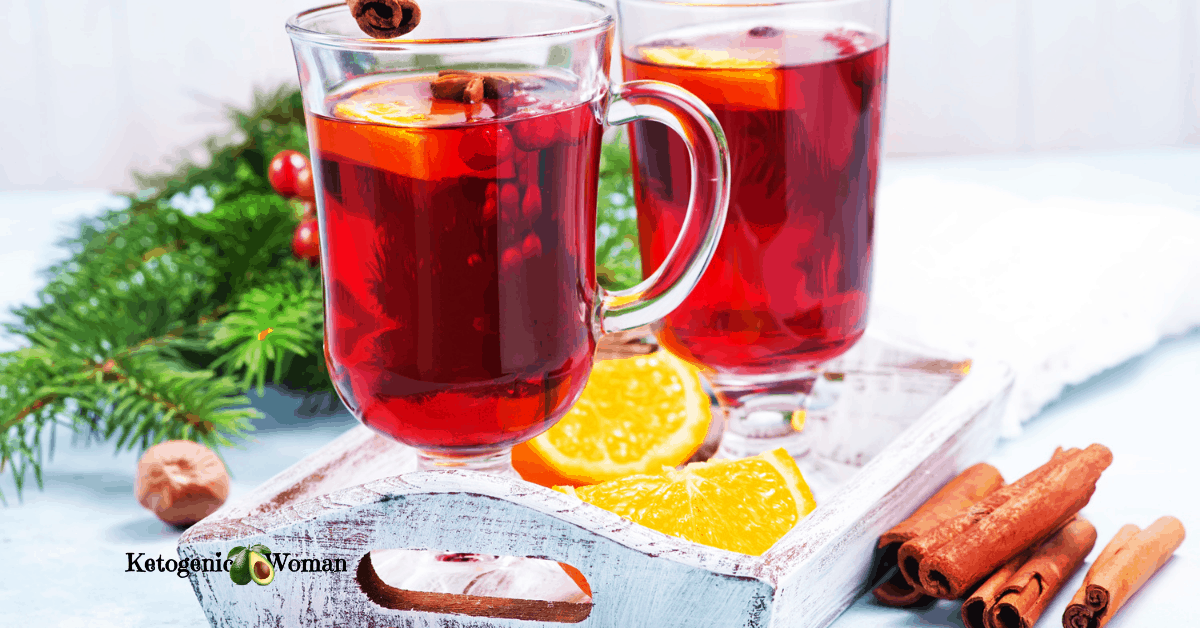 Steer clear of beer. Dry red or white wine is a better choice. If you're watching carbs, beer will quickly put you over the limit. A glass or two of wine is okay, just check your carb count totals before proceeding.
Pop the bubbly. If serving alcohol, champagne is a festive low carb choice at approximately 2 grams per glass.
Serve wine coolers. Red and white wines mixed with seltzer or diet soft drinks are good low-carb choices at approx. 1-2 carbs per glass.
Try the new zero and low carb vodka sodas. These low-carb adult beverages are all the rage. Just make sure you read labels and keep track of carbs in case.
Serve 'special' coffees! You can use these fantastic naturally sweetened Keto syrups and top with unsweetened whipped cream which will make this a delicious drink and dessert all in one!
Use colorful berries. Berry-filled pastry cups look so festive, and now you can keep them low carb by making the pastry with almond meal with a little bit of coconut flour as a substitute for white flour.
Squares are a dessert table staple. Make them healthier with almond flour. This low-carb base for the squares with lemon filling and topped with cranberries will be a new holiday brunching favorite.
Mousses are lighter and low in carbs. Try this light cranberry mousse in fancy dessert glasses.
Use almond flour in pie crust. You can enjoy that pumpkin pie a lot more when you know it's not adding many carbs to your diet. Try this popular Keto Pumpkin Cheesecake recipe.
Use almond flour for cookies. White all-purpose flour is usually the type that most people reach for when making holiday cookies. By swapping out all-purpose flour for almond flour, you'll save big-time on carbs. In fact, ¼ cup of almond flour has approx. 4 grams of carbs, while standard all-purpose flour is laden with roughly 24 grams for the same amount. Try these simple Keto Shortbread Cookies.
More Keto Holiday Ideas
Keto Holiday Food Ideas
Need more ideas for the holidays to get you through? We have keto and low carb recipes. Gluten free, sugar free and delicious! Plus gift ideas for the health conscious people on your list!
Save these great Keto Holiday Food Ideas to Pinterest!