This recipe combines the best of chocolate and peanut butter and adds a lush layer of whipped cream. These Keto Chocolate Peanut Butter Dessert Bars hit all the right notes of decadence in a special dessert.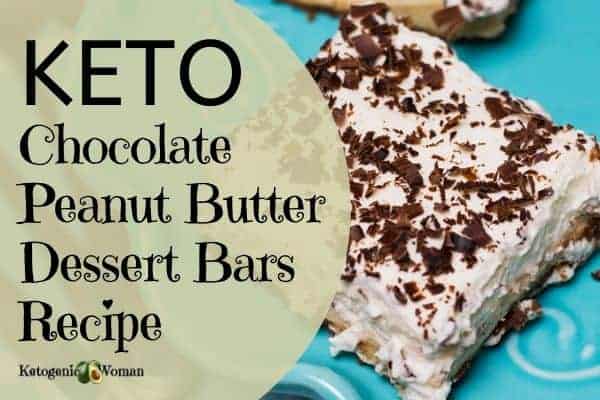 Keto Chocolate Peanut Butter Dessert Bars
I am always up for any keto dessert bar that combines chocolate and peanut butter!
There is a reason that Chocolate Peanut cups are always at or near the top of the list of best selling candy bars in North America. I am definitely into that trend!
But if you are having company or need to take something to the church potluck, you can't exactly just break out the candy bars.
This recipe takes this favorite flavor combo and elevates it into an attractive dessert bar, only with a much lighter more cheesecake like texture.
As a bonus this is a no bake keto dessert, my very favorite kind always!
Is Peanut Butter a Ketogenic Food?
I thought I'd get this out of the way right off the bat.
Technically, peanuts are legumes and many keto purists do avoid peanuts, and therefore avoid peanut butter.
The other reason is that peanuts can be a severe allergen and for that reason many people both keto and non keto alike, tend to avoid them.
But if you are not a purist (and I am definitely NOT!) and nobody in your family is allergic to peanuts, we can certainly work with peanut butter.
The macros for 1 tbsp peanut butter are: Fat 8g, Protein 4g, Carbs 2g, making peanut butter a very keto friendly food!
For one portion of this dessert you are consuming 1 teaspoon of peanut butter. I can live with that!
Use a peanut butter that has only peanuts as the ingredient, or peanuts and salt.
Most peanut butter lovers also love Peanut Butter and Jam. If you are one of those people then you have to try these Peanut Butter Jelly Fat Bombs!
Tools You Will Need for these no bake Keto Peanut Butter treats: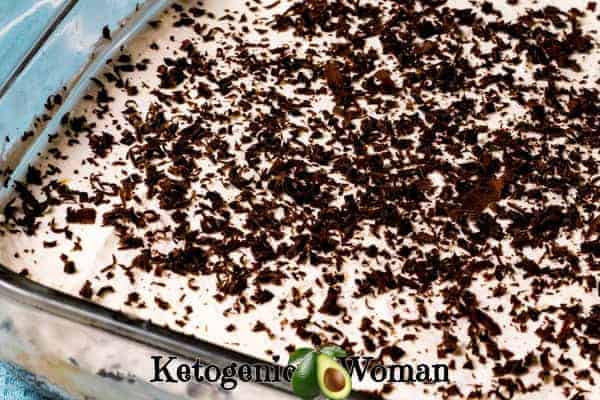 Special ingredients used for Keto Chocolate Peanut Butter Squares
Tips and Tricks for Making the Low Carb Peanut Butter Dessert
Printable Recipe card for No Bake Keto Chocolate Peanut Butter Dessert Bars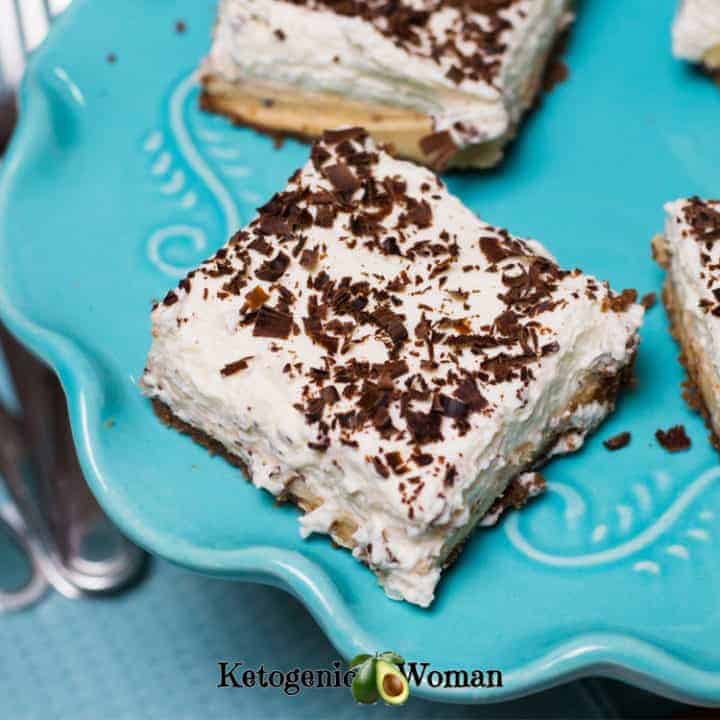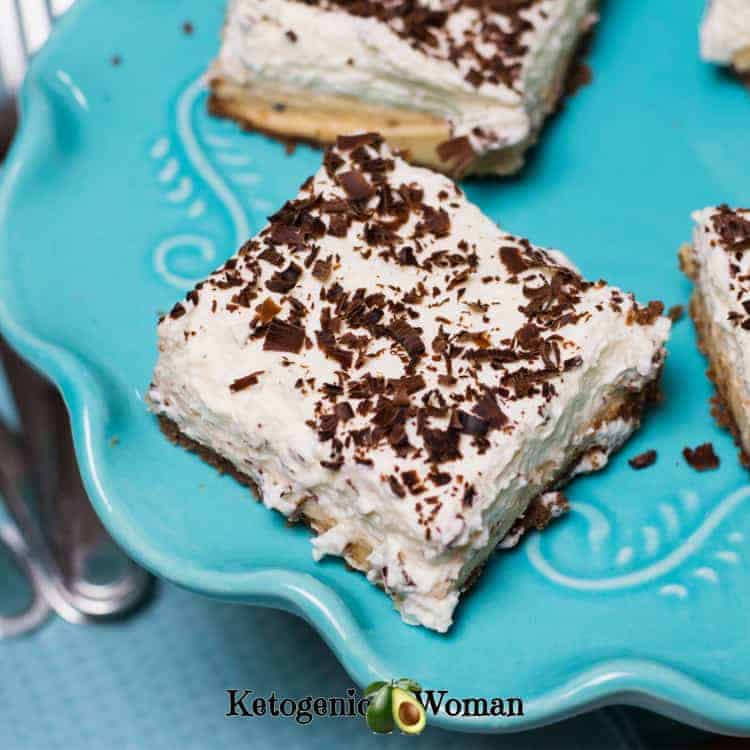 Keto Chocolate Peanut Butter Dessert Bars
These no bake low carb dessert bars combine my 2 favorite food groups: peanut butter and chocolate! Perfect keto treat for a potluck or party!
Ingredients
Bottom Crust:
2 cups almond flour
2 tbsp powdered erythritol (like Swerve or So Nourished)
2 tbsp butter, melted
2 tbsp unsweetened cocoa powder
Middle Peanut Butter Layer:
1/2 cup Natural peanut butter, smooth
8 ounces firm cream cheese
1/2 cup powdered erythritol
1 teaspoon stevia (or a few drops liquid)
2-3 tbsp heavy cream
Top Whipped Cream Layer:
1 1/2 cups heavy cream
1 tbsp powdered erythritol
1 packet Knox gelatin (as a stabilizer if not being consumed within a couple days)
Instructions
Bottom Chocolate Layer
Combine the crust ingredients in a food processor with S-blade and process until ingredients stick together. I have also just done this in a bowl in case you don't have a food processor.
Press the dough into the bottom of a 9 x 13 glass pan.
Keep in the fridge while you make the other layers.
Middle Peanut Butter Layer
With an electric mixer, beat all ingredients on low until well combined
Spread the mixture evenly over the chocolate crust with a spatula
Place back in fridge
Top Whipped Cream Layer
If you are keeping these bars in the fridge for more than a couple days, then you may need a stabilizer. Sprinkle 1 packet of Knox gelatin over 3 tbsp water in a pot. Heat over low and stir until crystals dissolve. Set aside to cool.
Using electric mixer, whip cream in a chilled bowl. Add 1 tbsp sweetener and whip a few more seconds
If using the stabilizer, add it now and whip again for a few more seconds.
Spread the cream layer evenly over the peanut butter layer with a spatula.
Garnish
Using a grater, grate a piece of dark chocolate over top the entire pan. I used 1 square of Lindt 90% chocolate.
Notes
Chill your bowl and beaters before using to whip the cream
Use powdered or confectioner's sweetener as the granulated tastes fine but stays crunchy in your baking!
Try using a teaspoon of Stevia with your erythritol, it seems to cut out the cooling effect that some people taste.
If you are serving this dish within a couple days, no stabilizer is needed for the whipped cream layer. But if this is going to be around for a few days you will need to use knox gelatin.
If you like these Keto Chocolate Peanut Butter Dessert Bars then you may also like these other low carb treats:
Try Some Other Keto and Low Carb Desserts
Save these delicious low carb Chocolate Peanut Butter Dessert Bars on Pinterest: