This chocolate fat bomb recipe has a wonderful flavor with the addition of coffee and walnut. Enjoy these mocha walnut coffee bites today!

Mocha Walnut Coffee Bites – Chocolate Fat Bomb Recipe
DaVinci SUGAR FREE Coffee Liqueur Syrup 750ml

There's something magical about the taste combination of chocolate and coffee together, don't you think!?
This chocolate fat bomb recipe takes flavor to a new height with the addition of a magic sugar free coffee liqueur flavor syrup that I found.
The other syrups that I have discovered lately are the Skinny Syrups. They have some incredible flavors like fudge mocha, salted caramel mocha and salted dark chocolate espresso that would taste amazing in this recipe!
The flavor is deeper and more intense than other chocolate fat bomb recipes that I have made before. The addition of walnut butter makes it smooth and a walnut half garnish makes it crunchy and pretty!
I keep these in the freezer for those chocolate emergencies. You know what I'm talking about right?
Let's get going so you can be enjoying these in no time at all!
Tools you will need for making these low carb chocolate fat bombs
I just want to talk about the tools for a moment because having the right tools for the job saves both time and money. For the silicon pans, I have bought the cheap ones from China and after a short while they harden and crack. Don't be tempted by the $2 silicon pans! My Wilton pans are under $10 and I have been using them for years without a problem.
If you don't have a set of pyrex glass measuring cups
put this on your birthday or Christmas wish list.
When I bake, make pancakes for the kids or make this chocolate fat bomb recipe, you mix everything right in the pyrex mixing cup and pour it out. Only 1 bowl to wash!
Ingredients for Mocha Walnut Coffee Fat Bombs Recipe (makes 24)
1/2 cup coconut oil
1/4 cup walnut butter (in a pinch you can use almond butter)
1/4 cup dry unsweetened cocoa powder
2 tbsp So Nourished Sweetener or equivalent (tweak this to your liking, I prefer semi sweet)
1/4 cup heavy whipping cream
24 walnut halves
Chocolate Fat Bomb Recipe Instructions:
Measure Coconut oil, walnut butter, cocoa powder, coffee liqueur syrup, and sweetener into a glass measuring cup with pouring spout.
Microwave for 30-40 seconds and no more! It's very important to still see lumpy stuff in the glass otherwise the coconut oil seems to separate and your chocolate won't look pretty.
Stir the contents of the glass until all the coconut oil is melted.
Stir in the heavy whipping cream.
Pour into the silicon molds. If you are using the Wilton 24 cavity mold that I use, fill each cavity half full.
Place one walnut half onto each cavity.
Place tray in the fridge or freezer until set.
For 2 of these Mocha Walnut Coffee Bites: 180 calories, 3 Total Carbs (1 net Carb), 21 g Fat, 3 g Protein.
These chocolate fat bombs keep very well in the freezer in a zip lock bag and I would advise you to do that because they really do taste so good!
If you liked these Mocha Walnut Coffee fat bombs, then you might also like these other Keto chocolate desserts:
More Keto Low Carb Bites, Balls and Squares
Can't get enough Keto Dessert Recipes?
This amazing dessert recipe book has recipes that are all less than 5 carbs and 5 ingredients! Have to love that!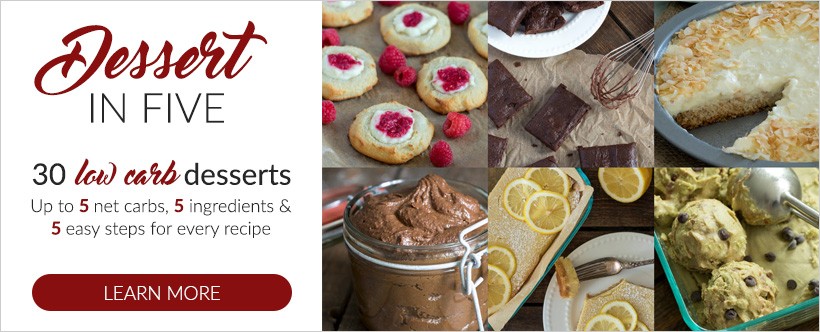 Save this Mocha Walnut Coffee Bite recipe to Pinterest:
---