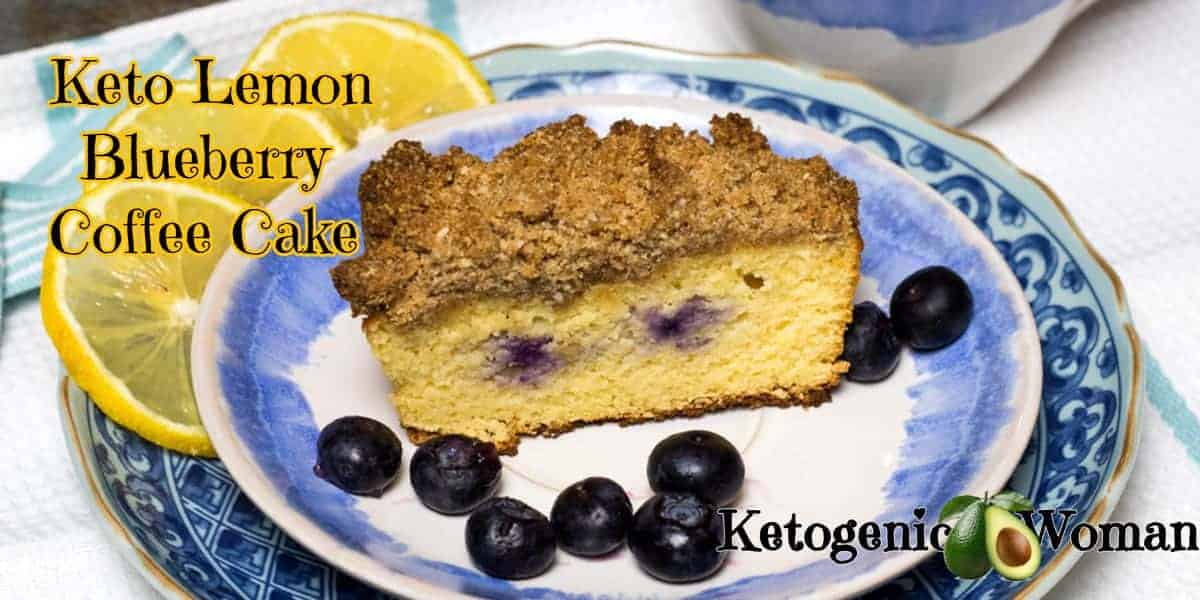 Keto Lemon Blueberry Coffee Cake with Crumble Topping
Lately I'm making a lot of recipes from my childhood. I'm sure it's because I have my elderly Mom living in the house now. I know time is not on her side and the nostalgia is setting in big time!
In the kitchen that I grew up in you could count on 2 things: There would always be coffee and there was always a coffee cake of some kind (Mom called it Kaffee Kuchen).
The coffee cake that I grew up with usually had 3 things:
Bottom layer (not too sweet)
a fruit layer of whatever was in season
a crumble or streusel topping
I lived in a neighborhood of people 'from the old country'. Doors were never locked and neighbors walked in at random. They would be presented with a cup of strong hot coffee and a slice of coffee cake.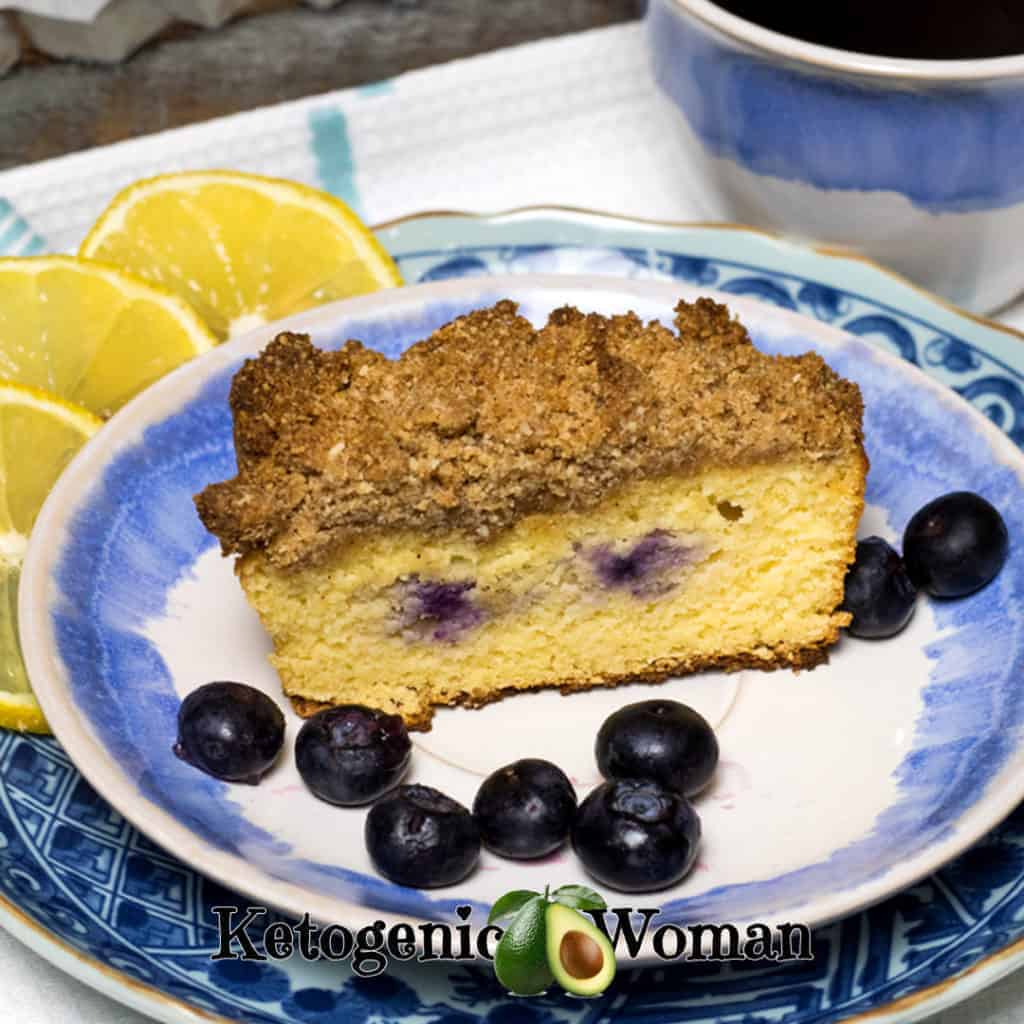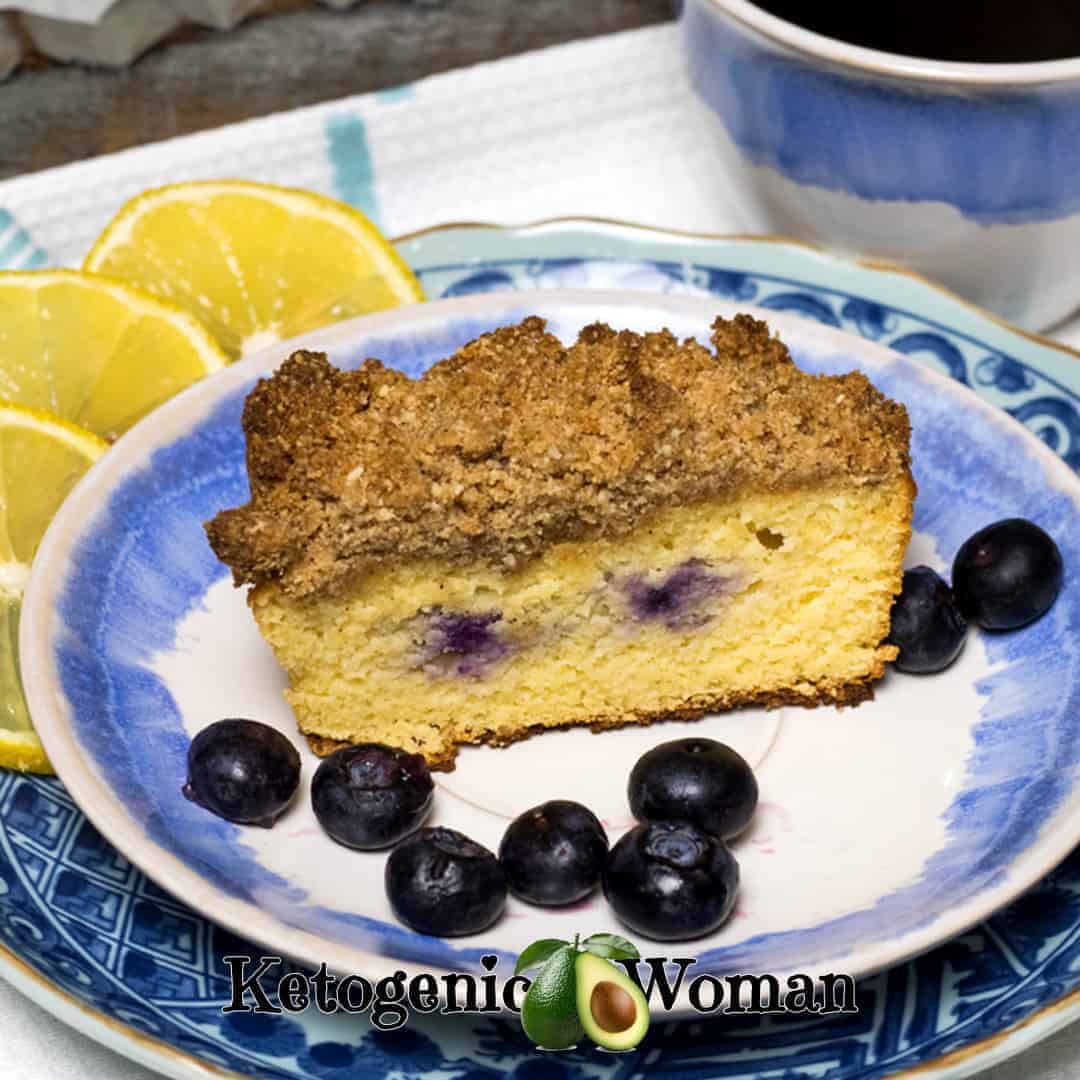 We had fruit trees and so the freezer was always packed with plums and apples and this meant that Pflaumenkuchen and Apfelkuchen were made year round. But when that was gone, the coffee cake was made without fruit and honestly it was quite good too. I'll do a low carb version in an upcoming recipe.
I really wanted to try making a keto version of coffee cake and I did have some blueberries in my freezer, so blueberries it was going to be!
I also love the combination of lemon and blueberries so that was the taste I was going for.
How do you make a low carb or keto version of coffee cake?
For the bottom layer of the lemon blueberry coffee cake I used a combination of almond flour and coconut flour held together with eggs and butter. I used zero carb lemon crystals to get the lemon flavor.
My Mom would have layered the fruit on top but I was worried about the moistness so I folded in blueberries, which are naturally low in carbs. I needn't have worried, the cake is so moist! Just layer the fruit on top. Use lower carb fruits like blueberries, blackberries or raspberries.
My Mom liked using a brown sugar crumb topping on her coffee cakes, so to achieve that I used Sukrin brown sugar replacement.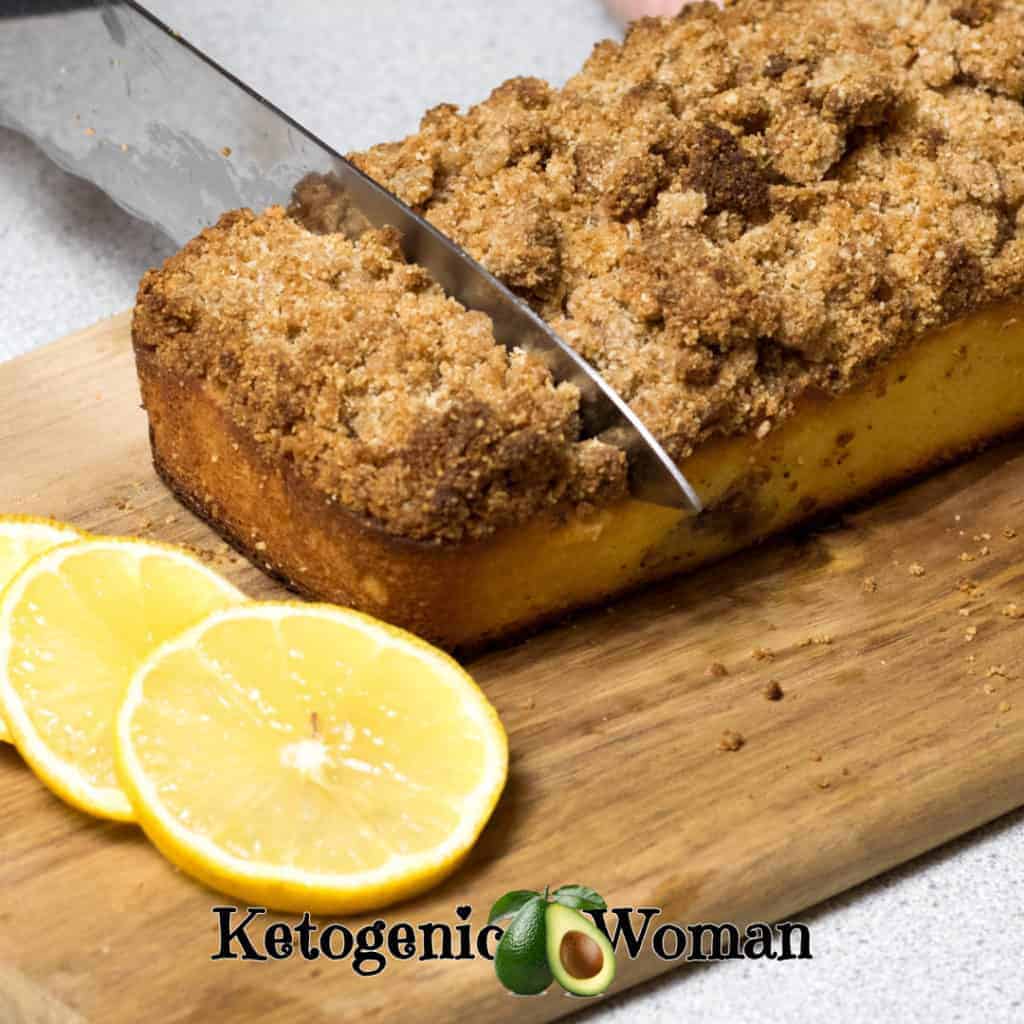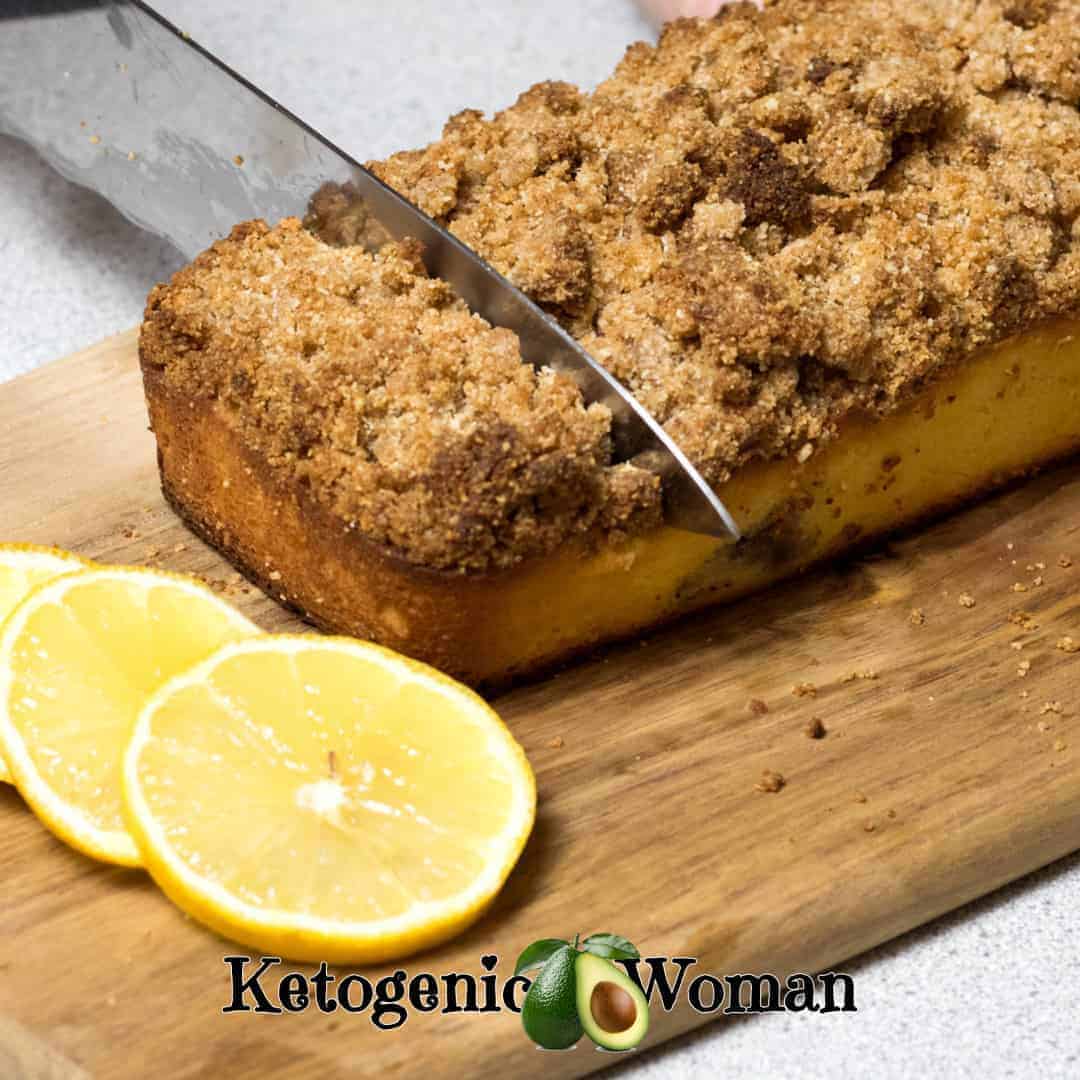 Ingredients list for Keto Lemon Blueberry Coffee Cake:
Note: This post may contain affiliate links which won't change your price but will share some commission.
sweetener of some kind (I like So Nourished sweetener, they have granular, powdered as well as monkfruit)

Lemon

crystals

(or you can use lemon extract)
And of course the usual baking staples like eggs, butter, baking powder, vanilla
Tools required for Keto Low Carb Lemon Blueberry Coffee Cake with Crumble Topping
I am so happy with how this low carb coffee cake turned out! I had 2 people tell me that it tasted like something they would have bought at Starbucks!
If you would like to try a streusel top muffin, then check out these Keto strawberry muffins!
Printable Recipe Card for Keto Lemon Blueberry Coffee Cake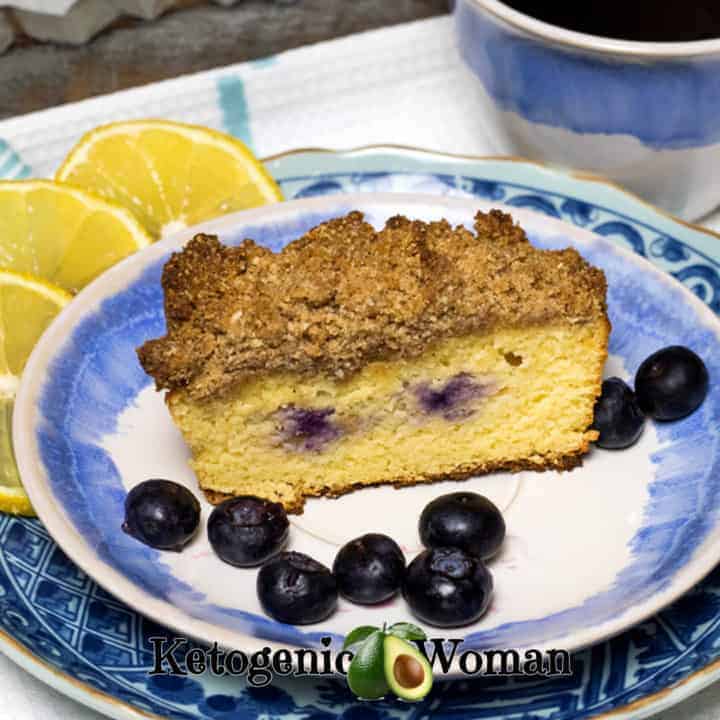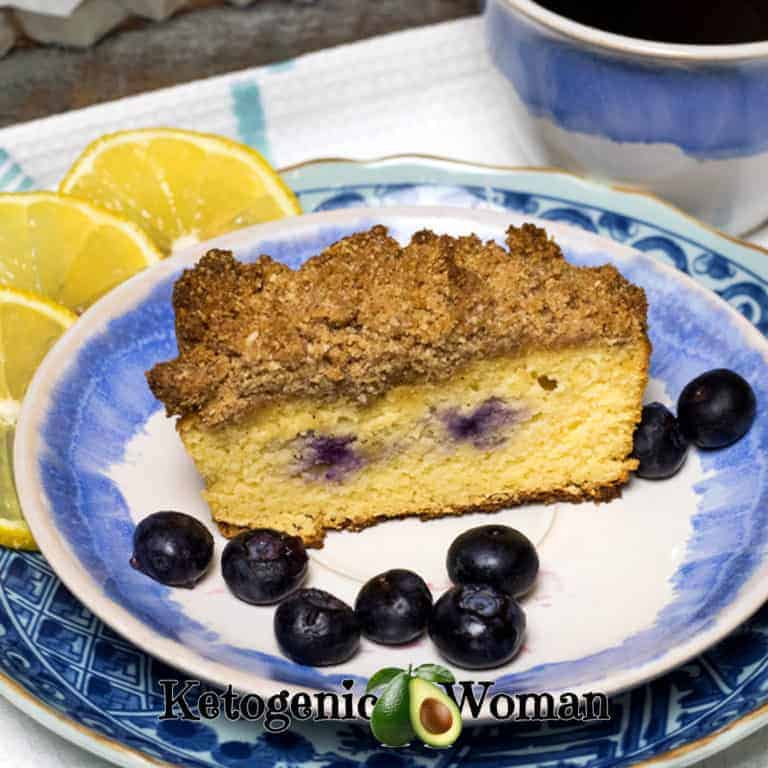 Keto Lemon Blueberry Coffee Cake
An easy and moist Low Carb version of the coffee cake that I grew up with. Serve this Keto Lemon Blueberry coffee cake with a steaming cup of hot coffee.
Ingredients
Bottom Layer:
2 tbsp softened butter
4 tbsp cream cheese
1/3 cup of granular sweetener
4 eggs
1 tsp vanilla
3 packets True Lemon crystals
1/2 cup heavy cream (or use unsweetened almond milk, yogurt or sour cream)
1 cup almond flour
1/2 cup coconut flour
1 tsp baking powder
pinch of salt
1 cup blueberries
Crumble Topping:
1 cup almond flour
1/4 cup coconut flour
1/4 cup brown sugar replacement
4 tbsp butter
1-2 teaspoons cinnamon
Instructions
Bottom layer
With a wooden spoon, cream together the butter, cream cheese and sweetener.
Add eggs, vanilla, and cream
Mix on low with electric mixer
Add in True Lemon, almond flour, coconut flour, baking powder and salt.
Mix on low with mixer until well combined.
Gently fold in blueberries OR NOT (see step 7)
Divide batter into 2 silicone loaf pans. Add 1/2 cup blueberries on top of each loaf (if you didn't mix it into the batter)
Preheat over to 350 and proceed to make topping
Crumble Topping
Combine the butter, brown sugar replacement, flours and cinnamon into bowl
I like to work the ingredients into crumbles with my hands like my Mom did. BUT, the electric mixer also does a good job!
Divide the crumbs evenly over top of the 2 loaves
Bake at 350 for about 20 minutes. Cover the loaves with a loose layer of foil so they don't get too brown. Bake another 10 minutes or until a toothpick inserted in center comes out clean.
Allow to cool for 15 minutes before trying to remove from the loaf pan. I use a straight edge spatula and the loaf pops out nice and clean from the silicone pan!
Recommended Products
As an Amazon Associate and member of other affiliate programs, we earn from qualifying purchases.
Nutrition Information:
Yield:

12
Serving Size:

1 slice
Amount Per Serving:
Calories:

169
Total Fat:

14g
Saturated Fat:

7g
Unsaturated Fat:

2g
Carbohydrates:

7g
Fiber:

3g
Sugar:

2g
Protein:

5g
Try Some Other Keto and Low Carb Desserts
Save these Keto Lemon Blueberry Coffee Cake Loaves to Pinterest!