Maple Walnut Chocolate Dipped Bacon
I don't know what it is about Maple and Walnut but I just love that flavor combination and these Maple Walnut Chocolate dipped bacon slices take care of that craving perfectly!
Maybe it's because I'm Canadian and maple seems to be a thing with us Canadians or maybe it's because I grew up with my Dad's nut trees (he had both walnut and hazelnuts).
Whatever the reason it's a flavor profile that I just love.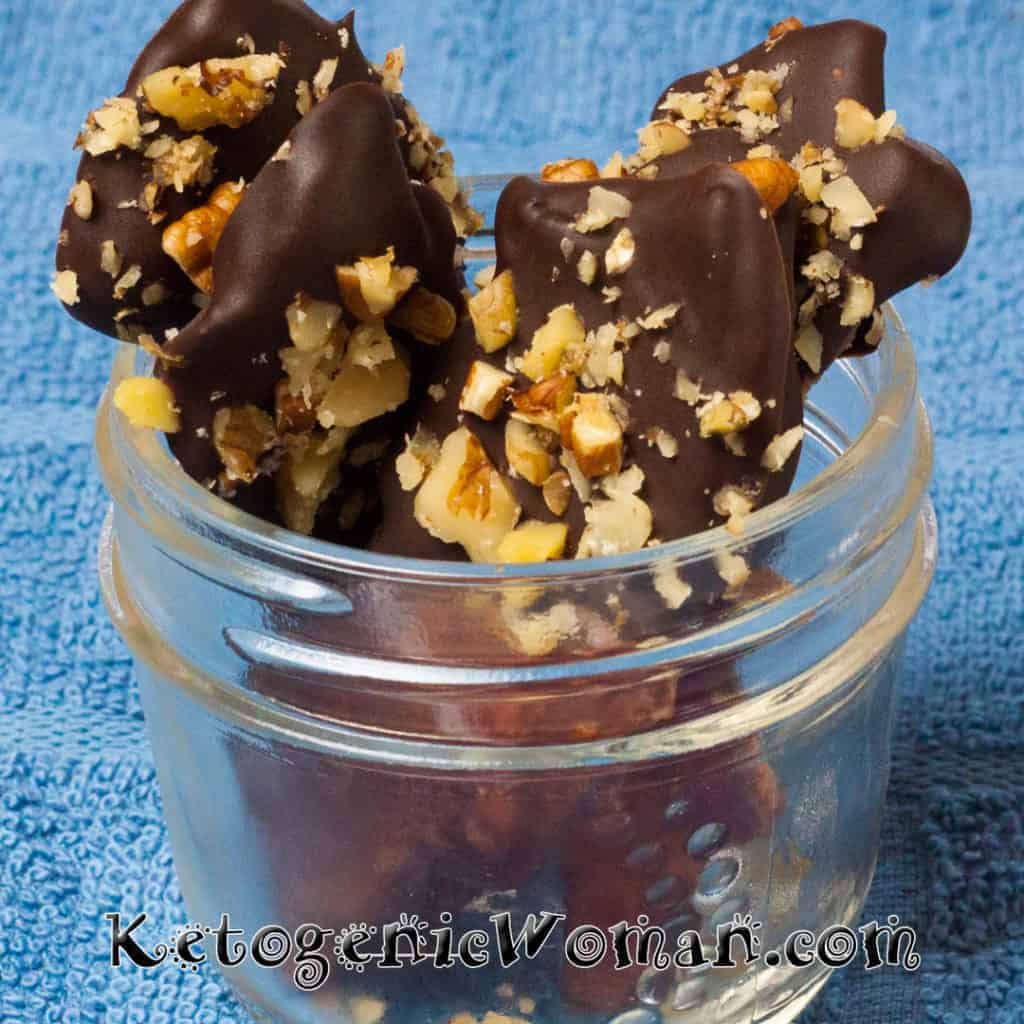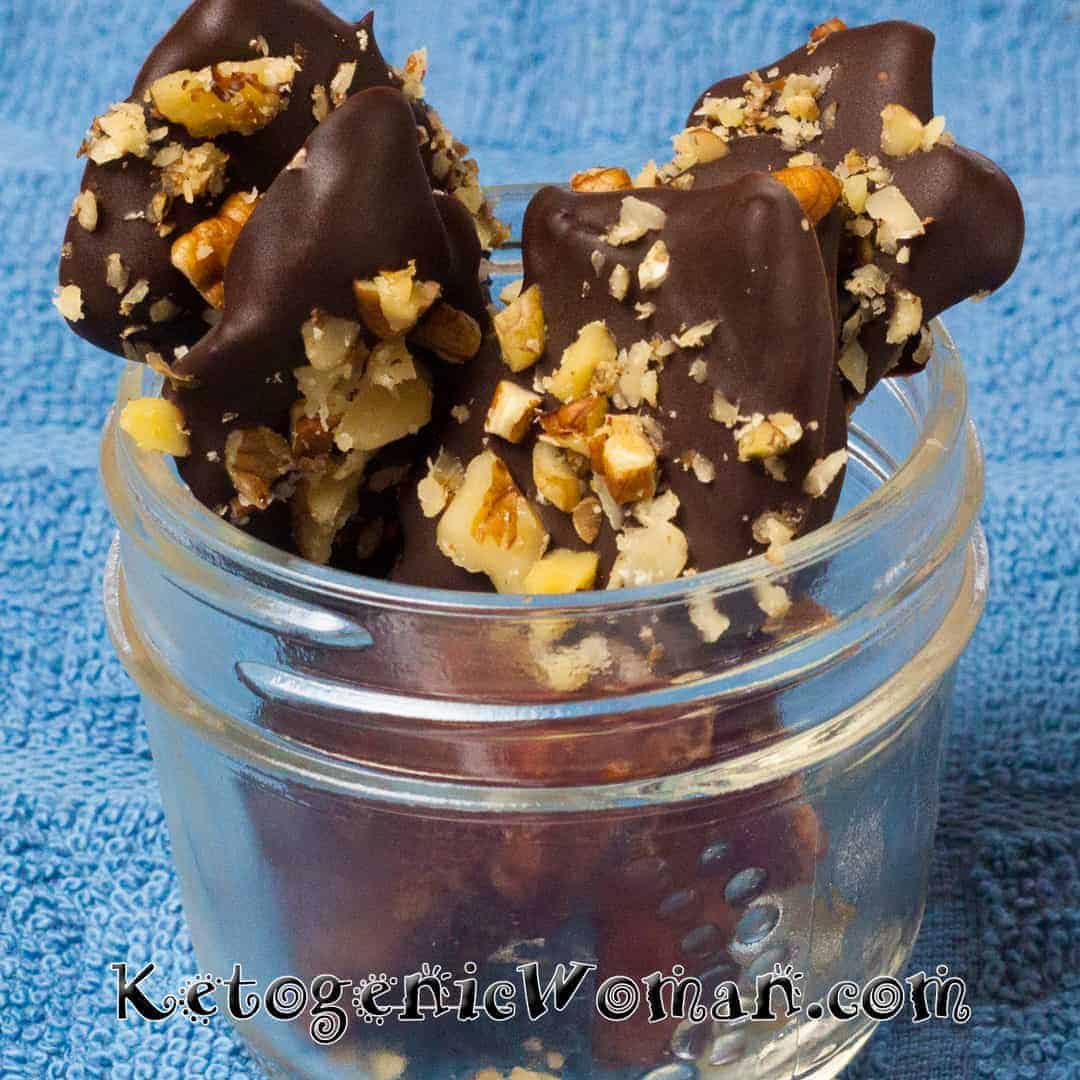 I think that these maple walnut chocolate dipped bacon slices would look beautiful on one of my upcoming holiday brunch platters, don't you agree?!
They are pretty to look at, they are different and most of all they are just super delicious and to die for!
Who wouldn't just love these Maple Walnut Chocolate Covered Bacon Pieces!?
Who doesn't love more chocolate and bacon in their lives?
I mean look at all the yummy things going on here. You've got bacon, you've got chocolate, you've got nuts and you've got maple! And it's KETO! What more, I ask!?
So be a holiday brunch star and make these Maple Walnut Chocolate Dipped Bacon slices!
Be sure to also check out my chocolate mocha walnut squares here. Those are also going to look amazing on your holiday table for your keto and low carb friends.
A few notes about making these Keto Chocolate Dipped Bacon slices before you begin:
Let's make some Maple Walnut Chocolate Covered Bacon shall we?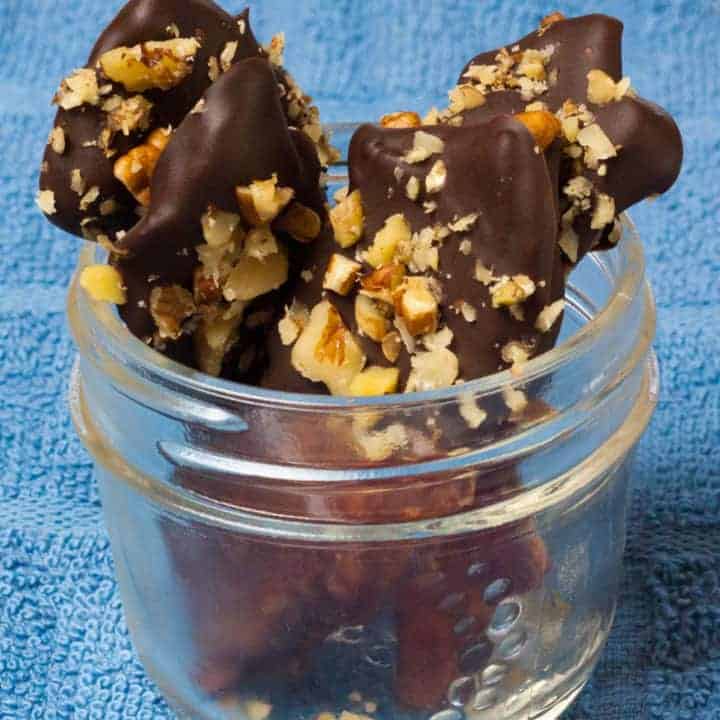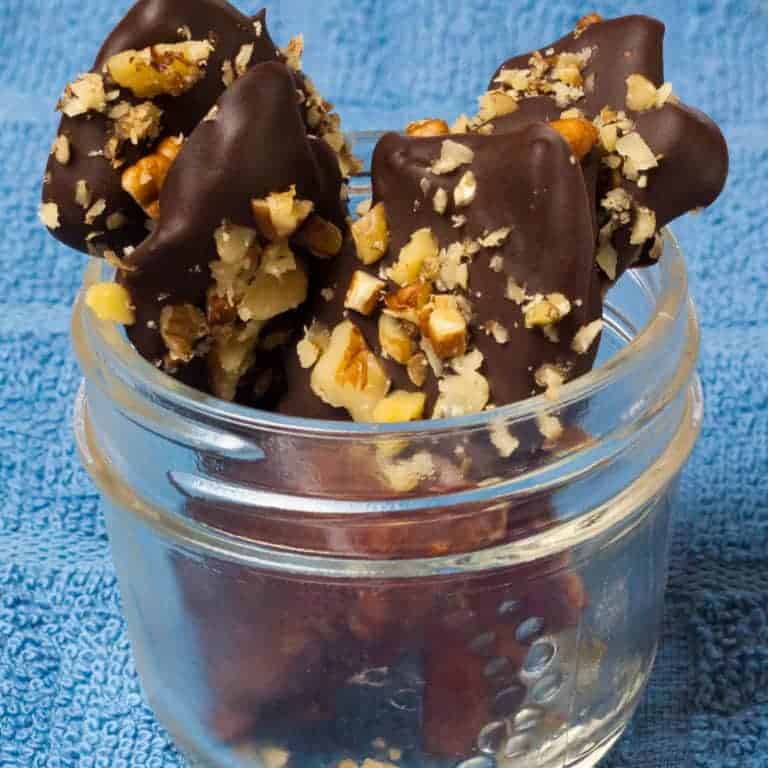 Maple Walnut Chocolate Dipped Bacon
Yield:
20 pieces (approx)
Who wouldn't love bacon covered with maple, walnuts and chocolate!? Crowd pleasing appetizer to please any bacon lover.
Ingredients
1 package maple flavored bacon (no sugar added) OR 2 tbsp sugar free maple syrup if you cannot get the bacon.
4 ounces sugar free chocolate chips
1/2 cup finely chopped walnut pieces
Instructions
Preheat oven to 350
Cut bacon pieces in half using scissors
Lay out all the bacon pieces, side by side on parchment paper
If using regular bacon, then brush each piece with the sugar free maple syrup
Bake for about 30 minutes (I turn my bacon halfway during cooking)
When bacon is done cool completely.
After Bacon is cooled:
Line a large baking sheet with wax paper
Melt chocolate chips in a glass pyrex measuring cup
Dip bacon pieces halfway and let excess chocolate drip off
Place on the wax paper
Sprinkle walnuts while still warm
Chill sheet in fridge until chocolate is set
Try not to eat them all by yourself!
Recommended Products
As an Amazon Associate and member of other affiliate programs, we earn from qualifying purchases.
Other Ways to Love Bacon on Keto!