Croutons are back on the menu with these Keto Chaffle Croutons made with parmesan cheese and garlic flavors. Top your salads and soups with these crunchy croutons that are essentially only 1 net carb per serving!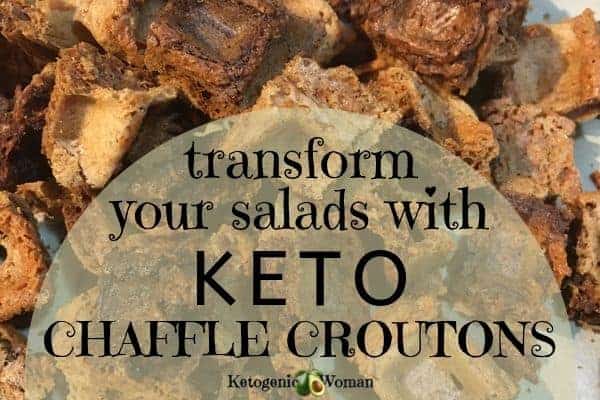 How to Make Keto Chaffle Croutons for crazy good salads and soups!
Where have these chaffles been all my keto life! Not only are they better than bread substitutes, now crispy, crunchy croutons are back on the menu too!?
Seems impossible, but it's true!
Come with me to see how easy it is to elevate your low carb soups and salads with keto chaffle croutons!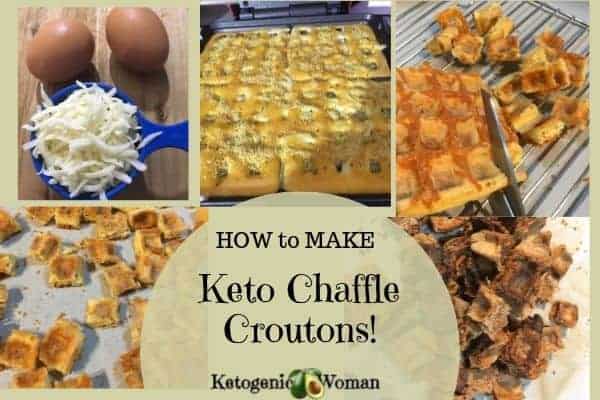 What do you need for making keto Chaffle Croutons?
Make a minimum of 2 chaffles (I usually make with 4 chaffles because they keep well!)
Eggs
Fresh grated parmesan (or strong cheese of your choice)
Herbs and spices of your choice (I like the garlic and onion flavored croutons)
Optional ingredients include a little bit of almond flour, baking powder and those cool bread flavor drops you can buy!
If you are already making chaffles then you probably already have the awesome mini waffle maker! I buckled and got myself the full size Dash to save time. I have to say I do love it!
What can you do with Keto Chaffle Croutons?
Last week I made Herbed Garlic Croutons for this Keto Panera Broccoli Cheese Soup recipe
You can use these to make a stuffing for your turkey this year! Imagine that!
Tonight I pulled a handful out of my crouton bag and tossed on my salad (see below)
Pretty much anywhere that you would have used croutons or breadcrumbs in a recipe, you can use these!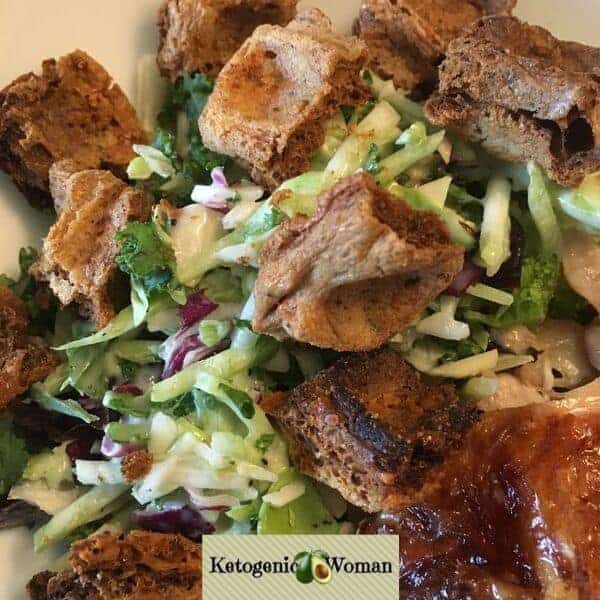 Printable Recipe Card for Making Keto Chaffle Croutons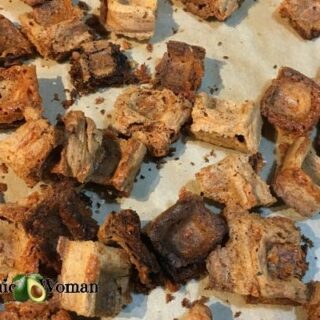 How to Make Keto Chaffle Croutons
Additional Time:
20 minutes
Croutons are back on the menu with these Keto Chaffle Croutons made with cheese and garlic flavors. Super crunchy low carb soup and salad toppings! Use them in stuffing too!
Ingredients
Basic Chaffle ingredients for 4 chaffles
2 eggs, beaten
1/2 tsp each garlic and onion powder
good shake of salt and pepper (to taste)
1/2 cup grated fresh parmesan
Optional Ingredients
1 tbsp almond flour (or 1 tsp coconut flour)
1 tsp baking powder
12 drops of bread flavor (rye, sourdough, cornbread)
Instructions
Heat waffle maker
Add spices, salt and pepper (and optional ingredients if using) to beaten eggs
When waffle maker is hot, sprinkle 1/2 the cheese on the griddle
Spread egg mixture evenly over top
Sprinkle remaining cheese over top of the egg mixture
Close waffle maker and allow to cook at least 5 minutes.
Preheat oven to 350F.
Cool waffles on rack
Cut waffles in cubes with scissors
Spread the cubes on baking pan with parchment paper
Bake for 20 minutes
Try some other Chaffle recipes!
More Keto and Low Carb Chaffle and Waffle Recipes!
Get out your waffle maker! Chaffle is the new Waffle, and both are perennial family favorites! And they are not just for breakfast anymore!
Pin these Homemade Crunchy Keto Croutons to Pinterest!