This recipe for Keto Blooming Onion Chaffle Sticks with a smoky sweet dip is a copy cat of the famous steak house recipe! This low carb recipe developed by Shari Weiner is a perfect snack, side or appetizer.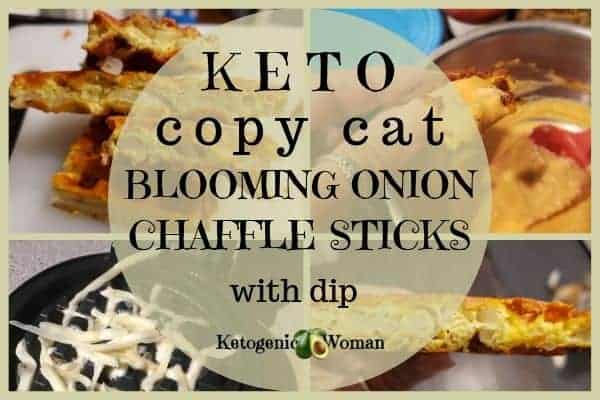 Keto Copy Cat Blooming Onion Chaffle Sticks with Dip
When my friend Shari Weiner shared this keto Onion Chaffle recipe with me, we immediately thought of the Blooming Onion appetizer at that famous steakhouse. You know, the one with the amazing dip.
But, assuming you shared it equally with 3 friends, that Outback appetizer would be 488 calories and 31 carbs!
But if you share this recipe of Keto Blooming Onion Chaffle Sticks with 3 low carb friends, then you would be consuming 163 calories with only 3 carbs. Quite a good savings! And they are crunchy and delicious with a sweet burst of Vidalia onion!
My son was visiting with his friend when I made these and between them it was gone in literally seconds.
Wait, are Onions OK on Keto?
Honestly, I don't know why onions get such a bad rap in the keto groups. Sure they have carbs, but nobody eats a whole onion.
Because of their intense flavor, we tend to eat them in small enough quantities that the carbs can easily fit into most keto and low carb plans.
A thick slice of onion (which made about 10 big onion rings) is what I used in this recipe and that contains only about 5 net carbs!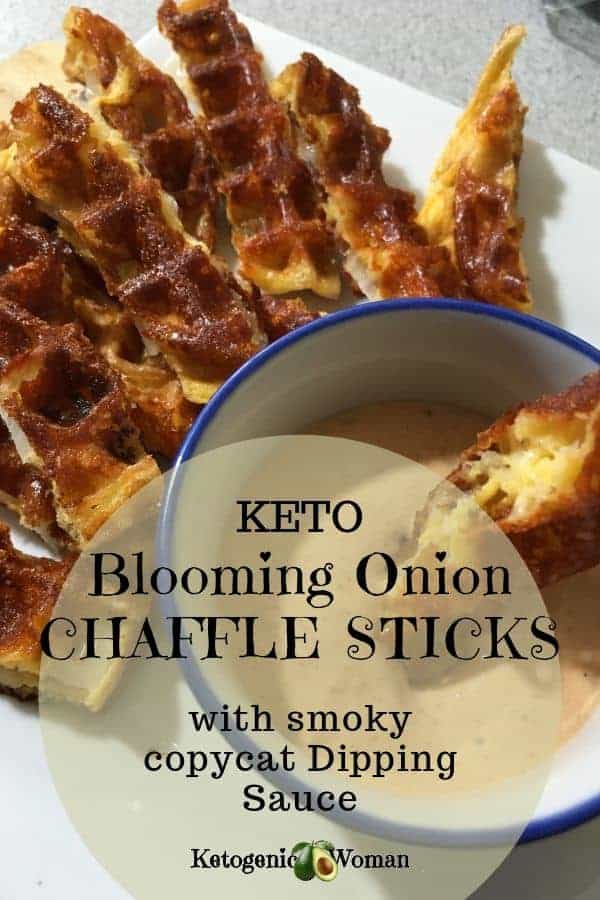 Gather these ingredients to make your low carb skinny version of Blooming Onion Chaffle Sticks!
(Printable Recipe Card is below)
For the Keto Blooming Onion sticks:
Eggs
Part skim mozzarella cheese
About 10 big onion rings from a Vidalia or other sweet onion
For the Smoky Dip:
mayonnaise
sugar free ketchup
horseradish
smoked paprika (or plain paprika and liquid smoke)
Tabasco or other hot sauce
Garlic powder, onion powder, dried oregano, salt and pepper
You will also need either a mini waffle maker or a full size waffle maker. I have both and use them equally, but if there's a crowd, you can't beat the efficiency of the full size model!
Take a look at this article for more tips on making a basic keto chaffle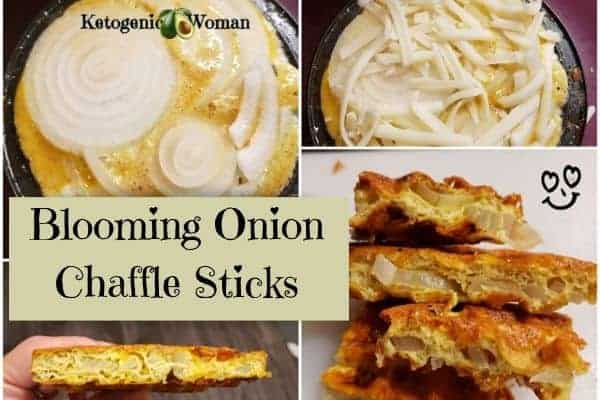 Recipe Card for Keto Blooming Onion Chaffle Sticks and Dip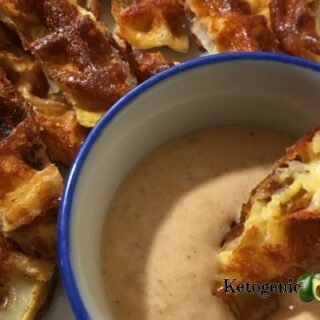 Keto Copy Cat Blooming Onion Chaffle Sticks with Dip
These amazing savory onion chaffle sticks are so reminiscent of the famous steak house appetizer you will think you are there. Complete with the famous blooming onion dipping sauce! Serves 4 as an appy or serves 2 as lunch with a salad.
Ingredients
2 eggs
4 ounces part skin mozzarella, shredded
Large slice of Vidalia or sweet onion (about 10 rings)
-----------------------------------------------------------
Dip ingredients:
2 tbsp mayonnaise
2 tsp sugar free ketchup
1 tsp grated horseradish
1/4 tsp smoked paprika (or regular paprika + 5 drops of liquid smoke) 1/8 tsp garlic powder
1/8 tsp onion powder
1/8 tsp dried oregano
4-5 drops Tabasco sauce (or other hot sauce of choice)
salt and pepper, to taste
Instructions
Plug in your Dash waffle maker
Beat eggs
When waffle maker is hot, sprinkle with 1/2 oz cheese
Pour 1/4 of your beaten egg over the cheese
Arrange 1/4 of your raw onion pieces over the cheese and egg
Sprinkle 1/2 oz cheese over top
Close waffle maker and cook until top is crisp
Remove chaffle and cut into strips
Repeat steps 1-8 to make a total of 4 Chaffles
Blooming Onion Dip:
1. Combine all dip ingredients into a small bowl and whisk until smooth
Notes
Note: There is no need to cook the onions first. Slice them no more than 1/4 inch thick and they will cook just fine in the waffle maker.
Nutrition Information:
Yield:

4
Serving Size:

1 Chaffle
Amount Per Serving:
Calories:

163
Total Fat:

12g
Saturated Fat:

4g
Unsaturated Fat:

6g
Cholesterol:

21mg
Carbohydrates:

3g
Net Carbohydrates:

3g
Sugar:

2g
Protein:

10g
Want more Keto Chaffle Recipes and Ideas?
More Keto and Low Carb Chaffle and Waffle Recipes!
Get out your waffle maker! Chaffle is the new Waffle, and both are perennial family favorites! And they are not just for breakfast anymore!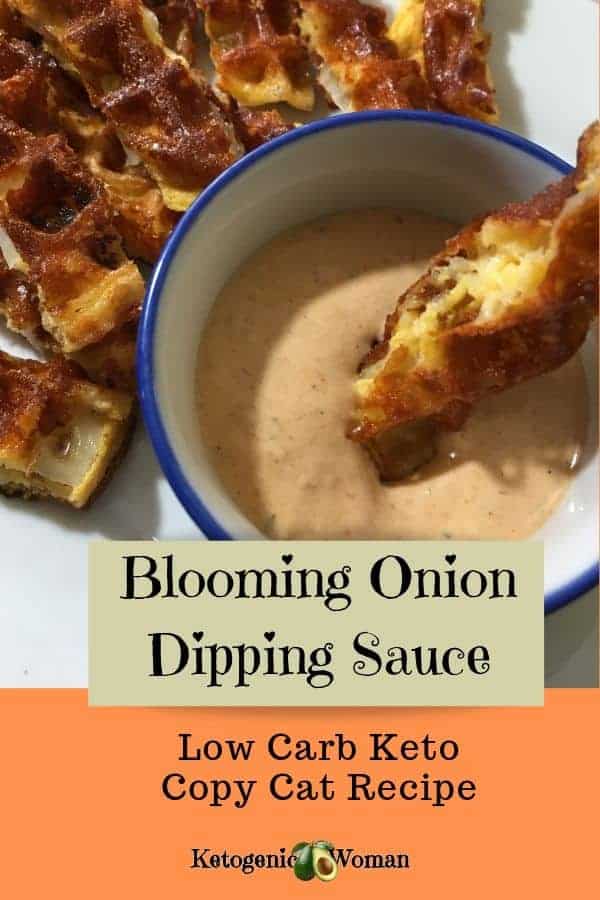 Save these Instructions for Making a Basic Keto Chaffle on Pinterest!