Low Carb Raspberry Crepes  – Gluten Free
This is one of those lovely weekend morning brunch meals.  As much as I love bacon and eggs, which seems to be a staple on a Keto diet, these Low Carb Raspberry Crepes make a nice change and fit the LCHF profile very nicely.
The crepe part of this recipe is based on the Cream Cheese Pancake recipe from I Breathe, I'm Hungry, one of my favorite food blogs.  The only change I make to it for these crepes is the addition of a teaspoon of coconut flour and a little extra sweetener.
Tools required:
Blender such as a Magic Bullet , but any blender will do.
Non-stick pan that heats very evenly.  I highly recommend a ceramic pan like my Green Ceramic Pan, Teflon pans are making the news these days for their carcinogenic issues.
Electric Mixer to whip the cream.  You know, I just realized that I have had my Sunbeam Electric mixer for almost 40 years!
Cooking Tip of the Day:  Put a bowl and beaters into the freezer so they are nice and cold when you are ready to whip the cream.
Recipe: Low Carb Raspberry Crepes (serves 1 or 2)
Ingredients:
2 eggs
2 oz cream cheese (use full fat hard like Philadelphia)
1 tsp Swerve Sweetener
½ tsp cinnamon
1 tsp Coconut Flour
16 Fresh raspberries (you will need about 4 berries per crepe)
Whipped Heavy Cream (you will need 1 tbsp whipped cream per crepe)
Instructions:
Prepare the crepes by combining eggs, cream cheese, Swerve Sweetener
, cinnamon and coconut flour in blender.  Blend until nice and frothy.
It is important to let the blender then sit for a few moments for the bubbles to disperse.  This is a perfect time to whip the cream.
Take your nice and frosty bowl and beaters out of the freezer and pour a cup of heavy whipping cream into the bowl.  I like to add a pinch of powdered vanilla, but that is optional.  Beat with your electric mixer until big and fluffy.  Place bowl in fridge.
Take your pan and put on medium heat.  You could add a bit of butter if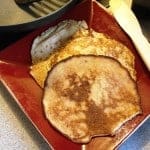 you like.  When the pan is hot, pour in a quarter of the egg mixture from the blender.  Once you see bubbles forming, carefully flip the crepe and cook the other side.  Repeat with the rest of the mixture.
Take each crepe and make a line of 1 tbsp whipped cream and 4 raspberries.  Roll it up and present to your loved one who will be very impressed.  Or eat them all yourself!
You could of course use strawberries or blueberries for this recipe instead of the raspberries.  Those would be just as delicious!
Don't forget to also check out my other favorite brunch recipe for Keto Eggs Benedict!
Nutrition:  Calories 244,  Fat 20, Protein 9, Fibre 4 and only 4 net carbs.
(for 2 crepes as shown)
What do you like to eat for a special brunch?