This Jello cream cheese fat bomb recipe has literally only 2 ingredients! The keto strawberry cheesecake is my favorite, but you can make this any flavor you want! Make jello cream cheese bites, balls and snacks!
New in 2020: Non Sucralose version added!

Cream Cheese Fat Bomb Recipe – Pudding and Jello Bites and Balls!
I think I just died and went to heaven. I just popped my first strawberry jello cheesecake ball from this cream cheese fat bomb recipe and it was sooo good!
I was browsing some of the low carb forums looking for high fat food ideas (still sounds wrong when I say it out loud!)
There was someone who talked about rolling cream cheese into sugar free jello powder and eating it and well, I just happened to have some cream cheese in the fridge and sugar free jello in the cupboard. Strawberry as a matter of fact.
Here in Canada, we have only 3 flavors in the stores but I can order my Sugar free Jello from Amazon and get more variety.
And then from there, of course, I had to try dipping them in sugar free jello pudding mix, and this also became a Jello Pudding Bites recipe!
But I do have to say, that after all the flavors that I have experimented with, I still like the tart flavor explosion of using the Jello Strawberry, Raspberry or Cherry. These cream cheese fat bombs are definitely The Bomb!
Is Sugar Free Jello and Pudding mix Keto?
First just have to say that there are no foods that are Keto or not Keto. Keto is a metabolic state and you go into ketosis through the lowering of carbs (really low!).
Now that that's off my chest, there are foods that will help you stay keto and counting carbs is key.
ANY food is keto if you count the carbs and stay below whatever that carb count is that keeps you in ketosis.
Most keto peeps would consider this to be Dirty keto but hey I'll be a dirty girl while maintaining my large weight loss and they can be judgey all they want.
But wait! There is a non sucralose jello mix!
After having said all that, I just made this recipe with a new 'Jel Dessert' mix that does not contain any artificial sweeteners!
In fact, it is gluten free, non GMO, no preservatives, Vegan, natural colors, natural flavors. And the same burst of flavor in this recipe! Check out the Simply Delish Jel Dessert here!
Here is a picture of the raspberry cheesecake balls which became a pretty pink instead of the vibrant red. I guess that is the lack of red dye in them.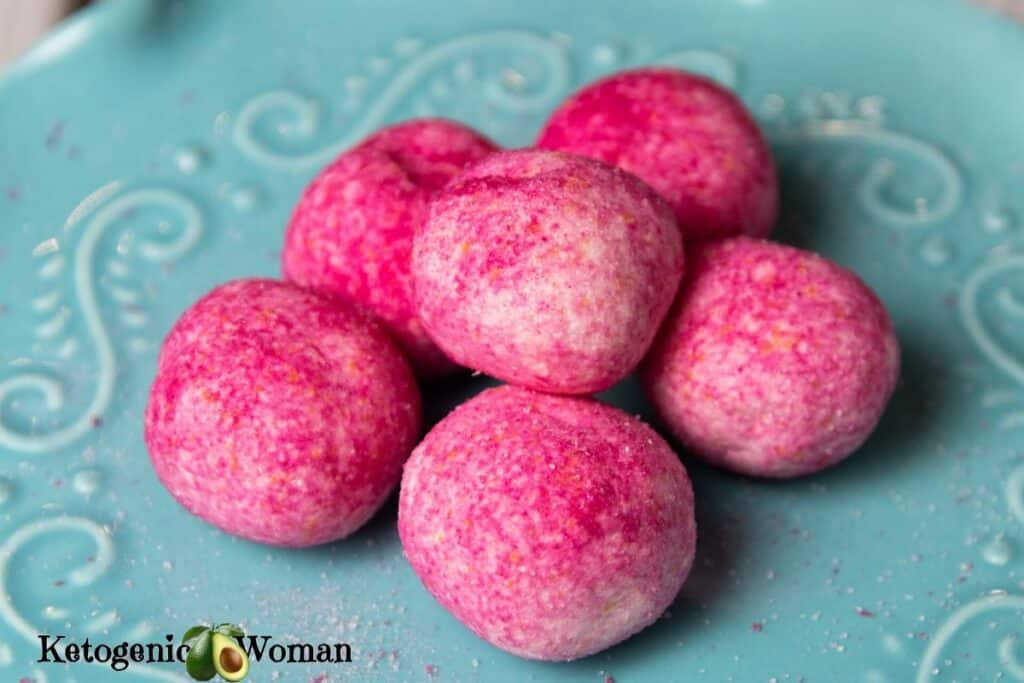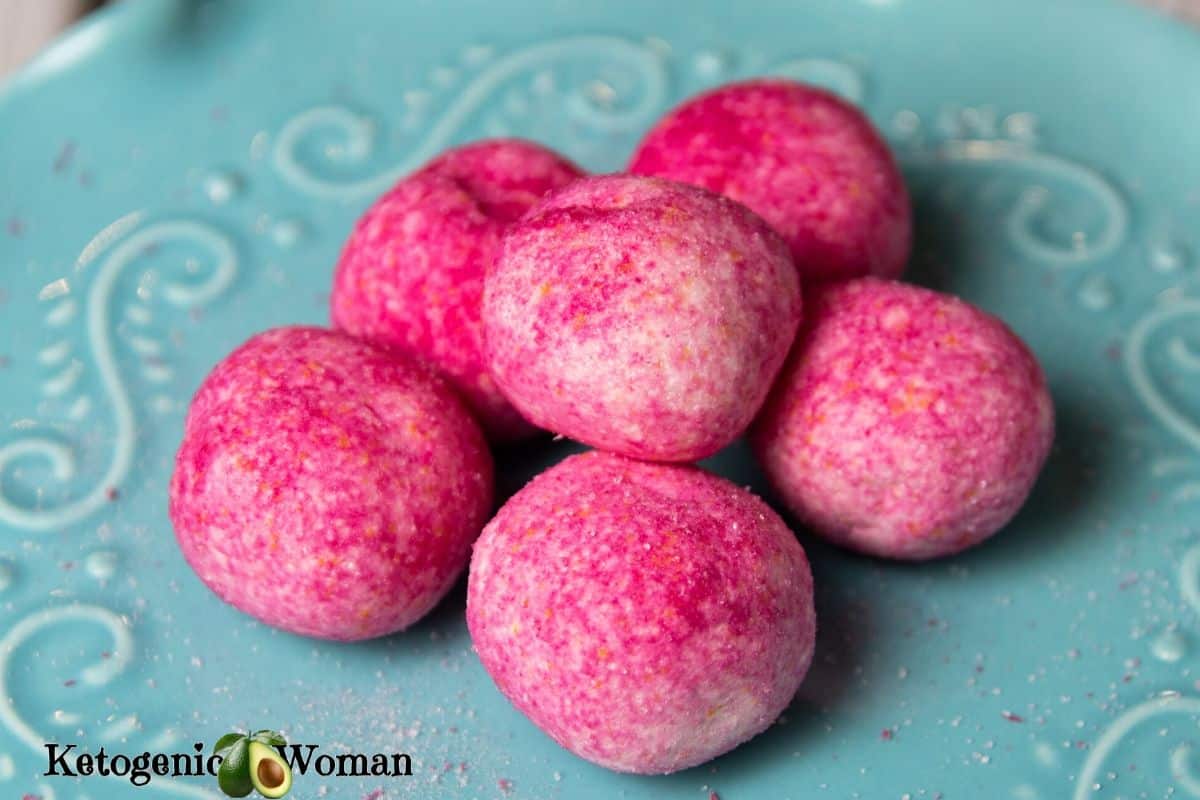 So your choice! Sugar free Jello might be all that is available to you, go get some! Or get the non sucralose Jel Dessert.
Either way, let's have some fun and make these jello cheesecake snacks without the guilt ok?
So here is the recipe:
Low Carb Jello Cream Cheese Fat Bomb Recipe
1 8oz package of Kraft Philadelphia Cream Cheese or any brand as long as long as it's the solid brick type.
1 package (package size I used is 10.1 grams or 4 Servings) of sugar free jello or pudding mix
For the non sucralose version, the package size is 20g or 4 servings
Note: If you want to do a smaller amount, 1/2 tbsp of sugar free jello mix does about 6 cream cheese balls. Same with the non sucralose version.
Take the package of Cream cheese and cut into 16 squares.
Put the sugar free jello or pudding mix in a sandwich baggie.
Take each square and shake until covered with jello or pudding mix on all sides.
Then roll into a ball in your hands. (Tip: Use restaurant prep gloves like these to avoid red dye on your hands!)
Keep covered with plastic wrap in the fridge.
Serving size is 2 jello cheesecake snack balls.
Each serving of 2 jello cream cheese balls is 105 calories, 1 carb, 9 g fat and 3 g protein.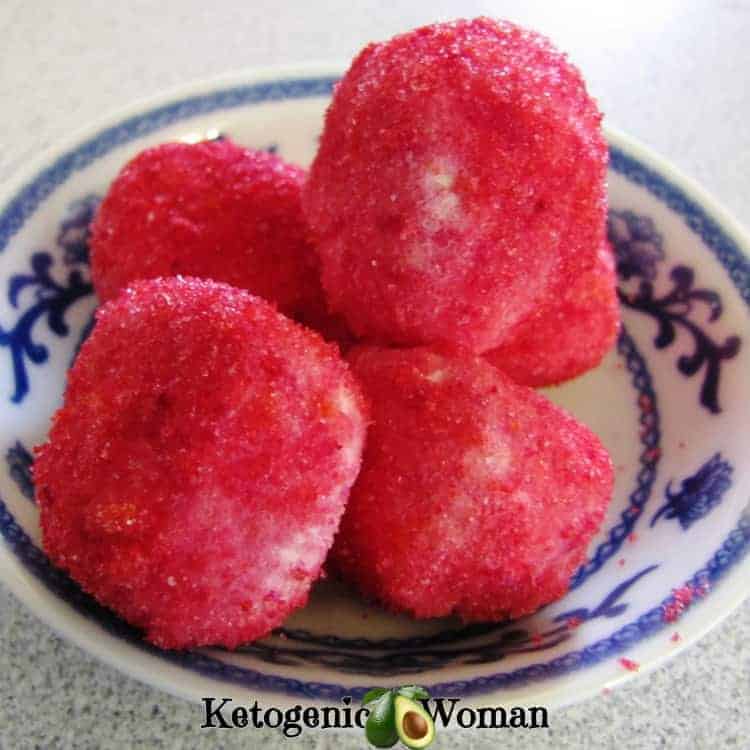 These make a perfect sugar free and low carb snack for Keto, Atkins, LCHF or any other low carb diet.
You could also make a plate of these jello pudding bites and balls as appies for a party.
Put colorful toothpicks in them and you will have a plate of cherry bombs, lemon bombs, pudding bombs, etc They will be a hit!
How about more easy Keto Fat bomb recipes?
If you like this Keto Sugar Free Jello Cream Cheese fat bomb recipe, then you will also love these other low carb fat bombs!
More Keto Low Carb Bites, Balls and Squares
Our favorite Keto dessert snacks and bites!
Save these crazy good keto fat bombs to Pinterest!