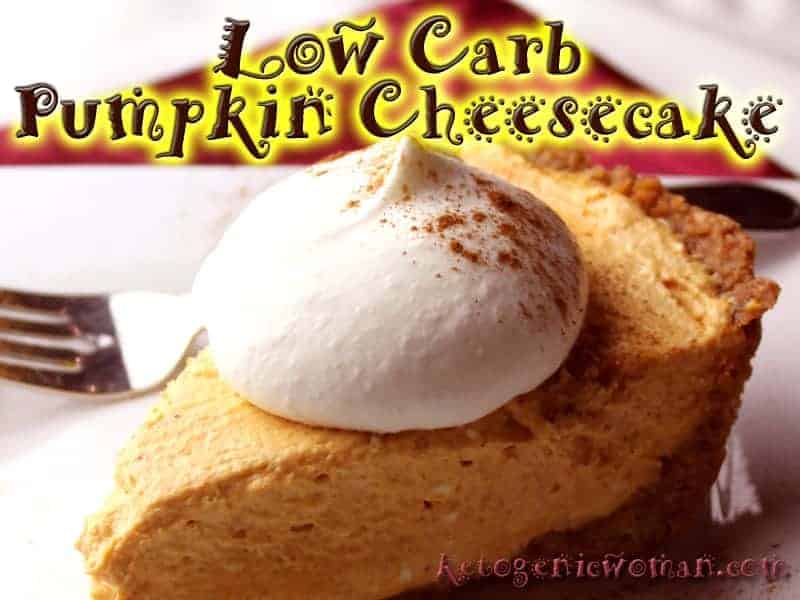 As a working mom I am always looking for ways to save time. This no bake Low Carb Pumpkin Cheesecake recipe was probably the fastest and easiest keto dessert recipe that I've ever made. No baking required!
This past weekend we celebrated Canadian Thanksgiving and over the years I've tried various low carb thanksgiving dessert recipes with mixed results.  My favorite low carb cheesecake recipe was just too much work this year with all the commitments I had so when a friend mentioned she was making a no bake pumpkin cheesecake recipe this year, a lightbulb went off in my head!
I looked at the no bake pumpkin cheesecake recipe on 12Tomatoes and I knew that I could Keto-ize it.  I'm sure that's not a word, but anyways, this was pretty easy to do!
I'm going to give you 2 recipes, one for the crust and one for the cheesecake.  The crust is delicious, it's a raw cashew nut crust that I used to make during my raw food days (now there's a weird twist to my life!).  It's a perfect low carb pie crust that is also gluten free.
Low Carb Cashew Nut Pie Crust Recipe
 Sincerely Nuts Raw Cashews Whole & Unsalted No Shell – Two (2) lbs. Bag – Crunchy, Fulfillingly Delicious – Full of Minerals, Fibers, Vitamins & Antioxidants – Kosher
1 1/2 cups raw cashews (important that they are unsalted and unroasted like the ones shown here!) 
1/4 cup melted coconut oil
1 packet stevia or other sweetener (optional)
1 teaspoon cinnamon
Combine all ingredients except coconut oil in a food processor with 'S' blade and process until the nuts are ground pretty fine. Add the coconut oil and pulse until a kind of dough ball is formed. Press cashew mixture into a bottom of 9 inch pie plate. Set aside in the fridge.
Note: Macadamia nuts are excellent in this recipe. But super spendy! You can also tweak this recipe according to your likes, for example you can use a mix of cashew nuts and almond meal or unsweetened coconut flakes.
&
&
No Bake Low Carb Pumpkin Cheesecake Recipe
 Swerve Sweetener, Bakers Bundle, 16Oz Granular and Confectioners
1 8 ounce package of cream cheese, softened
1 cup of pure pumpkin puree
1 cup whipping cream, whipped
1/3 cup Swerve Sweetener
1 teaspoon vanilla extract
1 tbsp pumpkin pie spice
Instructions
Using a handmixer, mix all ingredients except for whipped cream until mixture is smooth. Gently mix in the whipped cream.
Spread the pumpkin/cream cheese mixture into the pie plate and let set in the fridge for a few hours.
Optional: Garnish with whipped cream.
Carb Count:  1/10th of the pie will amount to 5 net carbs.
I hope you give this low carb Thanksgiving dessert recipe a try!  I would even make this anytime, maybe without the crust just as an occasional treat.  The low carb pumpkin cheesecake just by itself would be only 2 net carbs.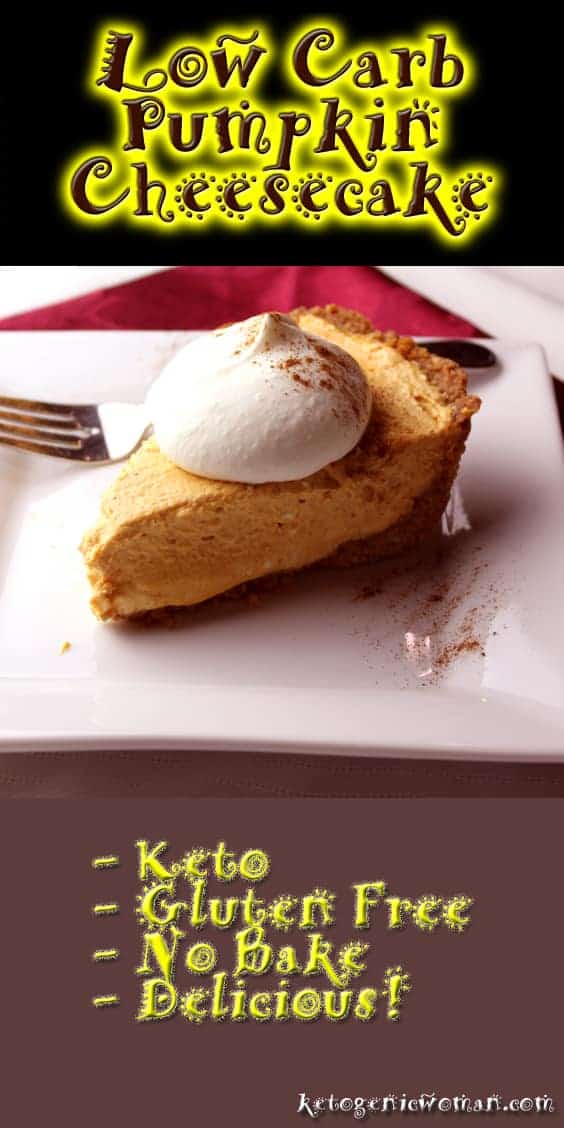 &
&