What to Put Into a Low Carb Gift Basket
One of my little sideline businesses is custom gift baskets and so I think about gift baskets a lot. I mostly make gift baskets for kids but I also do a lot of gourmet gift baskets for Amazon. I was thinking about what I as a long time low carber would would like to see in a low carb gift basket if I was lucky enough to get one!
Low Carb Food Gifts for your Basket
The foundation of a Ketogenic diet (or Low Carb High Fat) is well, fat! Coconut oil is my favorite for many reasons.
It has a high heating point for frying. I love the way it tastes and keep in mind that some brands have a coconut taste and some do not.
It is high in MCT (Medium Chain Triglycerides).
Coconut oil is the basis for many great keto recipes.
It has a mild laxative effect which can be very helpful and welcome on a low carb eating plan.
I think that a good coconut oil would be one of the first things I would add to your carb free gift baskets.
My next favorite oil is Avocado oil.  I use it to make home made mayonnaise, you can check out my recipe here.  This oil has a nice light taste so it's perfect for making mayo or just as a base for a salad dressing.
Rounding out the fats in a low carb gift basket would be a great nut butter.  Almond butter, Cashew Butter and Macadamia Butter are my favorites.  You can make recipes with them, spread them on celery sticks, or heck just a tablespoon in your mouth can be a lifesaver!
Good Fats for Your Low Carb Gift Baskets
 Nutiva Organic Virgin Coconut Oil, 15 Ounce
 NOW Foods Avocado Oil
 Artisana Organic Raw Almond Butter – 14 oz
&
---
The Spice Lab's 1 kilo – Premium (Food Grade) Himalayan Crystal Sea Salt Pink (Coarse)
Himalayan Sea Salt Belongs in Your Low Carb Gift Basket !
Himalayan Sea Salt is a wonderful thing! It looks beautiful and it tastes fantastic. It contains over 80 minerals and elements. On a low carb diet, electrolyte balance is important and plenty of sea salt definitely helps with this. I keep a little container of pink salt chunks around because I sometimes suffer from leg cramps. A couple of those under my tongue and it's all better for me.
When I was browsing through Amazon looking for salt to buy for this article, I came across these other sea salts with amazing variations! Sea salt with Sriacha! Rosemary Sea Salt. Bacon Sea Salt. Bacon. Sea. Salt. Ok, fine I ordered some of that too and it's awesome!
---
Now Foods Stevia Extract Liquid, Dark Chocolate, 2 Ounce Bottle
Finally Something Sweet For a Low Carb Gift Basket
While I have really worked hard to let go of sweet tasting things, every now and then I just want it. And when I do, it's usually something I make myself with good ingredients and I sweeten it with Stevia drops.
I like the Liquid Stevia drops because it's easy to have sweetness control and they come in various flavors like Vanilla, Hazelnut and Chocolate.
---
If I'm not making the sweet thing myself, then I like the convenience of a gourmet dark chocolate which is naturally low in carbs.
My favorite is the 85% Dark Cocoa Lindt Chocolate, partly because it's readily available where I live.
I find the 90% is too bitter and the 70% cocoa is too sweet and just makes me want to eat the entire bar. For me the 85% dark cocoa is just right with just a hint of sweetness and the full rich dark flavor. And most important, it satisfies that chocolate craving yet doesn't make me want to devour the whole thing.
There are only about 2 net carbs per square and as you can see the squares are pretty big.  Something nice to savor as it melts in your mouth.
I hope this gives you some ideas the next time you need some low carb gift ideas.  A carb free gift basket is a great way to go and they are pretty easy to put together.  And any one of these single items would make a great gift for that low carber on your gift list!
And I tell you, if you are just way too busy to make a low carb gift basket on your own, check this out!  This is why we love Amazon!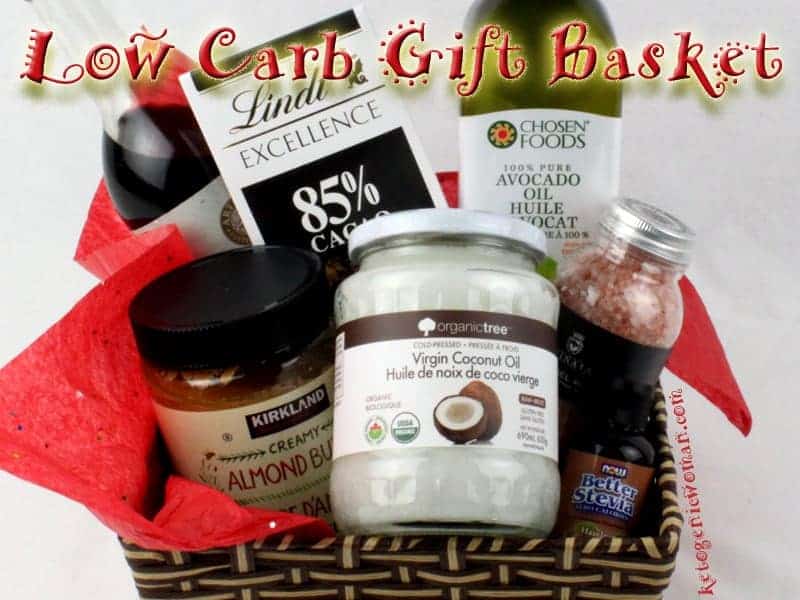 &
&
&
&